When you're working on a website development project, the last thing any of us wants is for our expectations to mismatch with those of other parties.
Asking these questions upfront will help ensure that you and your client are happy about how things have gone so far. The questions help prevent scope creep down the road – saving time correcting potential issues before they become more significant problems later!
We've listed some of our questions to determine the scope of work for a website development project below.
During the scope-of-work meeting, we concentrate on what you want from your website, not how it's done.
What Are Scope of Work Questions?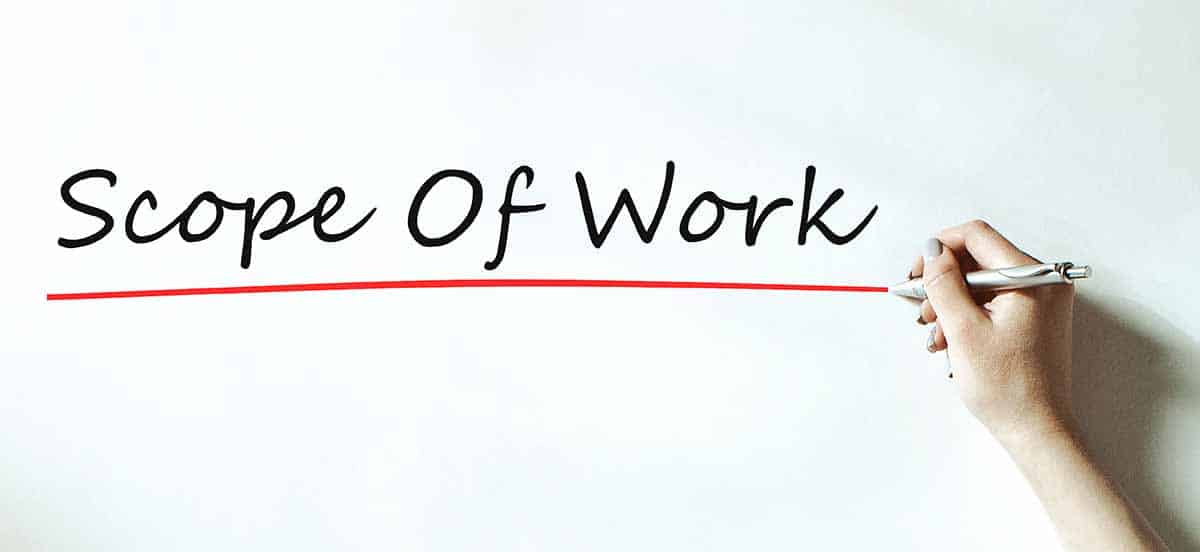 In order to provide clients with estimates about the work effort, we have different categories of questions, each with several specific questions about aspects of your business needs.
At first glance, this list of questions may seem daunting. However, they get to the heart of your needs for the project.
Think of this list as a way to help you organize your thoughts about what you want from your website, but we have an approach that works.
Why does a frog hop? Because he'd hurt himself if he tried to leap from where he is to where he wants to be.
Breaking things down into manageable chunks gets us to the finish line one hop at a time.
It may be difficult to articulate exactly what you need or want in your website development project. That's why we ask so many questions.
Business Questions
To get things started, we ask questions about your business to help us understand your needs.
The goal is to see how much a client understands about their own business. For clients who've been in business for a while, these questions may seem pretty routine.
New businesses may need to do some strategic planning prior to building a website. We're trying to make sure that the website we build for you is in line with your business goals.
After we understand your business, we can start talking about your website.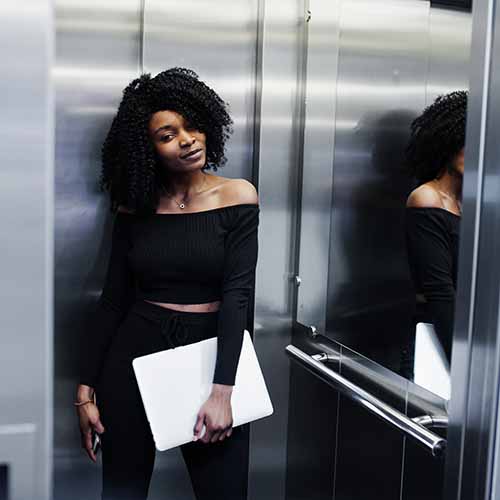 1: What's your elevator pitch about your business?
An elevator pitch is a brief summary that describes your business to someone for the first time. This question is important because it helps us understand what you do and what you want potential customers to know about your business.
2: What do you do or make?
This question may seem pretty basic, but it's important that we understand the product or service you offer.
In some cases, clients will want us to build a website for a product or service that they plan to offer in the future. In these cases, we'll need to ask additional questions about what the product or service is and when they plan to offer it.
3: Who is your competition?
In order to properly scope your project, we need to understand who your competition is. This will help us understand what type of website you'll need to be competitive in your industry.
We don't want to copy your competitors, but knowing key concepts in your industry is important for your website development.
You may have a competitive advantage that we can discover by reviewing your competition.
4: Who is your ideal customer?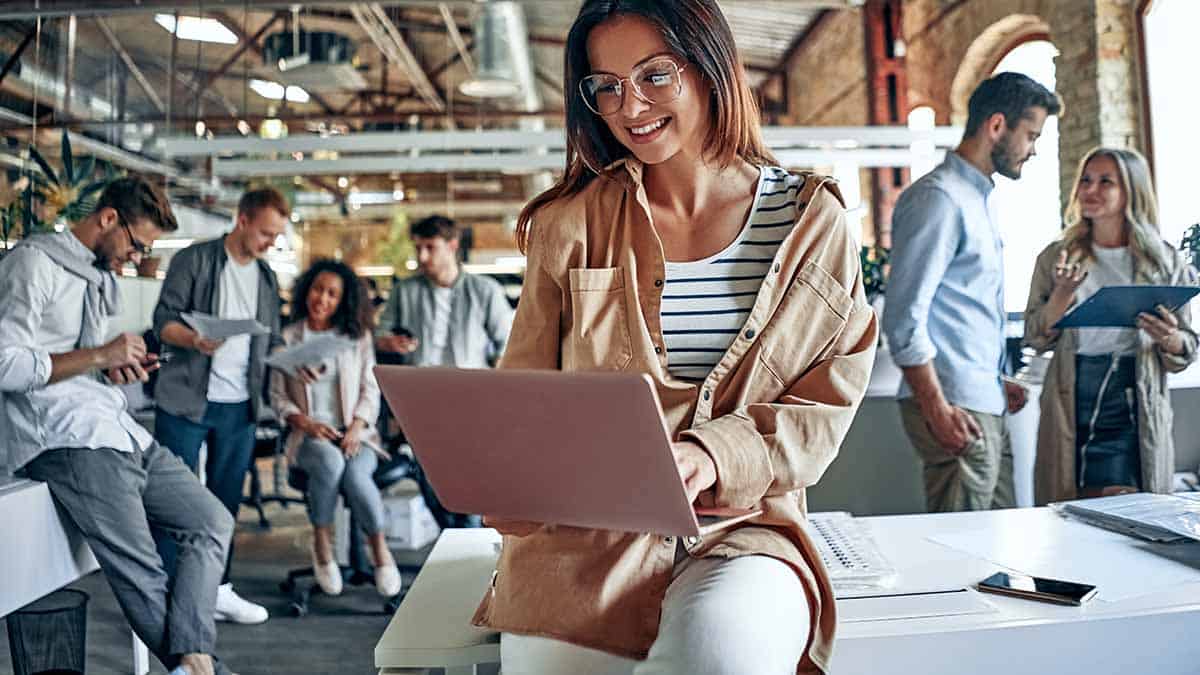 You may have multiple target markets for your product or service. We need to know who you want to reach with your website.
This will help determine the type of content we'll need on your website and how we need to structure your website navigation.
Understanding how your customers relate to your business website is critical to driving conversions to your website.
5: Why should a customer choose you instead of the competition?
If you're trying to convince someone to do business with you, we need to make the answer obvious to a visitor. We need to understand why your potential customers should choose you instead of the competition.
This will help determine what content and calls to action we need on your website.
6: What is your price point?
Websites that are selling high-end products or services will need to look and feel very different than websites that are selling more budget-friendly items.
Your price point is important to understand because it will help us understand what type of website you'll need to properly showcase your product or service.
7: How do you find customers now?
This question is important to understand what type of website you'll need.
If you're already generating leads and sales from your current website, we'll need to make sure that the new website will maintain or improve upon that.
If you don't have a website or if your website isn't generating leads, we'll need to scope your project accordingly. Are you looking for email leads or customers to book appointments? Let us know.
8: Do you have existing branding?
If you already have a logo, color scheme, and other branding guidelines, we'll need to see that prior to starting your project.
If you don't have existing branding, we can scope additional services to help you develop your brand before we start on your website.
The Purpose of Your Website
Your website can serve a specific purpose. Are you looking for a web presence to make potential customers aware of your business? Perhaps you need to capture leads or convey information to show your expertise.
Knowing the purpose of your website helps us understand what type of website you'll need and scope additional features that may be necessary to accomplish your goals.
We ask these questions to understand how you want to present your business to the world. Depending upon how long you've been in business, you may or may not have considered some of these issues before.
Nailing down your business purpose helps us craft the right website for your business.
These are just a few scope-of-work questions that we need to answer before we can start on your project. If you have any additional questions, please don't hesitate to ask. We're here to help you make your website vision a reality.
1: How will the website fit into your overall marketing strategy?
Your website is just one piece of your marketing puzzle. We need to understand how your website will fit into your overall marketing strategy.
This helps us scope additional features that may be necessary for your website, like social media integration or lead capture forms.
What are the must-haves for your new website?
Every client has a different idea of what they want or need for their website. We need to know what your must-haves are so we can scope the project accordingly.
Do you need a certain type of functionality? Do you have a specific design in mind? Let us know so we can include (or exclude) it in the scope of work.
2: Why should your ideal customer visit your site?
Websites need to be designed with the user in mind. If we understand why your ideal customer should visit your website, we can design a user experience that will guide them to taking the desired action.
This scope of work question helps us understand what type of content and calls to action we need on your website.
3: What are your goals for the website?
Every business has different goals. We need to know what your goals are so we can scope the project accordingly.
Are you looking to generate leads? Increase sales? Get more website traffic? Let us know so we can include (or exclude) certain features in the scope of work.
Defining Project Scope by Budget Questions
Before we proceed to create a proposal, it's important to understand your budget. Suburbia Press creates websites and maintenance services for businesses and professional service providers.
While we don't provide specific quotes until we know more, our minimum engagement price to build a website starts at $5495 and increases in the cost depending on the scope of work.
1: Do you have a ballpark budget for this project?
We need to understand your budget so we can scope the project accordingly. If we know what you're looking to spend, we can make recommendations on what's possible within your budget.
Your business website helps you gain credibility, find customers, and establish relationships. Most people search on the web to find answers and help for their needs before they ever talk to a business.
2: Can we simplify or do things in phases?
Depending on what you're looking for, we might be able to scope the project in phases. This would allow us to get your website up and running quickly with the most important features. We can then add additional features and functionality as time and budget allows.
3: What is the decision-making process?
Are you required to get multiple proposals? Is the decision-maker participating in the discussions? We need to know who will be involved in the decision-making process so we can send the right information to the right people.
Let us know your process so we can accommodate your needs.
4: When do you expect to make a decision?
We need to know your timeline so we can scope the project accordingly. Do you have a launch date in mind? Are there any other deadlines we need to be aware of?
If we provide a quote that's acceptable, are you ready to start right away or do you need time to gather content and other resources used in the project?
Questions About the Website
These questions help us create a solid scope of work to eliminate, or at least reduce, any scope creep or surprises during the development of your website.
1: Do you have a domain name already?
Getting the right domain name makes a difference to your potential customers. It's important to have a domain name that's easy to remember and spells out what you do.
If you don't have a domain name, we can help you choose one that represents your business well.
2: Who will be our point of contact?
We'll need to have a point of contact to review our work and answer questions as the website development progresses.
It's helpful if this person is familiar with your business and can make decisions quickly.
3: Where will content for the site come from?
A website without content is useless, so understanding what content you need and how it gets provided is a key part of the site development plan.
We'll need to know who provides the content and what format it requires. Images need specific sizes to keep the site operating quickly. If you need video, we'll need to provide a video player and know the source URL.
4: Roughly how many pages will the site include?
A basic web presence or brochure site may only require 5-7 pages. However, your needs may vary. If you plan to have a lot of content, the number of pages will be much higher.
Will you be blogging or sharing news items?
Not every website needs a blog or news feed, but sometimes it's useful to show credibility and help with search engine optimization.
5: Will you be selling things online?
There are different ways to sell and you may not want your sales site to occur on your main website. Help us understand your primary objectives so we can recommend the best solution for your business.
6: Do you need an event calendar? Event registration?
Integrations are a key part of building a website. If you need to add an event calendar or registration service, please let us know the type of events and frequency so we can add it to the scope of work.
7: Do your clients need to log in for any reason?
Websites that handle sales, memberships, courses, or coaching clients may need a portal for their clients to log in and access a profile or resources.
This can be a simple login page or an entire eCommerce system. We'll need to know what you need so we can scope the project accordingly.
8: Do you use Social Media? Which networks?
Social media is ubiquitous for businesses. How will your social media networks interact with your website? We'll need to understand your social media strategy to incorporate these networks into your website.
9: Do you have videos you want to use?
Video keeps visitors on your site longer and is a good signal for search engines that people enjoy your site. If you're providing courses or memberships, video is an important aspect of teaching.
Let us know what video you have and how you need to present it.
10: Do you want testimonials? Do you have them already?
Testimonials are social proof that your business has fans. Not only is it a good idea to show testimonials, but you also want to ensure that you have a contract to ensure your permission to use them on your website.
11: Do you need any third-party integration?
Integrations can be the heart and soul of a website. A simple integration may be a form to collect emails, a calendar to register events, or provide some other service. We'll need to know what services or plugins have to integrate with your website.
12: Should the website simply be a credibility piece or will you want to generate leads from search results?
Not every website needs to be complex to achieve a good business result. However, there are benefits to collecting leads or ranking well in search results. We'll need to understand your business objectives to scope the website development process accordingly.
13: Aside from communicating information, is there anything else the website needs to do?
Websites can communicate information, but they can also perform tasks. Do you need your website to perform any tasks or services beyond providing information?
If so, what does the site need to do?
The Website Launch
A website launch is an exciting time, but it shouldn't be rushed. Otherwise, there's no time to check and ensure everything is working correctly.
Also, we like to ensure that your website receives the ongoing care and maintenance it needs as software updates, backups, and other needs arise.
1: Do you have a deadline?
Since we don't know your timelines yet, we ask about your deadlines to see if your project can fit within our existing workload and schedule.
2: How do you handle email?
Do you have an existing email service provider to send bulk emails to your leads or clients? If so, do you need to integrate this service into the website?
3: Who will be responsible for maintaining the site after it has been launched?
Not every person has the time or dedication to maintain a website after it launches, but Suburbia Press can help. Let's discuss how to ensure your new website stays functional, secure, and up to date.
Let Suburbia Press Build the Website of Your Dreams
You've seen the kind of questions we ask of our clients to ensure that we understand their business needs and develop the kind of website that serves their customers.
It's a lot of work, but that's what we do. You're great at your business. Why not schedule a free discovery call to see if it makes sense to outsource your website project to Suburbia Press?
Just click the button below to get started.