Searchie 2 Tour: NEW Interface that's EASY to Use
We're going to take a Searchie 2 tour in this article, along with the embedded video, to give you a look at the improvements in Searchie 2.0.
The biggest change in the user interface is that Searchie now emphasizes hubs rather than being a media-centric video host.
If you're not familiar with Searchie, please take a look at my Searchie Review to get up to speed on what the platform is and how it can benefit your business.
Video: Searchie 2 Tour
If you want to watch my Searchie 2 tour on video, please take a look at this video to see some of the new features in action.
What's New in Searchie 2.0?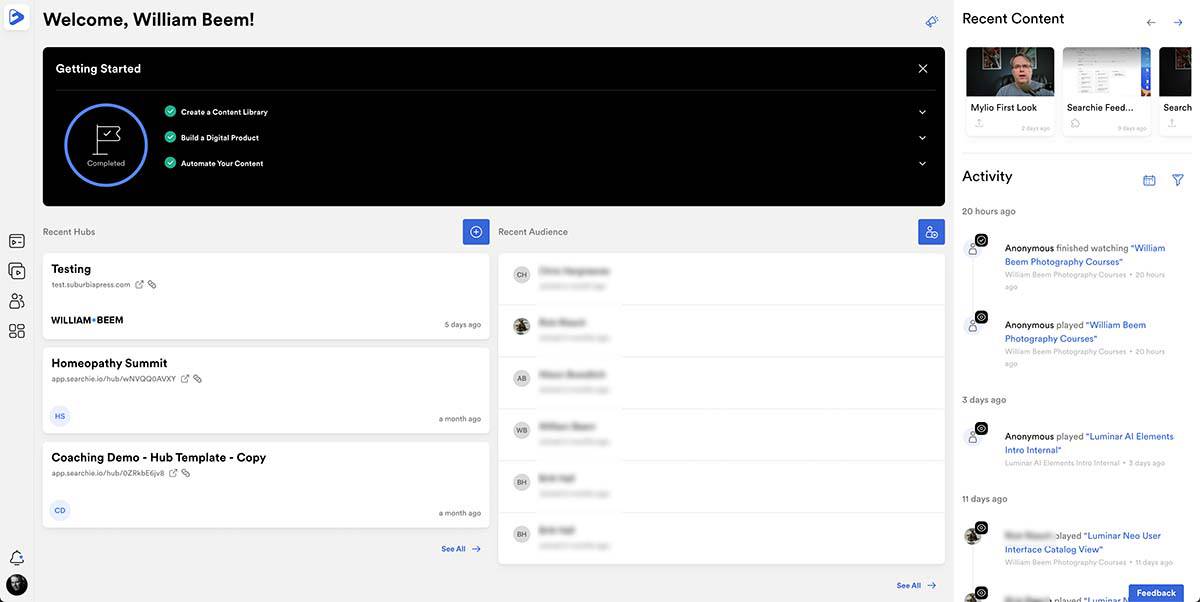 The first thing you notice in the Searchie 2 tour is a completely reimagined user interface. the first block on top provides some elements to help you get started. Once you're done with that, you can dismiss this block by clicking the X at the top-right corner.
Instead of looking at a list of folders with media, now we see sections identifying recent activity with your Hubs, Audience, and Content. You can see what's happening in the major portions of your account at a glance.
What is a Searchie Hub?
Searchie Hubs are web platforms that sell digital content like courses, memberships, or coaching services. They're easy to build and don't require any coding skills. Searchie hubs are mobile responsive, so they work well on any type of device.
You can use the integration with Stripe or use Zapier to connect your hub with other cart services, email service providers, and many other services supported by Zapier.
Check out this article that explains Searchie Hubs in more detail.
Why Searchie 2.0 Puts Hubs Front & Center
The updates to Searchie 2.0 are because Searchie is evolving from a media-centric video hosting service into a web platform designed to sell digital content.
Everything we knew about Searchie is still there, but it's more than a media library of searchable videos now. Searchie 2.0 is a platform that lets users create websites that make use of searchable digital media.
Without needing to know how to code or perform technical tasks, you can build a website that serves your audience and earns revenue. This change in the user interface reduces the number of steps you need to take to get to your hubs and also makes the controls much easier to find and use.
Searchie 2.0 is a user interface optimization that clearly puts usability for the new features of the platform within easy reach without sacrificing access to the original purpose.
The left-side menu has fewer options in Searchie 2.0 – four instead of seven.
The new interface collapses Folders and Playlists into the new Library while discarding the Media view from the menu.
The Hubs menu icon comes first and shows you a list of your hubs. Each hub shows quick access buttons to either see the dashboard or customize the hub, reducing the steps to get where you want. The Audience and Apps menus have similar refinements that we'll address below.
The New Library Interface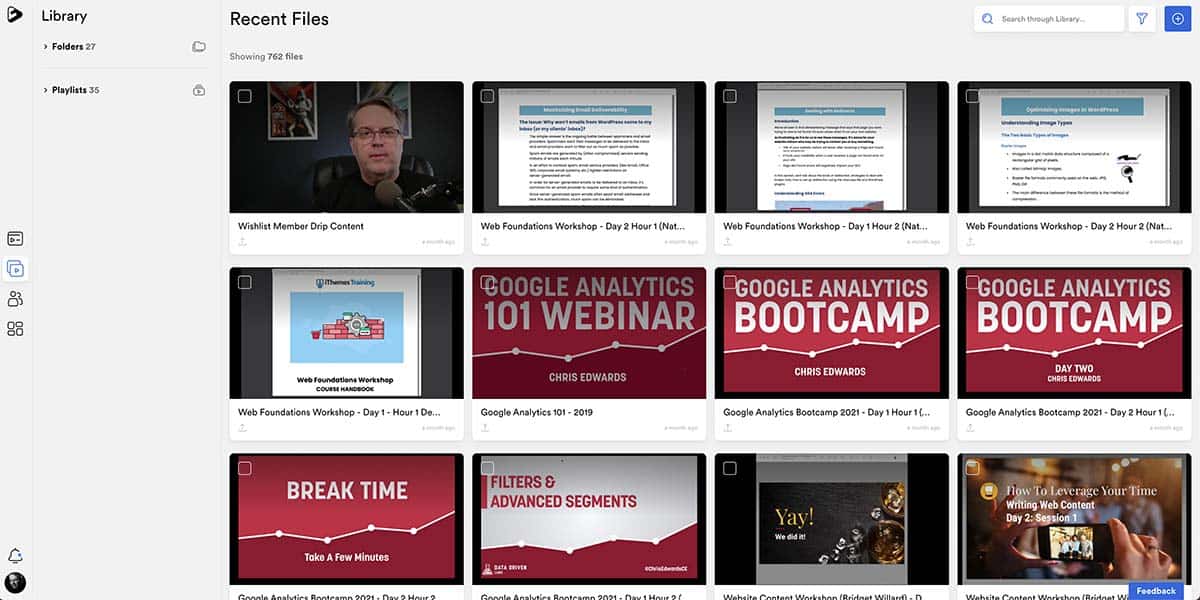 The next stop on the Searchie 2 tour is the new Library page.
When you enter the Searchie 2.0 Library page, your media is still front and center. On the left, you see drop-down options for your folders and playlists. No longer do you have to switch among three different pages to achieve the same result as you did in the original Searchie interface.
Folders work just like they do on your operating system. They're a place for your files. You can use them to collect related files in a group, which makes it easier later on when you want to take action on those files.
Playlists are a bit different. You use Playlists in your Searchie Hubs to display media to your audience. Within a playlist, you can sort the order of display and also add information to control who gets to see a playlist.
Now let's take a look at how you can manage your media with the Searchie 2.0 Library interface.

Each media file in the Library has a box to check in the upper-left corner. When you select one or more files, you see the blue bar menu appear above the media. Each of those icons represents a different action you can take on your selected media. From left to right: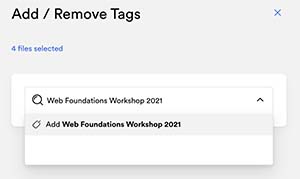 This new interface makes it very easy to select and manage the attributes related to your media files.
Adding or removing tags is an important part of determining who should, or shouldn't, be able to access your media.
After selecting the files in a specific folder, I clicked the icon to Manage Tags and an interface slides out from the right side.
The interface provides a search bar to find existing tags that I've already created. I can select them to add or remove from these files. Also, I can just type something to create a new tag, as I've done in this screenshot, to identify these files. All I have to do to create and add the tags is click the option shown to Add my new tag.
The new Library interface simplifies common tasks and allows you to perform faster to get your work done.
How to Work with Searchie 2.0 Audiences
Another change in the Searchie 2 tour is the revamped Audience page.
You can find a list of your Audience – that's the name Searchie has for users in your system – when you click the Audience icon. To protect the privacy of my audience members, I'll just show the header here.
The four icons in the upper-right corner provide access to take action. From left to right, top to bottom, those icons allow you to: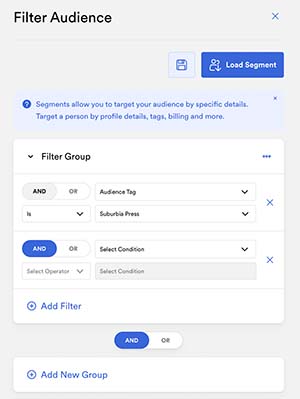 Searchie allows you to filter your audience and build Segments. These audience segments allow you to easily define access to your Searchie Hubs, Pages, Sections, Playlists, and media files.
As you can see, the criteria to define a segment can be rather simple or quite complex. You can use AND/OR logic on different criteria, and also use that AND/OR logic on multiple groups.
The first field allows you to select from a list of criteria. In this example, I chose to use an Audience Tag of Suburbia Press.
Anyone who has that tag applied to their account becomes part of this segment. I could stop there or I could continue to add more criteria within the same group.
Why Add a New Group?
Each group has its own criteria, but sometimes you may want to search for GROUP A or GROUP B to be part of a segment. Rather than coming up with an overly complex query within one filter group, it may be easier to simplify your queries with different groups.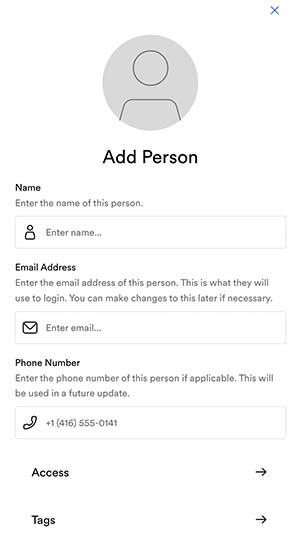 You can add a person manually using this form. Alternatively, you can create a CSV file and import one or more new audience members into your Searchie account.
The import feature was incredibly helpful to me when I transitioned my audience from Wishlist Member over to Searchie. All I had to do was export my users into a CSV file and then import them to Searchie.
Another option to get users into Searchie can be when you sell access using Stripe or from a Zapier integration with another service, like ThriveCart.
To use the manual form, you have a few options. Enter the name and email address. You can also add a phone number if that's important for your business. However, I'd leave that out if you don't need it.
That's because you never want to be responsible to protect any user data that you don't need. In most cases, I only want the first name of a user because I don't need to use their last name.
There are two more important fields below the phone number.
The Access menu shows a menu of your hubs. That's like allowing a person into the building, but they may not yet have access to different rooms in the building. When you allow hub access, there's a checkbox to send a Welcome message.
Audience Tags are like the keys to an office in a building. If you recall how we established Tags for media files, folders, and playlists in the Library section of this article, the Audience Tags are the other half of that equation.
Think of the Library tags are a lock and a matching Audience tag as a key to the lock. When they match, your audience member can view the content in your hub.
New Features Yet to Come
There are a few more features that I can't yet show on the Searchie 2 tour, but they're expected when this release comes out of beta.
This Searchie 2 tour shows a beta mode user interface, but there are still some new features yet to come in Searchie 2.0. Here are a few of those promised additions.
Drip Schedules & Gamification in Searchie
If you've worked with another Learning Management System (LMS) before, you may have experienced the notion of using a Drip schedule to release modules or lessons.
The idea behind a Drip schedule is to ensure that your students are proceeding in order through your training. You want them to complete foundational information that may be a precursor to the next module or lesson.
If someone skips ahead without understanding a concept or lesson that's a prerequisite, it may cause confusion for the student and also lead to cancellations. Another reason may be due to a desire to give them an exam or quiz before releasing the rest of your course.
Searchie doesn't offer exams or quizzes yet, but there's nothing preventing you from implementing that sort of thing outside of Searchie.
Gamification takes another approach to encourage students to complete their lessons and modules. The idea is that students can earn awards or achievements for completing a task. There's a strong psychological motivation to show progress or the pride of accomplishment. Gamification offers a reward for progress.
Create Searchie Hub Templates
The current way to build a Searchie hub uses the elements provided by Searchie. You can customize them as you wish, but you have to manually customize each element, with the exception of basic color and typography selected for your hub.
Each element has many options to customize its appearance. By providing Searchie Hub Templates, you can keep a library of reusable building blocks to use on future hubs.
Even better would be the option to share or sell these Hub Templates to other Searchie users, or to provide a development service for other customers. As a WordPress developer, I have a lot of automation tools and pre-defined blocks that help me assemble pages in a fraction of the time that it would take to do everything as if it were the first time.
Searchie Hub Templates are expected with Searchie 2.0 and will make a massive improvement to create new and interesting hubs without spending an excessive amount of time.
How to upload without any limits
Here's a tip that's not new with the Searchie 2 tour, but already exists. If you want to upload a video without using any limitations on your plan, use the Searchie Chrome extension. Any video you upload using that tool doesn't count toward your monthly usage plan for uploads.
The Searchie Chrome extension is similar to services like Loom. You can record your desktop, audio, or webcam video using this tool. When you complete it, it's automatically uploaded to your Searchie Library.
These videos get the same benefits as any other. They're automatically transcribed. You can add tags and put them in folders or playlists to share with your audience. Alternatively, you can just send a link to the recording to someone by email.
Our Pick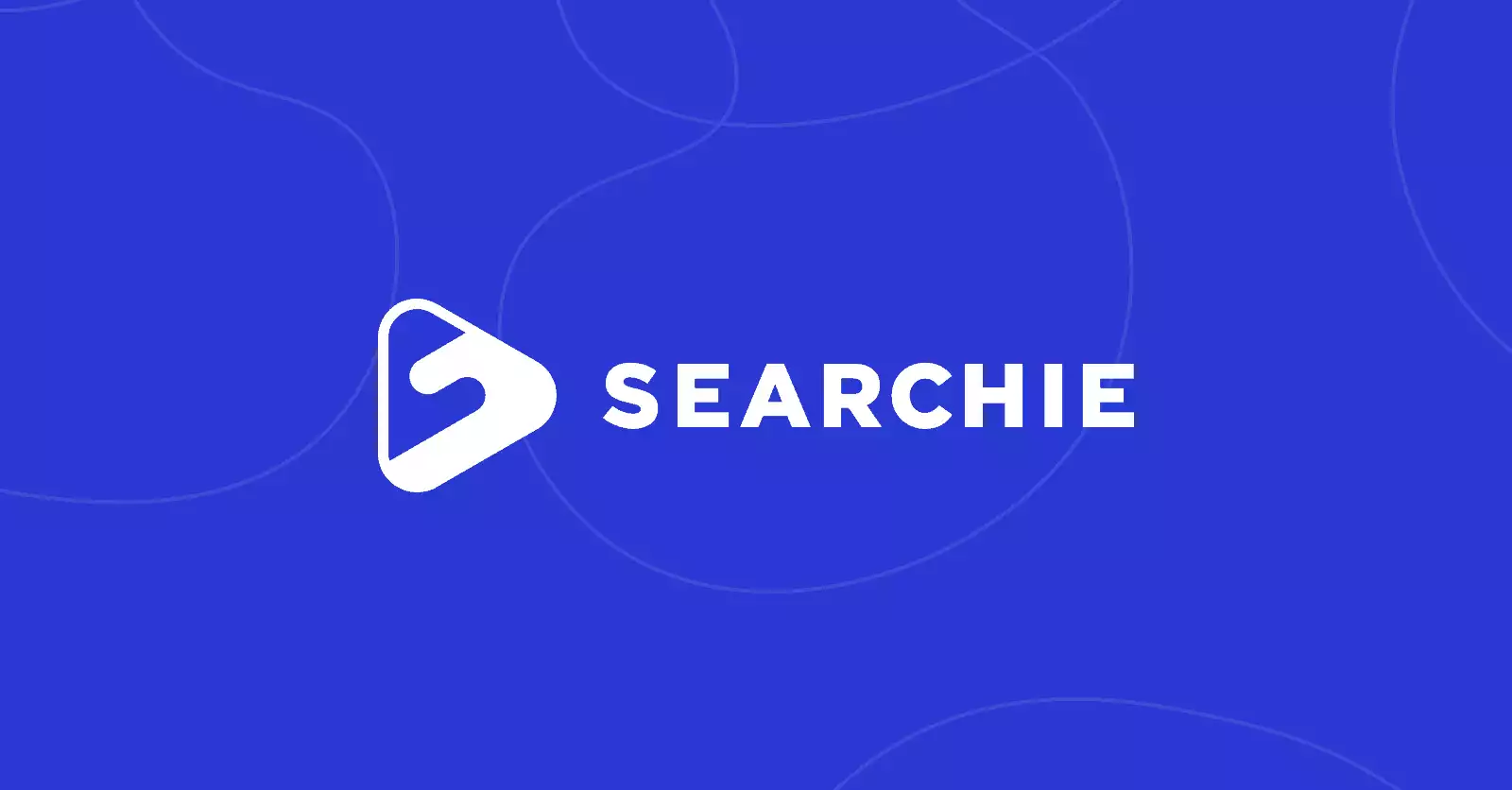 Searchie
Searchie is the perfect solution for membership, coaching, and course platforms. It's reliable, easy to use, and packed with features,
With Searchie, you can easily import videos from other sources like Zoom, Facebook, or Vimeo. Plus, you can create beautiful hubs with content for your students or members to enjoy. And because Searchie is self-hosted, you can be sure that your videos are always available and never go down.
Pros:
Easy to use

Search within video or audio to find the content you want

Video & Audio hosting

Automatic transcription

Ad-free

Unlimited video uploads using Searchie Chrome extension

May allow users to download video, audio, or text transcript

Works great on mobile devices

No transaction fees

Searchie Academy training to learn how to build your hub

Use your own domain
Cons:
No community features

Free trial, but no free plan

Hubs must be Public or Private only

SSL requires Cloudflare DNS
Buy Now
Read Our Review
We earn a commission if you make a purchase, at no additional cost to you.

Check out our article on how to choose different types of hosting platforms:
Best Types of Hosting Platforms