ActiveCampaign Review | BEST Email Marketing CRM?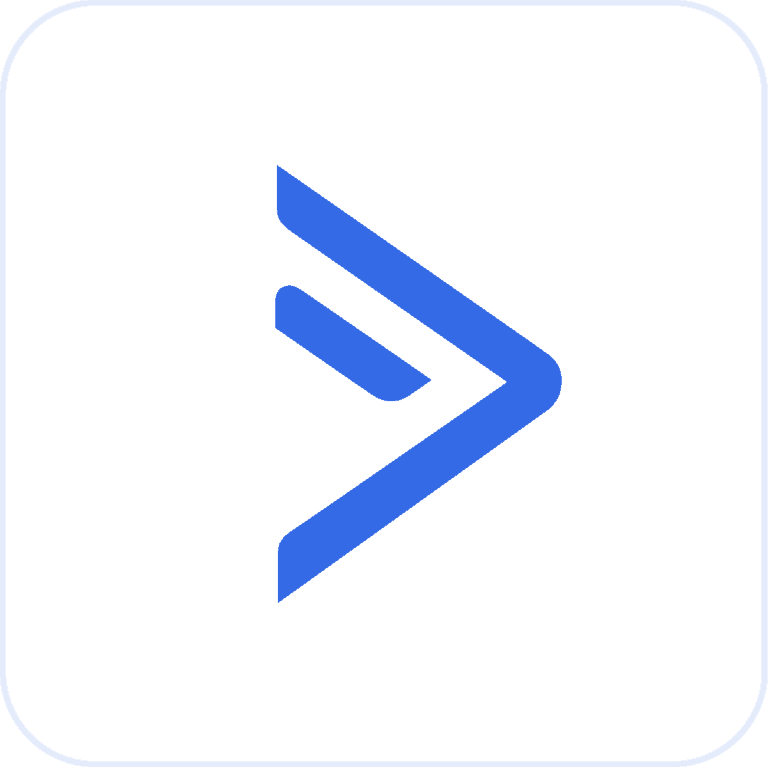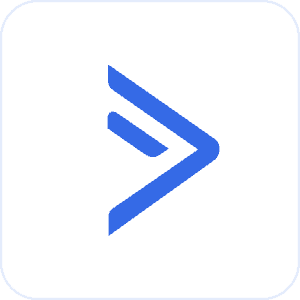 Name: ActiveCampaign
Description: ActiveCampaign is the best email marketing automation & CRM platform for small businesses. It's easy to use and emphasizes customer experience. With ActiveCampaign, you can manage your entire customer lifecycle from one place - from first contact to purchase to post-purchase follow-up. Plus, it integrates with all the other tools you already use, so you can start generating more leads and sales today!
Offer price: 9.00
Currency: US Dollars
Operating System: Web
Application Category: Business
Author: William Beem
Summary
Email marketing can be a tough nut to crack. You want to send out engaging content that connects with your customers, but you also don't want to bombard them with too much information.
ActiveCampaign is the perfect solution for small businesses that are looking to get the most out of their email marketing efforts. With an easy-to-use platform and robust features, ActiveCampaign makes it easy to create beautiful emails that will resonate with your customers.
Plus, with powerful automation tools, you can take your email marketing to the next level by segmenting your list and sending targeted content that is relevant to each customer. ActiveCampaign is the Email Marketing Automation & CRM Platform that makes it easy to connect with your customers and grow your business. 
Effectiveness

Pricing

Support

Ease of Use

Integration
Pros
Advanced email marketing features
Easy to use
Plenty of documentation and tutorials
Emphasis on Customer Experience
Cons
Advanced features may be difficult for beginners
Price rises with more subscribers / higher tiers
Lite plan lacks advanced features
ActiveCampaign is a fantastic platform for managing your email campaigns. It's packed with impressive automation, strong analytics, and an outstanding in-house contact list. Given its low starting price, it's also the finest value among all the email marketing software we've evaluated.
5 That's why ActiveCampaign is my #1 recommendation among the best email marketing services.
If you're looking for a comprehensive email service provider and CRM solution, ActiveCampaign should be at the top of your list. It offers everything from automated marketing to powerful CRM features, all for an affordable price.
You can use ActiveCampaign as a beginner on an inexpensive plan and grow to use the features that advanced marketers demand when you're ready for those tools
An ActiveCampaign Review for Small Businesses
In this review, we'll take a look at all that ActiveCampaign has to offer and see if it's the right fit for your business. There are several plans for users to start and grow within ActiveCampaign.
Given the difficulty and frustration involved with moving your email marketing efforts and automation from one email service provider to another, you may want to start with a service that's robust enough to grow as your business grows.
While ActiveCampaign does not have a free plan, there is a 14 day trial period on all plans
Why Does Your Business Need Email Marketing Automation Tools?
Email marketing automation is a technology that automates the process of delivering personalized emails to the right person at the perfect time. The most fundamental aspect of email marketing automation is scheduling an email to send at a certain date and time.
Email automation, on the other hand, is much more complex than that. You can contact people based on how they interact with your brand, automatically send follow-up emails, segment your contact lists, and more.
With email marketing tools like ActiveCampaign, you can take the guesswork out of email marketing. You'll be able to deliver the right message to the right person at the right time every time.
Is ActiveCampaign One of the Best Marketing Automation Tools?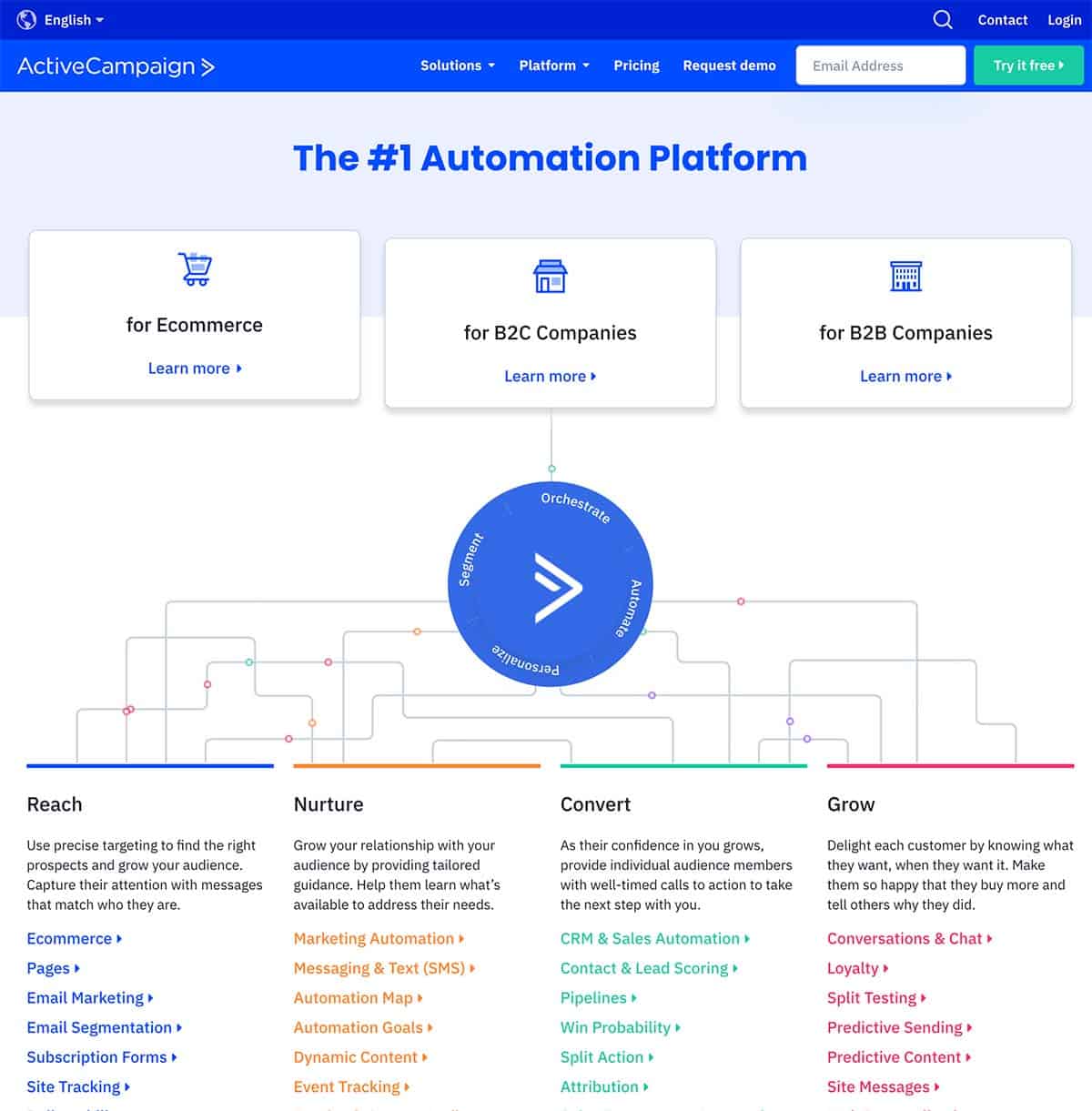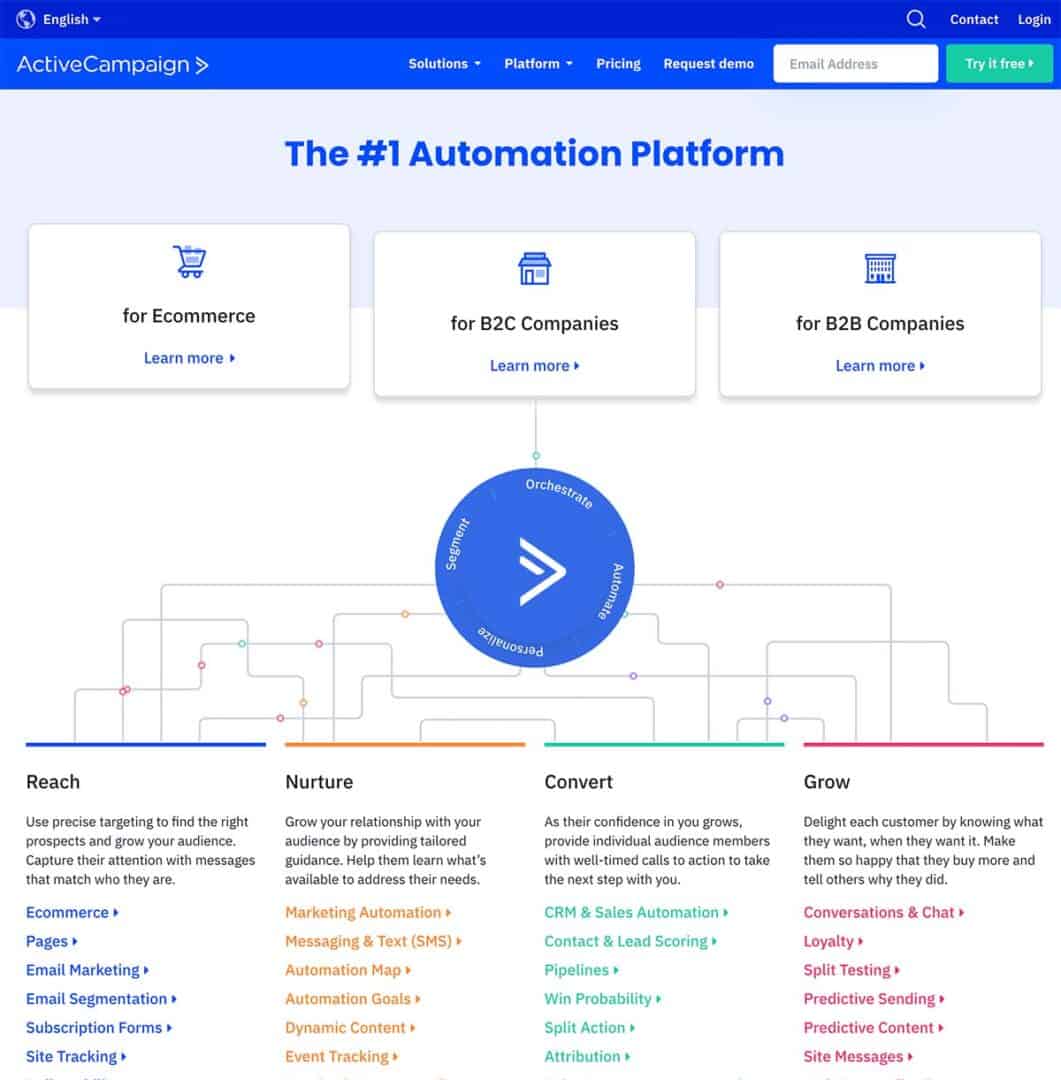 ActiveCampaign is a comprehensive email service provider and CRM solution that offers everything from automated marketing to powerful CRM features. It's designed for small businesses, so it's affordable and easy to use.
ActiveCampaign offers a wide range of features, including:
ActiveCampaign offers impressive email features like custom workflow, behavior-based and date-based automation, and workflow templates. It also offers a wide range of CRM features, including sales pipeline management, contact management, and deal tracking. And it's one of the most affordable email service providers on the market.
The automation feature is versatile, powerful, and user-friendly. It allows you to set up follow-up campaigns automatically, modify numerous criteria, and much more using a simple flowchart-style automation builder.
There are also pre-made "recipes" (templates) available for you to utilize or steal ideas from if desired. Otherwise, you can start from scratch and create your own custom automation workflows.
ActiveCampaign Awards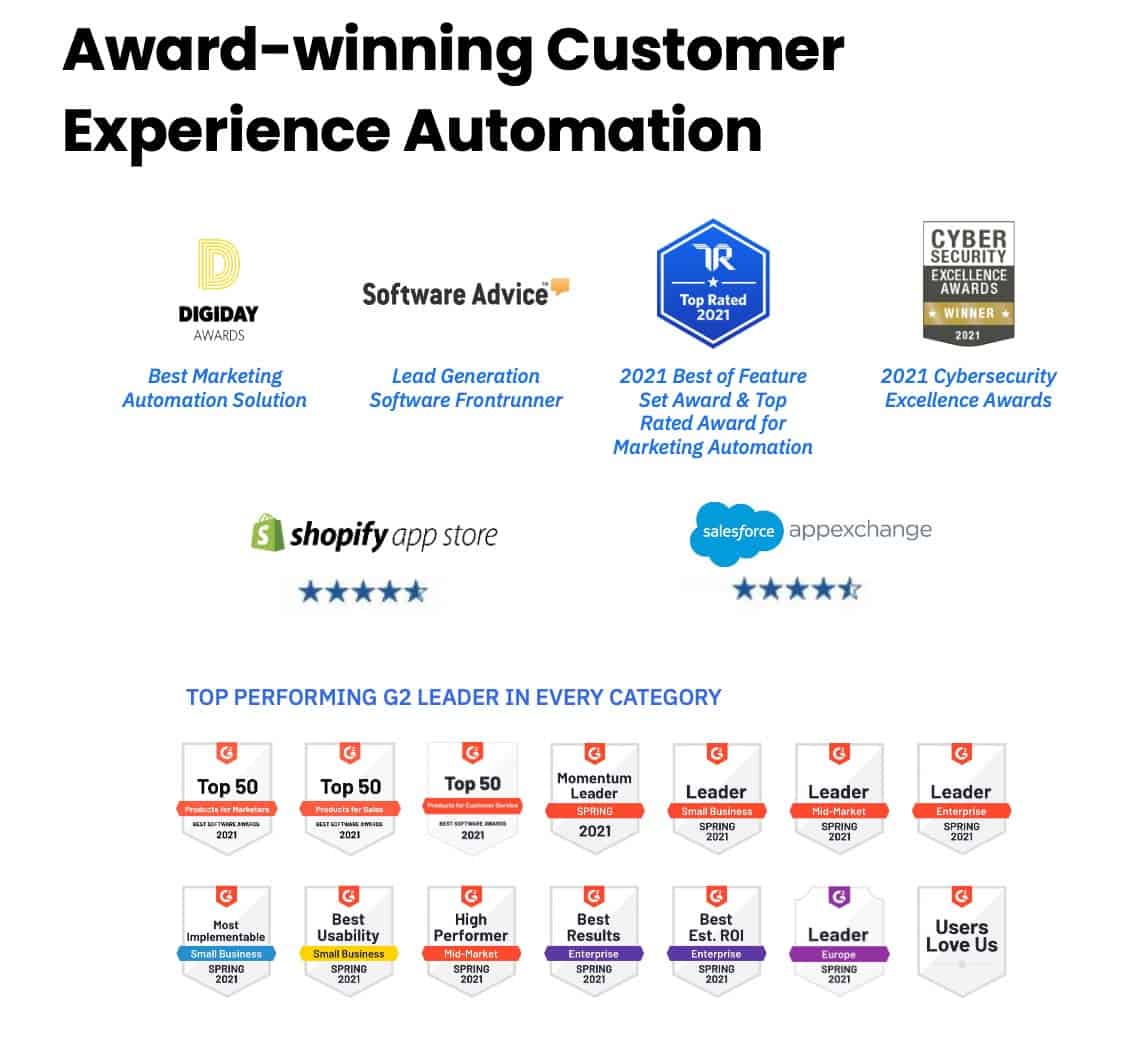 I'm not the only one who praises ActiveCampaign. Take a look at the awards listed above and you can see that it's well respected by major industries and reviewers. ActiveCampaign is one of the most trusted names among email marketing services.
What are the ActiveCampaign Benefits?
ActiveCampaign is a great choice for a small business looking for an all-in-one email service provider and CRM solution. It's packed with features, including automated marketing, powerful CRM, and an affordable price.
Here are a few key features and benefits of ActiveCampaign.
1: Value
ActiveCampaign is the best value email marketing software available – its packages start at $9 per month (paid annually) and include lots of extras, so you'll get a lot of bang for your buck.
The short answer is that ActiveCampaign is a capable tool for email marketing. The typical ActiveCampaign customer is in B2B or eCommerce, but many online businesses can use ActiveCampaign for unlimited emails, as a landing page builder, for sales automation, and other tools. It's a complete and robust email marketing service.
ActiveCampaign is an excellent choice for small business owners who are looking for an all-in-one email service provider and CRM solution. It's packed with features, including automated marketing, powerful CRM, and an affordable price.
If you're looking for a comprehensive email service provider and CRM solution, ActiveCampaign should be at the top of your list.
2: Customer Service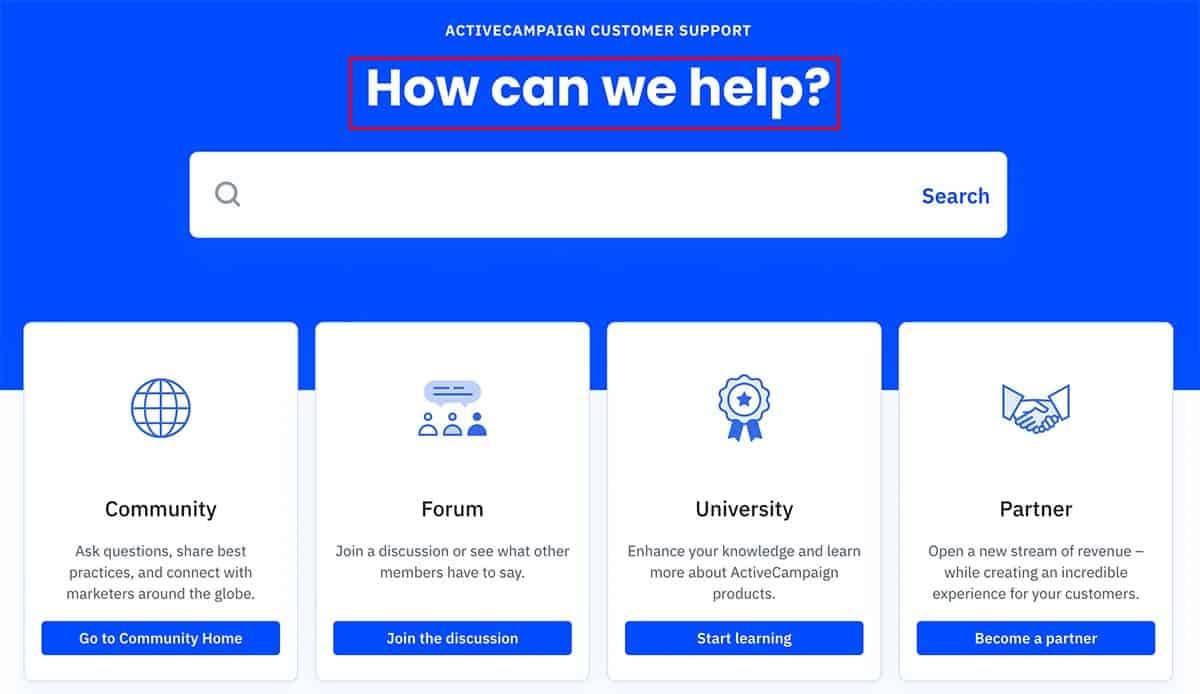 Full-time customer support is available by phone or a live chat, and you'll get the best in-house contact list and subscriber management, contact profiles, task tracking, task automation, lead scoring, and interaction history.
New users have plenty of support options, but I think the best place to start is with the ample supply of documentation and video tutorials that show you how to get down to business using the automation templates, landing page builder, and other tools.
3: Segmentation
It's simple to divide your subscribers: ActiveCampaign employs "tags" as a method of segmentation. Email segmentation, as the name implies, is the process of dividing your email list into distinct categories. In fact, 78% of the ROI for targeted, customized and triggered campaigns comes from segmented, targeted, and triggered efforts (Campaign Monitor).
The process of email segmentation should be ongoing, and you should always be looking for ways to improve your results. Segmenting your list is one of the most important things you can do to improve your email marketing results.
Using tags and lists in ActiveCampaign helps you identify your customer's needs and interests to drive your sales automation efforts.
4: User Interface
ActiveCampaign's user interface is well-designed and easy to use, making it highly accessible. The email designer allows you to quickly create engaging campaigns that convert, resulting in a better customer experience. If you get lost or if something doesn't seem right, look for pointers that will lead you in the correct direction.
The interface is simple and straightforward, with a left-hand sidebar that houses all the main features. The automation builder is especially easy to use, with a drag-and-drop interface that makes it simple to create complex workflows.
ActiveCampaign's user interface is one of its best features – it's well-designed and easy to use, making it highly accessible. The email designer allows you to quickly create engaging campaigns that convert, resulting in a better customer experience.
If you're looking for an easy-to-use email service provider with a great user interface, ActiveCampaign is a great choice.
5: Customer Relationship Management (CRM)
The ActiveCampaign CRM system is a huge selling point for ActiveCampaign. It's not as comprehensive as some of the other CRMs on the market, but it's more than enough for a small business.
Connecting your CRM to other tools is an integral part of managing your relationships. You can work on the go with the mobile iOS app for ActiveCampaign.
Assign tasks to members of your team and track them within your account web page. The ActiveCampaign CRM is a great way for your sales teams to have contact information at their fingertips.
6: Marketing Automation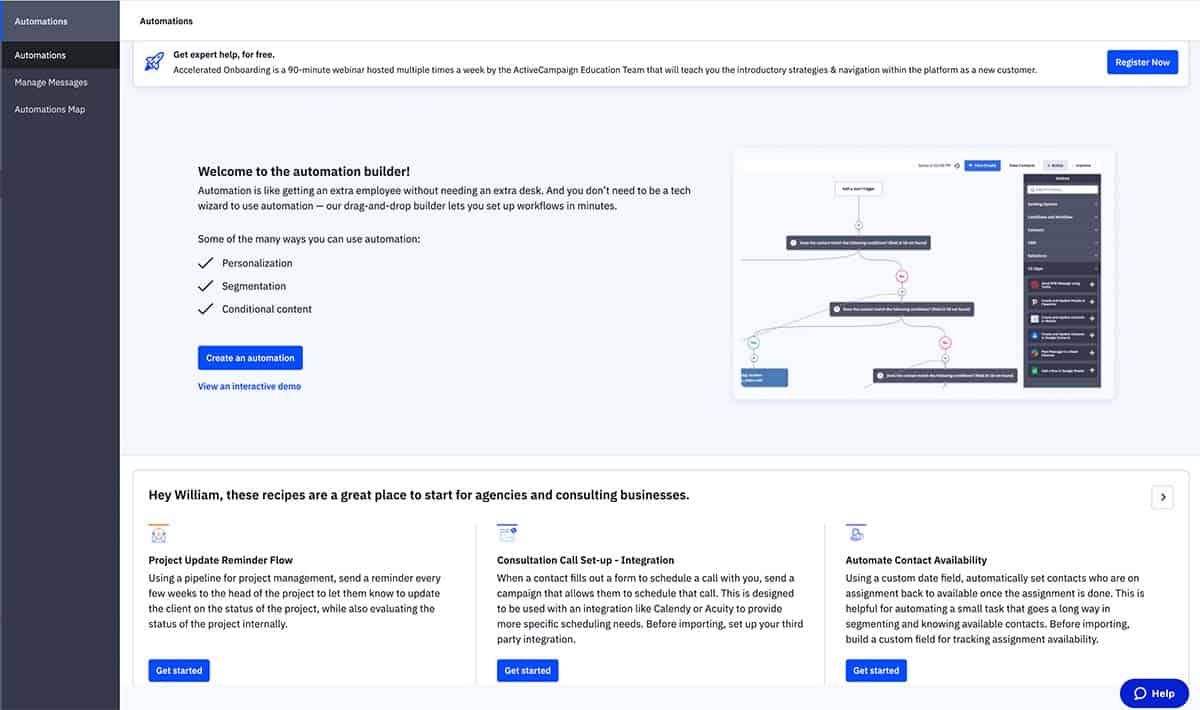 Advanced automation allows you to create powerful workflows that nurture your leads and customers through the sales funnel.
Knowing that Automation is a difficult topic for beginners, the first thing you see in your ActiveCampaign marketing automation window is a welcome message with a link to an interactive tutorial. There are also recipes available to get you started creating campaigns to drive your email marketing services.
7: Tracking and Reporting

You can use ActiveCampaign to manage your sales pipeline, close more deals, and track your progress. It's one of the most affordable CRM solutions on the market.
Advanced analytics capabilities are available with ActiveCampaign, which can assist you in tracking and enhancing your campaigns, including:
As you can see on the menu, there are reports available for every aspect of your account within ActiveCampaign. You can define and track your goals, see how your conversions are working, track the progress in your automation, or create custom reports that aren't defined already.
Contact reports show a number of trends to measure the growth and activity of your list. You can see Open/Read trends for the email campaigns you send and determine the performance of your forms.
ActiveCampaign reporting and tracking let you understand how people are interacting with your landing pages, website, and emails. You can see where you're potentially losing visitors and then devise a plan to retain them.
8: Integration with Tools
ActiveCampaign integrates with a wide variety of popular business applications, making it easy to connect your email marketing services with the rest of your workflow. Among the many integrations are:
Since ActiveCampaign supports webhooks and Zapier, your integration possibilities with third party services are quite vast.
9: Lead scoring

ActiveCampaign offers Lead Scoring, or contact scoring, functionality. Not enough users take advantage of this feature, and it's not available on the lowest tier.
You want engaged users. Any subscribers who aren't engaged just drive up the cost of your monthly payment to your email service provider. In other words, inactive customers are dead weight that wastes your money.
Contact scores increase or decrease by user engagement.
The system offers various ways for users to increase their points, including responding to a campaign, commenting on a post, or liking a page. Automating sales is based on whether the user scored highly or alerted the sales team about future prospects.
The biggest mistake is failing to utilize the correct method. Your sales force may communicate with qualified lead managers and inquire about their services and provide personal service directly to the client.
10: Ease of Use
Parts of ActiveCampaign, such as adding subscribers, are very easy to use. Other aspects of the email marketing platform as designed with an advanced user in mind and can be more difficult to grasp.
The user interface isn't as intuitive as it could be, and some of the terminologies can be confusing for newcomers.
However, ActiveCampaign offers excellent documentation to help you get started, including video tutorials, webinars, and more.
The onboarding process is very easy and so is the email builder. The difficulties come with the advanced features, such as marketing automation and reporting. These systems cater to a more advanced user than someone who simply needs to send a newsletter.
If you're a beginner with email marketing, you may struggle to get some concepts that are common in marketing automation. Automated workflows are possible within ActiveCampaign, but an automated campaign takes significant planning to implement correctly.
ActiveCampaign enables some technical email marketing actions, like predictive sending. Some of the marketing tools try to make things easier, such as the ability to use automation templates or CRM functionality.
11: ActiveCampaign Support Options
All of ActiveCampaign's pricing plans include the following support features:
It also includes phone assistance, but only on its most costly Enterprise plan, which costs $299 per month. Unfortunately, phone support isn't offered on its cheaper plans.
The good news is that you can use both email and live chat support for all of your plans. The help center, which is always accessible, contains a wealth of helpful tutorials and stories designed to assist you.
ActiveCampaign has plenty of information to help you understand how to use the service. A large library of video tutorials and knowledge base articles help you understand how to use CRM tools, automation, and more.
12: Excellent Email Deliverability
It doesn't matter how well you create email marketing automation and sequences if your emails don't make it to your subscribers. ActiveCampaign users benefit from some of the highest email deliverability among the various email marketing platform services.
According to the metrics recorded by Email Tool Tester, ActiveCampaign has a 91% deliverability rating. Most ActiveCampaign customers expect high email deliverability rates for their digital marketing and the service delivers.
13: Landing Pages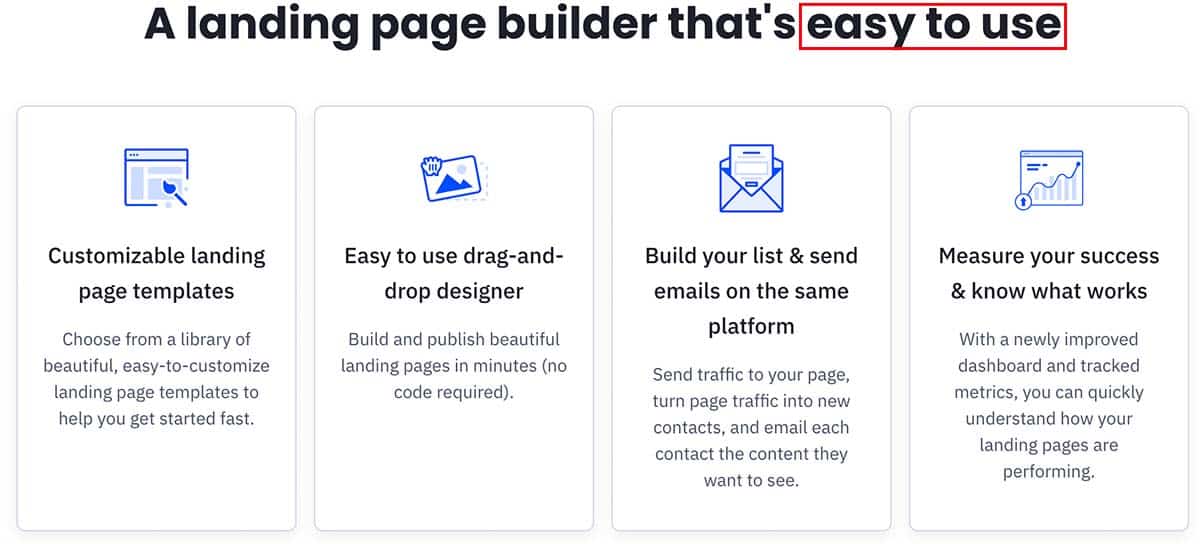 Landing pages are places where potential customers first visit your business. While any page can be a landing page, you can direct traffic to specific pages designed to entice them to subscribe to your email service as a lead.
ActiveCampaign provides landing page templates to get you started. These templates are attractive and professionally designed to help you quickly create high-converting landing pages for your business.
14: Email Editor

Creating your emails shouldn't be hard. ActiveCampaign gives you a drag & drop email editor so you can customize every email you send. Create your own style that works with your brand or use one of the email templates to get started.
Like the landing page templates mentioned above, you get professionally designed email templates to help you convert visitors into leads or customers.
15: SMS Messaging

When you get a text message on your phone, what do you do?
SMS messaging triggers an instinctive reaction to read the message. We can't help ourselves because text messages are immediate and we don't want to miss something important.
Use judiciously, SMS messaging can reach your subscribers to deliver a message to let them know about a sale, offer a discount, or keep them engaged with your brand.
How Do I Get Started with ActiveCampaign?
Video: Getting Started with ActiveCampaign
If you're interested in using ActiveCampaign for your business, there are a few things you need to do to get started.
First, you'll need to sign up for an account. You can choose from one of three plans: the Lite plan, the Plus plan, or the Enterprise plan.
Once you've signed up for an account, you'll need to set up your contact lists. You can either import your existing contacts or manually add them to ActiveCampaign.
Once your contact lists are set up, you can create an email campaign. To do this, you'll need to use ActiveCampaign's drag-and-drop email builder.
If you want to use ActiveCampaign's automation features, you'll need to create a workflow. You can either use one of ActiveCampaign's pre-made recipes or create your own custom workflow.
Once you've created your email campaign and/or automation workflow, you can start tracking your results. ActiveCampaign will show you how many people opened your email, clicked on your links, and unsubscribed from your list.
You can also use ActiveCampaign to track your sales. You can see which deals are active, which ones are close to being closed, and which ones need more work.
1. Setting up your first campaign
ActiveCampaign features an easy email builder to create a campaign to reach your audience. To start your first campaign, you need to:
You can also use ActiveCampaign's marketing automation to create a campaign. Automation campaigns are more complex than regular email campaigns, but they can save you a lot of time in the long run.
2. Creating Lists and Adding Subscribers
There are many ways to add subscribers (or new contacts) to your ActiveCampaign account. First, you need to create at least one list.
To create a list:
List name – Make the list name succinct yet informative. It's possible that your list will be viewed by others if you make it too long.
List URL – Add your company's website to this field. For regulatory reasons, it is required that you do so.
List description – This is used to remind people why they're on your list and why you're emailing them.
Now that you have a list, you have a place to put your new contacts. Here are a few ways to get subscribers to your list.
3: Use ActiveCampaign Automations

To create an automation campaign, you need to:
ActiveCampaign makes it easy to create and track both regular campaigns and automation campaigns. With ActiveCampaign, you can easily improve your customer experience and increase sales.
4. Tracking results and measuring success
Reporting ActiveCampaign results allows you to monitor the success of your email marketing efforts. The first step to tracking results is understanding some key ActiveCampaign metrics.
You can track these metrics for each individual email campaign and automation workflow. To do so, navigate to the "Reports" tab and click on the name of the campaign or workflow you want to measure.
You can also track your ActiveCampaign results over time by creating a custom report. To do this, navigate to the "Reports" tab and click "Create a report."
ActiveCampaign Pricing

ActiveCampaign starts as low as $9/month for the Lite plan with up to 500 subscribers. As you get more subscribers, the price goes up.
Also, higher-tier plans that offer additional features also have a higher fee and their pricing rises with the number of subscribers in your account.

There is no free plan for ActiveCampaign, but you do get a 14-day trial period to see if the email marketing platform is right for your needs.
There are four levels: ActiveCampaign's tiers are clearly created with different dimensions in mind.
The Lite plan includes everything you need for email marketing and list creation for small companies.
The Plus plan includes all of the features of the Lite plan, plus CRM capabilities, goal tracking, and more.
The Professional plan includes all of the Plus plan's features, advanced segmentation, and reporting capabilities.
The Enterprise plan is ActiveCampaign's most comprehensive offering. It includes everything in the Professional plan, plus custom branding, and a dedicated account manager.
Who Should NOT Get ActiveCampaign?
ActiveCampaign is my #1 recommendation for most businesses, but sometimes it's not the best fit. Suburbia Press exists to help entrepreneurs determine which technology is best for their business.
With that in mind, I have a couple of thoughts where ActiveCampaign may not be the best option for some businesses.
1: It's overkill for a simple email list on a blog
If all you want is a service to send email updates or a digest to your subscribers, ActiveCampaign is more than you need and the extra options may confuse. It's a great place to start if you want to send updates to your email list and you intend to get into email marketing.
You may want something simpler for those who don't plan on creating automation to support sales for your campaigns or e-commerce marketing.
2: It gets more expensive as your email list grows.
If your email list is growing and your sales aren't keeping pace, a Software as a Service email provider like ActiveCampaign may drain your bank account. This is a tool for businesses. There's an expectation that you're generating revenue, which is a service to help you earn MORE revenue. That's why there's no free account.
ActiveCampaign Review Summary
ActiveCampaign is our #1 recommendation for most business users.
For B2C and B2B & B2C companies, ActiveCampaign provides comprehensive email automation solutions. it's a digital marketing powerhouse that you can use to grow your online business and it's robust enough for enterprise users.
ActiveCampaign is an amazing tool for companies with E-commerce problems and those seeking automation systems. You don't need to master new skills if you're a beginner; instead, you can simply follow the onboarding movies.
ActiveCampaign is a great tool for digital marketing. While you can start at a relatively low price, the advanced features and larger subscriber services can get quite expensive for beginners.
ActiveCampaign is for businesses that are earning revenue and the email marketing programs here help those businesses earn even more. That's why there's no free plan.
Marketers who are only interested in simple newsletter campaigns should avoid using ActiveCampaign. You won't be able to use all of its capabilities and it may not be the best value for simple needs.
Our #1 Recommendation for Email Marketing

ActiveCampaign
If you're looking for an all-in-one email marketing solution that's affordable and easy to use, ActiveCampaign is your best bet. For as low as $9/month, you can take advantage of all the features this powerful tool offers.
With ActiveCampaign, you can easily manage your email marketing, automate your marketing tasks, keep track of your customers' interactions, and grow your business from startup to enterprise. Plus, with over 125 email templates and beautiful landing pages at your disposal, it's easy to engage your audience and nurture them towards a sale.
The built-in AI feature determines when a lead is ready to buy so that you can send the right email at the right time.
Email deliverability: 91%
Pros:
Migration assistance if you're moving from another email service along with plenty of tutorials

The interface is easy to use so you can implement advanced marketing concepts quickly

Advanced Reporting

Implement a customer journey using advanced tools to increase the odds of making sales

Predictive machine learning to send the right message at the right time to make sales

Great email deliverability
Cons:
The image editor isn't the best, so you may want to use an external tool

Lead scoring isn't included in all plans

Reliance upon Zapier rather than native integrations for some services
Buy Now
We earn a commission if you make a purchase, at no additional cost to you.

Not sure which email marketing service provider is right for your business? Check out our email marketing services.
Best Email Marketing Services