FluentCRM Email Sequences
FluentCRM email sequences are collections of related emails that you send on a pre-determined schedule to your subscribers with an interest in the topic. You can use email sequences to help someone make a transformation about any topic.
When they start the sequence, they may not know much about the topic. As the emails progress, you lead them on a journey so they come out of it with new knowledge designed to help them. Email sequences are also a great way to convert leads into customers.
If you're not familiar with FluentCRM yet, make sure you check out my FluentCRM review to get an overview of how it can benefit your business and strengthen your relationship with your leads and customers.
Video: FluentCRM Email Sequences – Email Automation for Conversions
How to Use FluentCRM Email Sequences in Your Business
In practice, an email sequence is just a collection of emails that you deliver to a subscriber that you've identified as a recipient. In practice, email sequences are great conversion tools because they take your subscriber on a journey, transforming them in the process.
Here are some examples of reasons to create an email sequence
Email sequences drip out information rather than delivering everything at once. People like information in bite-sized chunks. If you hit them up with a wall of text, there's a good chance that they will either abandon it entirely or tell themselves that they'll "get to it later."
An email sequence delivers related emails on an overall topic, but delves into a small piece with each step of the way. Do it well and your subscribers will look forward to the next email with great anticipation.
The Purpose of an Email Sequence
Why bother sending all of these emails in the first place?
The idea behind an email sequence is to create a transformation within the reader. They move from the first step to the final result through your emails.
Ultimately, transformation is what people seek. We want to better ourselves. That means your email sequences need to deliver benefits, not features. Explain how and why the person improves and benefits with each of your emails in the sequence.
If there's no benefit to reading an email, why would anyone waste their time going through it?
You need to think of the reader's intent. What benefit does the reader need and how can you deliver interesting information without boring them to tears? A little entertainment with the information may help you deliver the message.
Before you start building an email sequence, think about two things.
Considering the reader's intent means that you need to put yourself in the other person's shoes. Is this person interested in learning about a topic? Does the person need to know how to do something?
Ultimately, is the reader trying to make a purchase decision?
You can use different email sequences to meet your reader where he or she is in the marketing funnel of awareness, discovery and purchase.
When your subscriber is participating in an email sequence, don't interrupt them with other messages. Only have one active sequence for a contact at a time. You may find times when you decide to interrupt one sequence to start them on another, but never put them inside of two or more sequences at once.
If you do, it confuses the reader and dilutes your messaging strategy.
Where to Find Email Sequences Inside of FluentCRM
Getting to the Email Sequence area of FluentCRM is pretty simple. There are three ways to get there.
After choosing from one of those options, you'll find a display like the one below.

You'll see a list of any sequences that you've created. On the right of each sequence you get some information about the number of emails inside the sequence and how many subscribers are currently participating in the sequence.
Anatomy of an Email Sequence

When you open a specific sequence, you'll see a list of the email inside. There are only three emails in this example.
On the left side, you see the title and how much of a delay there is before sending an email.
On the right side, you see an area that will show statistics for each email:
All of this information is useful, but pay close attention to the Unsubscribed numbers. If you find that a particular email causes you to lose subscribers, you need to rewrite or remove that email in the sequence.
The View Subscribers button on the top right corner allows you to see which subscribers are currently going through your sequence.
How to Create an Email Sequence
From the Email Sequences page, click the + Create New Sequence button to get started. You'll get a prompt like this one to name your sequence.

Once you have a name for your sequence, you're prompted to start adding emails.

My advice is to write your emails in a text editor, first. I use Google Docs. If you want to create HTML messages, you may want to use an HTML builder, like Stripo.
Writing your emails requires concentration. In my experience, that's better done in a tool designed for writing. WordPress is a tool designed for publishing. They're not the same thing.
Whether you decide to write inside of WordPress or another tool, click the + Add a Sequence Email button to open the WordPress Block Editor.

This is the same email editor we see in other parts of FluentCRM. If you're not familiar with it, please read the article on FluentCRM Email Campaigns to learn more about how the editor works.
How many emails should you create in a sequence? As many as you need, and no more. Use enough to take the reader on a transformational journey, but not so many that you create a thesis on your topic.
There's no rule to follow, other than to understand the intent of your reader and provide them what information they need to complete their transformation.
How to Schedule Emails in Your Sequence
For each email you create in your sequence, you need to determine when to send it. Just below the Email subject line, you'll see a section like this one.

Let's go through the three sections.
Delay to Send Your Email
The Delay fields allows you to choose a number value and a time value. Where the screenshot above shows Days, you can drop down the menu to select one of four options:
This Delay value is how long FluentCRM will wait before sending the email based upon the time that a subscriber gets added to the email sequence. I recommend setting no delay for your first email so it goes out immediately when your subscriber gets added to the list.
If you need a delay before sending the first email, I'd factor that into play before starting the trigger action for a sequence. For example, use an Automation with a delay period before you add a Tag that triggers the email sequence.
Sending Time Range for Emails
You may want to send emails only within specific hours. In the example shown above, I limit the sending time range between 8:00 AM and 5:00 PM. Your server settings determine the time zone for sending emails.
If you're not sure of your server time, you can see it when you schedule an Email Campaign.
Enable Specific Days Only to Send Emails
Just as you may have a specific time range to send email in your sequence, you may also want to limit the days of the week when you send your messages. Keeping with the business hours theme, you may want to disable Saturday and Sunday if you don't think your reader will pay attention to email on those days.
If you set a Delay schedule that would typically send on a day that you disabled, then your email delivery will wait for the next active day in your settings to send the email.
How to Add Subscribers to Your Sequence
If you build it, they will come

Field of Dreams – 1989
That quote came from a voice urging a character to build a baseball diamond in a cornfield. As a result, a bunch of dead baseball players came back to life to play in the new field.
Email sequences don't work like that.
If you want people to see your email sequences, you have to get them into the sequence. There are a couple of ways to do that. One involves segmentation of existing subscribers with the criteria you need to add them to the sequence. The other automatically inserts subscribers into the sequence when you add the criteria for the first time.
If you look at the screenshot above under the heading called Anatomy of an Email Sequence, you'll see a View Subscribers button in the upper right corner. Click that button and you'll see the following screen.

If you have any subscribers processing inside of your email sequence, they'll show here. If you need to add subscribers to the sequence who already have a Tag or are in a List or Dynamic Segment, then click the red button to Add Subscribers.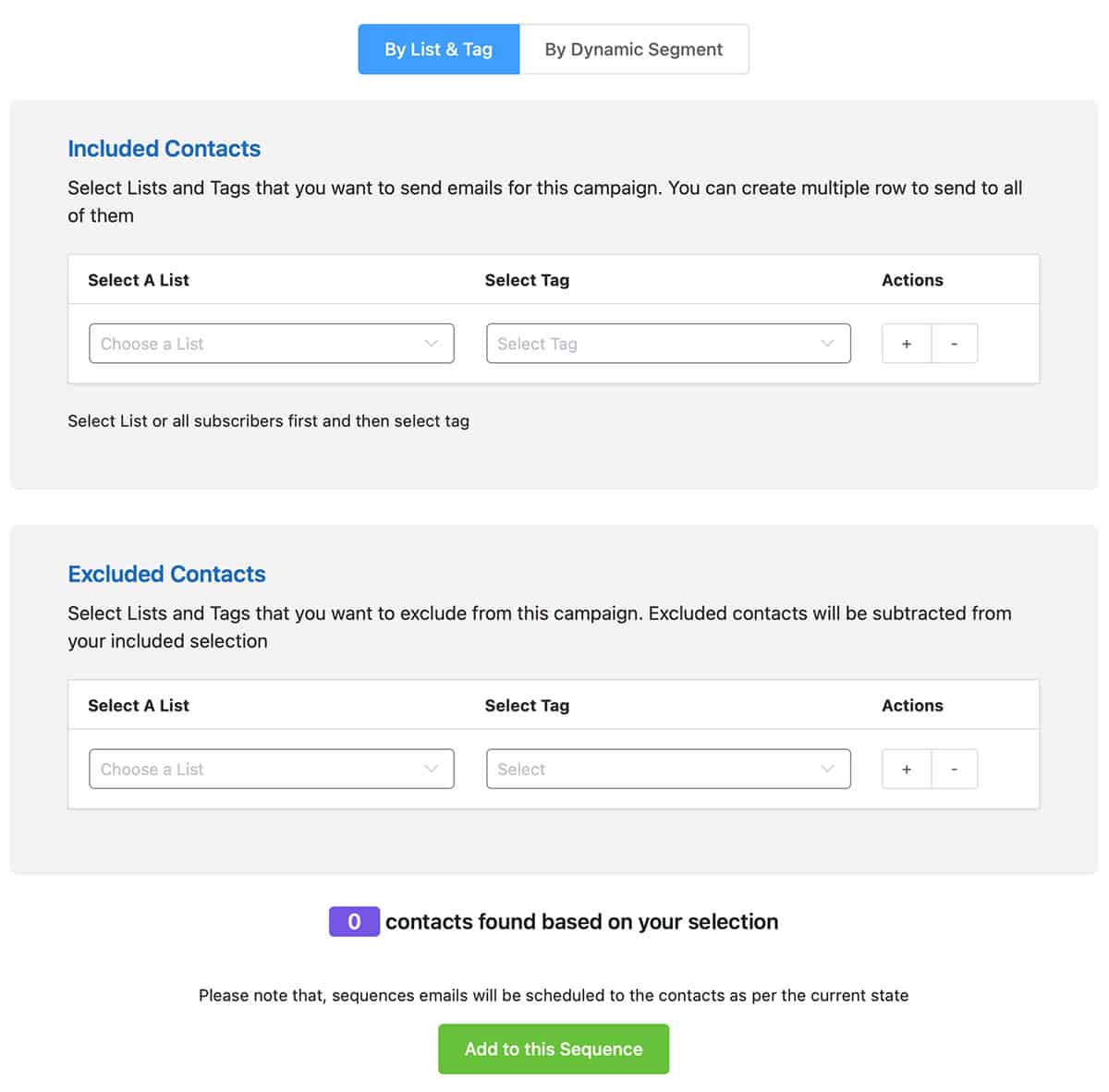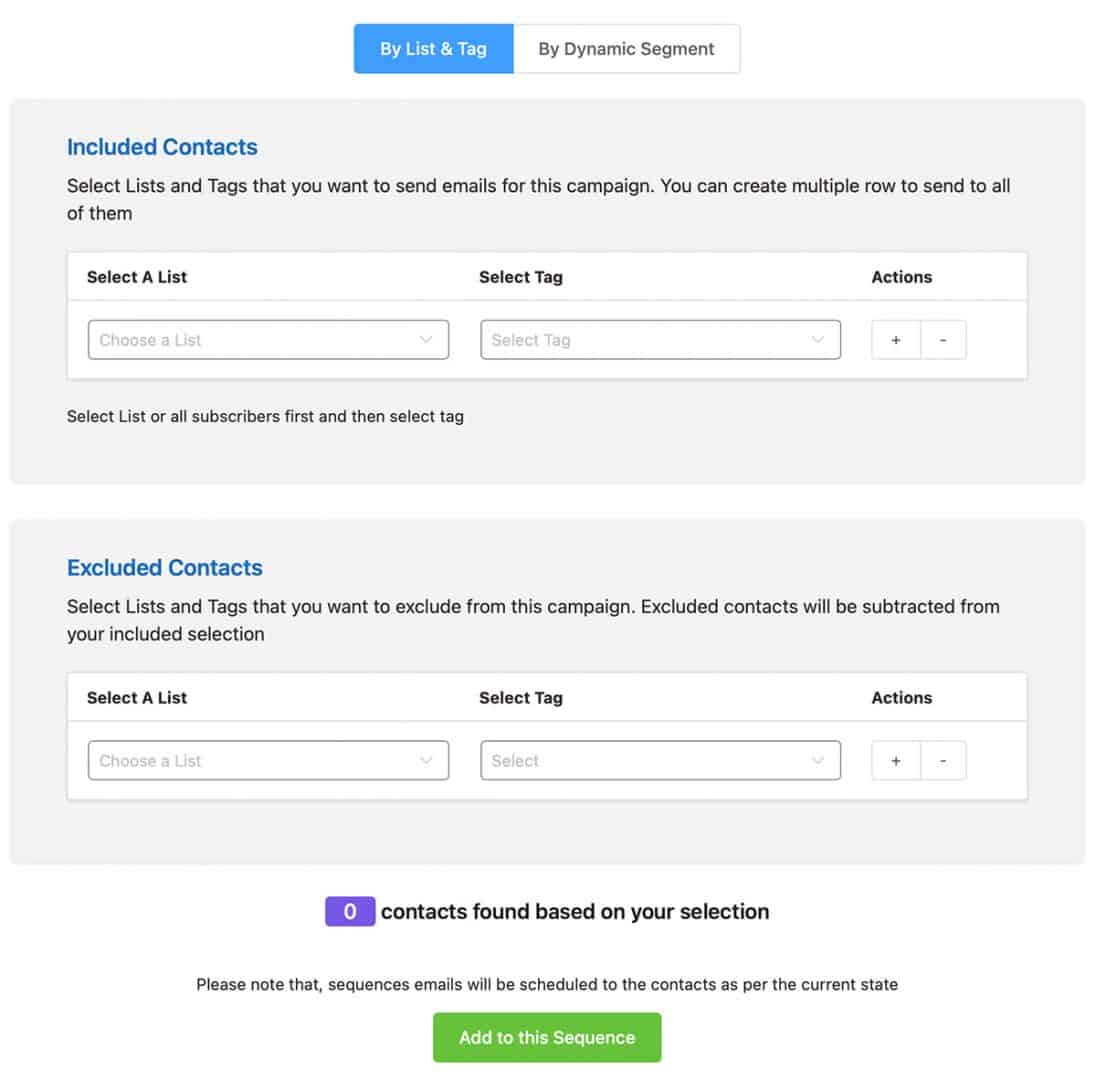 This is the same interface to select contacts for an email shown in the article previously mentioned about using FluentCRM Email Campaigns.
This interface requires that your contact already has an assignment in a List, Tag or Dynamic Segment. Note the line just above the green button to Add to this Sequence. This method is for contacts already in a current state. This DOES NOT work for contacts who get added to a List, Tag or Dynamic Segment after you press that button.
This is a one-time operation.
If you want to have a contact automatically added to a sequence at the time they're added to a List, Tag or Dynamic Segment, then you need to build an Automation for that kind of performance.
An Automation starts with a Benchmark – something that listens and waits for a triggering action – such as being added to a List, Tag or Dynamic Segment. Once the Benchmark triggers, the Automation can then forward to an Action that starts the contact in a sequence.
We'll cover the details of Automations in another article.
How to Get Profile Information About Subscribers from Your Emails
Another topic to cover in a different article are Smart Links.
You can create Smart Links in the FluentCRM Settings. Once you create a Smart Link, you get an interface like this one.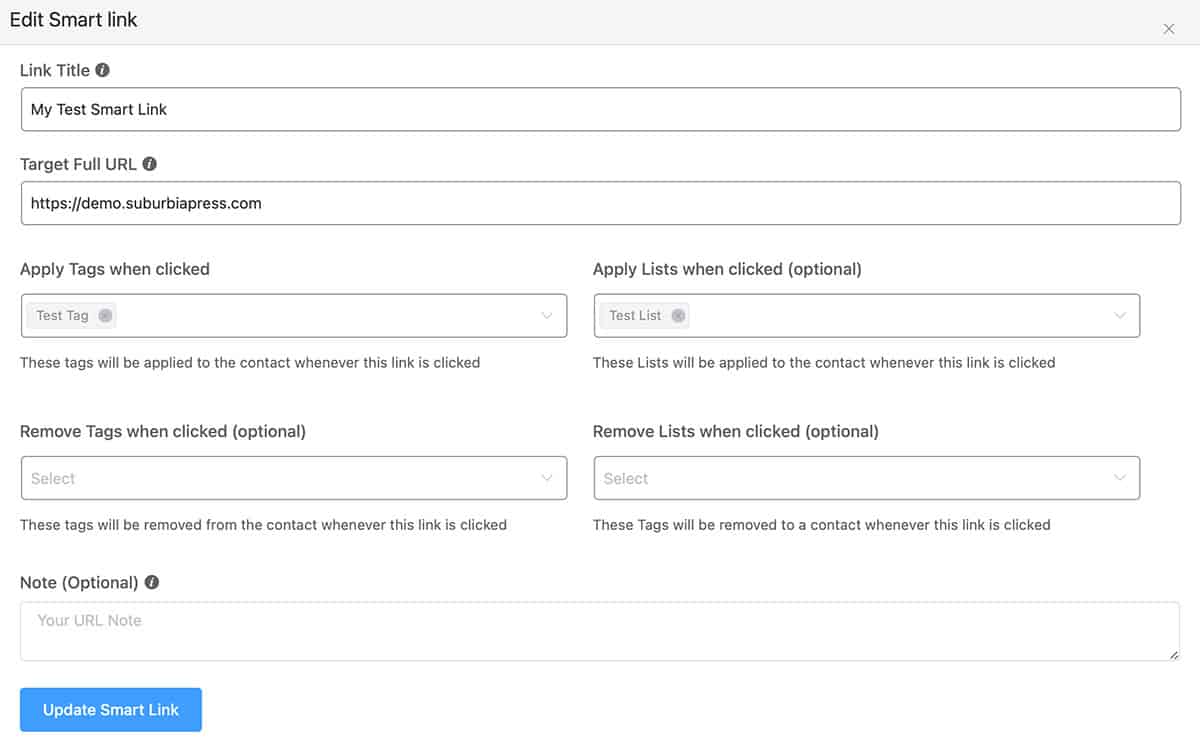 The advantage of a Smart Link is that you can update your Contact records if the user clicks the link in the body of your email. As a result, you can add or remove a contact from a List or a Tag.
That's an excellent way to add profile information to a contact record, because the action indicates an interest. Add a smart link to emails in your sequence and you may have more information to take different actions.
Perhaps you start them off on another sequence that delves deeper into a topic, or helps you understand where they are in their journey on a topic.
As you can see, email sequences are a powerful way to help your contact make a transformation and provide you with information to guide them along the best path.
SAVE 20% with Discount Code BEEM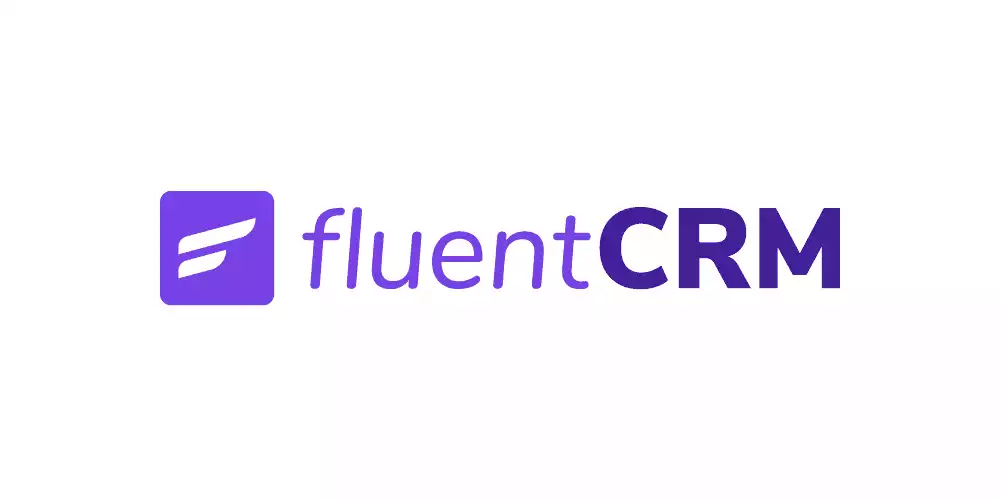 FluentCRM
FluentCRM is a powerful WordPress plugin that allows you to create a fully functional CRM. You can connect it with services like AWS Simple Email Service, MailGun, or others to send email campaigns.
With FluentCRM, you only pay for the email you send, making it a cost-effective email marketing solution. In addition, FluentCRM integrates with eCommerce solutions and other software to keep track of your subscriber's purchases and progress in learning systems like LearnDash.
It's the best WordPress-based CRM on the market.
SAVE 20% with Discount Code BEEM
Email deliverability: Depends upon choice of email service integration
Pros:
Low cost of operation

Many integrations with other tools and services

Continuous updates enhance the product

FREE version available (no Pro features)

Easy segmentation with Tags and Lists

Plenty of automation possibilities and easy to create

Inbound and Outbound webhooks for integration

FluentConnect plugin (free) to integrate with ThriveCart
Cons:
No mobile app to use FluentCRM

No templates for emails or landing pages

No automation templates
Buy Now
Read Our Review
We earn a commission if you make a purchase, at no additional cost to you.

Not sure which email marketing service provider is right for your business? Check out our email marketing services.
Best Email Marketing Services