The HONEST Guide to Email Marketing Automation in 2021
Welcome to our guide to email marketing automation.
Email marketing automation is the buzzword that's been going around in the past few years, and it has taken on a new meaning in today's digital age. This type of service takes care of all your repetitive tasks for you, so you don't have to worry about sending out emails or managing contacts by hand.
This article explores everything you need to know about email marketing automation. Read this article to find the best email marketing services.
What is email marketing automation?
Email marketing automation is primarily a Customer Relationship Management strategy.
Customer Relationship Management (CRM) is a business strategy that enables companies to reduce the costs of customer interactions while increasing sales. CRM includes three phases:
The email marketing automation strategy simply automates email tasks or email campaigns. The automation process is about managing email lists, sending emails on a schedule, and sorting through email responses.
While email marketing automation can be used to manage email newsletters and email promotions, it is primarily for use in customer service management.
There are four key uses of email marketing automation:
You should use email marketing automation to manage email newsletters, email promotions, email updates, and email invoices. How your business uses email marketing automation will determine how you can better engage customers through email.
How Email Marketing Automation Works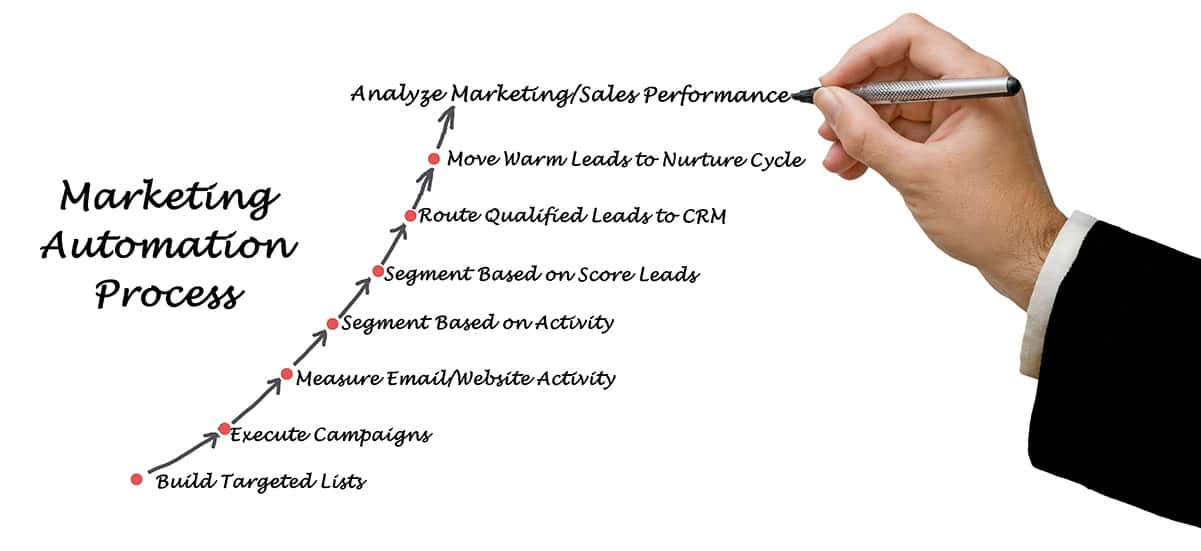 Email marketing automation is a superstar when it comes to lead nurturing – with its features you can create segments of potential customers based on certain actions they have taken or based upon demographic information. You can even build profile information for each user by tracking their interactions with your site and emails.
For example, you may target them with dynamic content: interactive webinars; videos about your products; incentives, and even automated emails that provide resources and information so they can make better buying decisions.
This is email marketing automation in its purest form — creating email marketing campaigns that help guide your leads through the customer journey: from unpersuadable to ready to buy.
Here are just some of the features email marketing automation can offer you:
And …..the list goes on! So why not get started?
Should You Buy Your Own CRM or Use a Service?
Before you go and make a purchase, you should take the time to find out all of your email options. There are two different ways to execute email marketing automation:
Buying an email solution is the faster way to get started with email marketing automation, but it comes at a cost–and sometimes, a huge cost.
Not only will you have to spend money upfront, but often installing email systems can be quite difficult if you don't have much experience in IT programs.
Hiring a service may wind up being initially cheaper than buying an email solution, but be cautious of email marketing automation companies that charge monthly fees–oftentimes, these services are more expensive in the long run.
Ask yourself a few questions.
How will email marketing automation fit into your company's email systems?
Will email marketing automation be a part of it?
Or will email marketing automation be its own email system from the start?
Before you decide to go through an email marketing service provider or purchase a new email solution on your computer, think about how you want email management to work for your business and whether or not email solutions can integrate with existing programs in your business. If they can't, then don't buy them!
What Are Some Common Misconceptions People Have About Email Marketing Automation?
Some common misconceptions people have about email marketing automation is that it is just email spam, endlessly spewing out unwanted sales emails.
The truth is that email marketing automation is a great way to keep in contact with past customers and continue to see what you can do for them. It's also a great way to nurture new leads and turn them into customers by automatically sending emails to address their objections to making a purchase.
Email marketing automation is a great tool for customer relationship management, email leads to more sales, and email reporting provides easy access for marketers to see what they need to know.
Another misconception about email marketing is that email automation has to be customized and developed by someone who knows code, email marketing automation is in email marketing software templates that can easily create email sequences with just a single click.
Many types of email automation software products on the market offer different kinds of functionality. Most applications allow marketers to segment contacts into various lists based on users' behavior or interests while others let you automate emails per customer purchase history or subscription preferences.
How Do I Get Started with Email Marketing Automation?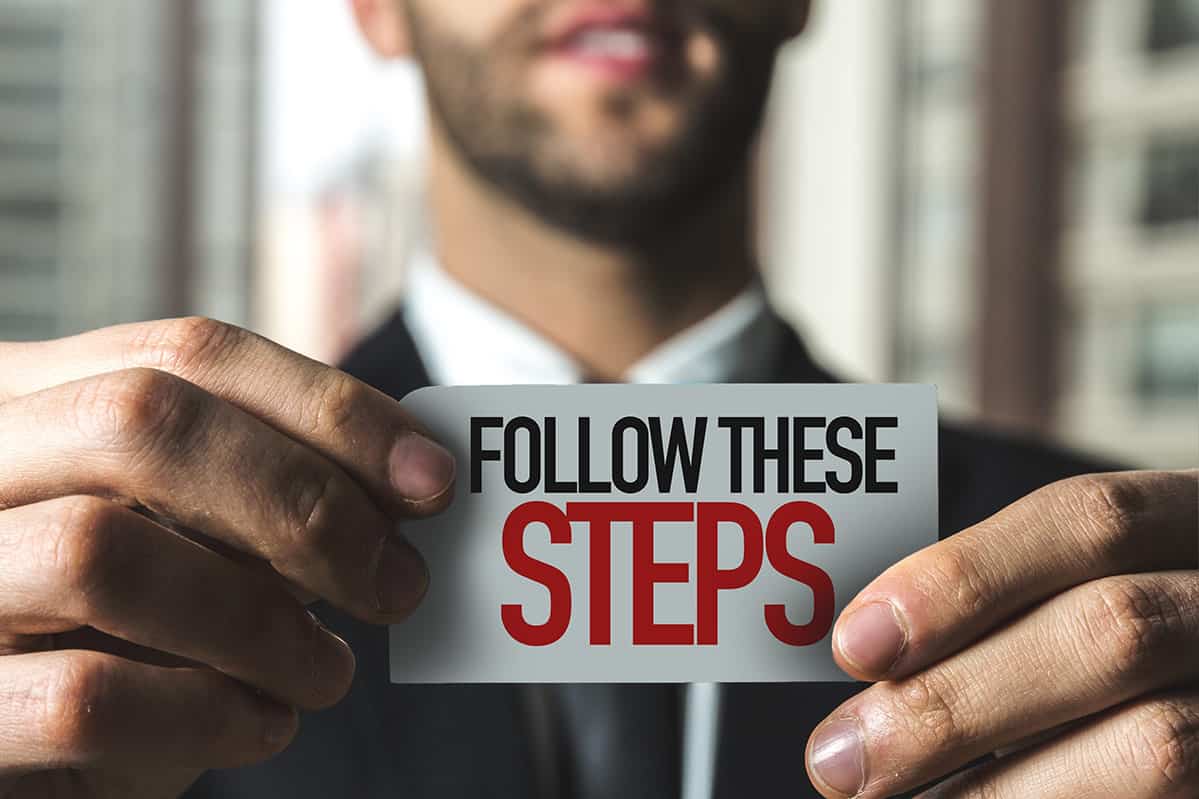 If you're already using a CRM – customer relationship management software program – then it may include this functionality as standard or you would be able to add it on later.
Otherwise, there are numerous options available for you to incorporate such services into your business. Many have a 30-day free trial period so that you can try before you buy. If they don't have a free trial, you may find a 14-day refund period.
As always, seek expert advice if necessary and explore all the benefits of email marketing automation before deciding which one is right for your business.
Consider if you want a CRM that acts inside of WordPress or you'd like to use a Software as a Service (SaaS) Email Service Provider. There are pros and cons to each approach.
Why Use a WordPress CRM for Your Email Marketing Automation?
If email marketing automation is the primary goal, then it makes sense to use a software CRM that integrates with other systems in your business. WordPress email marketing plugins are also available if you don't want to switch to a new CRM system.
These plugins integrate email content and contacts with your WordPress site so you can send email campaigns from within WP. They may also integrate with systems like eCommerce, Learning Management Systems, and Membership systems already within your WordPress environment.
A typical plugin would have at least two parts: email subscribers and email campaigns. You need both to put together a successful email campaign.
Traditionally, your CRM will also have automation that waits for an event to trigger, and then the automation takes a series of actions based upon the user profile and the event that started the automation. The system can often use conditional logic to make decisions.
The email subscriber section lets you add or import email addresses from a CSV file into your WordPress site. The plugin will reveal the number of emails in the list at any given time so that you know how many people you're talking to, the most recent email activity, and the email addresses that didn't open your email last time.
You'll also see contact details for each email address and whether they are a customer or an email subscriber, as well as the date they signed up to receive emails from you. From here you can customize email templates and settings so that you're ready to send out those campaigns at any given time – or schedule email delivery of future campaigns in advance.
If you want to take things further, then email marketing automation plugins will allow you to segment your lists based on specific criteria or user interactions with your systems in WordPress.
Email marketing automation plugins will also provide notifications when certain conditions are met.
One final key reason to use a WordPress CRM plugin. It's MUCH less expensive to operate than a SaaS CRM. Those services raise their prices based on the number of contacts in your system. WordPress CRM systems don't cost extra as your list grows.
Also, the cost of sending email through a service like Amazon Simple Email Service is a fraction of the cost, about ten cents per thousand emails sent. You can save a great deal of money using a WordPress CRM for your email marketing automation.
Why use a SaaS CRM like ConvertKit of ActiveCampaign Instead of a WordPress Plugin?
If you're a beginner email marketer, you've probably spent significant time trying to figure out the email marketing system. You might have tried something like ActiveCampaign or ConvertKit, but they were too complicated and costly. Yes, they are.
So you ended up using a WordPress email plugin like FluentCRM or the original MailPoet.
First, email marketing is hard enough without adding to that complexity by having to learn how to integrate your CRM within WordPress and its related systems.
Additionally, email marketing automation generally requires a fair amount of technical ability and if you are also trying to set up your email marketing emails for your blog then this can lead to major headaches down the road when something breaks because you've added on too many things and don't know the source of the glitch.
Thirdly, most email marketing automation plugins are not really designed for bloggers; they're designed more around productized offerings. If you don't need integration with other WordPress systems that help you generate revenue, then a SaaS CRM like ConvertKit is easier to use. (* affiliate link)
Lastly, SaaS email marketing automation systems typically have more integration options with other services, like Optin forms or different SaaS applications. WordPress CRMs are fairly new and a growing market, but you may have to use an intermediary like Zapier to integrate systems.
What Criteria Should I Consider When Buying a CRM for Email Marketing Automation?
1: What is your budget?
Email marketing automation services will vary depending on the size of your email list, the volume of emails you send, and how often you send emails. So it's good to know your budget before deciding which email marketing automation service to go with.
WordPress CRM plugins are much less expensive than SaaS CRM systems.
2: What are your goals?
When thinking about email marketing automation tools, make sure that they suit your needs. For example, email marketing automation tools are great for helping you build customer relationships, but if your goal is email deliverability and email list growth then this might not be the best email marketing service for you.
3: How much time do you have?
Before committing to an email marketing automation company, take a good look at their services. Is there a lot of data entry required? What kind of reporting will they give you? Do you need to be able to create special landing pages for your email campaigns? All these questions should factor into whether or not it's worth using an email management tool.
4: Does it fit in with your workflow?
Be sure that the email marketing automation platform works well with other aspects of your business (like social media, email marketing, web analytics, etc.) Make sure that the email automation platform is a good fit for your workflow and integrates with other services you use for business.
5: How much access will you have to email templates?
This could be especially important if you want to create landing pages specifically for email messages. Do they offer email designers or will you be on your own? There are 3rd party options, like Stripo, to create HTML templates.
Consider opt-in forms, also. Most services only offer rudimentary opt-in forms. You'll likely need a 3rd party form provider.
6: What are their reporting features like?
You need to know how well your email campaigns perform and what subjects work best with your audience. Email a marketing automation tool should provide detailed reports about the performance of your email campaigns so that you can optimize them over time.
7: Are there any limits on tracking links?
If this feature isn't available with an email marketing service, it won't be able to track email opens, link clicks, and email unsubscribes. Consider if you can create automation based on tracking metrics. One thing you want to know about is Lead Scoring so you can remove inactive users from your contact list. Some SaaS CRMs either don't provide this information or charge extra to get it. After all, they charge based on the number of users on your contact list.
8: What other email marketing services do they offer?
A good email automation tool should integrate with a variety of email tools like popular email clients, email tracking software, website analytics tools, and social media platforms.
9: Are there any limits on adding contacts to your mailing lists?
Most SaaS CRMs charge based on the number of contacts in your list, so they won't limit you. A WordPress CRM won't add limitations to your contacts, either. However, many SaaS CRMs place a limit on how many emails you can send monthly. Check their pricing plans carefully.
10: How long do trials last?
Some email campaign management tools will let you create an email and schedule it, but won't allow you to see how many of those emails reach their destination or how well they perform. So if you're going with a free trial just make sure that they don't limit any of these features.
You may want to give a few systems a trial before committing. Most services require payment upfront, but they may have a 14-day or 30-day refund period. That keeps the tire-kickers away.
11: Do they have email marketing certification programs?
Some services offer certification programs. Working with a person or business certified with a particular CRM can help you jump-start your operation. They understand how the tool works and often have special support access that can help you in a crunch.
12: What email marketing automation tools do they integrate with?
It depends on your email workflow, but some email marketing tools can integrate with email tracking software, website analytics software, social media services, and other aspects of your business.
Make sure that the email management tool you choose integrates well with other aspects of your email campaign.
13: How does their contact database compare to others out there?
Some email marketing automation companies are better than others at handling email address management. If you need the ability to add custom fields, make sure the app offers the ability to add to the database.
Equally important, ensure the app allows you to report on your custom fields. Adding data is one thing, but you need to ensure you can report on it and perhaps even use custom fields in Automations and Funnels.
14: How easy is their email template editor to use?
You're going to spend a lot of time writing and formatting in the email template editor. A lot of email automation tools make creating email templates very simple by offering drag and drop functionality or letting you import email templates from email marketing services. Just be sure that you don't hate creating emails in your CRM.
15: Do they offer an API for developers?
An application programming interface (API) is critical for integration with other systems. Any email marketing automation tool offering a RESTful API will allow its users to integrate with other email campaign management software.
16: What mobile email marketing tools do they offer?
Email marketing automation services optimized for email messaging on mobile devices will let you create email templates that look great on smartphones and tablets. Most CRM apps have responsive email templates that work on a variety of devices, but you should test to be sure how it works.
17: How much time can users spend learning this software before the trial becomes unavailable?
This email marketing tool might not be ideal for email campaign management if it's too difficult to learn within the trial period, but some email marketing automation services provide a lot of documentation that helps get users started right away.
Complex systems, like Keap or HubSpot, were designed with teams in mind. It could be overwhelming if you're a small business without experience using the CRM you choose.
18: What export options are available?
Never get into something without knowing how you'll get out. Most CRMs will let you export your contacts, but what about all the information you collect? Think about your lists, tags, and automation funnels, too.
19: Does the vendor have a reputation for integrity?
Sadly, not every vendor is reliable or trustworthy. I had a horrible customer support experience with Groundhogg CRM and would not wish that on anyone else.
Reviews are often skewed and written by people who don't have much experience with the vendor or their support. Look for reports from people who had a problem and see what kind of resolution they received from the vendor.
Closely examine their policies and see if you can determine whether you have to jump through hoops to get a resolution. Good vendors make resolution easy for their customers.
Use our Guide to Email Marketing Automation to Choose the Right Service for Your Business
Email marketing automation services are designed to make email campaigns easier and more efficient. The email templates they offer can be customized with drag-and-drop functionality or imported from third-party sources like Stripo, which is helpful for those without coding skills.
Email tracking features let users know who's opening their emails and where they are in the campaign they're clicking on; this helps personalize email campaigns by showing what customers respond best too.
Mobile email marketing tools optimized for email messaging on mobile devices will work well if you want your email template to look great on smartphones and tablets – just remember it might get difficult to learn within the trial period of 30 days (but some documentation should help).
Consider these considerations when looking at a new email marketing automation tool.
Have more general questions about email marketing? Check out our email marketing FAQs for newbies.
I hope this email marketing management blog has provided insights into email campaign optimization and growing your business.