Link Whisper: The Easy Way to Improve Site Structure and SEO Ranking
Link Whisper: The Easy Way to Improve Site Structure and SEO Ranking
Summary
Link Whisper is a WordPress Plugin that helps you create internal links between articles on your site. Linking within stories and blog posts improves the SEO of your website, as well as making it easier for visitors to navigate around the site.
Ease of Use

Time Saving

Useful Reports

Relevant Link Suggestions
Pros
Easily creates Internal Links
Find Orphan posts without internal links
Click Links report shows which posts are getting results
Reports show Broken Links and 404 errors
Cons
No reports on External Inbound Links
Link Whisper is a WordPress Plugin that helps you create internal links between articles on your site. Linking within stories and blog posts improves the SEO of your website, as well as makes it easier for visitors to navigate around the site. You can generate traffic to your site with better SEO as a result of internal linking.
The Link Whisper plugin also has many other features such as Link Tracking and Link Scoring, which can help you figure out what content on your website is more popular than others.
Link Whisper can help a site improve SEO and navigation because Link Whisper uses keywords to create links between related articles. Linking within stories and blog posts improves the SEO of your website, as well as makes it easier for visitors to navigate around the site.
Link Whisper also has many other features such as Link Tracking and Link Scoring, which can help you figure out what content on your website is more popular than others.
Link Whisper itself has a special 'link score' ranking system that determines how often a link should be clicked on a visitor's behalf. This way, if you are linking internally from one article about health issues to another article about health tips, Link Whisper will know that people may want to click this option.
Video: Why Link Whisper is My FAVORITE Weapon to Rank
Check out the video below to see Link Whisper in action, and prove that I've used it to rank on the first page of Google Search with a very low domain authority website.
Why are Relevant Internal Links Important for Your Site?
Search engines use different methods to rank your site. A search engine is going to crawl your site and evaluate it based on a number of factors.
Linking pages within your website will help the search engine understand how much content you have on your site. Linking also allows search engines to link from one page to another, providing the most relevant information for that particular search query.
These internal links also help improve user experience by linking related content together.
Why is it difficult for WordPress Site Owners to Create Internal Links?
It's difficult for WordPress Site Owners to create internal links because they have to actively go find the page they want to link it to and then manually type in an HTML code to make the link work correctly.
Link Whisper solves this problem by automatically making the link for you and adding it to your post.
1: Use Internal Links to Help Create Topical Authority
What if I told you there was a way to rank for the keyword "pizza" and have your post show up in Google's search results? Well, there is. And it's called topical authority.
Topical authority is a powerful ranking strategy that can help boost your website traffic and increase conversions. By targeting specific information related to keywords or topics relevant to your business so that user searches will find you as an expert source of information online.
The more authoritative content you publish on a topic, the higher up it ranks in search engines like Google and Bing when someone performs a related query such as "best pizzerias in New York City."
One of Link Whisper's many benefits is its ability to build topical authority. Link Whisper helps build internal links between the articles on your blog so that search engines can easily understand site structure and topical relationships between articles.
Link Whisper makes it easy to create a topic roadmap and also helps to cut your workload by doing most of the linking work for you.
Linking posts together in such a way improves SEO because Google values relevance and relationships created through internal linking. Link whisperer helps improve search engine visibility by creating spatial clusters of keywords that are related. Link Whisper also helps users navigate around your site more efficiently by providing a list of all the links that exist on your website in one place, which is helpful for both visitors and search engine crawlers alike.
That helps you rank better in search engines because Link Whisper uses keywords to create internal links between articles that are about the same topic.
2: Content Clusters Help Build Topical Authority
A content cluster is a group of similar blog posts. For example, if you have six different blog posts about how to grow tomatoes, those six are part of the same content cluster.
This helps your search engine optimization because the more related topics you cover in one place on your website, the more likely Google will show that page when someone searches for any topic within that cluster.
The idea behind this strategy is called "depth." A good depth strategy means there are enough pages on your site with very specific information so that someone who doesn't see what they're looking for on an individual page has other options to explore further down their web journey without leaving your site.
Check out the video above to see how I used topical authority and content clusters to rank on the first page of Google search, even ahead of some other domains with much greater authority than I have
3: What's the Difference Between Inbound and Outbound Internal Links?
There are four different types of links you need to consider in your posts and articles. Basically, you're dealing with Inbound Links and Outbound links. Combine those options with Internal and External links, and you have the following four types of links.
Link Whisper can help you manage and monitor your internal and external links, but primarily addresses internal linking for your site structure.
4: Why Not Use Keyword Replacement Tools to Build Internal Links
The problem with using Keyword Replacement tools is that they add links to any article where the keyword exists. This may interfere with your content cluster strategy, confusing visitors and crawlers about the structure of your site.
You can limit the recommendations Link Whisper creates by checking a box to only show recommended links by Category or Tag, which helps you maintain your content cluster strategy.
Another problem with Keyword Replacement tools is that they can't provide creative anchor text. Google and other search engines don't want to see the same anchor text all the time. Instead, you need to vary your anchor text for your internal link to match the context of your article and the intent of the reader.
Repetitive anchor text for a single internal link is a poor link-building strategy. Imagine if your entire site only referenced one way to visit a link. You need to provide the most relevant links with relevant anchor text for the context of your article.
That helps search engines understand that your link has dimensions and may be relevant for other keyword results. Link building is all about finding possibilities for users and search engines to find relevant connections.
5: Use the Power of Natural Language Processing
Link Whisper uses natural language processing to find which links are the most suitable. Then it scans your blog from top to bottom, looking for natural language patterns in posts.
After that, it analyzes every word on the page and looks for links that fit what you are writing about. Link Whisper stops scanning a post when it finds a link that it thinks is worthy, and it tallies up how many times Link Whisper finds a link on one page.
Link Whisper can also help people who have long-tail keywords by highlighting the keywords used in the article. Link Whisper automatically notifies Google Search Console of any new URLs added to your site, which helps your site rank better in search engine results pages.
How Link Whisper improved this site's SEO
I've been using Link Whisper to link my articles together in topical clusters, which is helping me rank better on search engine results pages.
The concept of building internal links is that you link words within your article to other articles on the same topic, building outbound internal links naturally with synonyms and related concepts.
Link Whisperer provides internal link suggestions to create smart internal links within similar topics, then link clusters build on that base of related links. Internal links pointing to related articles create a structure for search engines and users, creating link pyramids that will help you rank better in search engine results pages.
Use Link Whisper Suggested Links to Create Internal Outbound Links

You'll find the Link Whisper interface at the bottom of your posts and pages in Edit mode. By default, Link Whisper isn't optimized for content clusters, so you need to help it.
The first thing to do is limit the articles on your site to make them relevant to the article you're editing. The two checkboxes at the top-left help you by filtering the automatic link suggestions shown lower down. You can filter by Category or Tag.
You can also filter based upon posts published by date.
On the right side, you see an option to filter suggested posts by Keyword.
The next section will show sentences or phrases in your current article on the left side, and potential articles to link to on the right side.
It isn't perfect. If you don't like the link text chosen by Link Whisper, it's easy to change. Just click words to add or remove them from the link text shown in blue. It's like a toggle switch that you can easily change.
You don't have to choose every suggestion. Ultimately, you're in charge of deciding which links to You don't have to choose all of the smart link suggestions. Ultimately, you're in charge of deciding which links to create to set up your relevant connections. If Link Whisper gives you an oddball recommendation, there's an option to Ignore Link.
When you've made your selections by checking the box next to a recommendation, click the blue button to Insert Links. The tool works its magic, saves your post, and shows you that it's complete.
1: How to Use Link Whisper Target Keywords

Target Keywords tell Link Whisper what you want to rank for in search results, so it uses these keyword phrases to determine which articles to recommend for your Internal Outbound link suggestions.
As you can see from the top bar of this section, Link Whisper can obtain target keywords from sources like Google Search Console or your SEO tool (Rank Math, Yoast SEO, etc). You can also enter custom keywords for the tool to use.
2: How to Use the Internal Links Report to Create Internal Inbound Links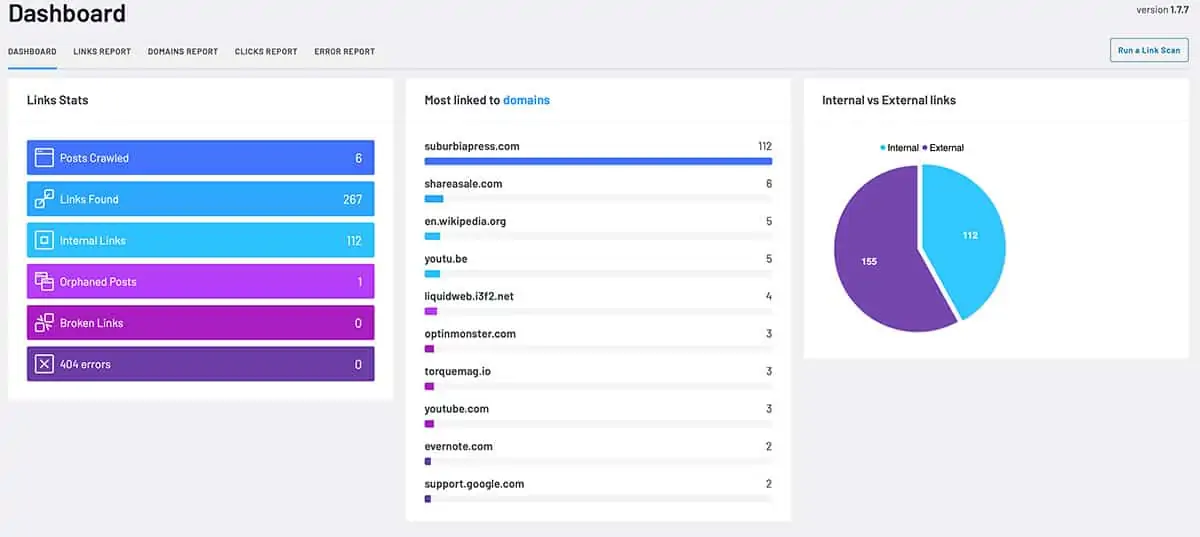 You can reach the Link Whisper dashboard to get the view above by selecting the Link Whisper menu option in WordPress. It's nice to see things at a glance.
In this case, I'm happy to see that I don't have any Broken Links or 404 errors. That's because I used those reports inside of Link Whisper to find and eliminate those problems.
Click the Links Report menu option on the top to see a view like the one below.

This report is pretty handy to show the metrics of different types of links for your articles. If you hover your mouse over the different types of links, you'll see a triangle appear up or down, so you can sort the report by a type of link, in order from lowest to highest or vice versa.
Click on the triangle next to the count in one of the blue boxes next to an article and you'll see the details for the type of link you chose. The image below shows the results when I clicked the Inbound Internal Links triangle for the first post in this list.

For the 11 Inbound Internal Links to the first post in the list, you see a section showing each article that links to it, and the anchor text used in that article. You can choose to edit or view those results.
If you have more than three results, notice there's a scroll bar on this display so you can see the other linking articles.
To add another Internal Inbound link, click the Add button. You'll see a new tab open with this interface shown below.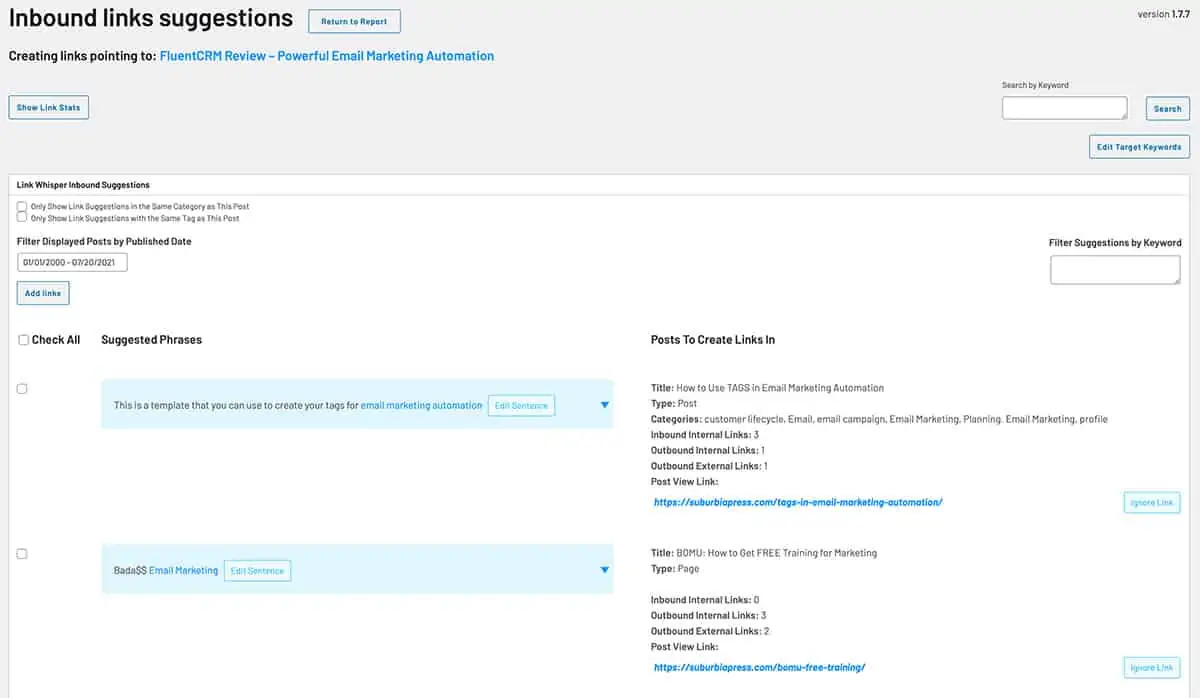 This interface is similar to the Internal Outbound Links shown previously. You have the same options to filter the suggestions so your content cluster stays relevant to the topic.
3: How to Use Auto-Linking (and why you may not want to)
Link Whisper has a tool that can add internal links. This tool inserts a link in an article based upon a keyword, always using the same anchor text as the internal link it creates.
You can also specify rules to limit this from getting out of hand. Imagine if I had an auto-link for the keyword "Link Whisper" in this article. That would be very distracting.
You can tell what I think about auto-linking based upon the screenshot below.

That's right, I don't use it. For good reason, too.
Link building takes some of your "link juice" from every page. Adding a link to a page is something you should consider judiciously, not randomly.
Every page has a certain amount of "link juice." That is the authority of the page, according to a search engine. Every link you add to a page, including No Follow links, divides the authority of your page among all of the links on the page.
How many internal links do you need on your post? When you consider that all your links use some of your link juice, you want to have complete control of how you build links in your blog post.
So if you want to create topical authority, use your links very carefully and intentionally. Auto-linking takes that power away from you and dilutes your "link juice."
4: Discover Opportunities to Improve Orphan Posts with Internal Links Pointing to Related Posts
Orphan posts are those articles with no internal linking at all. That's an incredible lost opportunity to show your topical authority.
Those orphan posts are not helping to support related posts or content clusters on your site.
Do you know which articles on your site are orphans? You will if you use Link Whisper to find them. Apparently, I have one post that I need to discover and add some internal linking.
5: Find and Fix Broken Links with the Reporting Tools
A lot of sites suffer from broken links. Link Whisper can help you identify and fix these easily if you're using a WordPress site.
Link Whisper tells you how many outbound links and internal links are broken, and also tells you which pages have the most broken links so that you can try to locate and repair them as soon as possible.
There is a range of options for fixing the problem: copy & paste URL, edit page, redirect, 404 error page, or leave it as-is (leave it open to be repaired manually later).
Fixing broken links is a tedious process, but Link Whisper makes it much faster and easier to correct by identifying the specific broken link in an article.
On one of my sites, I found that most of my broken links were actually from URLs inside of media images embedded in my pages. That's something I never would've thought to check, but it was easy to fix. All I had to do was click on the photo on a page and change the hyperlink to None for the photo.
6: Using the Clicks Report
You can use Link Whisper's Clicks Report to see how many people are clicking on your links.
Link Whisper will tell you what keywords your visitors clicked on, and how many times they clicked on those keywords. It highlights the keywords that correlate with the most clicks by showing them in yellow.
The Clicks Report helps you verify if the pages you're linking to are relevant to your visitors. The Link Rankings report shows you the number of visits, unique visits, page views, time spent per visit, and bounce rate (percentage of visitors who enter the site and leave after viewing one page) for each page on your site.
Link Whisper uses this data to rank pages by their Link Rank, which is the sum of Link Whisper's Link Ranking multipliers.
7: What's Missing from Link Whisper?
Overall, Link Whisper is a very robust tool for managing internal links. I'm pleased with its performance and thrilled with the insight it gives me to organize my internal links with a good linking strategy.
If there's one addition I'd like to see, it's a report about Inbound External Links – those links coming to an article from another domain. That's missing from Link Whisper, possibly because the intent of the product is to organize internal linking.
Rank Math shows my External Inbound links, so I know it's possible. Even if it's somewhat out of scope for Link Whisper, it's a tool I'd love to have so all of my relevant link data is in one place.
Does Link Whisper Work for SEO Results?
In a word, yes!
In the YouTube video embedded at the top of this article (go to 2:27 on the timeline), I show you how I'm ranking on the first page of Google for a keyword, and I'm ranking above sites with much higher domain authority than I have.
You'll see that my domain authority was 0.7. Yet I'm ranking above sites with a DA of 19, 25 & 42 – sites that are also on the first page of Google.
Why?
It's because I used Link Whisper to implement a content cluster strategy to organize my site by relevant articles that demonstrate I have topical authority for the keyword.
Each of the articles has its own ranking for a different keyword, and they link to each other where appropriate. However, the article ranking on the first page is my core article. Other articles dive deeper into a related topic and link "up" to the article shown on page 1.
That's the power of topical authority, content clustering, and Link Whisper makes it easy to do.
Save $20 When You Buy Link Whisper
I hope my Link Whisper Review helped you understand the power of building relevant links. It's the best internal linking tool I've found and I use the Link Whisper plugin on all of my sites.
Link Whisper helps me create the site's linking structure, identify broken internal links, create powerful internal links, and help find relevant connections between blog posts.
You also get in-depth link reporting, showing internal link reports, orphan posts that have no internal links pointing to other articles, and it shows how many articles are missing their opportunity to rank better and guide your site visitors to more articles. It's a revolutionary WordPress plugin to help your SEO efforts.
If Link Whisper is right for you, then you can use my affiliate code – BEEM – to save $20 off your purchase of Link Whisper WordPress plugin. Click the button below to get started.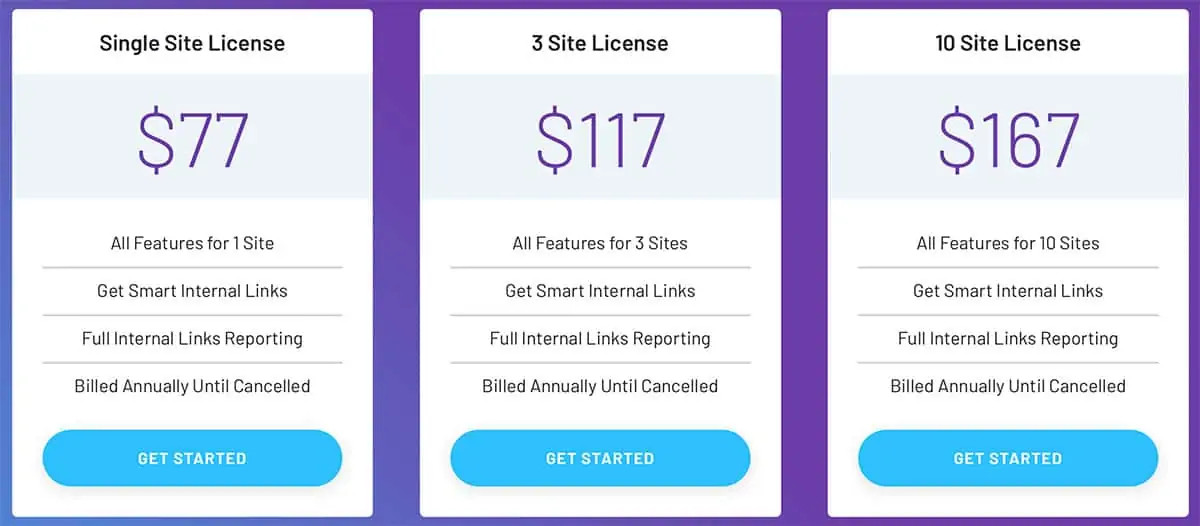 You can see the current pricing above. Remember, you can take $20 off using my coupon code – BEEM – when you checkout. Link Whisper can improve your SEO, help your site visitors find your articles, and eliminate wasted opportunities that come from orphan posts and broken links.
I use the Link Whisper plugin to build links on all of my sites and, as you can see from the video above, it generates results!
Use coupon code BEEM to save $20!
Must Have Tool!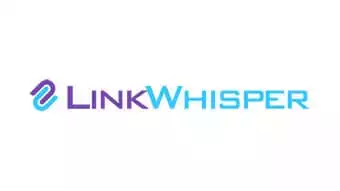 Link Whisper
If you're struggling to get your website to rank higher in search engines, Link Whisper may be exactly what you need.
This powerful WordPress plugin scans your site for broken links and orphan posts, then shows you opportunities to use internal linking to improve your SEO. With Link Whisper, you can quickly fix broken links and improve your site's structure, which is vital for improving your search engine ranking.
In addition, Link Whisper makes it easy to find and add internal links to your content, helping you take advantage of one of the most important ranking factors. With its easy-to-use interface and powerful features, Link Whisper is the perfect tool for anyone serious about improving their website's ranking in search engines.
Buy Now
Our Review
We earn a commission if you make a purchase, at no additional cost to you.