FluentBooking is a WordPress plugin from WP Manage Ninja that solves an important problem for many businesses. It allows your customers to schedule time with your business so you can collect insights about their problems and learn more about your audience.
Launched on October 18, 2023, FluentBooking started competing with software-as-a-service tools like Calendly and Acuity Scheduling at a much more cost-effective price.
In this FluentBooking Review, we'll take a look at the features and benefits of the tool for WordPress users.

FluentBooking Lifetime Deal: Up To 50% Off
FluentBooking is a WordPress plugin that provides a booking calendar service similar to Calendly or Acuity Scheduling. You can have unlimited hosts (team members) and unlimited calendars.
Since it's self-hosted, there are no monthly charges or additional charges for each team member. You just pay for the license of the software and use it without additional fees, making it one of the most cost-effective booking services available.
FluentBooking is fast and won't impact your site performance. Since you host the booking form on your WordPress site, you have unlimited options to customize the landing page that hosts the booking form.
Pros:
Lifetime price: buy once

Up to 50% Discount

Allows multiple team members

Unlimited Hosts & Calendars

Google Meet & Zoom integration

Fluent Forms & FluentCRM integration
Cons:
Needs more integrations (expected to come)
Buy Now
We earn a commission if you make a purchase, at no additional cost to you.

What Are the Benefits of Using a Booking Tool like FluentBooking?
Manually booking meetings and appointments is time-consuming and expensive. Using a tool that allows clients to book their sessions with your business offers several benefits.
YouTube Video: Introducing FluentBooking
What Does FluentBooking Offer?
FluentBooking is a solution for businesses that need to book customers for specific events, such as:
As a web developer, I offered Discovery Calls to let potential customers tell me about their needs, and I could give them some feedback about how I could help and the rates for their specific project.
You can set up your bookings to be free or paid, depending on the type of event. People can book and pay right on your site if you have a paid workshop. You could also create a booking page to create appointments for services, such as a barbershop.
1: Unlimited Hosts
Other services charge an additional fee for every user, and some plans limit the number of users who can create a booking calendar. Those fees increase your operational costs.
Consider the barbershop example I mentioned. Let's say you have a dozen barbers offering services at different schedules. If you used Acuity Scheduling, that would cost you $49/month for up to 36 users. That's a $588 annual expense for the business, or $49 per barber. The fee is $61 if you select the Monthly payment option.
Depending on their service, they're essentially doing some haircuts just to pay off the booking calendar service fee.
FluentBooking permits unlimited hosts. You're only paying for the plugin license, no additional service costs.
2: Unlimited Calendars
Each of your hosts gets unlimited calendars with FluentBooking. Why would they need more than one calendar?
Perhaps for different events. In my case, I have a group event for the member calls in the HDWY+ Membership. I also accept some discovery calls for client work. I may host a workshop, a webinar, or have a meeting with other professionals in my industry.
You may not know all of the types of meetings you can create at first, but it's nice to know that you have unlimited options to grow as your business changes.
3: Get Paid for Your Time

Since FluentBooking integrates easily with Stripe, you can charge for your bookings. If you're a wedding photographer, you can create a booking calendar for people to schedule your time and pay for your services. One of the things I learned the hard way was to charge for my discovery calls to keep the tire-kickers from wasting my time.
Your time as a business person is valuable. Get paid for your time.
4: Collect Information

FluentBooking allows you to ask questions on the booking form, so you can add fields that allow your visitors to provide whatever information you need. It could be something to help you prepare in advance, contact information, or perhaps something you can use to understand your audience better and use in your marketing or services.
You can click the option to Add more questions for invitees to choose the options to gather more information at registration.
5: Schedule Meetings Online or in Person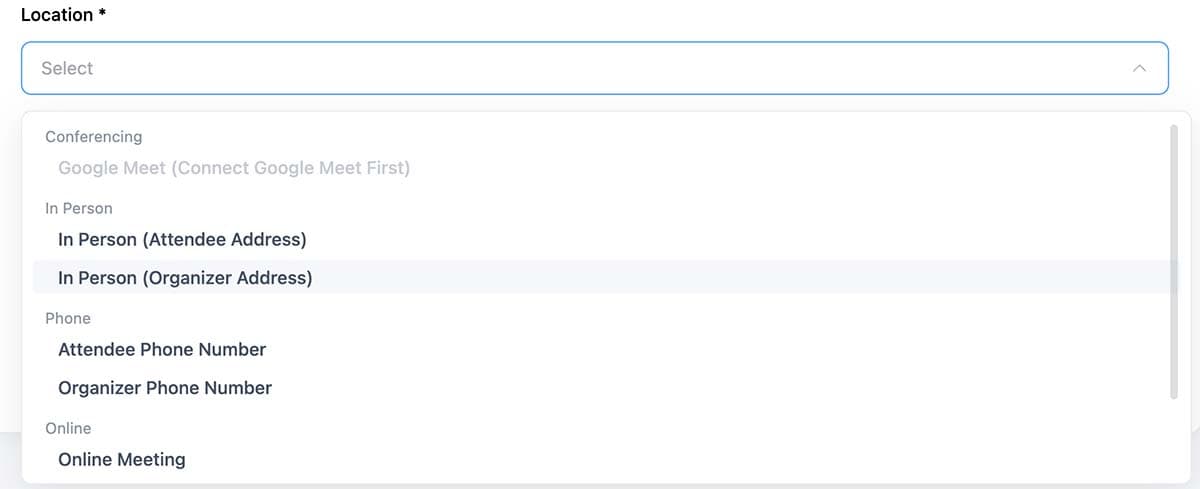 Most of my appointments are online these days, but you have options to meet in different locations for some face to face time. FluentBooking integrates with Google Meet and Zoom for your online options.
There's also a custom option so you can specify where to meet if you use a different webinar or conferencing tool. It's adaptable to your needs.
6: Integrate With Everything
My FluentBooking review covers the initial release, which includes some important integrations. While WP Manage Ninja promises more integrations to come, they were wise enough to include Webhook Feeds that allow you to integrate with thousands of other apps and services.
Sometimes you can get a webhook directly from an app. Other times you may need to use a service like Zapier (which it supports at the start). A webhook is just a URL that transmits data to another host application.
You can see there are three Event Triggers at the bottom of this form. When one of these events occurs in FluentBooking, it will tell another app what happened using a request URL (webhook) provided by that app. It's essentially the same thing that Zapier uses, but it's nice to have this option to avoid paying Zapier for the connection.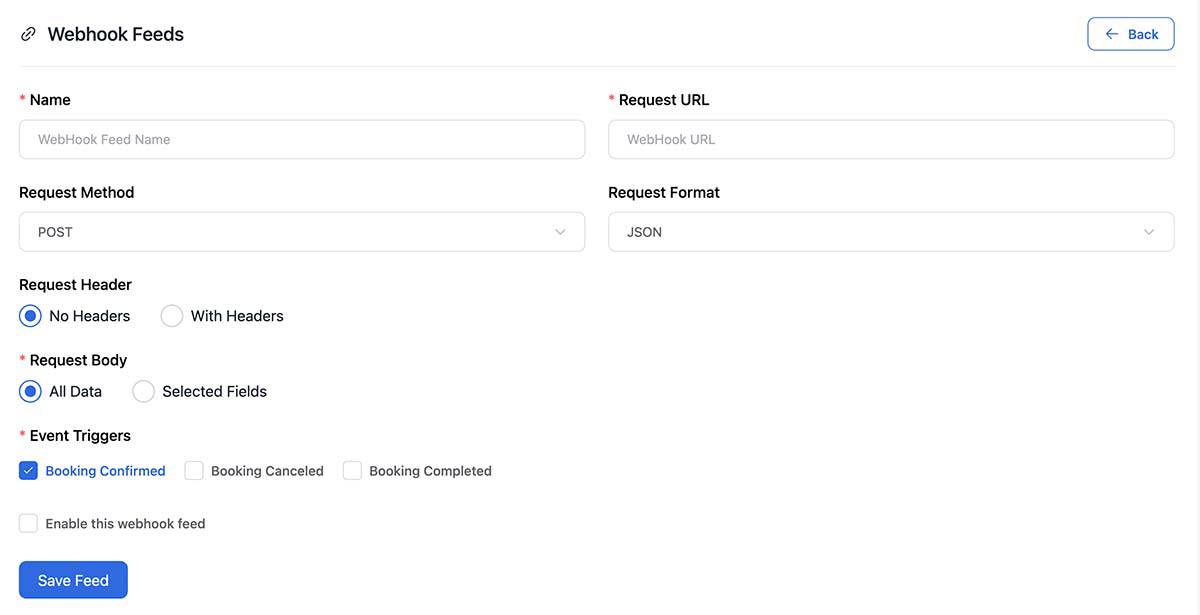 There are some current integrations in the first version of FluentBooking, including:
7: Mobile Friendly
It's a mobile age, and your calendar needs to work where and when people can book with you. They also need to pay with their mobile device. Not only does FluentBooking work gracefully with mobile devices, but you can use Stripe to integrate with mobile payment solutions like Apple Pay and G-Pay.
8: Reduce No-Shows for Meetings
Communication is essential for meetings, and FluentBooking has you covered with multiple email notifications and (soon) SMS updates.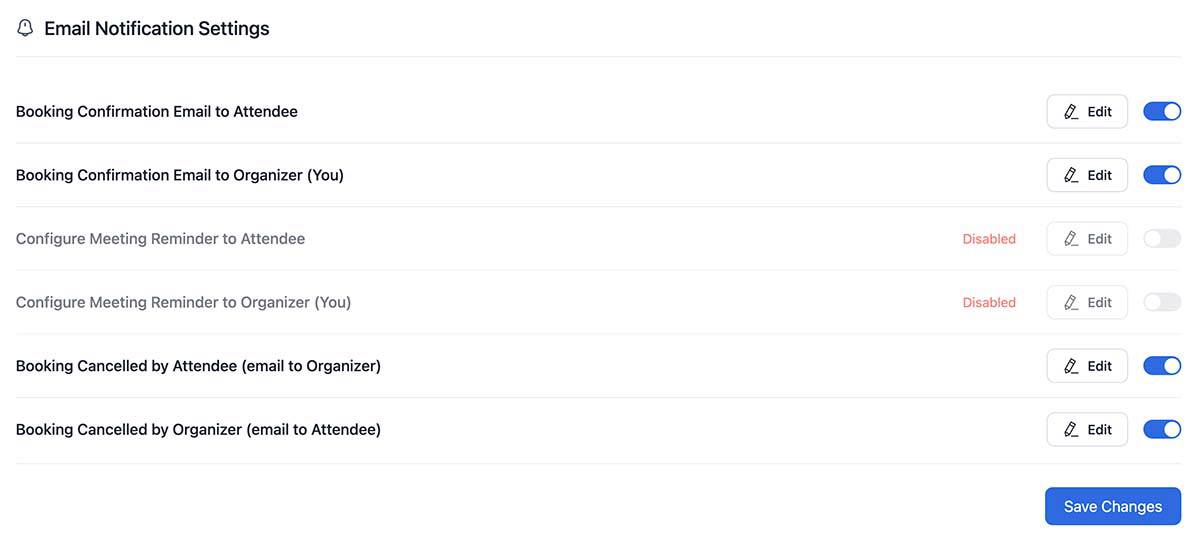 You have six email notifications to enable or disable, and you can customize every one of them.
FluentBooking email notifications make use of a generous number of shortcodes.
It's easy to dropdown a selection, find the category of the information you want to share in your email, and select a shortcode to automatically fill in the correct information for each attendee.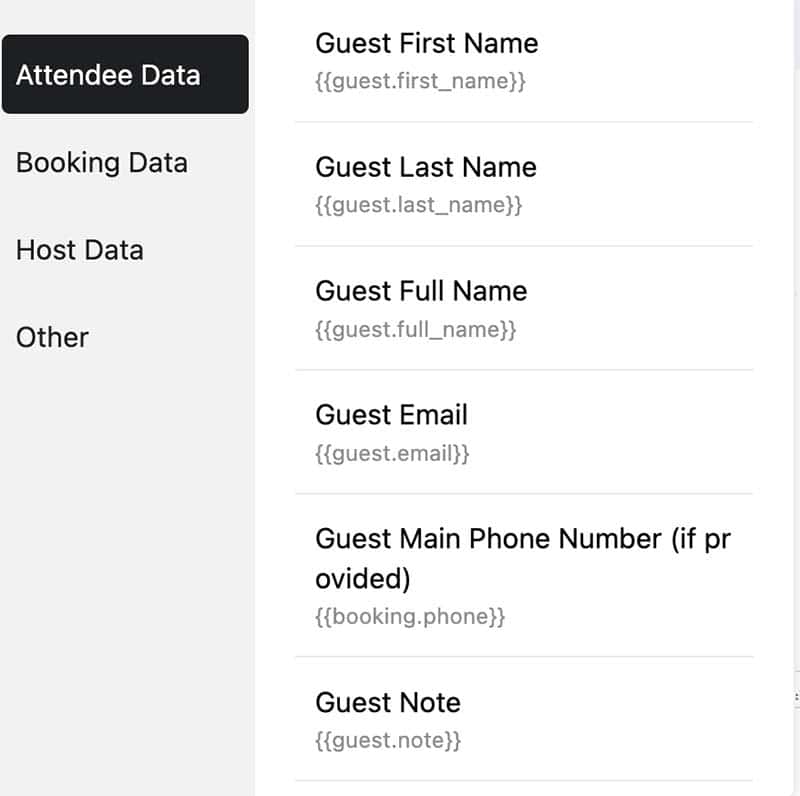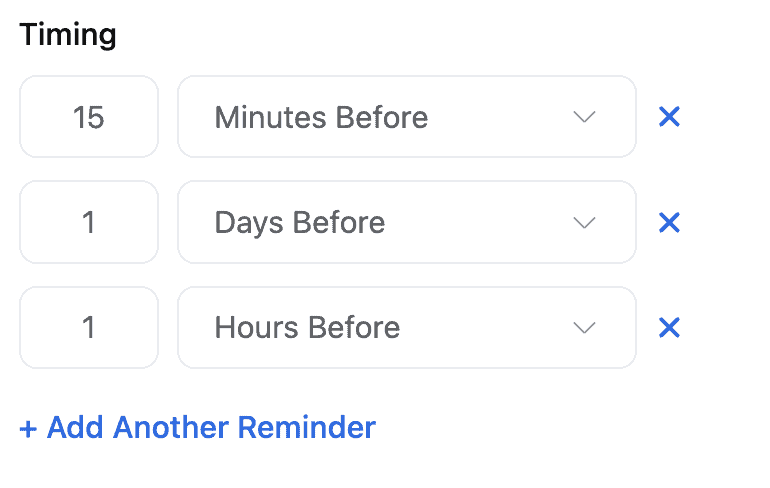 You can add multiple reminders for an event. The default is 15 minutes before the meeting starts in this example.
You can choose a timing value for minutes, days, or hours before a meeting by clicking the Add Another Reminder option.
Other types of notifications may have different options.
9: The Interface is Easy for Clients to Use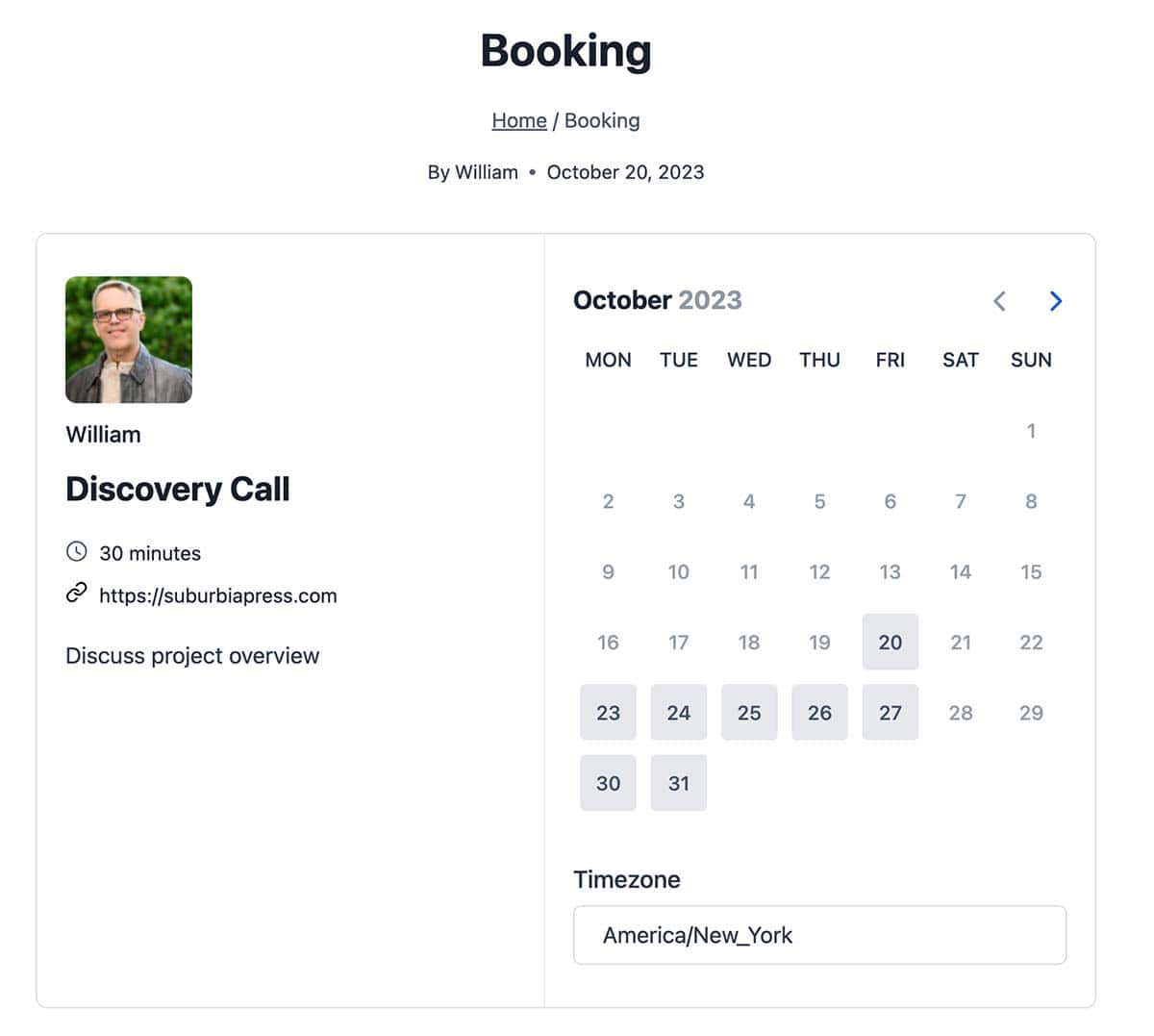 When you create a calendar in FluentBooking, you have three options to use it on a WordPress Post or Page:
The image above is an example of how the calendar looks using a shortcode. You can add any other features to a WordPress page to enhance the display.
This example was for an online meeting, so I used my website URL for the link. You could establish a Google Meeting or Zoom link here or use the custom online option to add a link for a webinar tool or other meeting service.
You have space below the URL to enter text that describes the purpose of the meeting.
Users can see which dates are available and also change their timezone to see their available hours. The display is simple and elegant, doing just what it needs to do and nothing else.
The information on the left side of the display may change depending on the meeting location (address, phone number, etc.)
What Could FluentBooking Do Better?
FluentBooking still has room to improve as a new product, and WP Manage Ninja knows it. That's why they've promised to add Twilio for SMS in the next release and to support more calendars soon.
I'd also like an option to choose colors for the calendar display to keep things on-brand for the sites that use it.
There's another service that I don't think is intended, but I'd love to see it added. That would be to share a calendar schedule people can download for upcoming events without registering individually. AddEvent is a service that does this, but it's not an inexpensive service. People who own memberships or regularly schedule events with their customers could use a service to subscribe to a calendar of events.
WP Manage Ninja has a history of making additions and improvements to their products, and I have confidence this will continue in that tradition.
FluentBooking Review Conclusion: A Cost-Effective and Capable Solution
FluentBooking is a WordPress plugin that competes with more costly SaaS booking solutions. It's fast and easy to use. You can easily adjust your scheduled availability. If you're hosting a paid event, the integration with Stripe simplifies payment and keeps your business open at all hours to earn revenue.
Since WordPress hosts it as a plugin, you can't use it on other SaaS platforms. That issue may affect some potential users who don't use WordPress, meaning they have to pay more to use expensive booking calendar services hosted on someone else's platform. As prices rise, their operating expense rises.
Since FluentBooking is self-hosted on your WordPress platform, you aren't subject to monthly service payments, which increase per location and per user.
I can honestly recommend FluentBooking to small to medium-sized businesses that use WordPress. Click the button below to check it out.