Searchie Review: BEST Way to Sell Digital Content
Searchie Review: The Easiest Platform for Course & Memberships
$29/month & up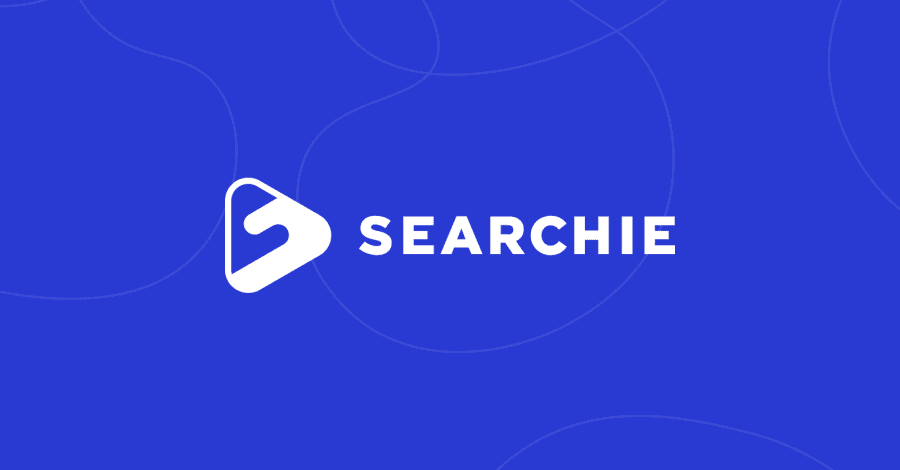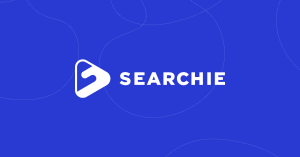 Name: Searchie
Description: Searchie is a Software as a Service website builder and video hosting platform to help build memberships, courses, and coaching platforms. It's easy to use and does not require any code to build websites for business owners.
Offer price: 29.00
Currency: USD
Operating System: Web
Application Category: SaaS
Author: William Beem
Summary
Searchie is the easiest platform to use that allows you to build a website to host, share, or sell digital content. It's great for course creators, membership sites, or coaching services that rely upon video or audio content. You can import media from multiple sources and it gets automatically transcribed, which allows users to search for keywords in video or audio and go directly to the location where it's mentioned. Searchie allows you to repurpose your content in multiple ways to distribute in blog posts, video captions, or with audio downloads.
Website Builder

Video Hosting

Automatic Transcription

Ease of Use

Mobile Responsiveness
Pros
Easy to use
Search within video or audio to find the content you want
Video & Audio hosting
Automatic transcription
Ad-free
Unlimited video uploads using Searchie Chrome extension
May allow users to download video, audio, or text transcript
Works great on mobile devices
No transaction fees
Searchie Academy training to learn how to build your hub
Use your own domain
Cons
No community features
Free trial, but no free plan
Hubs must be Public or Private only
SSL requires Cloudflare DNS
A Searchie Review Based Upon Years of Use
I've been a customer of Searchie for about two years at the time of this article, so I felt it's time for a Searchie review based on my own experiences with the service and the team behind it. As I'm still using Searchie, that's a good clue that I'm satisfied operating my courses and membership plan on the platform.
Previously, I used WordPress and various plugins to host my courses and membership. I ultimately decided that wasn't the best way to go for my business and I'd advise others to use the best of breed tools, like Searchie, rather than trying to cram everything into one site.
Who is Behind Searchie?
From what I can tell, Stu McLaren is the founder and there are two co-founders who helped bring Searchie into existence.
Stu McLaren is a membership expert. He's helped countless entrepreneurs create and grow successful membership programs. He's also the co-founder of WishList Member, one of the most popular membership software platforms in the world.
I've encountered Stu a couple of times. He was a speaker at Amy Porterfield's 2019 Entrepreneur Experience conference. I think I was one of only six men who attended, but I digress. While I'd heard of Stu on some podcasts before, I never heard him as a speaker and didn't know what to expect.
The man has a perfect grasp of marketing and memberships and it was on full display during his talk. He answered questions from the audience on every topic that they threw at him. Basically, Stu impressed the hell out of me.
Andrew Ferraccioli is a Searchie co-founder and he holds monthly Town Hall meetings for Searchie customers. Where Stu seems to be the face of Searchie, Andrew appears to be the hands-on leader of the team who builds and supports Searchie.
Andrew has an outstanding knowledge of what Searchie customers need and he continues to drive new features and improvements to the platform.
Asim Galini is a Searchie co-founder. We haven't crossed paths before and I honestly don't know much about his role.
What is Searchie?
Searchie started off based upon a problem. During Stu's training, he received the same questions repeatedly. The idea came up that it would be nice if people could go to a service to type in their questions and get a recorded answer to common issues.
When I bought Searchie, it was essentially a video hosting platform that allowed you to search within video (or audio) and then go directly to the moment in the recording where they mentioned your keyword. I thought Searchie was the best video hosting platform I'd ever seen and I started using it for my courses.
Searchie is always improving and they rolled out something called Hubs. What's a hub, I wondered?
A Searchie hub is an entire website that you can build inside of Searchie to host your video using specific playlists and audience tags to show the right content to the right people in your membership, course, or coaching service.
Basically, a Hub simplifies the process of developing a video content-centric site using an easy web builder interface that doesn't require any code.
The combination of searchable video hosting and an easy-to-use website builder makes Searchie one of the most powerful and flexible tools for entrepreneurs that I've ever seen to build a membership site or sell online courses.
It's like an online business in a box. When you purchase Searchie, you get all the features you need to serve free or paid content to your audience.
1: How Searchie Benefits a Business
Are you interested in any of these business models?
I've done everything on this list, except coaching, and I've used Searchie to help me with all of it.
2: Host Audio and Video Content
Let's start with the basic function of Searchie. I use it to host both audio and video content. Searchie uses integration with Rev.com to create a transcript within minutes when I upload a file.
Those transcripts go on my podcast show notes pages. I also use them to provide captioning for my YouTube videos. That's because a video on YouTube with a custom transcript ranks 7% higher than videos without captions.
Just getting that caption file in SRT format helps me reach more viewers on YouTube. I've also heard from people who read my podcast transcripts telling me how much it helps them due to their hearing problems.
Those transcripts also provide more text on your page to help search engines review and rank your results.
I built a hub with playlists of my podcasts that I can use as a lead magnet to build my email list. I offer searchable access to my library of hundreds of podcasts in exchange for an email address. It's another way to add value to my audience so they can find the information they desire.
Using Searchie Hubs, I created two different course platforms for my businesses. Here's a quick tour of the course hub that I use for my photography site.
By the way, I created this video by using the Searchie Chrome extension. Instead of paying for a service like Loom, you can quickly create videos showing your desktop and also your camera. When you use the Searchie Chrome extension, you get unlimited video uploads to your account.
If I had any audio in this recording, it would also get automatically transcribed and you could search within the video for a keyword, as in this example below.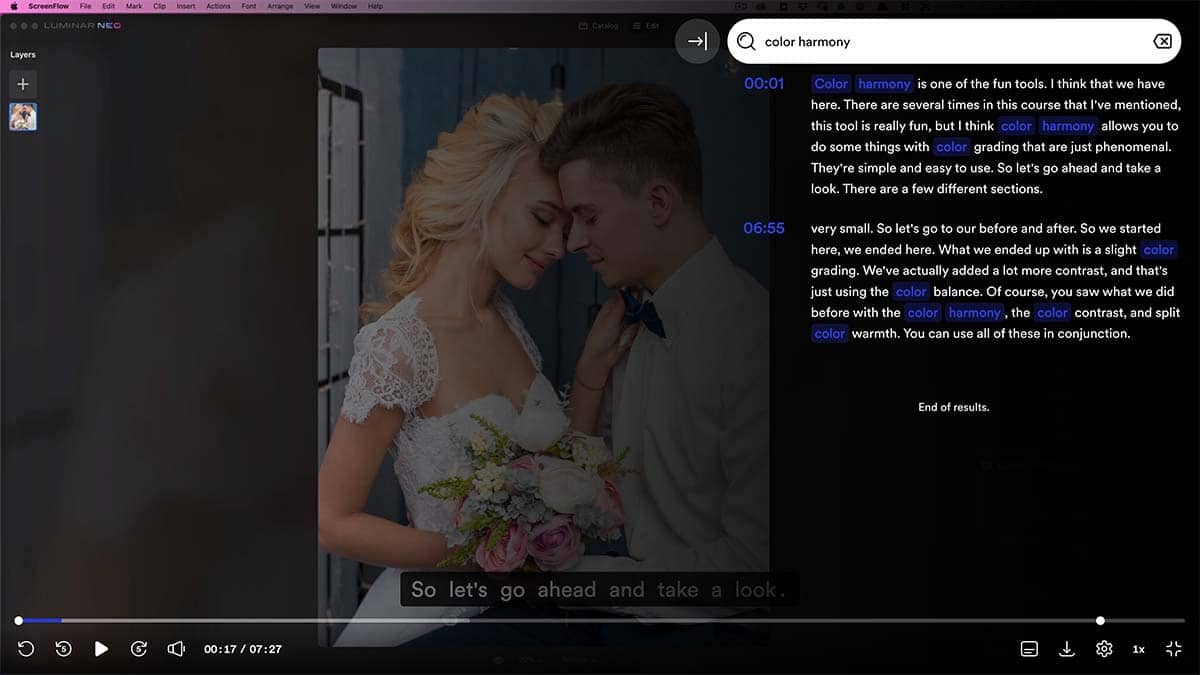 Other course-building platforms don't offer this feature. Many of them don't even host video or audio, much less transcribe them for you and allow your customers to download the results (optional: your choice to enable or not).
3: What Searchie Offers
Let's take a list of some of the features included with Searchie. All of the features are included with each plan. The differences are in limits or caps on how many Hubs you can have or how much content you can upload per month.
4: Media Management (Audio or Video Content)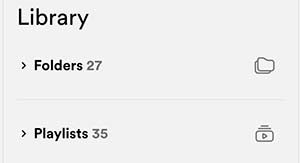 Searchie streamlines tedious processes of managing your audio and video content. You can upload files directly into your Searchie library.
When you upload a media file, you can place them in a Folder to keep organized. It's the same concept you would use on Mac or Windows.
You can easily use your video and audio content in an online course. In most cases, as an example, you'll create a Playlist to hold all the videos used in a course module.
To do that, you select specific media files in a folder that you'll use in a Playlist.
Once you populate a Playlist with your media files, you can sort it as you please and define rules to determine who can see the playlist content.
If you have an online course, coaching service, or membership site, the ability to determine who sees what is very valuable.
For Coaches
A coach may want to record meetings with a client. You can then add digital media directly to a folder for the client and it could automatically populate a playlist. Then with rules defined for the playlist to only appear for the "audience" tagged with the client's name, your client can then view and search all the video content captured in your meetings.
For Membership Sites
This also works for membership sites with multiple tiers. By defining permissions for audience members to see, or not see, specific playlists, you can place all the videos on one hub in your membership site and it only appears to those who should view it.
For a Digital Course
Creating playlists for your course content lets you break up content into logical modules. If you want, you can require completion of a module to earn an audience tag that allows the student to see the next playlist.
5: How to Create Paid Digital Products
I probably forgot a few things. Let me show you some of the page elements I mentioned in the last bullet.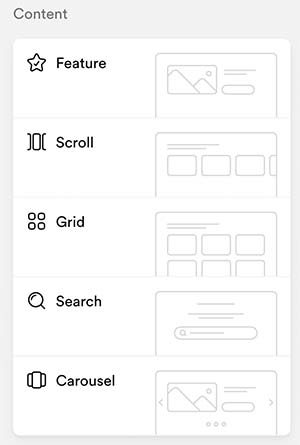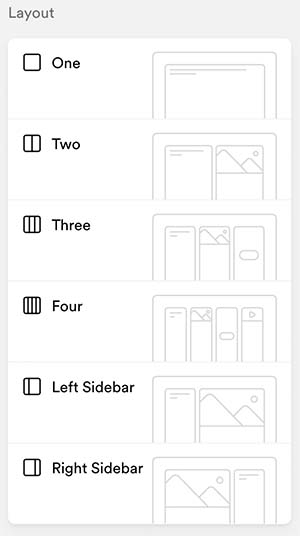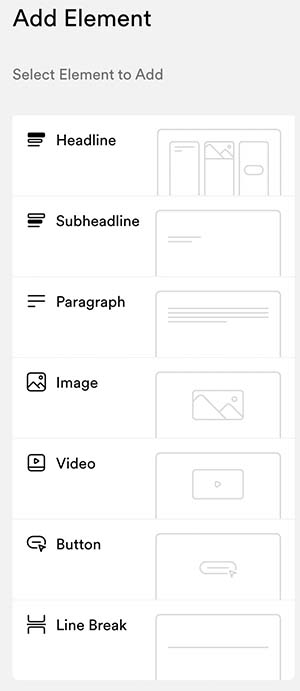 You can use these building blocks to build the pages of Searchie hubs without using any code. Many of them are customizable. For example, the Feature element shown in the first image can have a photo or video, text, and a call to action button.
You can enable or disable these different parts of the Feature element. Perhaps you just want a Call to Action button with a little text. No problem, just disable the image part of the element to create the look you want.
You can use the colors defined in your hub settings, or customize the color for any part of these elements. Change the button or the background as you please.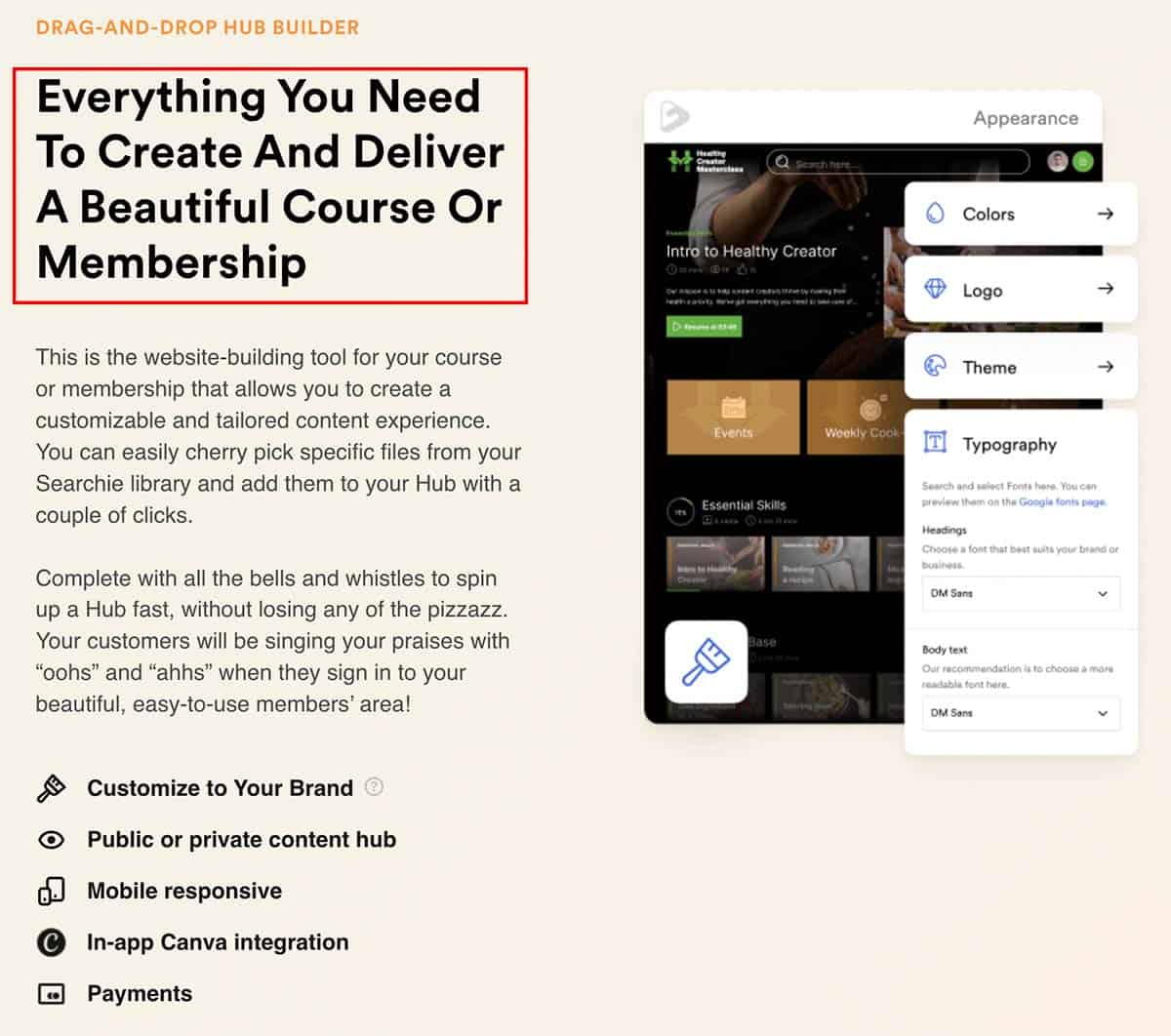 Searchie Customer Support is Amazing!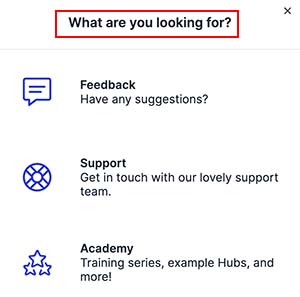 The team at Searchie seems dedicated to helping you succeed. You'll find plenty of written documentation, a Searchie Academy filled with useful videos demonstrating how to use Searchie to build your ideal hub, and regular Zoom meetings featuring demonstrations, hacks, and upcoming new features to enhance the platform.
There's also an active Searchie Facebook group that's actively supported by Searchie team members and members of the community. If you have a question or get stuck wondering how to do something inside of Searchie, you'll find the support team usually has a link to their documentation and other customers offer their advice.
During the Zoom meetings, there are often opportunities to win some Searchie swag. Water bottles, hats, moleskin notebooks, and much more. I'm sitting next to my own Searchie moleskin and pen, along with a few stickers. I haven't earned that Searchie Yeti mug yet, but I remain hopeful.
In my experience, the Searchie customer support team is always friendly and quick to respond when you have a question or issue. This is the absolute best customer service team I've ever experienced with any of my vendors or suppliers.
Other vendors could learn from how this team takes care of its customers, and I think the support team is one of the key benefits of using Searchie.
What Could Searchie Do Better?
No service is perfect. Part of that is because so many customers want or need different things. Also, design and operational philosophies don't always line up. The Searchie team does its best, but I have a few cons to share about the service.
1: Searchie Hubs Don't Provide SSL Certificates
One of my first gripes about Searchie was because hubs don't have SSL certificates and there's no way to add one. That's a problem because almost every browser now warns users that a site isn't safe if it doesn't have a certificate.
The resolution to this problem is to use Cloudflare for your DNS. That's because the Cloudflare service provides SSL certificate support for the domains that it protects.
For some users, switching DNS nameservers is a frightening task. To its credit, the customer support team created a great video including all of the steps necessary to switch DNS to Cloudflare, but I still see people who are afraid to even try doing it on their own.
2: Most Integrations Go Through Zapier
There are a handful of integrations built into Searchie.
For most other integrations, you have to go through Zapier. There are no webhooks available to integrate directly with your WordPress plugins or other Software as a Service providers.
The Searchie integration with Zapier works very well and is rather complete. I'm able to integrate with ThriveCart for my cart service. I also use Zapier with Wishlist Member and FluentCRM (my email service).
While Zapier has some limited services for free, the practical effect is that you pay an extra $600 annually to integrate Searchie with some other services. For example, the only way to integrate with FluentCRM is via webhook. That requires a Zapier plan costing at least $19.99/month to use webhooks.
Oddly enough, there's no integration with Wishlist Member. Stu McLaren was one of the co-founders of that product and Wishlist Member does an outstanding job of integrating with other WordPress plugins and SaaS products. I could save a decent amount of money if they created that one integration.
3: Searchie Doesn't Have a Certification Program
I reached out to Andrew Ferraccioli about this and he said it's something they've considered. As a web developer, a certification program would be a good opportunity to market my services to people who want to use Searchie, but don't want to build their hub.
Most business owners don't build their own stores. They get someone else to help them (check out my Searchie Bonus offer below).
A Searchie certification program doesn't just help those of us who want to market ourselves, but it also provides other Searchie customers with a list of validated developers who can help them get started or build their hub. After all, most businesses do what they love and outsource the rest.
There's an opportunity here for Searchie to reach customers who don't want to do it themselves.
4: Searchie Lacks Multiple User Accounts
Right now, each Searchie account has only one user ID and password. For individuals, that's not a problem. However, what happens when you add to your team or add a contractor? You have to give them full access to your only account.
As someone who built his career in IT Security, I find that issue disconcerting. I'd like to see an option for more than one account. Perhaps not on every plan, but the Business plan ought to have multiple logins with some role management to keep people away from some sections of your Searchie account.
How Much Does Searchie Cost?
Searchie currently has three different plans, starting at $29/month.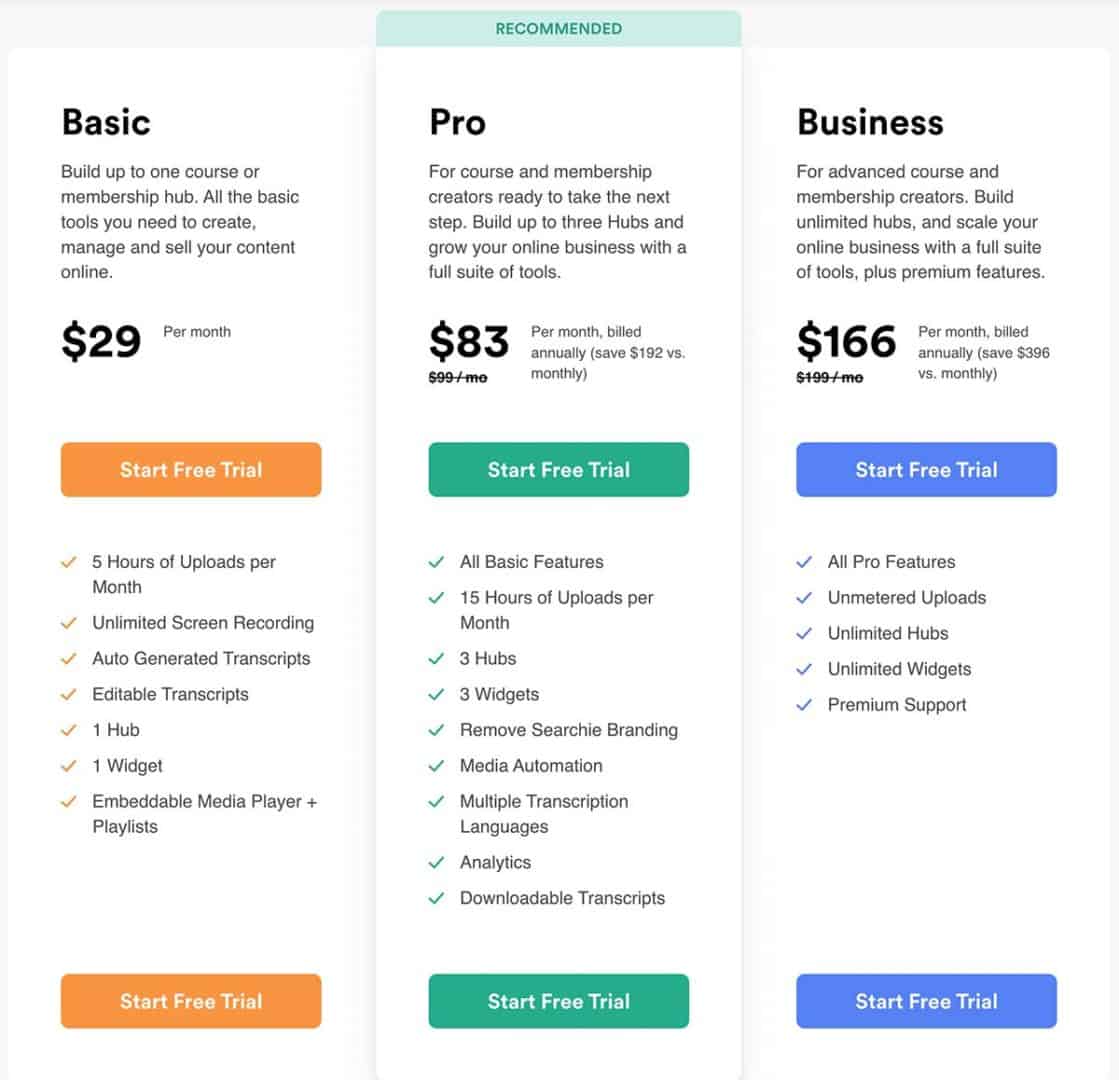 Let's go over these three plans to see which one may be best for your needs. Please note that two of these plans are available on a Monthly or Annual plan. You'll save money with annual plans.
You can get a FREE Trial of Searchie for seven days without a credit card. Click the button below, and then click the FREE Trial button in the upper-right corner of the next page.
Searchie Basic Plan
In my view, the Searchie Basic plan is for the tire kickers. It's the only plan that doesn't come with annual pricing to save money on the total Searchie cost.
This plan has only 5 hours of uploads per month, not counting uploads from the Searchie Chrome extension. You still get automatically generated transcripts and a single hub. You can embed your Searchie media player or a Widget on another site. Those are the things that permit searching through media.
One hub is a detriment for a business. That means you can't test out ideas on another hub before you implement them on your production site. Every change you make on the hub is a trial and error process that may not look professional to your customers.
The Basic plan lacks analytics and comes with Searchie branding. You also don't get to download your transcripts, which doesn't help if you want to use them for show notes on podcasts or for YouTube captions.
Searchie Pro Plan
I think most people who get Searchie to create a hub will be fine with the Pro plan. You get 3 hubs, meaning you can have one for your business, one for development, and another for personal use.
You also get 3 times as much upload time. If you're creating a new course with a lot of media you may bump into the limits once in a while. For coaches who record video calls with their clients or upload a webinar, the 15-hour limit may depend upon how many client meetings you have during a month.
The good news is that you can use Tags on your videos and playlists to control who in your audience gets to see them automatically. Just upload the video, add the appropriate tag, and you're done with video management.
Let's say you are a coach who regularly meets with clients on Zoom. One of your clients is Carol Miller. Create a section in your Hub with permissions for anyone who has the Tag called "Carol Miller." Then create a Playlist that's only viewable by someone with the tag "Carol Miller."
You can create a "Carol Miller" folder and upload your media there. The folder can have a rule that automatically adds new videos to the "Carol Miller" playlist.
That's how the Media Automation available in the Searchie Pro plan can save you time and serve your clients.
Searchie Business Plan
This is the plan that I chose.
Why?
Limitations are annoying to me. While your uploading is "unmetered" instead of "unlimited", the practical effect is that a valid business operation isn't impacted by uploading media to Searchie.
Likewise, I can have multiple hubs. Right now, I have one for Suburbia Press and my Photography courses and members. However, there are plenty of other hubs that I use and have the option to create more.
Here's one example of a personal hub. My wife took an online course that offered her downloadable videos. The course site won't remain up. So we downloaded her videos and added them to her own hub for reference.
Do you have a family that takes a lot of videos that you want to share with a limited audience? Searchie hubs fix that problem, too.
Perhaps the Premium Support with the Business plan is why I'm so happy with the customer support team. I have never had a disappointing experience with the folks on the customer support team and I use their services frequently.
If you classify yourself as a professional entrepreneur and Searchie is hosting your business, I think it's a good value to get the Business plan for the benefits of:
Searchie FAQs
Any decent Searchie review ought to have some answers to frequently asked questions. Here are a few things that I've seen come up a few times.
Our Pick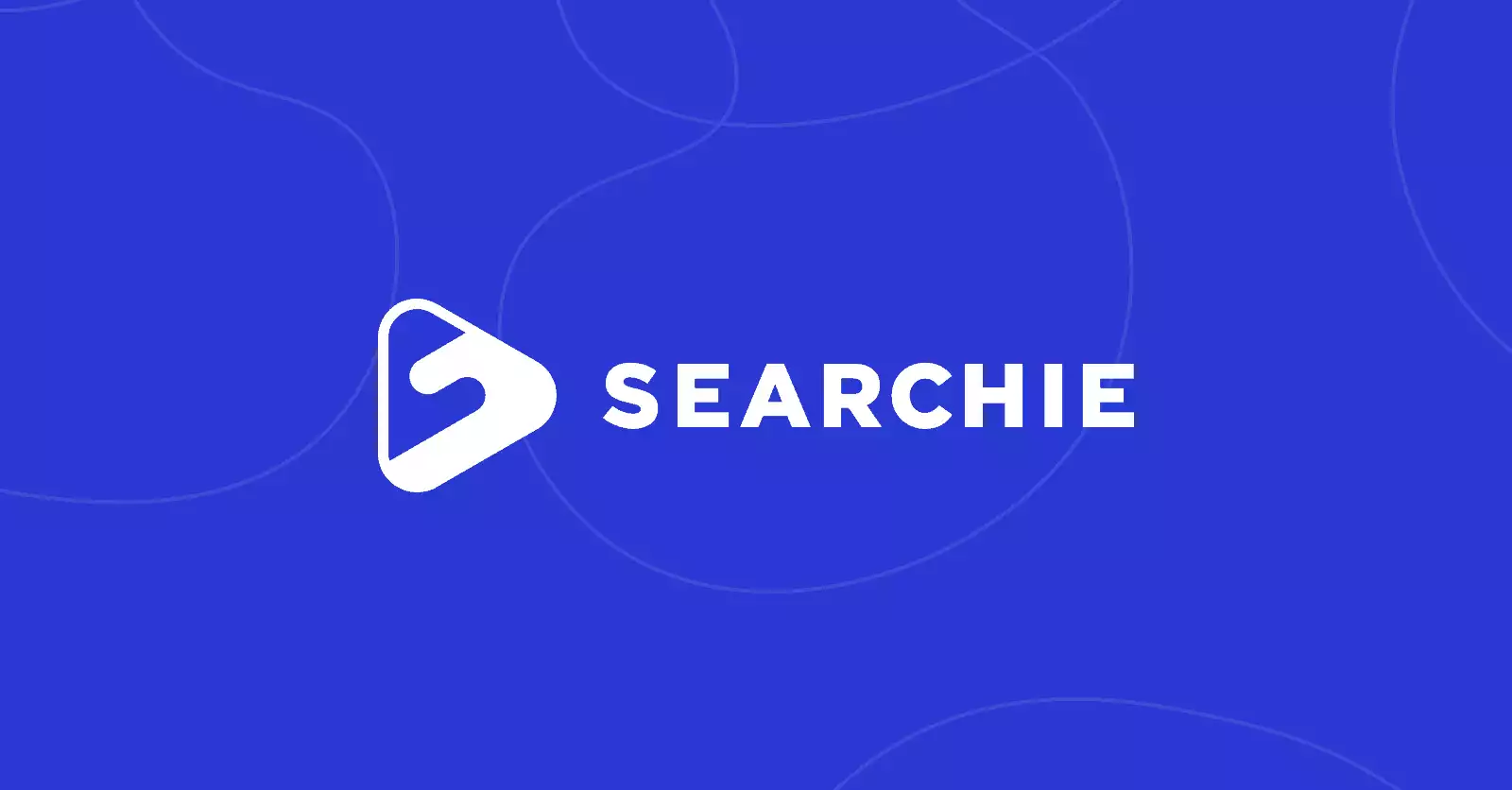 Searchie
Searchie is the perfect solution for membership, coaching, and course platforms. It's reliable, easy to use, and packed with features,
With Searchie, you can easily import videos from other sources like Zoom, Facebook, or Vimeo. Plus, you can create beautiful hubs with content for your students or members to enjoy. And because Searchie is self-hosted, you can be sure that your videos are always available and never go down.
Pros:
Easily build a mobile responsive website for courses or membership

Great video hosting

Users can search inside of video or audio

Works as a podcast host

Easy to use

Chrome extension to record video

Drop content for courses
Cons:
No community features

Doesn't have a blog
Buy Now
We earn a commission if you make a purchase, at no additional cost to you.

Check out our article on how to choose different types of hosting platforms:
Best Types of Hosting Platforms
Searchie Review Summary
After using Searchie for my own business, I have no hesitation to recommend it to anyone who needs to host, sell, or share digital content online. I tried using services like Teachable or rolling my own solution in WordPress with various plugins
It turns out that Searchie is more cost-effective than either of those solutions. It's also much more robust and secure than using WordPress as a host for user logins.
Entrepreneurs who need an easy-to-use solution to sell their digital content can benefit from Searchie as a reliable platform that's constantly improving.