Should You Use Searchie Hubs as Blogs?
Should you use Searchie hubs as blogs? I see this question a lot on the Searchie Facebook group, and it seems like a fair topic to investigate.
While Searchie Hubs are wonderful platforms to host your membership, courses, or coaching programs, they have some limitations that you need to understand before you decide to use Searchie Hubs as blogs.
Not sure what Searchie is? Click here to read my Searchie Review.
The short answer is, yes you can use Searchie Hubs as blogs. However, let's dig into some of the issues you may encounter if you decide to use this path.
Video: Searchie Hubs as Blogs?
What is a Searchie Hub?
If you're not familiar with a Searchie Hub, let me help you understand. Searchie is a web platform that hosts videos and lets you easily create websites for your courses, memberships, and coaching clients.
Searchie is a Software as a Service (SaaS) platform, so you don't host anything on your WordPress or another website. It's different than other platforms like Teachable, Kajabi, or Kartra.
Searchie automatically transcribes your audio and video uploads so you can search them and click on a result that will take you to the moment in the audio or video where your search term gets used.
When Searchie transcribes a video, you also get a text transcript and an audio file for your users to download. The ability to create something once and then repurpose it with text or audio is one of the great benefits of using Searchie hubs.
5 Things to Consider Before Using Searchie Hubs as Blogs
I use Searchie Hubs for courses associated with a couple of my website businesses. I love Searchie, and I love WordPress. They each serve a different purpose in my business. I believe in using the best tool for the job.
Some time back, I tried operating everything on WordPress – both public and private pages to serve unknown visitors and paying customers. I used some great WordPress plugins to create the site.
I discovered that it could work, but it's not the best experience for either type of visitor. It wasn't even the most cost-effective way to operate.
There were a few reasons why I decided that it was best to separate my blog and my courses, and Searchie was the best option for handling private operations.
Let's take a look at my criteria.
1: Is Your Searchie Hub Public or Private?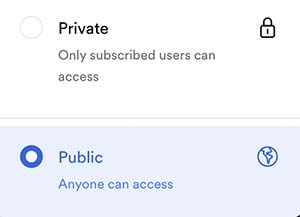 One of the essential decisions you have to make when creating a Searchie Hub is whether it's public or private. It cannot serve both purposes.
As you can see from the screenshot, your Searchie either allows public access to anyone or only to subscribers. A membership, course, or coaching platform generally operates privately for clients or subscribers.
You can have a private blog for your subscribers, but most people with blogs want them to be public to garner SEO traffic to convert unknown visitors into paying customers.
2: Can You Create Blog Posts in Searchie Hubs?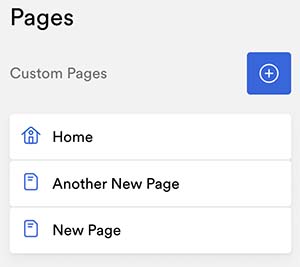 Searchie Hubs allow you to create as many pages as you want. There's nothing like a WordPress Post inside of Searchie, but that's not really a big concern.
When a person visits your site to read an article, they don't care if it's a page or a post. Search engines also don't care, so Pages and Posts are different for organizational reasons that benefit the website owner.
Let's take a look at my Test Hub. The Pages section has a Home page. You click the blue button with the plus sign to add a new page and then give it a title.
In this case, I just called them:
You can build each page as you see fit. Here's an example of a simple home page.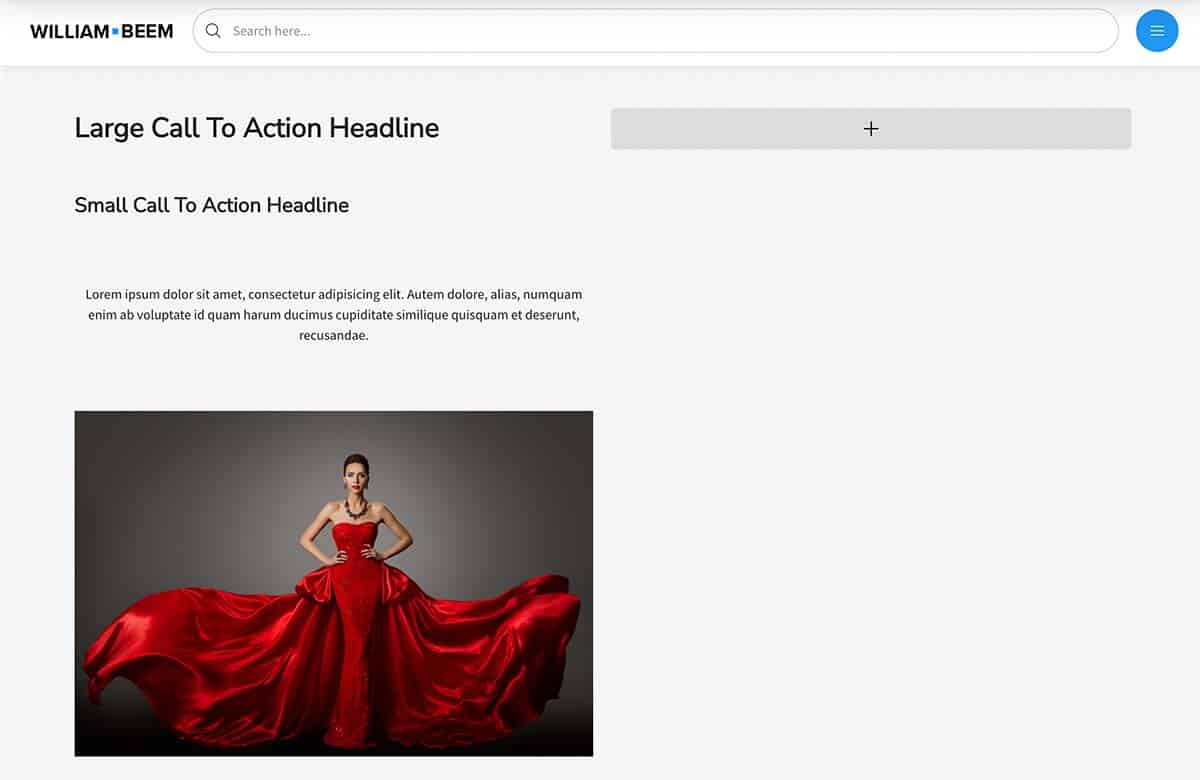 What you may not yet know is how this page gets assembled. Pages consist of Sections to display your content or Layouts to divide an area of the page.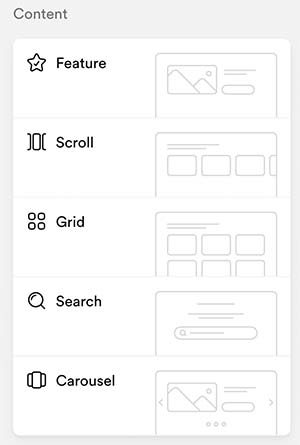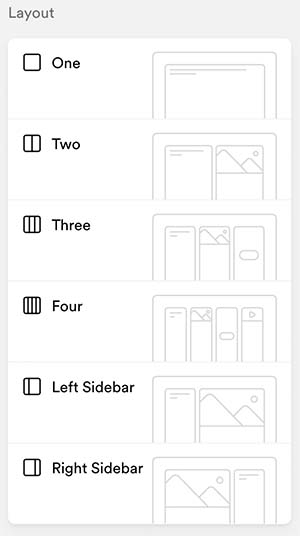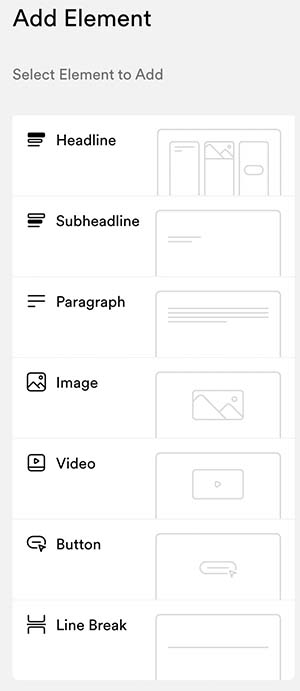 Take another look at the Home Page I created above. The top part consists of a Two section Layout. On the left side of that layout, I added the following elements:
Naturally, there's room on the Right column to add more content. You don't see that I could add another section below with a completely different layout, call to action, or content in a Grid or other section.
If you want to create a blog post in a Searchie Hub, you must assemble each post in this manner. It's the same with any page.
Searchie excels at adding video or audio content using playlists and displaying them in the Content sections, like Grids, Scrolls, or Carousels. You can define who gets to see that content by defining audience tags. People in your audience who have tags see the content with associated tags.
Adding new content can automatically populate the playlists and show up on sections you already created.
Blog posts are not so automatic in Searchie Hubs. You create a new page for each blog post and build it manually using the tools shown above.
Check Out New Interface in Searchie 2.0
The user interface in Searchie 2.0 is new and easier to use than ever. Check out the details in my Searchie 2 Tour article and video.
3: Can You Optimize a Searchie Hub for SEO?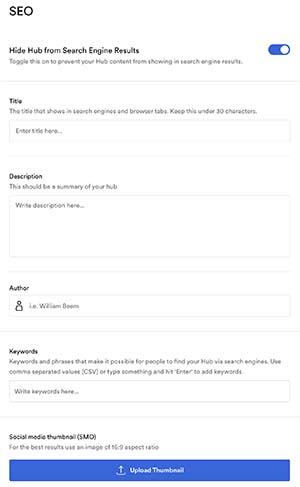 Search engines like Google don't rank sites. They rank pages. Each page is its own business and needs its own SEO optimization.
Unfortunately, Searchie only provides SEO fields for the entire hub. I believe that effectively works for your home page and possibly uses the same criteria for every other page in your Searchie Hub.
You first have a toggle switch that allows you to show or hide your Searchie Hub from search engine results. If you have a private page, you likely want to turn off this setting.
Your Title field shows your hub name.
The Description field allows you to describe the purpose of your hub.
The Author box has a limit of one author. This is just a text field, so typing multiple names here will show all of them as one author of the hub. Basically, you only get to show one author for the hub.
The Keywords field accepts multiple keywords. You can enter them manually or upload a CSV file with your keywords for the hub.
The social media thumbnail accepts a 16:9 aspect ratio image.
Since this is the only area that allows you to provide any SEO information, optimizing individual pages for search engines is impossible. That is an enormous problem for blogging on a Searchie Hub where you want to attract an audience.
That means your blog posts or pages on a Searchie Hub are NOT searchable!
4: How do User Logins Affect Your Website Security?
Using Searchie Hubs as blogs may not be as effective as WordPress, but it's outstanding for separating user logins from your WordPress site.
WordPress sites are under constant attack and user accounts are one way that attackers are able to gain access. Even a low-level account can, in some cases, lead to administrator access to your WordPress site. That's usually due to a security error in a plugin.
You don't have to worry about security breaches on your Searchie Hubs. Not only do the folks at Searchie take care of that, but they use a completely different web hosting platform that doesn't have to deal with the constant monitoring of vulnerable WordPress plugins.
5: Can You Add an Email Optin or Lead Magnet to Searchie?
Another benefit of a blog is the ability to create forms to capture email addresses and build your email list. Unfortunately, the only way to capture an email address in Searchie is to have a private hub where users must register before being granted access to the private pages.
That means you can create a Searchie Hub and use access to it as a lead magnet. When people register and provide their email address, you can export that information or build a Zapier integration to migrate it to your email service provider.
Not only are there no email capture options within a Searchie page, but you can't even use a 3rd party service and add a form using an HTML embed code to create an email opt-in form.
There is a request for adding HTML content to Searchie, but it's not planned for development at the time I'm writing this article.
Searchie Hubs as Blogs Takes Strategy
One of the biggest hurdles of Searchie Hubs as blogs is the first issue, public or private. If your hub is public, you can't capture any information from your visitors and you can't optimize your pages for search engine traffic.
If your hub is private, know that everything you create is for your private audience and you have a manual effort to construct every page and section.
My advice is the same approach that I use. WordPress is a much better platform for blogging and Searchie is a much better platform for supporting your private visitors with the content they want from you.
Use the right tool for the job at hand.