How Searchie Hubs Can Help You Build a Better Website
If you're a small business owner, chances are you need a website that can do more than sell your product or service. You need a site that can also be a hub for your courses, memberships, or coaching platform. And that's where Searchie Hubs can do the work for you.
Searchie is more than just a hosting and transcribing service for your video and audio content. It's also an easy-to-use site builder that allows unlimited pages and sections on your site. Plus, you can control who has access to the different areas of your site.
In this article, we'll show you the fundamental components of Searchie Hubs so you can start building a better website for your business.
Key Takeaways About Searchie Hubs
What Are Searchie Hubs?
Searchie Hubs are websites designed to share media content, either audio or video. They're great for people who have courses, memberships, coaching sites, or even podcasts.
From the user's perspective, it's like creating a streaming service. Like Netflix, you can share your media in a curated set of playlists or provide a custom user experience based on user interests or subscription levels.
Searchie started as a video hosting service where you could search inside the video for the information you wanted. It integrates with Rev to create transcripts with timestamps correlated to the video or audio. That allows you to search for a word or phrase within the media. Then Searchie takes you right to that spot in the media.
As Searchie grows, the developers keep adding new features. Searchie Hubs came out of that growth. The developers created a web page builder that's easy to use and populate with your media. Combining that with integrations to Stripe and Zapier allowed them to offer a service for entrepreneurs to sell digital content.
Want to know more about Searchie? Read our review:
Searchie Review: BEST Way to Sell Digital Content
Creating Your Site with Searchie Hubs

When you create a Searchie Hub, you'll be able to choose from various templates to help you get started. Once you've chosen a template, you can add pages and sections to your site.
When you visit the Hubs page in your Searchie dashboard, you'll see a few templates at the top of the page. You can Start from Scratch to build your template piece by piece or choose one of 20 or so templates to kickstart your Searchie hub.
Underneath the template title is a description that lets you know if it's best for a Coaching, Course, or Membership site. Each template with existing graphics displays how it will appear on desktop and mobile devices.
If you click to see all templates, you can filter the options by tier, type, or industry. For example, here are the available Types of templates.
Getting Started with Searchie Hubs
When you create your Searchie Hub, there's a convenient checklist of steps to help you start covering all the bases.
Each one has a drop-down arrow to reveal a button that takes you to the correct area of your Searchie Hub dashboard. For example, this option to Set Privacy has a button that takes you to a place to configure your privacy options.
Just click the button to proceed with the step. Let's take a closer look at each option.
1: Controlling Who Has Access to Your Searchie Hubs
There are two ways to think about Access within Searchie. The first step is to determine who can authenticate to the Searchie Hub. The second is determining who has permission to different sections or elements within the hub.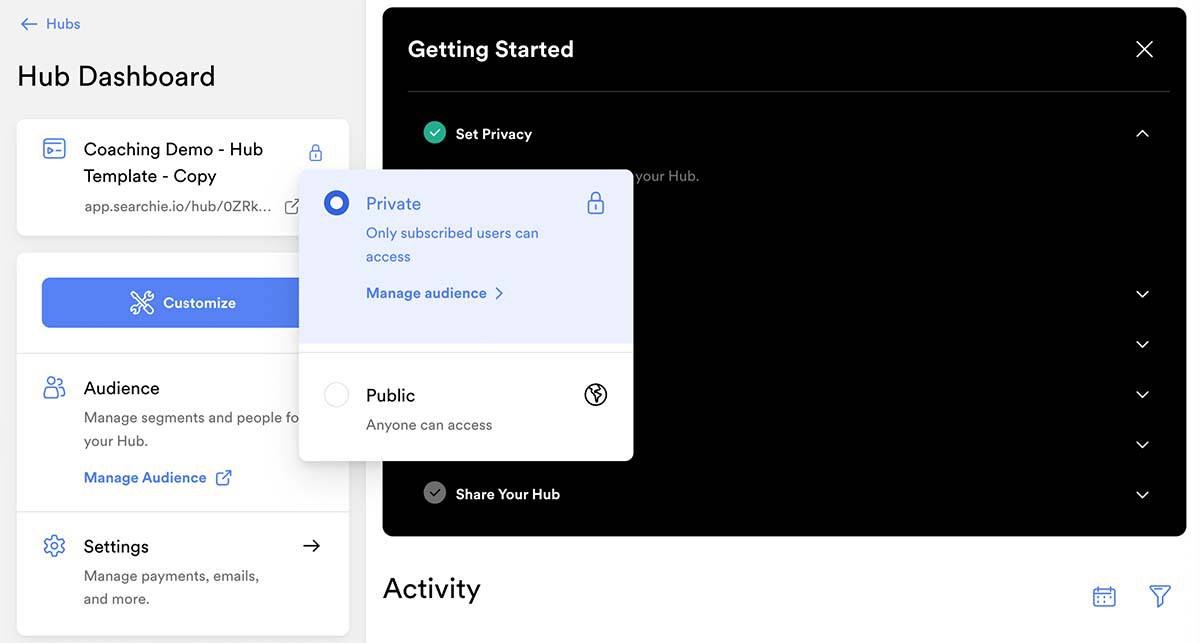 Searchie Hubs may be either public or private. There's no option in a hub to have some public pages and some private pages. It's all public, or it's all private.
Within a private hub, you can determine who has permission to see different elements in the hub. You can define an Audience Segment to grant access to things like:
To control your hub's access, go to the "Audience" tab in the left-hand sidebar. The default option is to see all the people in your audience. However, you can use a Filter to narrow the list to only those with access to your hub.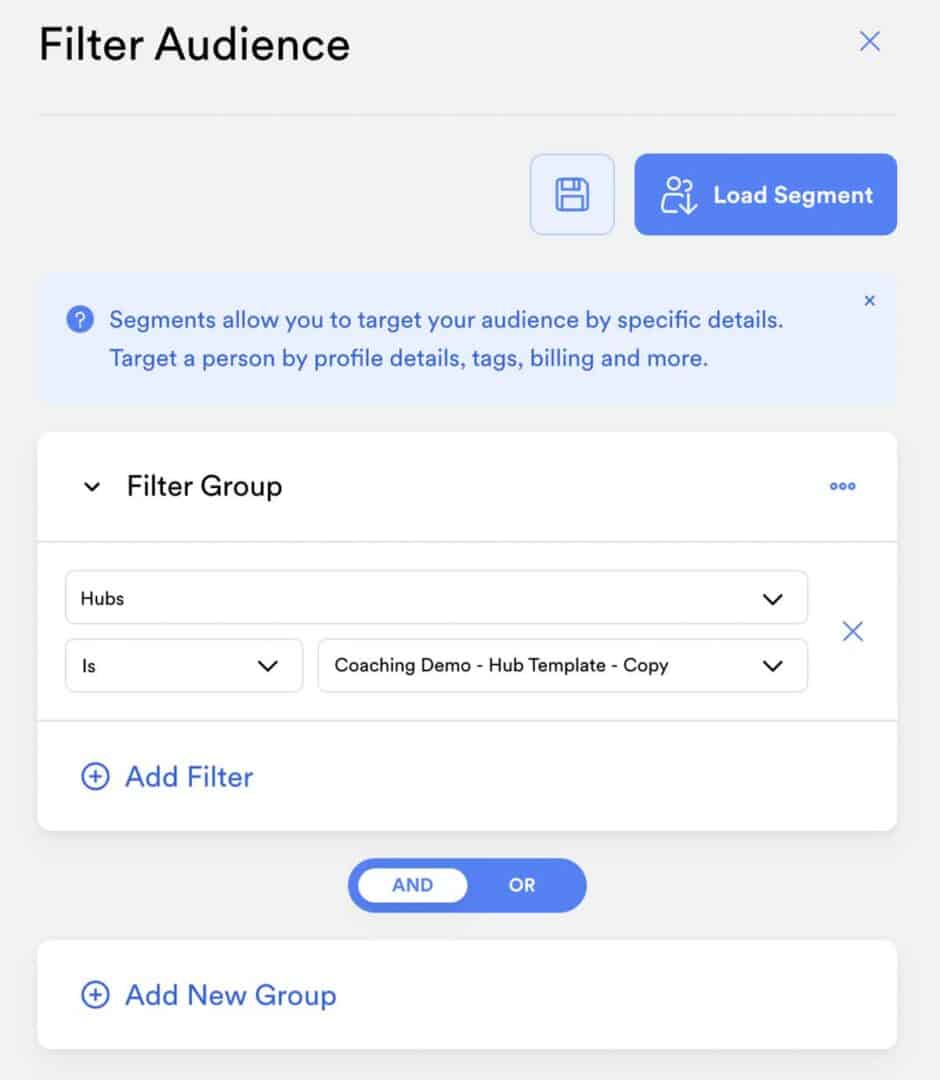 Once you've chosen your filter, you can see a list of people who match your criteria. Then you can check the Access to a hub for each person.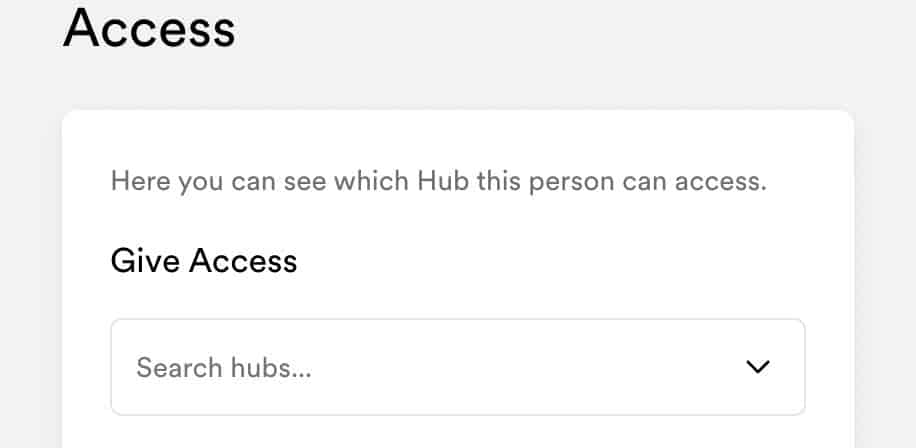 The dropdown to Search hubs shows a list of hubs on your account. You can select which hubs to grant access to a person in your audience.
You can think of Access in a Private hub as an apartment or office building. Just because you can authenticate to the hub doesn't mean you have the right to see everything inside of the hub.
Let's imagine that you have a hub with many courses inside. You can allow anyone with hub access also to access every course. Alternatively, you can individually restrict access to each course so that only those you designate can see it. People without access won't even know the course is in the hub.
2: Customize Branding with Colors, Typography, and your Logo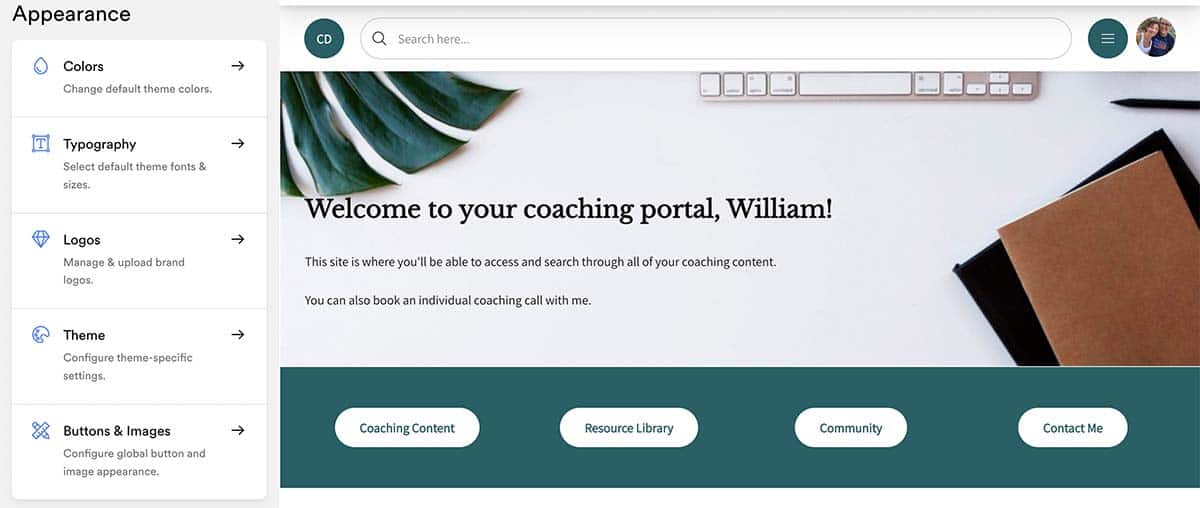 The Appearance section allows you to control visual aspects of your Searchie Hub. You can define your brand colors, choose typography and upload your logo.
There are three colors to choose from for your defaults:
In the example above, the Primary color is dark green. The secondary color is black. The page background uses the default Light color in Searchie. However, you can add any color you want by specifying its hex code.
Your typography options are for Headings and Body text. You can choose from any of the Google fonts to create the style for your text.
Another option is to choose how your labels appear.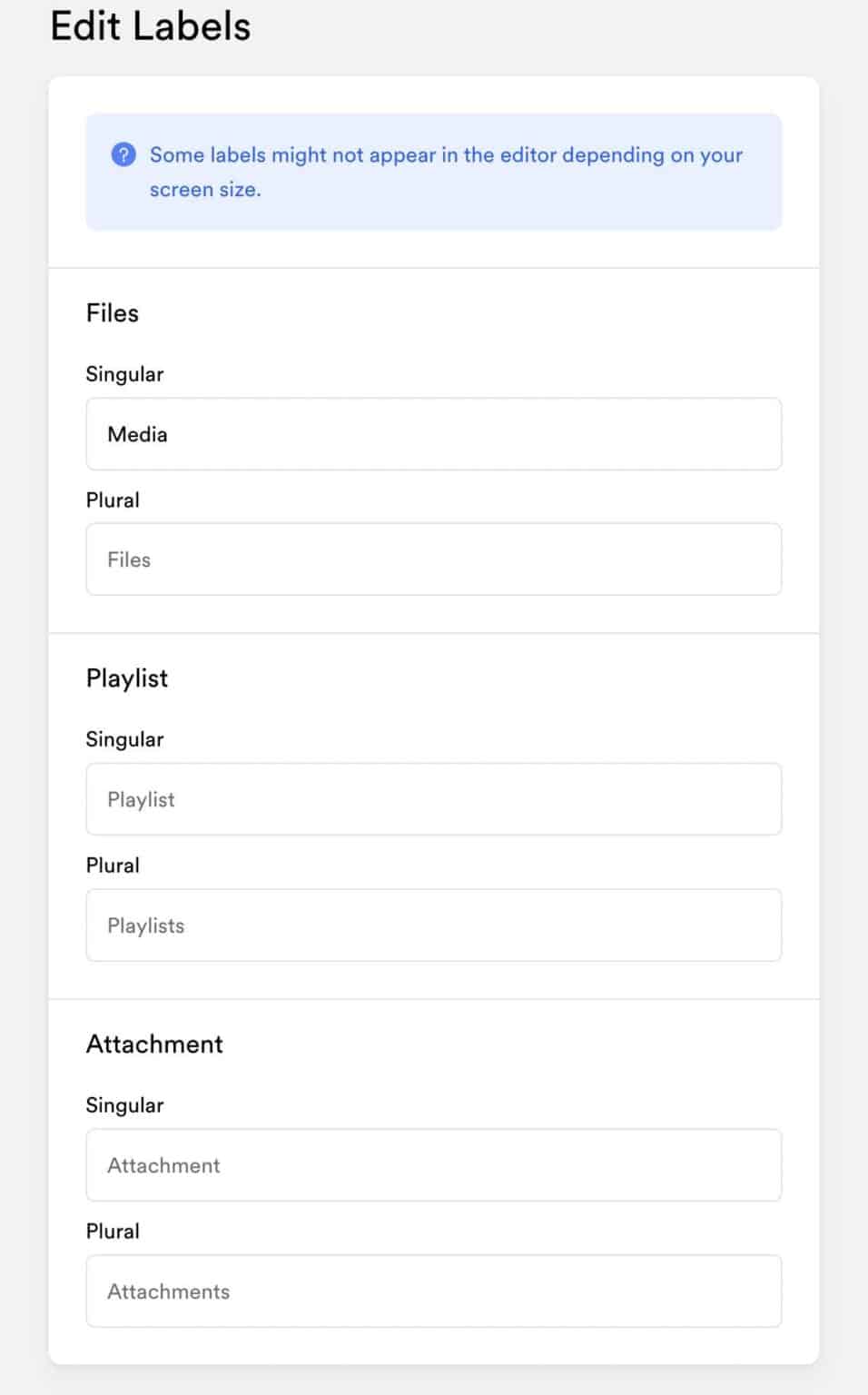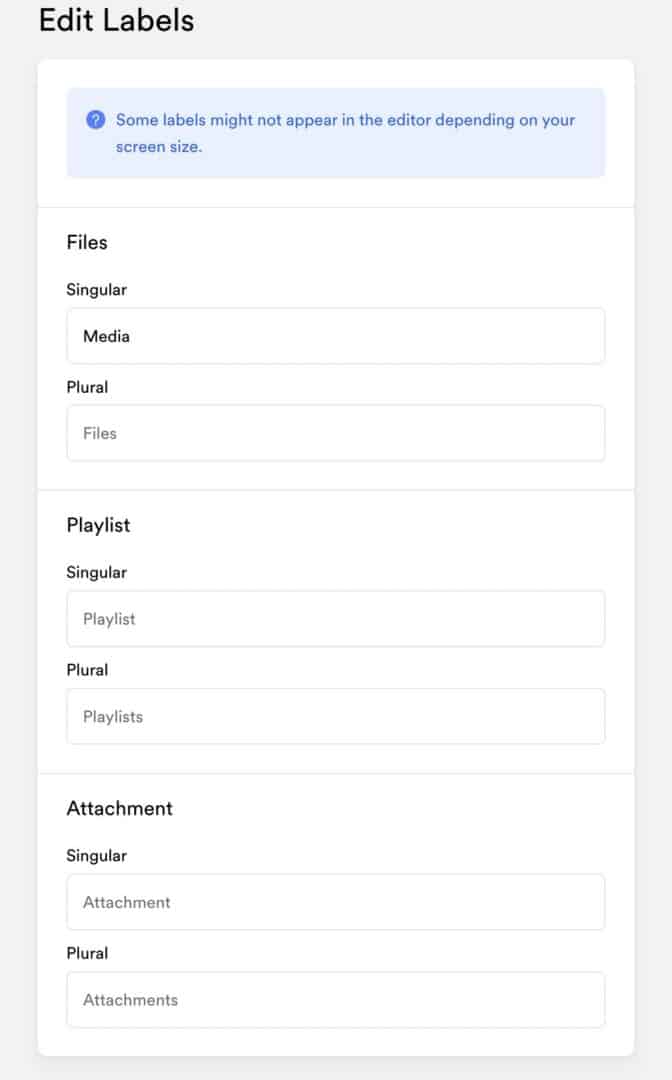 It's a great option to use the language your audience understands. If you create courses, you may want to use the word Module or Lessons rather than playlist. A podcaster may want to share Episodes rather than files. Choose what works best to describe your content to your audience.
The Logo section allows you to upload an existing logo. If you don't have one, there's an integration with Canva so you can create something and automatically pull the logo from Canva into your hub.
The Logo area also has an option to upload a favicon – the little image that appears in your browser's address bar to identify your site.
The Appearance section also has options to configure your theme settings, buttons, and images. There are plenty of detailed options we won't address in this article, but suffice it to say, you have plenty of customization options to craft the appearance of your Searchie Hubs.
3: Add Content from Your Library
You add content in Playlists to use in your Searchie Hubs. The second icon on the left side of your hub is where you can find your content. There are two options if you don't have any content in your hub yet.
Searchie 2.0 changed an aspect of using playlists. In the past, a playlist was a playlist. You could use them in Searchie Hubs, or you could use them in some other tool, like LearnDash on a WordPress site or ThriveCart Learn.
Now, a playlist in a Searchie Hub is different and unique than a playlist in the Library. That's why we now have the option to import an existing playlist from the Library. Searchie then creates a new playlist for use only within your hub.
You can end up with two playlists with the same name and content but are used in different places.
If you only need to use a playlist in a Searchie Hub, I wouldn't build one in the library. Just create one inside of your hub.
If you click the option to create a new playlist, you'll first get this screen to add a title and a description. You may notice some icons on the right side of the title.
The three dots open a menu to either duplicate or delete the playlist. The cog icon gives you the following settings.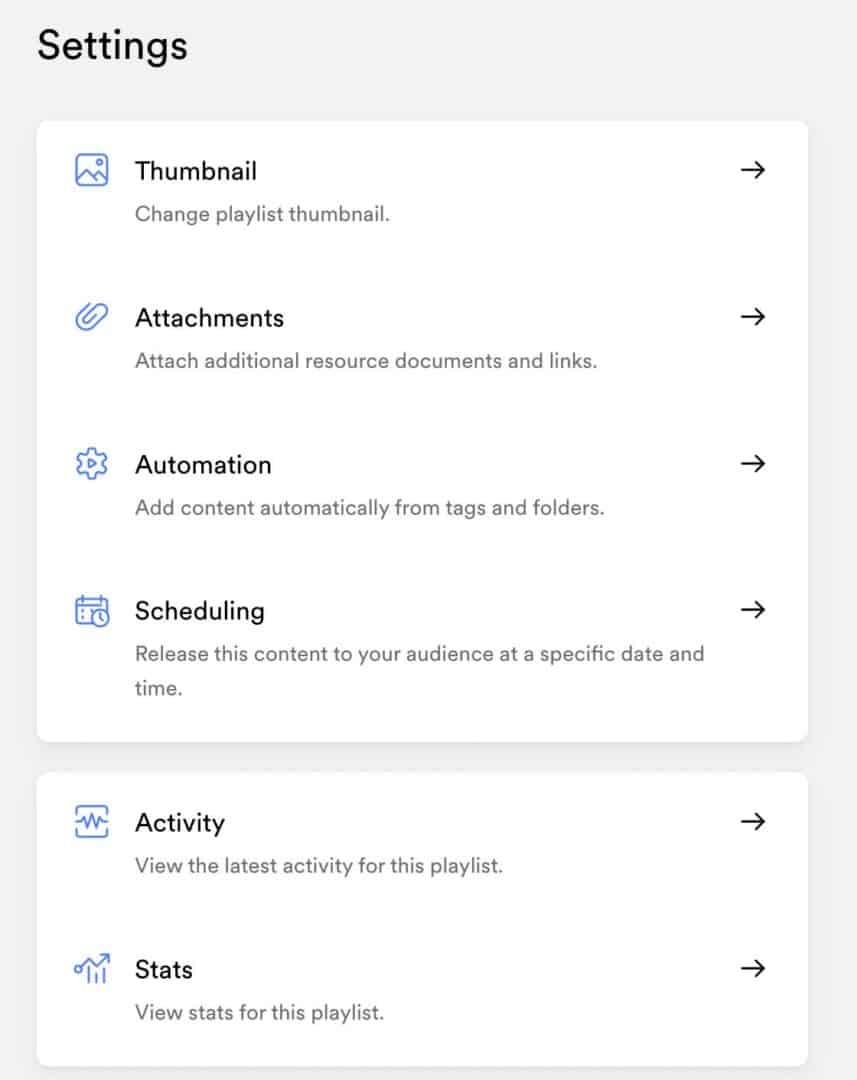 When your playlist appears in a Searchie hub, it uses a thumbnail for a visual reference, so users know what to expect when they click the image.
Attachments are optional in case you need to provide additional materials with your playlist.
The Automation section helps you populate content in the playlist. You can add media to a playlist if it exists in a specific folder or has a specific tag.
Let's say that you have a regular office hours meeting on a Zoom call. You can record those calls and upload them to your Searchie Library into a specific folder. Using automation in your playlist to pair it with that folder will automatically import new media and display it to your users. The same concept works with tags.
Scheduling allows you to choose a specific date and time to release a playlist to your audience. Perhaps you have a course scheduled to start on a specific date, but you don't want your users to see it while you populate it with media. Creating a schedule allows you to do the work and prepare your site ahead of time.
The final section gives insight into how your audience interacts with your playlist.
4: Add a Custom Domain to Your Searchie Hub

Searchie provides a unique domain name, but it's a collection of random characters that won't have any meaning to your audience. You'll likely want to use your domain name, or subdomain, to direct your audience to the hub.
For example, you may use a subdomain like https://members.yourdomain.com.
You'll need two things to connect your Searchie Hub to a custom domain.
A registered domain
A Cloudflare account (free)
It makes sense that you need a domain to use, but why do you need a Cloudflare account?
That's because Searchie does not provide SSL certificates for hubs. Cloudflare is a service that hosts your DNS settings and provides your domain SSL protection.
You can use another DNS service, but your Searchie Hub will not have SSL protection, and there's no way to add it. That will cause fear and confusion among your visitors, who will think your site is unsafe to use.
You can read this article to get step-by-step instructions to use Searchie and Cloudflare together.
5: Collect Payments in Your Searchie Hubs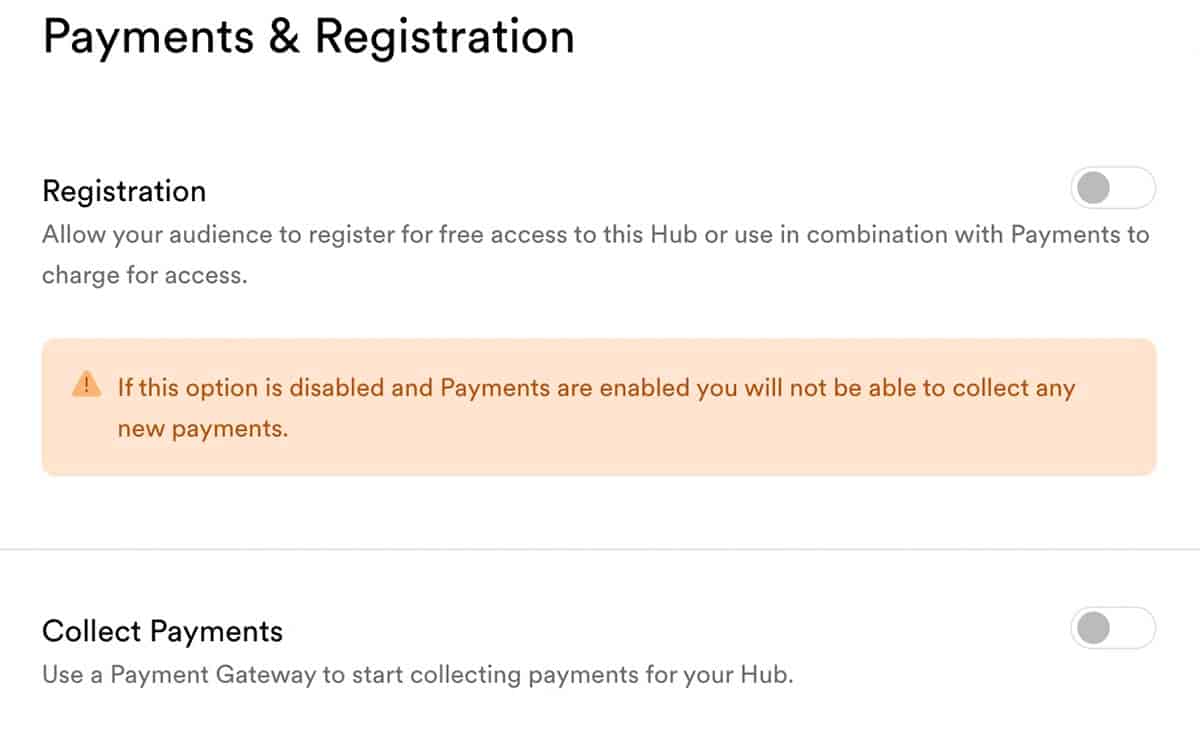 Searchie wouldn't be the best way to sell digital content if it didn't have a way to register users and collect payments.
If you recall the first section where we discussed Public and Private hubs, that issue becomes essential here. You cannot accept payment for a public hub. Your hub must be private.
You can still share your hub content for free, but you must toggle the switch to require registration before they can access the hub. After you enable Registration, you can enable payments to see these options.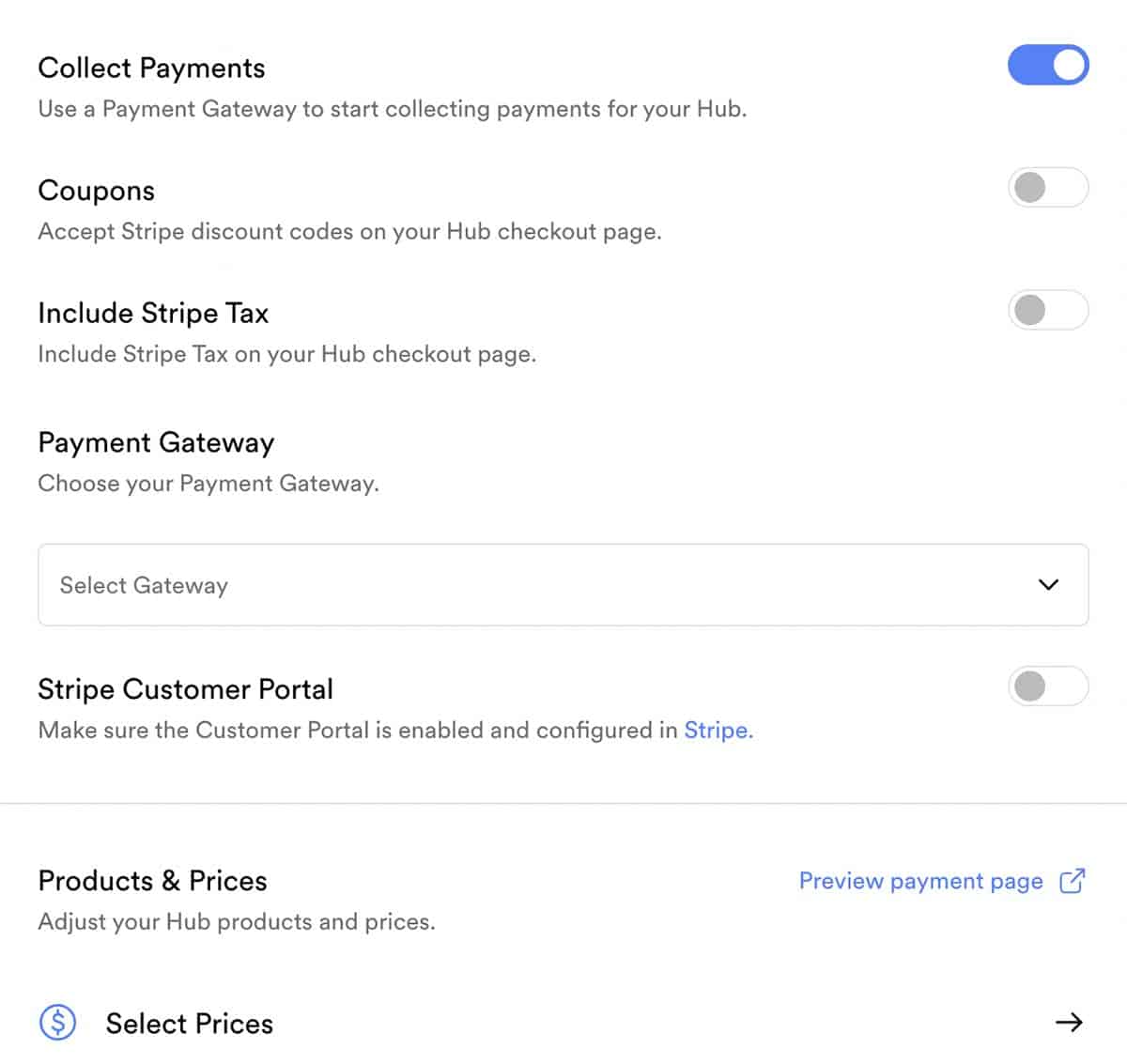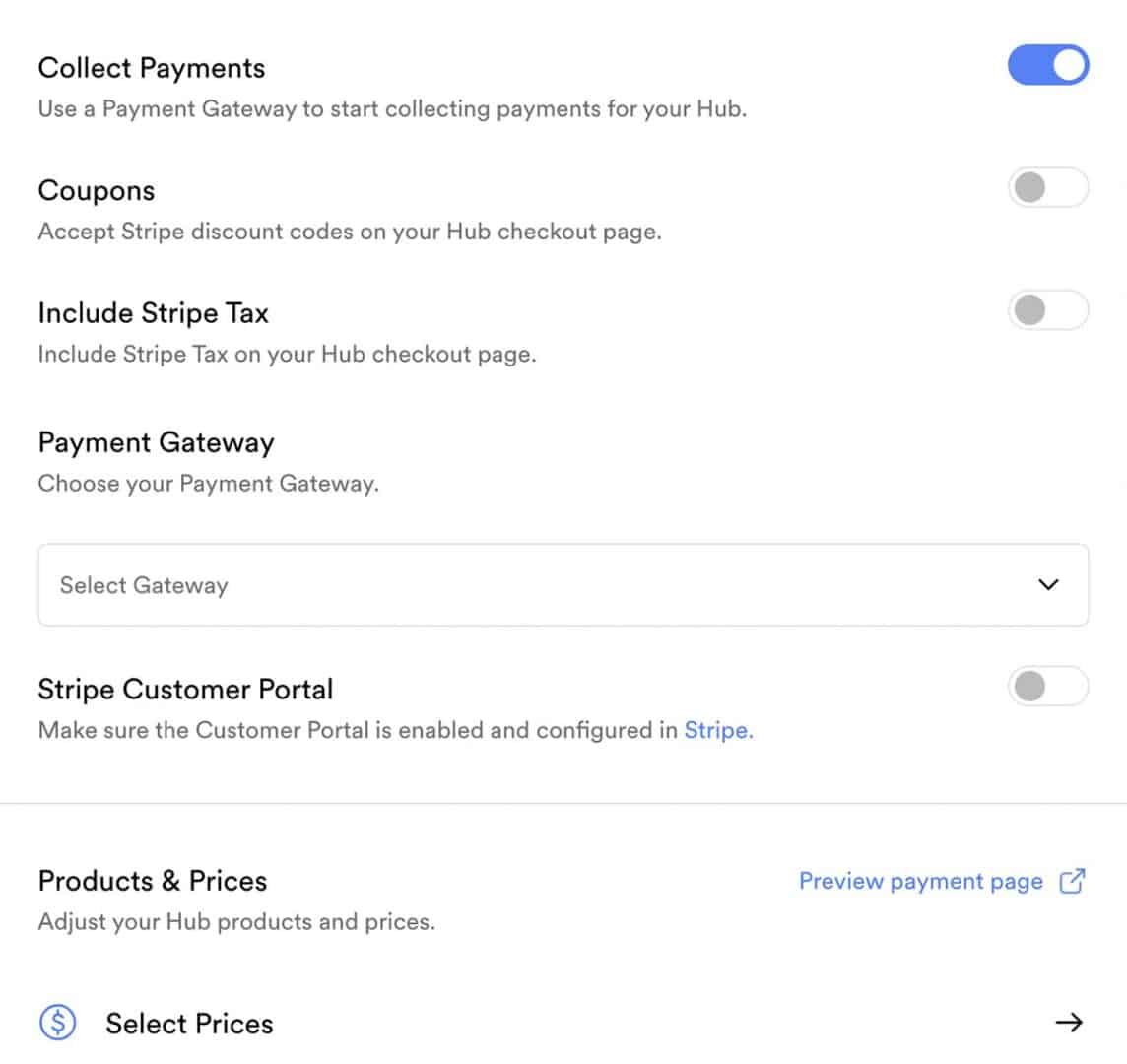 Searchie hubs integrate with Stripe to handle payments. Stripe is a good service and provides a secure payment gateway for your customers. It doesn't provide any kind of funnel experience that allows you to offer an upsell, downsell, or bump order.
You can integrate with a shopping cart service like ThriveCart to do those things and potentially increase your revenue by providing options to your leads. If you decide to go that route, you will still need a Stripe account as a payment processor and a Zapier account to integrate with Searchie.
Accept Stripe Coupons
You have an option to toggle if you want to accept Stripe coupons. When you activate this option, you also need to visit your Stripe account to create a coupon.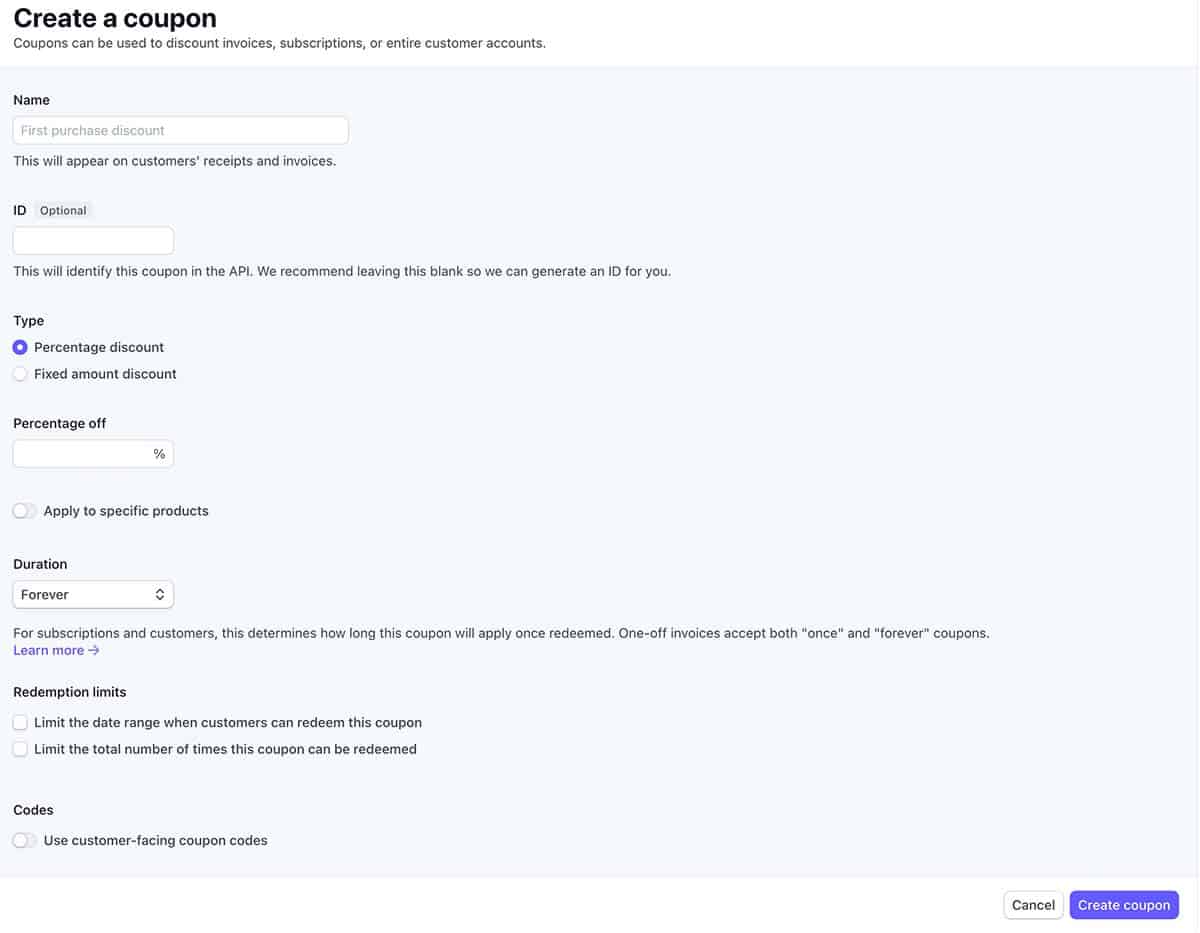 Once you complete this form, click the Create coupon button, and activate coupons on your Searchie hub, you can offer discounts to your audience.
Include Stripe Sales Tax
I can't advise on whether you need to add sales tax or not. If you choose to add tax, you must enable to toggle to Include Stripe Sales Tax in Searchie and create a tax record in Stripe.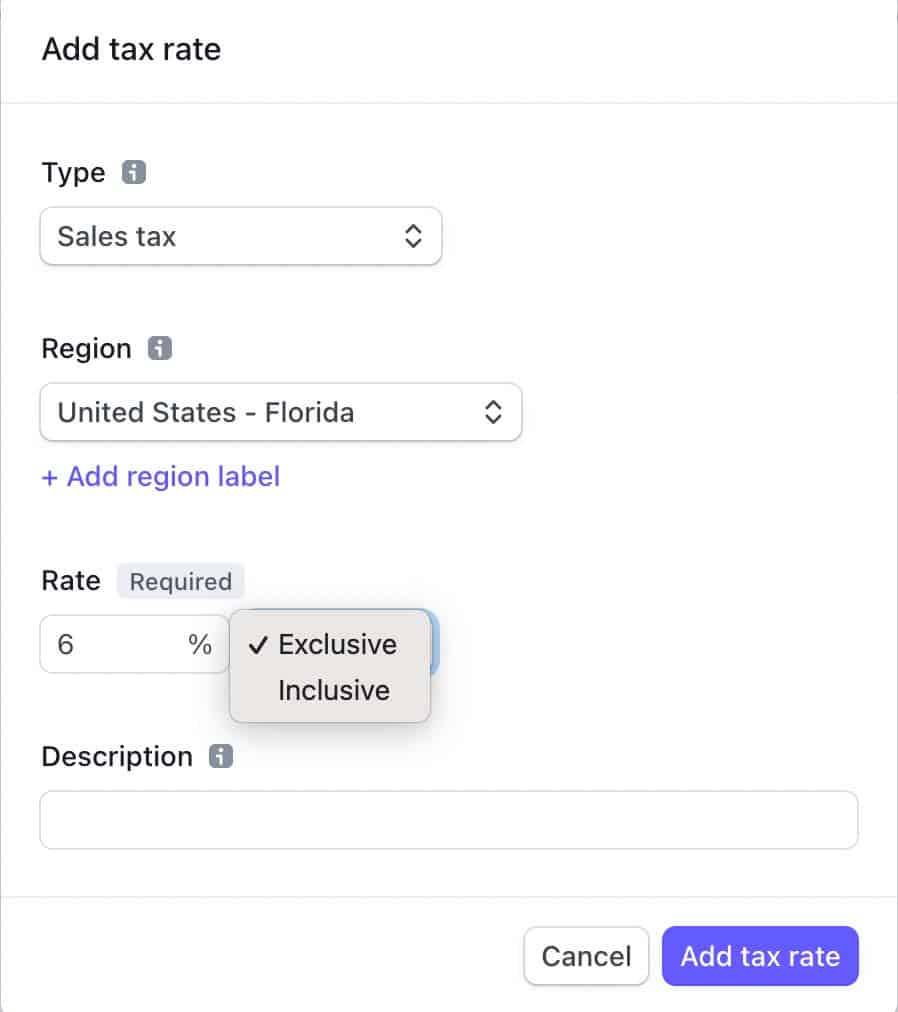 Stripe also has VAT, GST, and custom tax rate options.
Add a Payment Gateway
Stripe allows you to create multiple accounts. You may wish to do this if you have different businesses and a reason to separate them.
Choose your Stripe payment gateway to use with a Searchie hub. Note that this integration with a gateway is specific to your hub so that you can have different gateways with different Searchie hubs.
Stripe Customer Portal
Searchie doesn't handle payment issues, so you need to enable this switch for your users to manage their accounts directly with Stripe.
If you don't enable this switch, your users won't find a direct path to manage things in Stripe unless you create it using a button or links. This seems to be an easier option.
Products and Prices
You can have different products on your Searchie hub and, therefore, different prices. You must define products and prices on Stripe.
If you sell courses, each course should have its price. Memberships may have different tiers of service with different prices.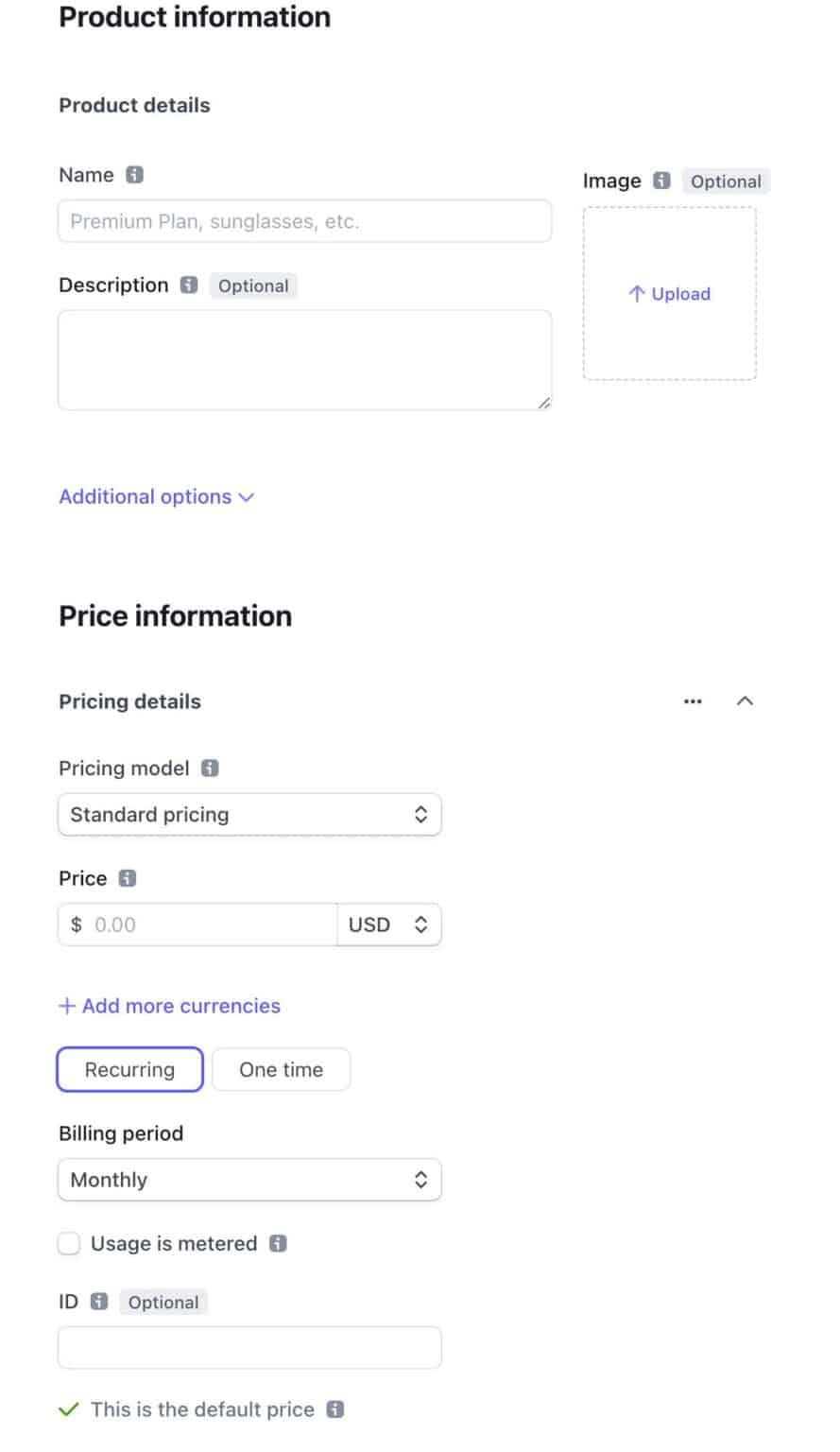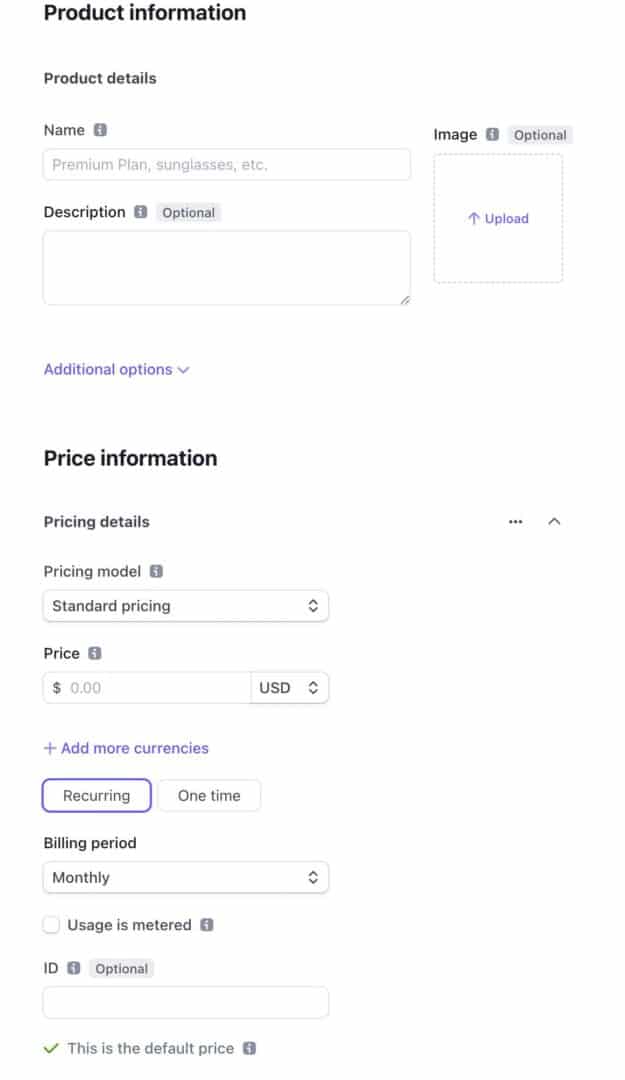 Create a product and price inside Stripe for each product you want to sell inside your Searchie hub.
6: Share Your Hub
You should be ready to have people access your Searchie Hub by now. If you have a public hub, just share the URL, and people can access it without registration.
If you have a private hub, which is more likely, you need to get some registered users.
One method is to register users manually. You can go to the Audience tab and enter the following information.
You may have a registration process for people to add themselves. Searchie provides an onboarding process where users can register and, if appropriate, pay through Stripe.
Another alternative is to have a sales page on another site that integrates with Searchie via Zapier and transmits the audience data. I use this method with ThriveCart and AppSumo for some of my sales.
Conclusion:
Searchie Hubs offer small business owners an easy way to build robust websites for their courses, memberships, or coaching platforms. Not only does Searchie host and transcribe your video & audio content, but it provides an easy-to-use interface for creating unlimited pages & sections on your site.
Plus, with Searchie's access control features, you can easily control who has access to different areas of your website.
Using Searchie Hubs, you can host and sell your media on a beautiful and reliable service. Using Zapier, you can integrate with thousands of other tools and services to craft the online business you want.
That's how you can use Searchie Hubs to build a better website for your audience. Check it out with this offer for a free trial.
Our Pick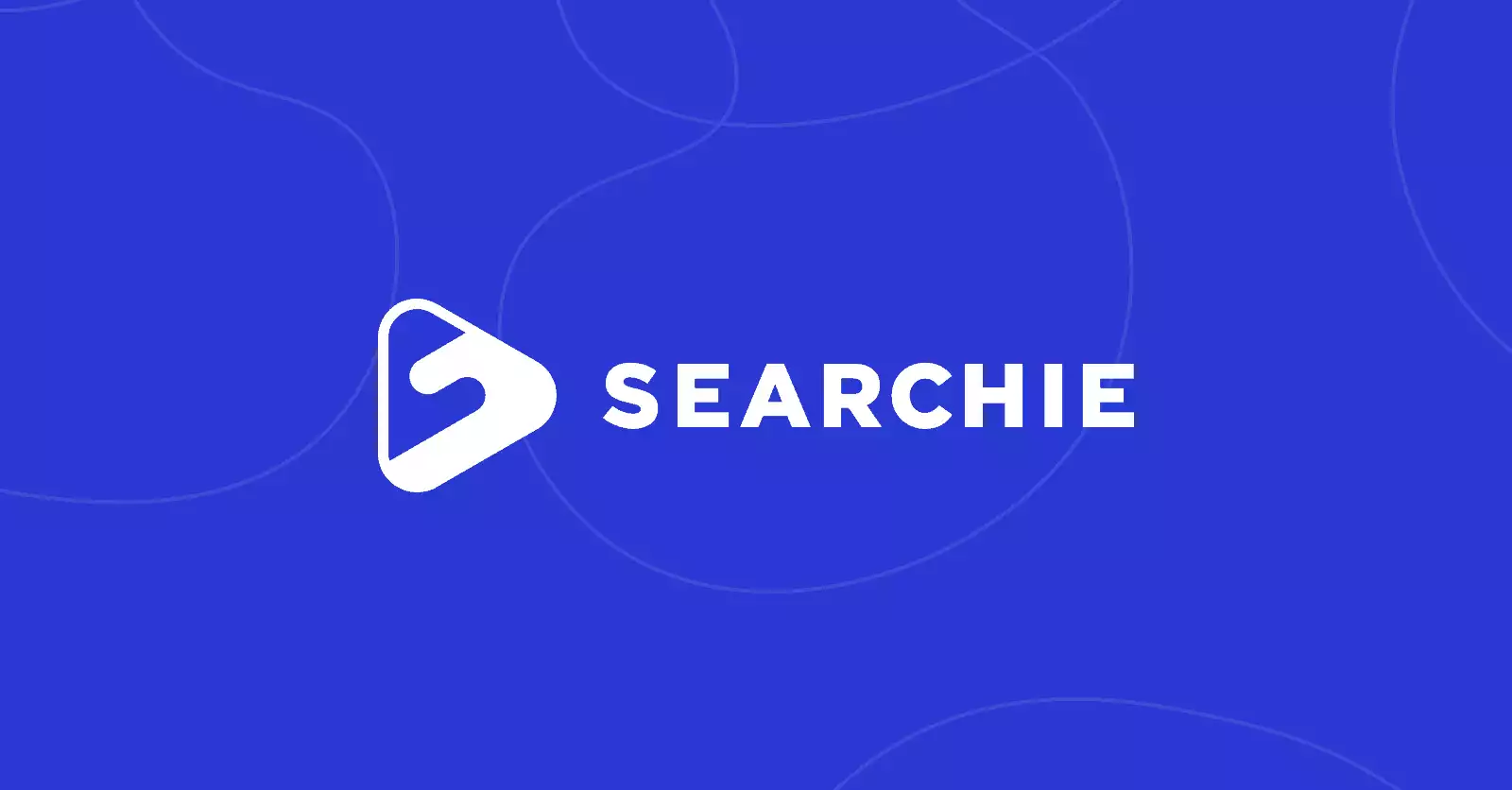 Searchie
Searchie is the perfect solution for membership, coaching, and course platforms. It's reliable, easy to use, and packed with features,
With Searchie, you can easily import videos from other sources like Zoom, Facebook, or Vimeo. Plus, you can create beautiful hubs with content for your students or members to enjoy. And because Searchie is self-hosted, you can be sure that your videos are always available and never go down.
Pros:
Easy to use

Search within video or audio to find the content you want

Video & Audio hosting

Automatic transcription

Ad-free

Unlimited video uploads using Searchie Chrome extension

May allow users to download video, audio, or text transcript

Works great on mobile devices

No transaction fees

Searchie Academy training to learn how to build your hub

Use your own domain
Cons:
No community features

Free trial, but no free plan

Hubs must be Public or Private only

SSL requires Cloudflare DNS
Buy Now
Read Our Review
We earn a commission if you make a purchase, at no additional cost to you.