Cheap Email Marketing: How to Maximize Your Results on a Budget
Email marketing is a great way to connect with your customers and promote your products or services, but it can also be expensive. If you're on a tight budget, you may be wondering how you can get the most out of your email campaigns.
This article discusses affordable and cheap email marketing services that will help you maximize your results without breaking the bank.
[Click here to see our best email marketing services]
Why Does Your Business Need Email Marketing Campaigns?
Any business that wants to connect with its customers and promote its products or services should consider using email marketing campaigns. Email marketing is affordable, efficient, and can be a great way to reach a large audience.
Small business owners are no exception to the power of using email campaigns. Email marketing is especially beneficial for small businesses, as it allows them to compete with larger businesses in reach and engagement.
Email Marketing Provides Great ROI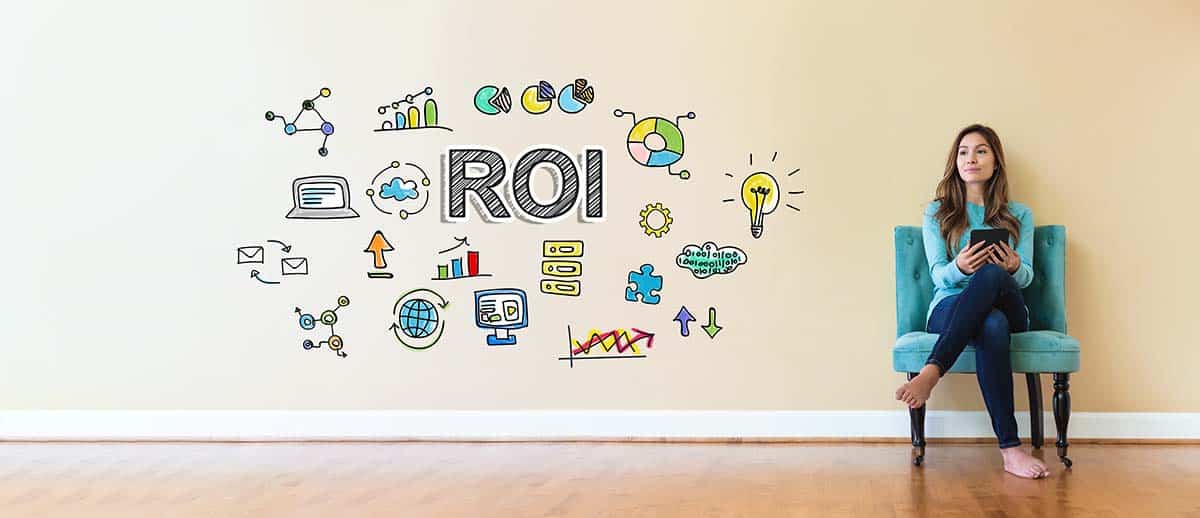 Still not convinced that you need an email marketing service? Check out a few facts.
Source: Campain Monitor
Email marketing software is one of the best business investments you can make. It's affordable, effective, and easy to use.
Not all email services are created equal. Even cheap email marketing is better than none at all. For businesses getting started on a budget, you likely know that you don't need all the features of higher priced tier.
The Problem with Most Email Marketing Software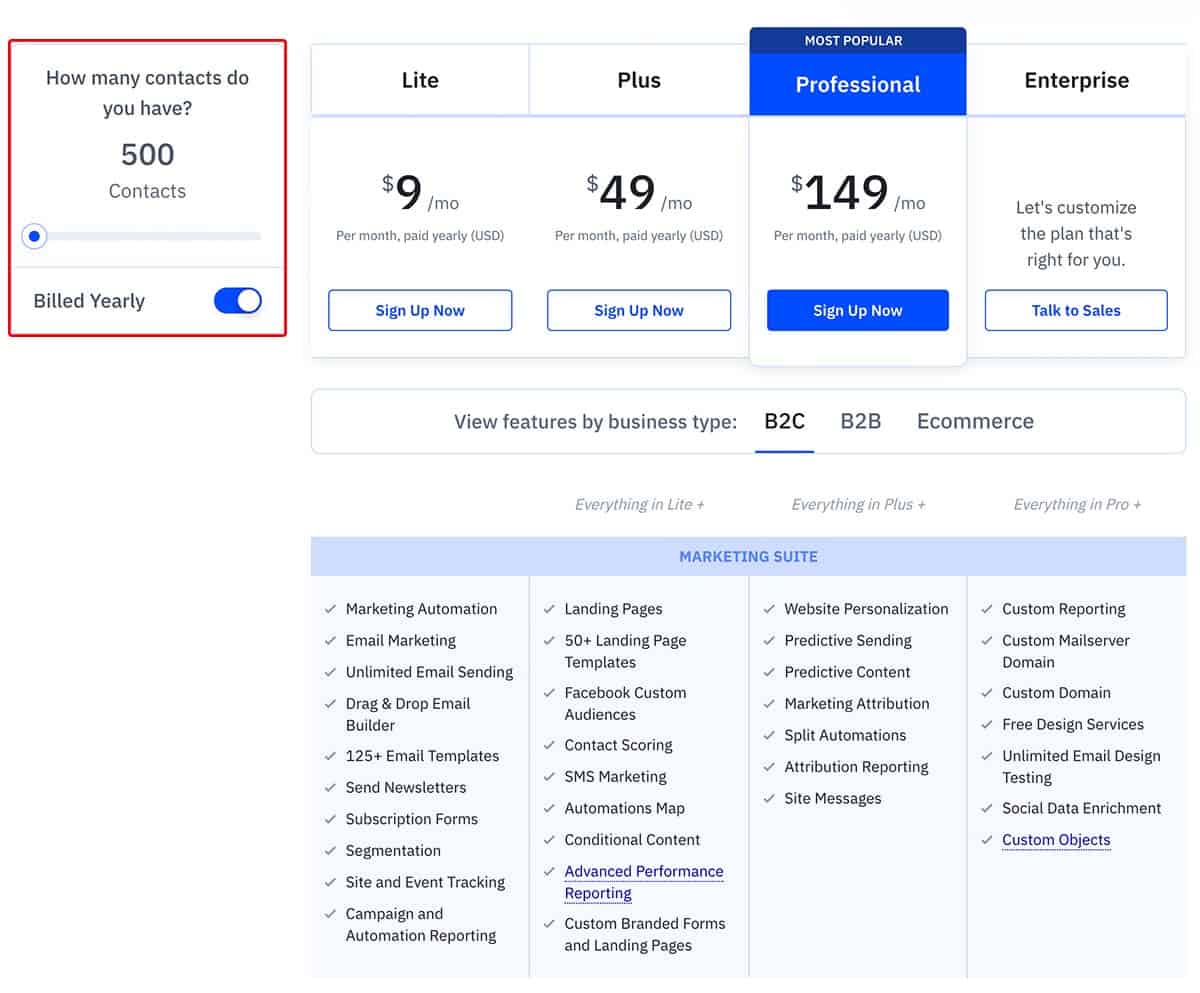 The problem for small business owners getting started on a budget is that email marketing services can get expensive quickly as their list grows. Most email services charge by the number of subscribers on your list, and the rates increase as your list grows.
It's like a tax on your success as a list builder.
A few factors influence the cost of your email marketing tool.
1: The size of your list
Email service providers charge based on the size of your email list because the larger your list, the more potential customers you have, and the more likely it is that some of those customers will buy something from you.
Additionally, email service providers must cover the costs of providing their services, including server costs, customer support, and software development.
As your list grows, the email service costs also go up, and they pass those costs on to you in the form of higher prices.
This can be a problem for small businesses just getting started with email marketing and don't have a large budget to work with.
The size of your contact list itself isn't a major factor for server storage costs. Text is relatively small, and compression techniques used on modern servers significantly reduce the cost of storage.
The number of emails you send greatly impacts operational costs for an email marketing software company. Sending email consumes server and network resources for the operator.
The greater your contact list size, the greater your potential to consume resources. Billing based upon contact list size has advantages for an email marketing platform.
It simplifies the charging structure for customers to understand.
2: The number of emails you send
The big cost for an email platform is sending emails. As we noted, that consumes server resources much more than merely storing contacts in your list. It also consumes network bandwidth.
Customers who send a great volume of emails cost the provider more in operational costs. Charging by the size of your list helps the vendor offset the cost of heavy users, as many customers don't send a high volume of emails to their subscribers.
That's why these vendors can offer unlimited emails in their marketing. It's like a restaurant offering an "all-you-can-eat" buffet. A few customers will pig out, but most never consume everything available to them.
That allows the restaurant to make money while offering affordable options to price-sensitive customers.
The tradeoff for small businesses is that they need to be careful not to abuse the system by sending too many emails. If you start sending multiple times, or even every other day, you'll run into deliverability problems.
3: The features provided with your plan
Email providers offer many features but keep advanced features on more expensive plans. Generally, you don't find all the features available on a free plan unless it's for a limited trial period.
Some of the features on more expensive plans may include:
As you can see, getting all the tools offered by email marketing software providers costs more money. However, if needed, you can start with a small list and grow into those features. ActiveCampaign may have expensive plans, but it also offers cheap email marketing services among its paid plans.
Advanced Email Marketing

ActiveCampaign
If you're looking for an all-in-one email marketing solution that's affordable and easy to use, ActiveCampaign is your best bet. For as low as $9/month, you can take advantage of all the features this powerful tool offers.
With ActiveCampaign, you can easily manage your email marketing, automate your marketing tasks, keep track of your customers' interactions, and grow your business from startup to enterprise. Plus, with over 125 email templates and beautiful landing pages at your disposal, it's easy to engage your audience and nurture them towards a sale.
The built-in AI feature determines when a lead is ready to buy so that you can send the right email at the right time.
Email deliverability: 91%
Pros:
Migration assistance if you're moving from another email service along with plenty of tutorials

The interface is easy to use so you can implement advanced marketing concepts quickly

Advanced Reporting

Implement a customer journey using advanced tools to increase the odds of making sales

Predictive machine learning to send the right message at the right time to make sales

Great email deliverability
Cons:
The image editor isn't the best, so you may want to use an external tool

Lead scoring isn't included in all plans

Reliance upon Zapier rather than native integrations for some services
Buy Now
Read Our Review
We earn a commission if you make a purchase, at no additional cost to you.

Retention Issues for Email Marketing Tools
Building your marketing automation on a platform takes time and effort. Once built, your marketing automation systems won't export to other email marketing vendors.
You have to rebuild them if you move.
Rebuilding your marketing automation system on a new platform and then managing the migration from one system to another is time-consuming and complex.
That's why we recommend starting with an affordable email system that offers the services you need now and then has a path to grow into a more robust service.
Some email marketing software has a free plan which can transition into an affordable email marketing service as you grow your list of subscribers.
The good news is that affordable email marketing services don't break the bank as your list grows. Also, there are email providers who offer low rates for small businesses without many contacts.
Many of these services limit their features to lower-priced plans, but a few offer a free plan with advanced features to start your email marketing.
Is Cheap Email Marketing a False Economy?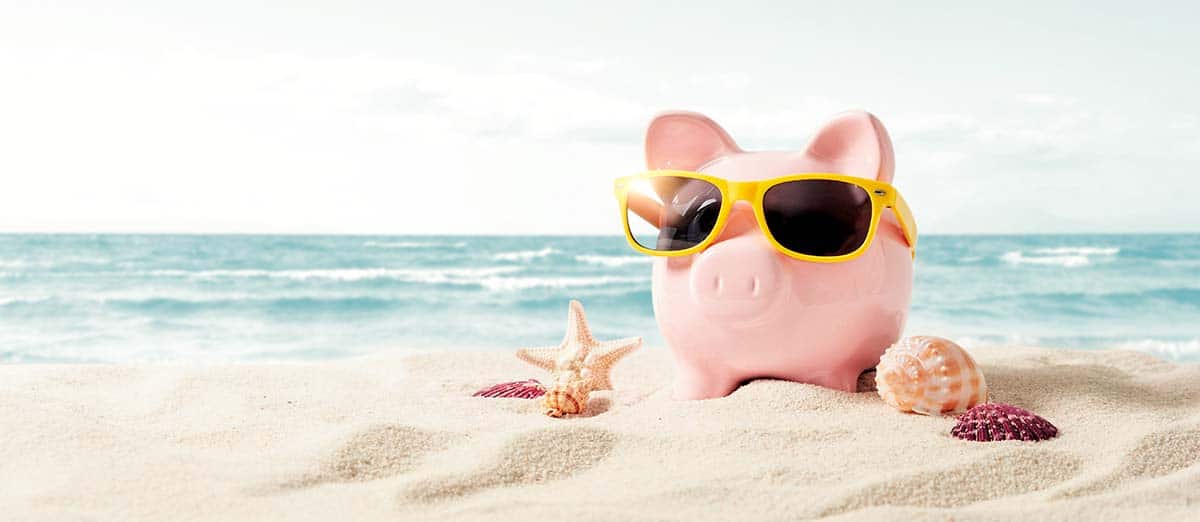 We've examined why an email marketing platform might charge based on list size or the number of emails you send.
There are good reasons for this pricing, but it's not the only way to price an email marketing service.
Some affordable email marketing services don't limit list size or the number of emails you send.
FluentCRM is an affordable email marketing plugin for WordPress that doesn't have any limits on the number of contacts or emails you can send because it connects with services like MailGun or AWS Simple Email Service.
Mailchimp's Forever Free plan allows you to send 12,000 emails per month to up to 2000 subscribers. After that, their paid plans start at $20/month.
Sendinblue also offers affordable email marketing with no limits on the number of contacts or emails. Their Lite plan starts at $25/month and allows for an unlimited number of contacts and 400,000 emails per month.
These affordable email marketing services don't have the same economies of scale as the big vendors, but they can still offer affordable email systems.
The other way to price email marketing is based on the features provided.
This pricing type means you pay more for the features you use. The good news is that you only pay for what you need. The bad news is that it's hard to predict what you'll need in the future.
Here are some guidelines to keep in mind when searching for cheap email marketing services
1: Don't pay for features you don't need
As we've seen, more email marketing features cost more per month. Don't pay for features you don't need or won't use.
Select a lower tier among the paid plans, so you aren't wasting money on unused features. They'll be there later if you determine that you need those features.
2: Don't pay for inactive subscribers
If your email marketing software charges you by the size of your list, you must manage your contacts, so you don't grow a list of deadbeats.
The difference in price between 500 subscribers and 5,000 subscribers can be enormous. Here's how much you can pay for 500 users on ActiveCampaign.

Now, look at the pricing of the different tiers for a list of 5,000 contacts.

You're getting the same services, depending upon the tier you choose. List management allows you to keep your engaged and active subscribers and remove those who signed up for a free lead magnet and will never purchase from your offers.
One way to manage those inactive subscribers is through a service often reserved for a higher-paid plan called Lead Scoring or Contact Scoring.
Lead scoring is a service that rates your subscribers on their engagement with your brand.
The more they interact, the higher their score. The less they interact, the lower their score.
You can use lead scoring to automatically move those inactive subscribers off your main list and into a re-engagement campaign or simply delete them from your list.
You need to determine if a higher-paid plan is worth the price increase compared to the charge of your subscriber list. Spending more on a feature than the cost of maintaining an inactive subscriber is a false economy.
3: Don't pay for emails you don't send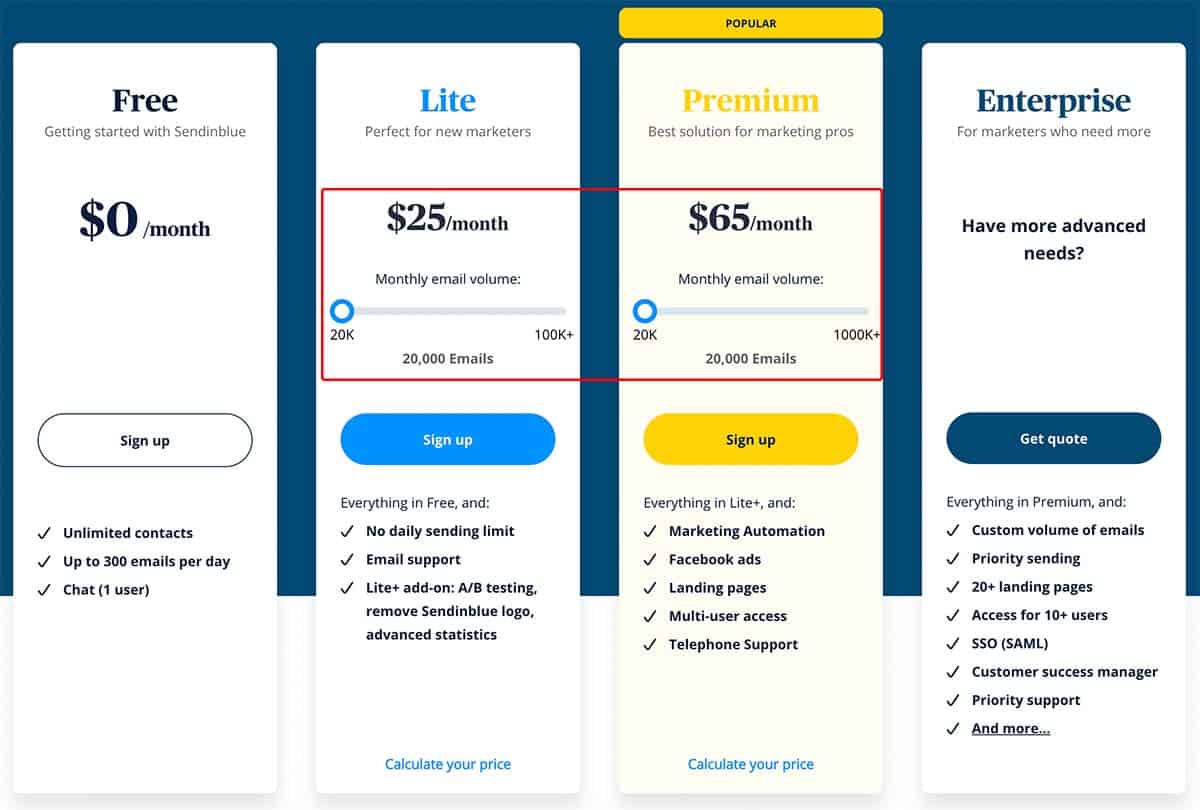 Most email marketing software charges by the number of contacts but allows you to send unlimited emails. You need good list management to keep the price down on those plans if you want cheap email campaigns.
You can have unlimited contacts with a service like Sendinblue because they don't provide unlimited emails. Instead, they charge based upon a monthly email volume.
Service with paid plans based upon volume may be the right email marketing software for your business if you manage your marketing efforts for low volume.
You must stay within your monthly limit or pay overage charges. But, if you manage your list and keep your volume low, this cheap email marketing can work for your business.
When trying to save money on email marketing, it's important to understand how the different vendors price their services. You can find affordable email marketing that meets your needs by understanding the pricing.
Remember these guidelines to find the best cheap email marketing service for your business. With a little effort, you can maximize your results on a budget.
How do Cheap Email Marketing Services Operate?
We've discussed ways many email marketing vendors operate, primarily by charging by your subscriber list size. We also mentioned their expenses relating to the server and network operations.
Cheap email marketing flips those issues around and prices their email marketing software differently.
Let's look at three methods that a cheap email marketing service may use and how you can take advantage to save on your expenses.
1: Using a Free Plan as an Enticement to Sell Paid Plans
It's not hard to find a free email marketing plan. Vendors use these to get you into their system because it's a great loss leader that often translates into sales.
If you actually use a free account, you're unlikely to switch to another service when your list outgrows the size of their free plan.
As I noted earlier, moving your account from a good email marketing service to another email marketing space is time-consuming and complex. That's why a free plan is such a great incentive.
Businesses have more important things to do than work on backend issues, so they relent and sign up for a paid plan to handle their email campaigns.
2: Charging by Emails Sent Rather than List Size
We mentioned that services like Sendinblue charge by the volume of emails sent rather than providing unlimited emails to a metered list of subscribers.
If you don't need or want to send a large volume of email campaigns or transactional emails, the best cheap email marketing vendor for you may be one that charges by email volume.
Mailmodo puts another spin on this issue by offering free email marketing with a limit of 10,000 contacts and 10,000 emails per month. That free plan allows you to decide if the size of your list or the volume of emails sent per month is most important for you.
Mailmodo doesn't have automated workflows, list management, or other features in other services, but you may need to sacrifice features when you prioritize getting the cheapest email marketing software.
3: Avoiding Server and Network Expenses
Some of the cheapest email marketing is self-hosted. FluentCRM is a WordPress plugin that handles all the advanced features of email marketing but doesn't actually send bulk emails.
SAVE 20% with Discount Code BEEM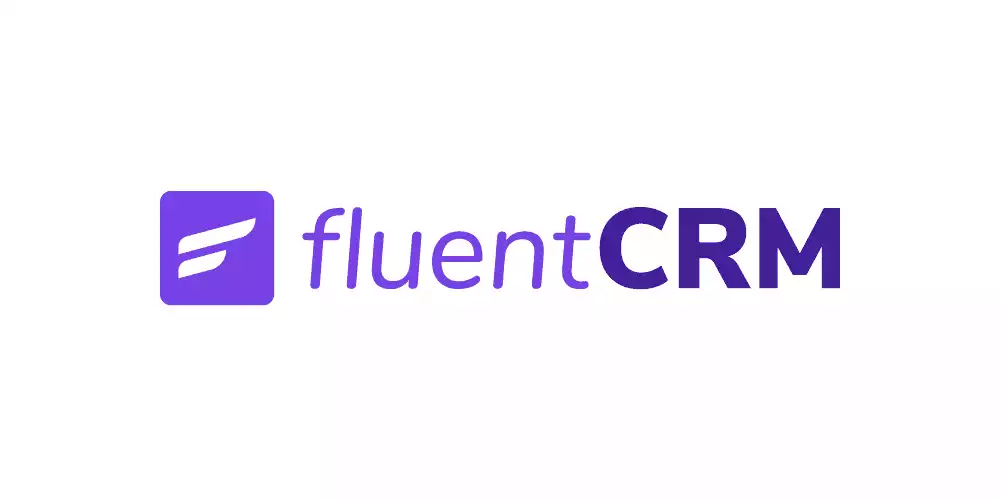 FluentCRM
FluentCRM is a powerful WordPress plugin that allows you to create a fully functional CRM. You can connect it with services like AWS Simple Email Service, MailGun, or others to send email campaigns.
With FluentCRM, you only pay for the email you send, making it a cost-effective email marketing solution. In addition, FluentCRM integrates with eCommerce solutions and other software to keep track of your subscriber's purchases and progress in learning systems like LearnDash.
It's the best WordPress-based CRM on the market.
SAVE 20% with Discount Code BEEM
Email deliverability: Depends upon choice of email service integration
Pros:
Low cost of operation

Many integrations with other tools and services

Continuous updates enhance the product

FREE version available (no Pro features)

Easy segmentation with Tags and Lists

Plenty of automation possibilities and easy to create

Inbound and Outbound webhooks for integration

FluentConnect plugin (free) to integrate with ThriveCart
Cons:
No mobile app to use FluentCRM

No templates for emails or landing pages

No automation templates
Buy Now
Read Our Review
We earn a commission if you make a purchase, at no additional cost to you.

To send an email, you connect it to a service like Amazon Web Services Simple Email Service. SES charges ten cents per thousand emails sent. Combined with FluentCRM for $149/year, you get the cheapest email marketing without relying upon a free plan.
FluentCRM is an affordable email marketing software because it doesn't have to provide resources to send bulk emails or manage your marketing automation. Your WordPress server handles part of the load, and your email provider handles the functional part of sending emails to your subscribers.
You still get automated email campaigns, an email builder, drip campaigns, and unlimited contacts.
On the other hand, it lacks features that other providers offer, such as:
FluentCRM integrates a basic version of its sister product, Fluent Forms, to create signup forms on your WordPress website.
Creating a landing page on WordPress is easily done with either the Gutenberg block editor or a page builder like Elementor.
While you don't get free email templates or a drag-and-drop editor, you can use a service like Stripo to create HTML templates that work inside of the FluentCRM email builder.
Self-hosting is one way to get an affordable email marketing tool, but it's not an approach for everyone. You need to be comfortable with WordPress maintenance and updates and create integrations with other tools to have automated emails work across the board.
Which Email Marketing Tool is Best for You?
If you made it this far, you're looking for the best email marketing software for your business, and you're likely on a limited budget. Budgets are smart. Why waste money on services you don't need?
Worry less about the cost of an email marketing tool and more about the features you need to grow your list, engage your subscribers, and ultimately make sales.
The best cheap marketing software is the one that has the features you need to succeed. And success is what matters most, not the price tag.
Here are three more items to consider as you search for the best email marketing tool.
1: Within Your Budget
The best email marketing services are the ones you can afford to operate. For some businesses, that may mean starting with a free plan to get going.
It doesn't mean you'll stay on the free plan forever, though. The idea is to generate revenue, so your email messages earn revenue. Ideally, that should cover the cost of the service and more to get you on the path to profit.
2: With Good Customer Support
You need a good customer support team to help you get the most out of your efforts. Even free plans come with some limited customer support.
Manage your expectations. A customer on a free plan is a lead, so they want to help you. Even paid plans have tiers, and customer support options escalate as you pay. Part of your payment is for customer service.
Things can and do go wrong with email systems. Sometimes, you don't know what the tool will or won't do. Look for video tutorials and clear documentation to make the most of your chosen service.
3: With the Minimum Viable Service for Your Business
What do you truly need your service to do?
Do you need their landing pages and templates, or can you build your own in WordPress? People sometimes use these services without a website, so landing pages or a website builder may be extremely important. Do you need a drag and drop editor for your landing pages, or are there templates you can customize?
What do you need from the email editor? Some people work well with simple text messages; others want a drag-and-drop email builder.
Remember, to get cheap email marketing software, you will need to forego some features. It's up to you to determine what you need vs. what you want.
Conclusion
Email marketing is an important tool for businesses of all sizes. The return on investment is profound, and it's not an aspect of doing business you can afford to ignore.
However, the cost of some email marketing services may be prohibitive for small businesses. That's why it makes sense to investigate the market for cheap email marketing software.
The best cheap marketing software is the one that has the features you need to succeed. And success is what matters most, not the price tag.
So, don't let cost be a deterrent. Start your search for affordable email marketing software today and see how it can help your business grow. The idea is to avoid wasting money, not to leave money on the table because you won't invest in your business.