Configure Fluent SMTP to Avoid the SPAM Box for Your Email Marketing Messages
You can configure Fluent SMTP to avoid sending emails to your customer's SPAM box. Your email marketing automation solution only works when your recipients actually see your messages.
The folks who make FluentCRM created a free plugin that connects your WordPress CRM to reputable email sending services, like Amazon SES and Google Workspace or Gmail.
While your WordPress host may have SMTP services available, it's not designed to send bulk emails. Those services don't have a good reputation, which is why many email clients may put your emails in the SPAM box.
Worse, sending bulk email drains resources. Your WordPress hosting provider may actually shut you down for abuse of the service. Fortunately, there's a much better way to send bulk emails with Fluent SMTP.
Video: Fluent SMTP Email Setup
How to Setup Fluent SMTP
There are two places where you can install the Fluent SMTP plugin.
The easiest option is to do it from the FluentCRM dashboard. As you can see in the image below, there's a panel that lets you know that it's not installed and you can press the button to get started.
Two Ways to Install the Fluent SMTP Plugin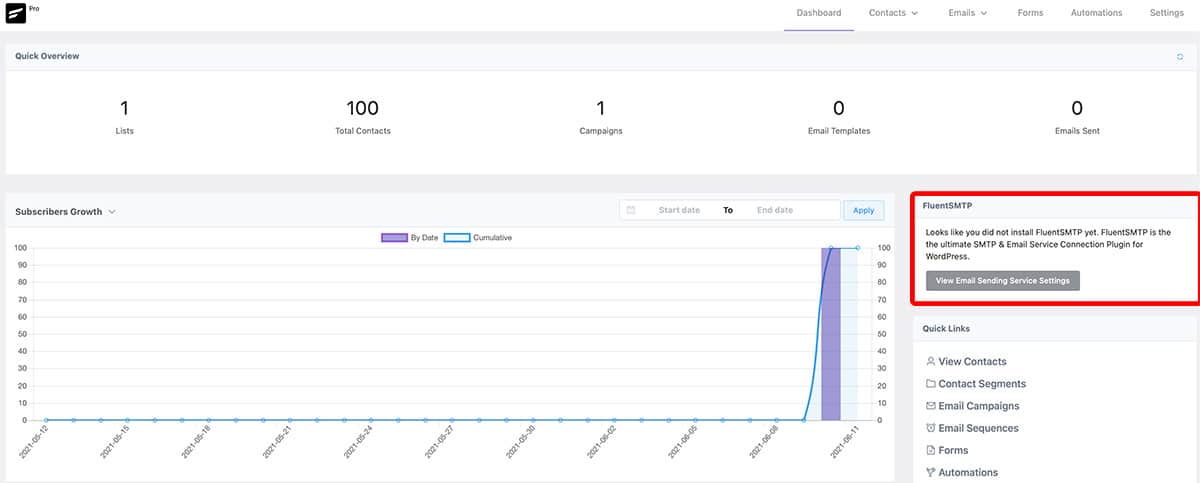 The alternative is to go to the WordPress Plugins menu and select Add Plugin. From there, you could search for "Fluent SMTP" and select this result.

If you choose the first option, you're going to see the following screen.
You can see that we're on the SMTP/Email Service Settings menu of the Settings page of FluentCRM. This section shows you some of the services you can use and lists the benefits of using Fluent SMTP.
Click the big green button to continue.
WordPress will process for a moment and then show you a message to indicate successful installation.

Now click the blue button to configure Fluent SMTP.
How to Configure Fluent SMTP with an Email Sending Service
Upon clicking the button, the first page you see is the Fluent SMTP Dashboard. Select the first menu option – Settings – to visit this display.

You can see that I've already added Amazon Ses (Simple Email Service) to this list. The "From Email" isn't visible only because I blurred that out for this article.
If this is your first time, you'll be prompted to choose an email provider from the following image below. Otherwise, click the "+ Add Another Connection" link in the upper right corner.

You're going to see a list of reputable email service providers that you can use to configure Fluent SMTP. I can recommend Amazon SES from my own experience, but all of the vendors listed here can serve you well. Check out the prices. Amazon costs ten cents per 1,000 emails sent. That's an outstanding value.
Here's what you'll see if you select the Amazon SES option for your email service provider.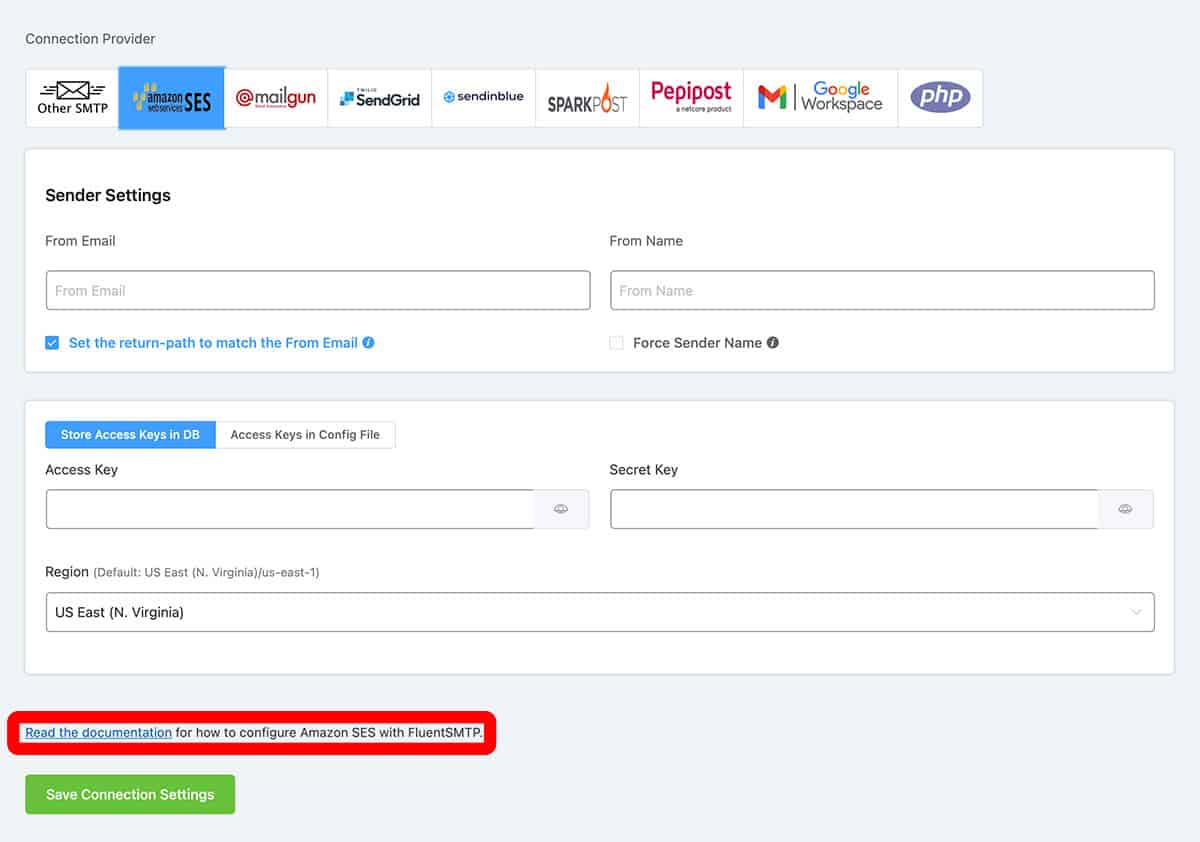 The Sender Settings are similar for different providers, but there are some differences. Fortunately, WP Manage Ninja has excellent documentation for each provider.
The first row allows you to enter the email address and name you'll use to send your bulk emails.
The next section is specific to Amazon SES. You'll need to create an account with Amazon Web Services (AWS) and then generate an Access Key and Secret Key.
Finally, the Region shows various locations on the globe to use to send your email. I recommend choosing something close to the majority of your subscribers.
Please note the red from around a link to Read the Documentation. There's one of these links on every vendor choice, but they may not always be in the same place. The Google Workspace link to documentation is a bit higher on the form.
If you don't find the link on the form, you can also find the documentation on the Fluent SMTP Docs menu option.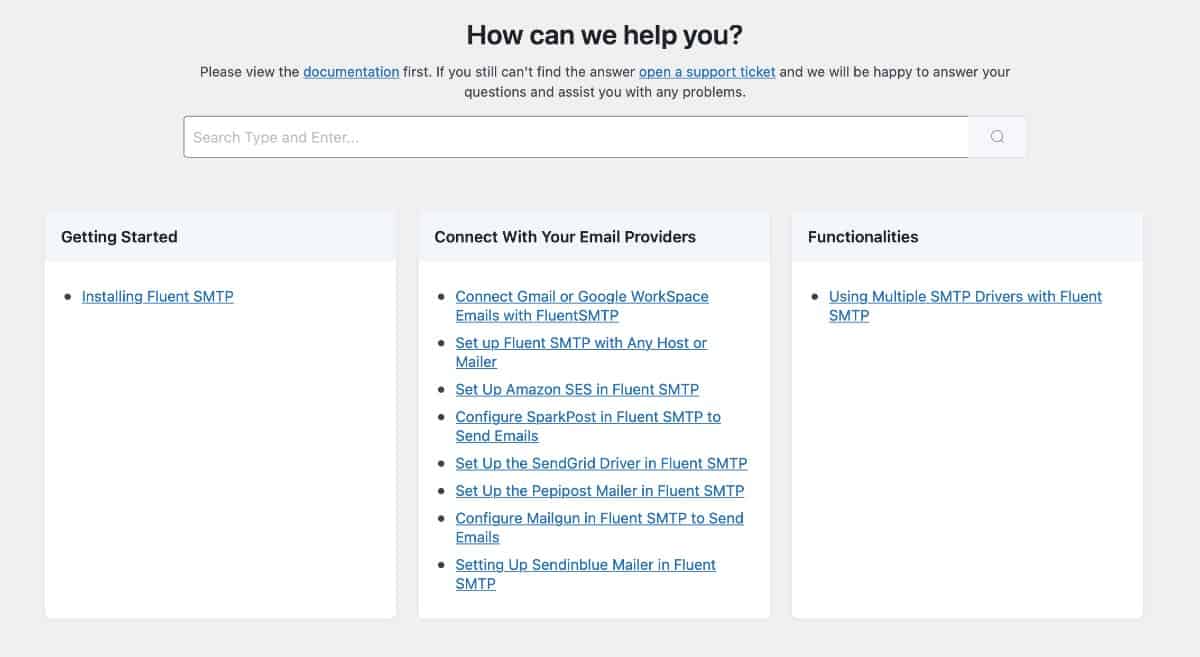 When you click on these links, you'll find step-by-step instructions that guide you through creating an account on you chosen email service provider to getting the API key and information you need to integrate with your system.
Testing Your Integration with the Email Service Provider
Once you have your integration complete, it's time to test to ensure everything works as you expect.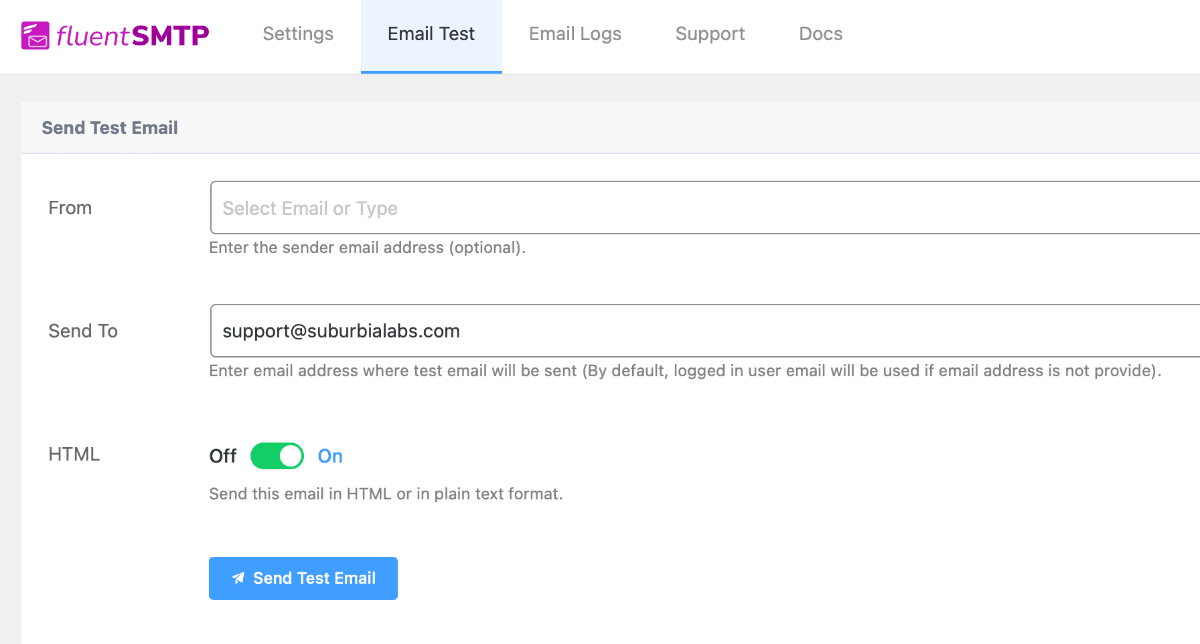 The test is very simple. Enter your sending email address and a recipient email address so you can see the results. You have a toggle switch to send your email as HTML or plain text. Try both.
Then click the blue button to send the test email.
Don't worry about writing an email. This test sends a standard message from Fluent SMTP.
Reviewing Fluent SMTP Logs
After sending your test email, you can check your email client to ensure it arrives as expected. When using Amazon SES, I find the emails arrive about a second after I send it.
You can check the Fluent SMTP logs to see a record of the message you sent.

Save 20% When Buying FluentCRM
The Fluent SMTP plugin is free. You can even use a limited version of FluentCRM for free, but I strongly recommend getting the pro version. That allows you to take advantage of features like:
If you need more information about FluentCRM, please be sure to check out my FluentCRM Review and video.
I'm an affiliate for FluentCRM, which means I can offer you a 20% discount on whichever package you purchase if you use my coupon code when you check out.

If you decide to buy, be sure to use my discount code – BEEM.
Here's how it works.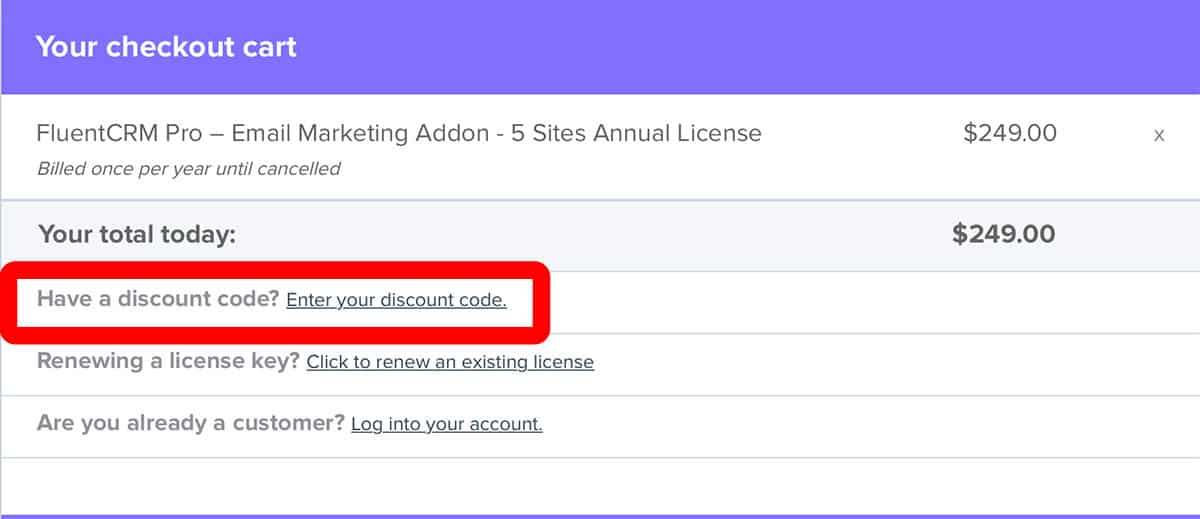 Find the place to enter the discount code, shown above in the Red rectangle.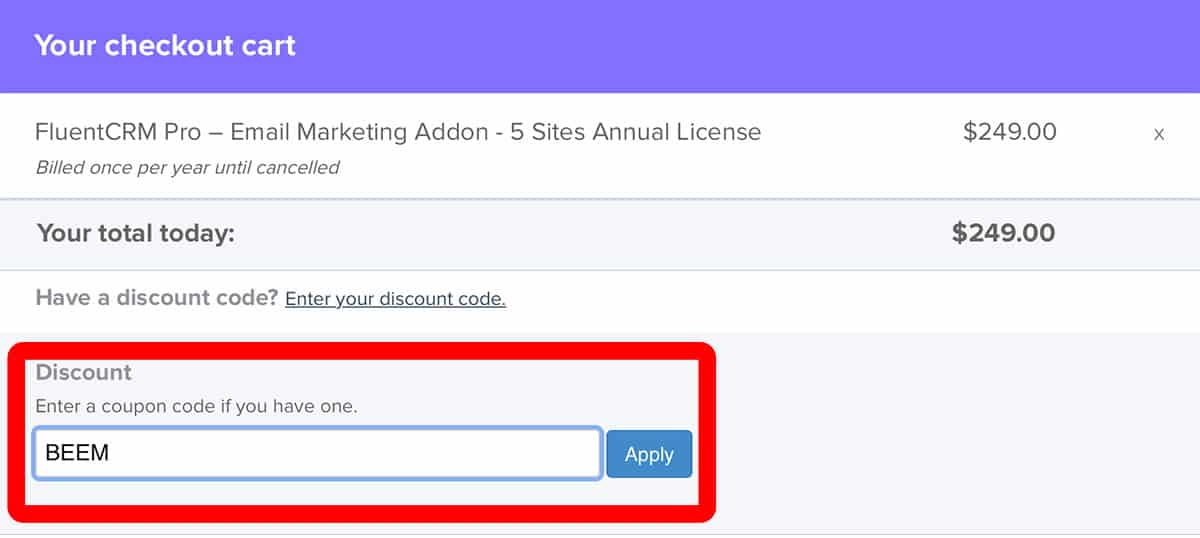 Enter the discount code – BEEM – and click the Apply button.

Now you can see the difference when using a 20% discount code.
I use FluentCRM for all my sites, and I'm happy to recommend it.
SAVE 20% with Discount Code BEEM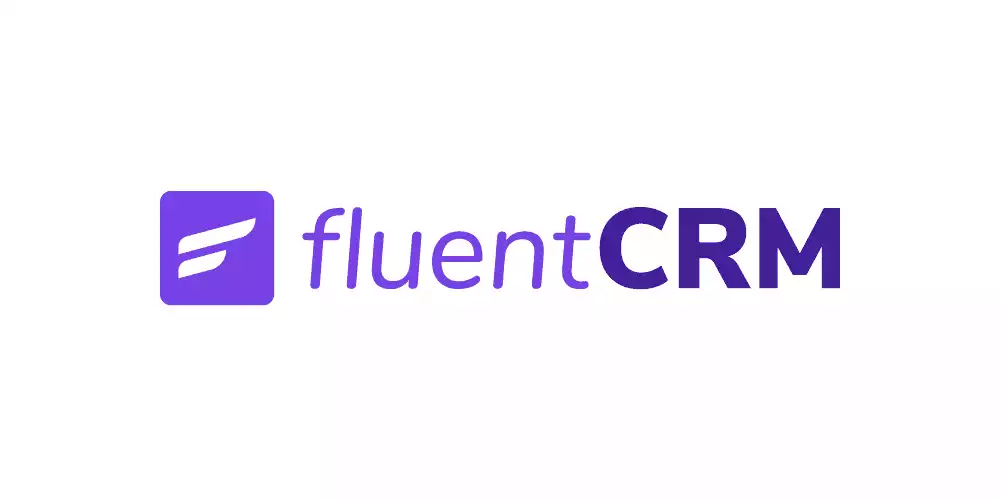 FluentCRM
FluentCRM is a powerful WordPress plugin that allows you to create a fully functional CRM. You can connect it with services like AWS Simple Email Service, MailGun, or others to send email campaigns.
With FluentCRM, you only pay for the email you send, making it a cost-effective email marketing solution. In addition, FluentCRM integrates with eCommerce solutions and other software to keep track of your subscriber's purchases and progress in learning systems like LearnDash.
It's the best WordPress-based CRM on the market.
SAVE 20% with Discount Code BEEM
Email deliverability: Depends upon choice of email service integration
Pros:
Low cost of operation

Many integrations with other tools and services

Continuous updates enhance the product

FREE version available (no Pro features)

Easy segmentation with Tags and Lists

Plenty of automation possibilities and easy to create

Inbound and Outbound webhooks for integration

FluentConnect plugin (free) to integrate with ThriveCart
Cons:
No mobile app to use FluentCRM

No templates for emails or landing pages

No automation templates
Buy Now
Read Our Review
We earn a commission if you make a purchase, at no additional cost to you.

Not sure which email marketing service provider is right for your business? Check out our email marketing services.
Best Email Marketing Services