Fix Internal Links in WordPress for GREAT SEO Results
The lack of internal links in your WordPress site can keep you from getting the search engine results that you want. Internal links are important as both navigational links for your users, but also for Google Search results, and for other search engines. You need to find and fix internal links with problems.
Search engines like structure, and you can help them understand topical authority with the right use of internal linking. We'll show you how you can do this using a WordPress plugin called Link Whisper. You can read an overview of Link Whisper if you're unfamiliar with it.
Specifically, you can use Link Whisper's Orphan Report to identify WordPress posts that don't have internal linking, and then you can easily create more internal links that help search engines crawl your own website and allow you to rank higher for your topics.
Why is Site Structure Important?
Site structure is important because without it, users can't navigate efficiently and search engines won't be able to crawl your site – which means you won't show up in Google Search! It's important to create internal links because it makes the user experience easy and most importantly, helps search engines will index your site.
1: What are orphan articles in WordPress
WordPress orphan articles are posts that don't have any internal links pointing to them.
When you internal link your posts, it helps Google crawl and index internal pages on your website.
Every post that is published should be internally linked to at least one other article on the site! If a page isn't linked to anywhere else within the domain, then search bots will take longer to crawl and index those articles – if they do at all.
What internal linking is and isn't good for
It's important to know that internal linking isn't a substitute for creating inbound links, which are what search engines really care about – but internal links can help with crawling and indexing! It's also good to keep in mind that you shouldn't overdo it; internal linking should be relevant and helpful to the user.
2: Why do I need to eliminate orphan posts?
Part of SEO is teamwork. When your articles work together, they create a topical authority that visitors and search bots understand. When you demonstrate that you know a lot about a topic by sharing multiple articles, you become an authority.
A visitor who comes to your site and reads one article, but doesn't have internal links to related articles, may not realize just how much you have to share about a topic. Internal links in a WordPress site are the key to creating topical authority. As you add internal links, you increase your topical authority.
Orphan posts aren't helping the team-building aspect of internal linking, so you're not getting as much value from one page by itself as you could from a series of pages using internal links to demonstrate your authority.
Sharing relevant content with an internal link to another post on the same topic helps your SEO efforts.
3: How can I find and identify orphan articles on my site?
This is where the Link Whisper Orphan Report is a great assistant.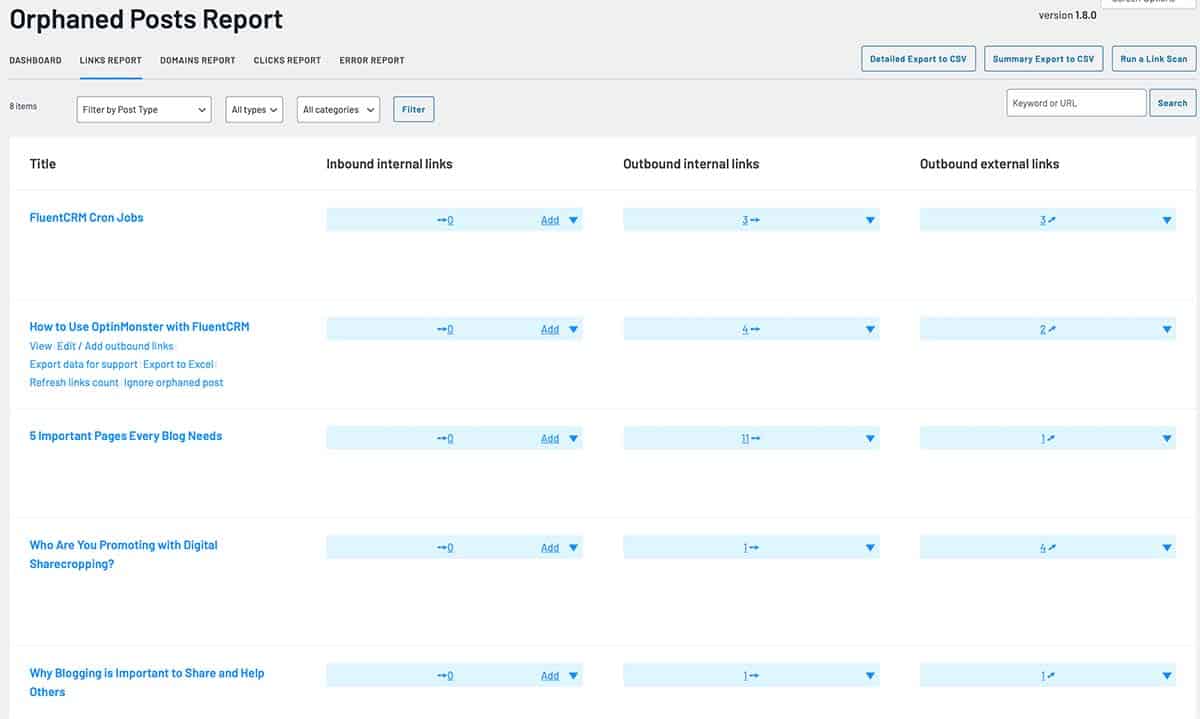 You can see how easy Link Whisper makes it to identify orphan posts that could be helping you build topical authority with internal linking. A blog post without internal links is a missed opportunity to help search engines understand your site structure.
The first two results shown here could have better page authority with an internal link from a related blog post.
4: Use an internal linking strategy for the best results
While internal links are important, you don't want to just link any article to the next. You need an internal linking strategy that identifies relevant pages.
The first blog post on my report is about an aspect of a product called FluentCRM. I want to create a content silo for my posts about FluentCRM, so my internal linking strategy should avoid creating internal links to or from irrelevant pages. So don't link all the pages.
The Orphan Report shows us which pages need inbound internal links. What we need to determine is if there are other posts, related to the topic of FluentCRM in this case, that could reasonably link to this article.
The first place to look is the most authoritative page about the topic. In other words, which page do you most want to rank on Google Search Results?
Any time you create a link from a post, you're distributing some of its link juice, or link value, and directing it to the internal link you created.
Part of your strategy for internal linking would be to create internal links pointing from your parent page to the child pages, and then have those child pages interlink with each other where relevant.
Try to avoid using the same anchor text for each link. Most internal links should have different anchor text.
That's part of your on-page SEO effort, and you want to use your internal linking judiciously. Don't create too many internal links that diminish the page's link value.
How to Use Link Whisper to Add Inbound Links
When you look at your Orphan Posts Report, the second column shows a link that says Add. Click that link to open a new page that looks like this one.

In this example, I clicked the Add button for the article "How to Use OptinMonster with FluentCRM"
My objective is to find relevant pages where I can create internal links to this article.
The initial result found a post and even suggested text within the post for contextual links to my currently orphaned post. This makes building internal links simple, easy and effective!
All I had to do was check a box for that recommendation and click a button to implement it.
Link Whisper creates opportunities for internal links and you can implement them like this, or you can manually work on your internal link building if there isn't a good option for contextual links already within the article you select for inbound links pointing to your post.
For example, I didn't have any text in the FluentCRM Review article that mentioned anything about a cron job. In order to send a link from that article to my FluentCRM Cron Jobs article discovered in the Orhan Posts Report, I had to update the pages manually.
It's the same page creating internal links to both of my orphans, but I used different methods to help boost my internal pages with internal links to help my site rank higher for a relevant topic.
It's that simple.
Use Link Whisper for a Site Audit
I'm fortunate with Suburbia Press to have a WordPress website without a lot of broken links or orphan posts.
Link Whisper can find broken links and show them on your links report. It's much easier than wallowing through Google Search Console to find broken links, and then GSC doesn't help you fix broken links at all.
A WordPress plugin like Link Whisper has direct access to check broken links or find orphan posts. The internal link audit created by the Reports helps you spot problems that affect your site's SEO. Then you can fix internal links in a WordPress site for great SEO results.
You don't have to spend a lot of time looking at the links report in Link Whisper. If you check it once a week, you won't lose control and have a massive problem with your WordPress site to fix broken links.
Link Whisper shows you all the internal links that need your attention, or where you have opportunities to add internal links to your WordPress site.
You can even find opportunities for more links on the same website.
Save $15 When You Buy Link Whisper
As you can see, Link Whisper is a valuable tool for your WordPress site. It helps you create relevant internal links, fix broken links and get the most of your link value when determining which posts are relevant to each other.
If you'd like to save $15, use my Link Whisper coupon code when you check out. That's an affiliate coupon to save you money and I'll earn a small commission if you use it.
Just click the link below to visit the Link Whisper site.