FluentCRM vs Groundhogg: Which WordPress CRM works for you?
Are you looking for a new CRM? We compare FluentCRM vs Groundhogg – two WordPress-based customer relationship management options, but they're not the same.
You can read our review of FluentCRM here and also find our review of Groundhogg CRM here.
If you're looking for a CRM that's easy to use, has an intuitive interface, and is backed by a team of experts who are ready to help, then FluentCRM is an excellent choice.
With FluentCRM, you'll be able to track your customers' behavior across channels and get an accurate picture of their experience with your company.
And because it's so simple for everyone on your team – from marketing managers down – there will never be a question about what happened or who did what when. Now that's peace of mind!
Groundhogg is a WordPress-based customer relationship management and email service tool established in 2018.
Groundhogg integrates with many other WordPress plugins and related services, making it the complete choice for any business to manage its customers' data. With Groundhogg, you can create custom workflows to automate your marketing campaigns or set up automated emails based on customer actions. Use Groundhogg to keep track of all your leads and contacts across multiple platforms.
FluentCRM vs Groundhogg Evaluation Criteria
How do you evaluate a WordPress CRM to use if you've never chosen one before?
I've worked with several different CRMs before, so I know how they stack up. I've also used both FluentCRM and Groundhogg on this site and others.
That's why we wanted to share some criteria for you to consider when you evaluate before buying. You can get some idea of how these two products compare to each other, too.
1: User Interface Experience
It is not enough that a CRM has all the necessary features. The interface can also have a huge, positive impact on the CRM experience and how you use it. A straightforward design with a clean, intuitive layout will allow for better overall navigation and use.
We'll evaluate the UI of both CRMs in terms of how easy they are to use, and how user-friendly it is. A great CRM should make using it as simple as possible for you to focus on getting things done.
Being able to visually grasp the data and put it into action quickly and smoothly is paramount.
How hard is it to get a new project going in Groundhogg? Can you find your contacts easily? How often will you be interacting with customers through the CRM, and how many clients do you have? The more you're using it, the more important a good UI becomes.
A quick note on Groundhog: the earlier versions had a lackluster experience. However, the company has plans for a new visual interface and benefits, but there's no timeline to know when these enhancements will ship.
The FluentCRM User Interface is Modern and Intuitive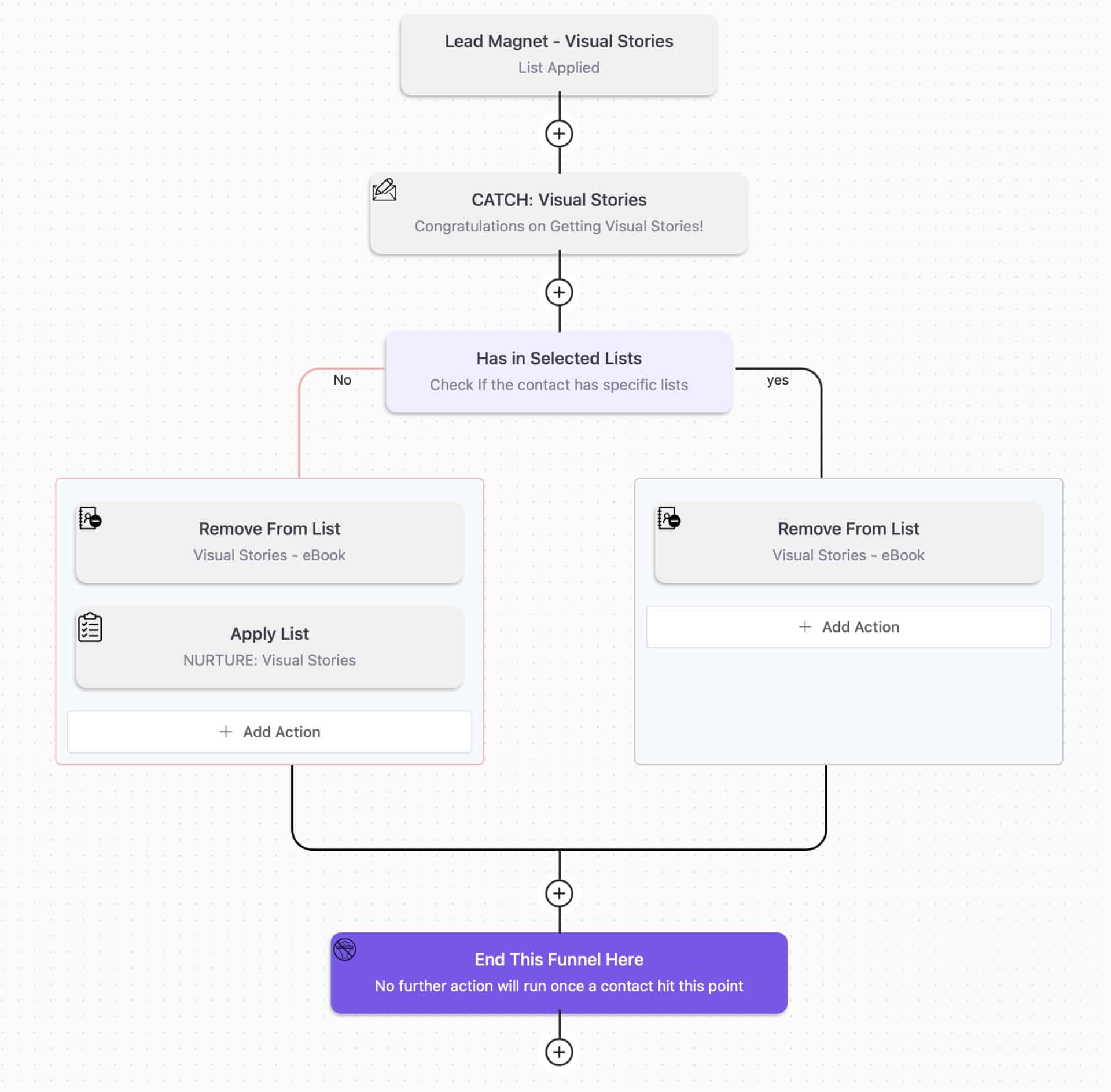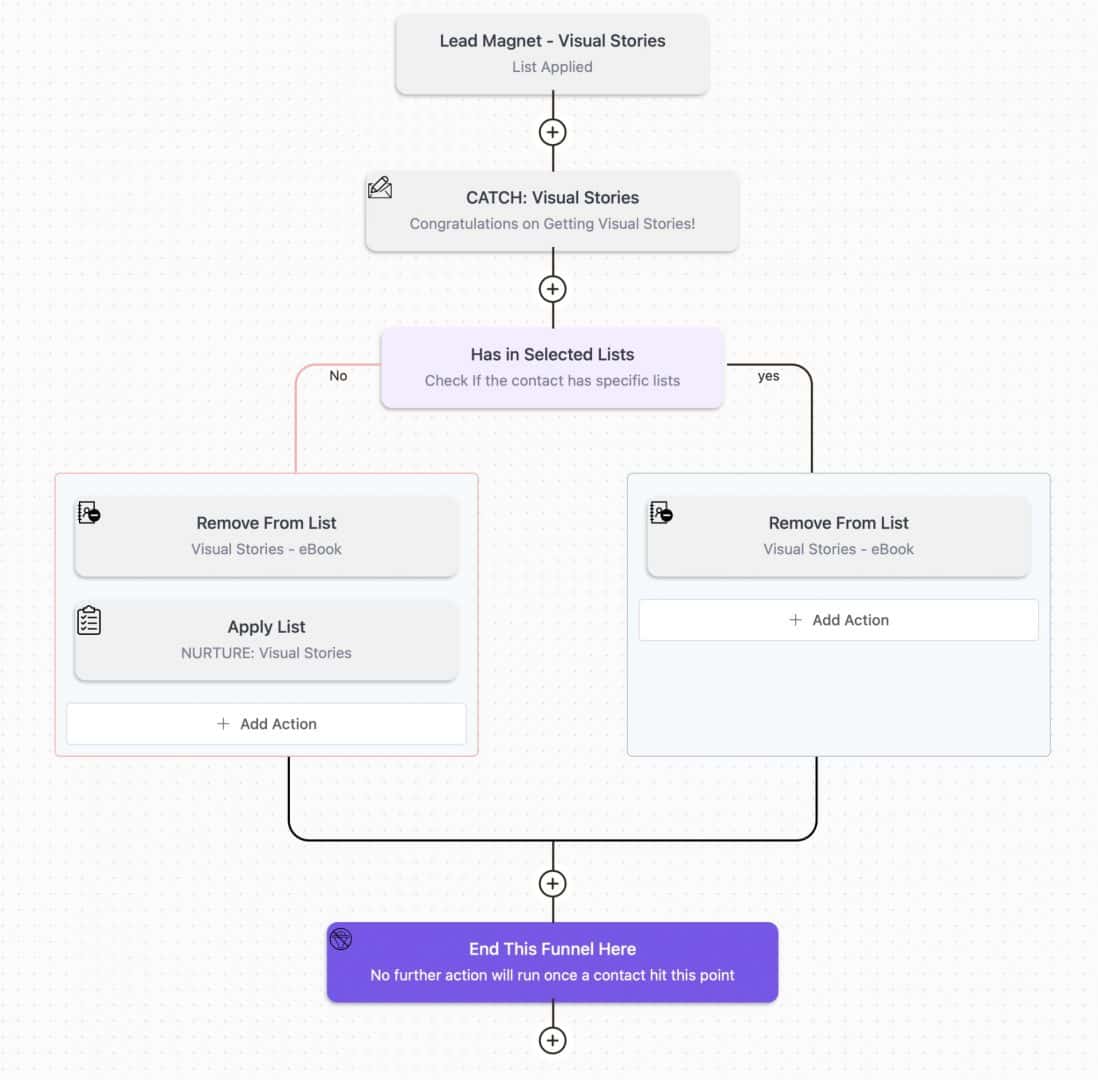 The screenshot above is one example of the modern and intuitive design within FluentCRM. This is an automation funnel with conditional logic. Not only is it visually appealing, but it's intuitive because you can see the flow of the user's journey through this automation.
The Groundhogg User Interface is Outdated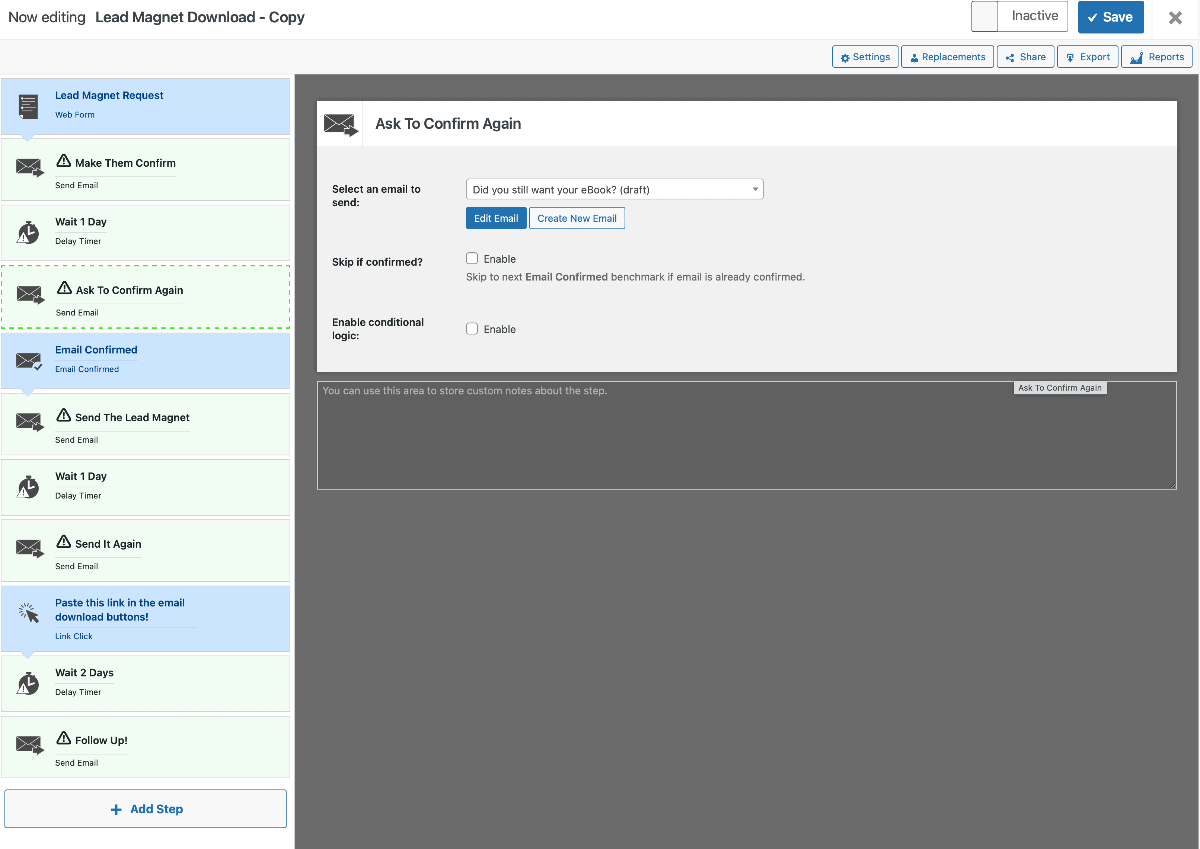 The Groundhogg funnel builder is a stark contrast to FluentCRM. The flow design on the left uses blocks, and then it shows potential for conditional logic and other elements within the block. However, it's difficult to understand at a glance exactly what flow the user will take in his or her journey.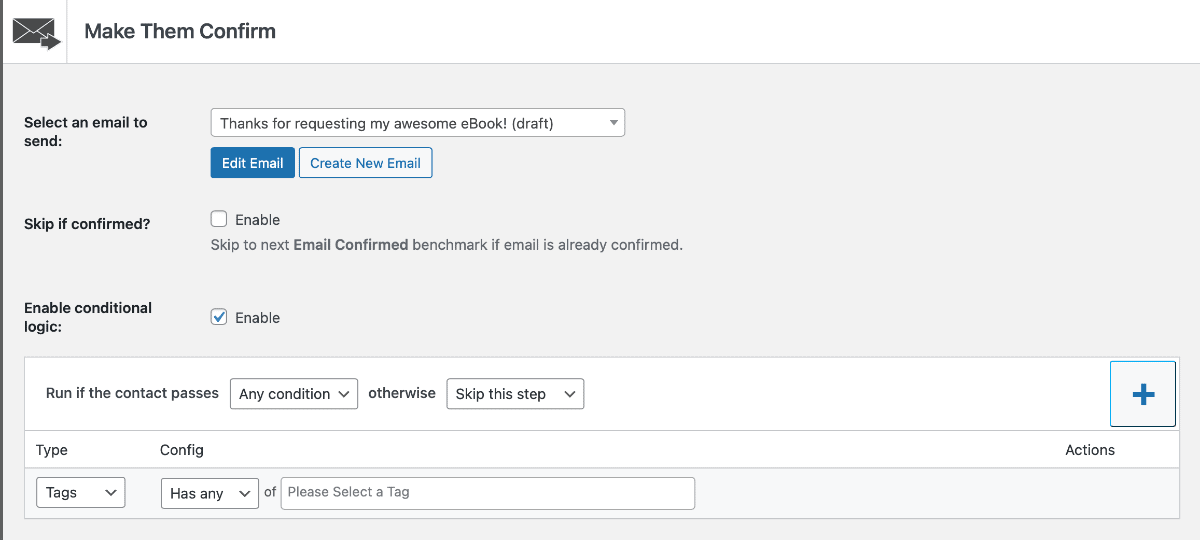 To use conditional logic within Groundhogg CRM, you get an interface that relies upon this interface above. Unless you're examining the block that shows these details, you cannot see the entire funnel flow at a glance.
2: Choose a CRM That Fits Your Budget
One of the advantages of a WordPress CRM is that it's much less expensive to operate than a Software as a Service CRM. Depending upon the size of your business and customer base, you can save hundreds or thousands of dollars on your CRM budget using either of these products.
Read this article to learn more about why a WordPress CRM is cost-effective.
Both of these products offer different pricing plans, depending upon your needs. They also approach their pricing quite differently.

Note with FluentCRM; all features are included. You see only annual prices, not monthly prices. Now let's take a look at Groundhogg pricing.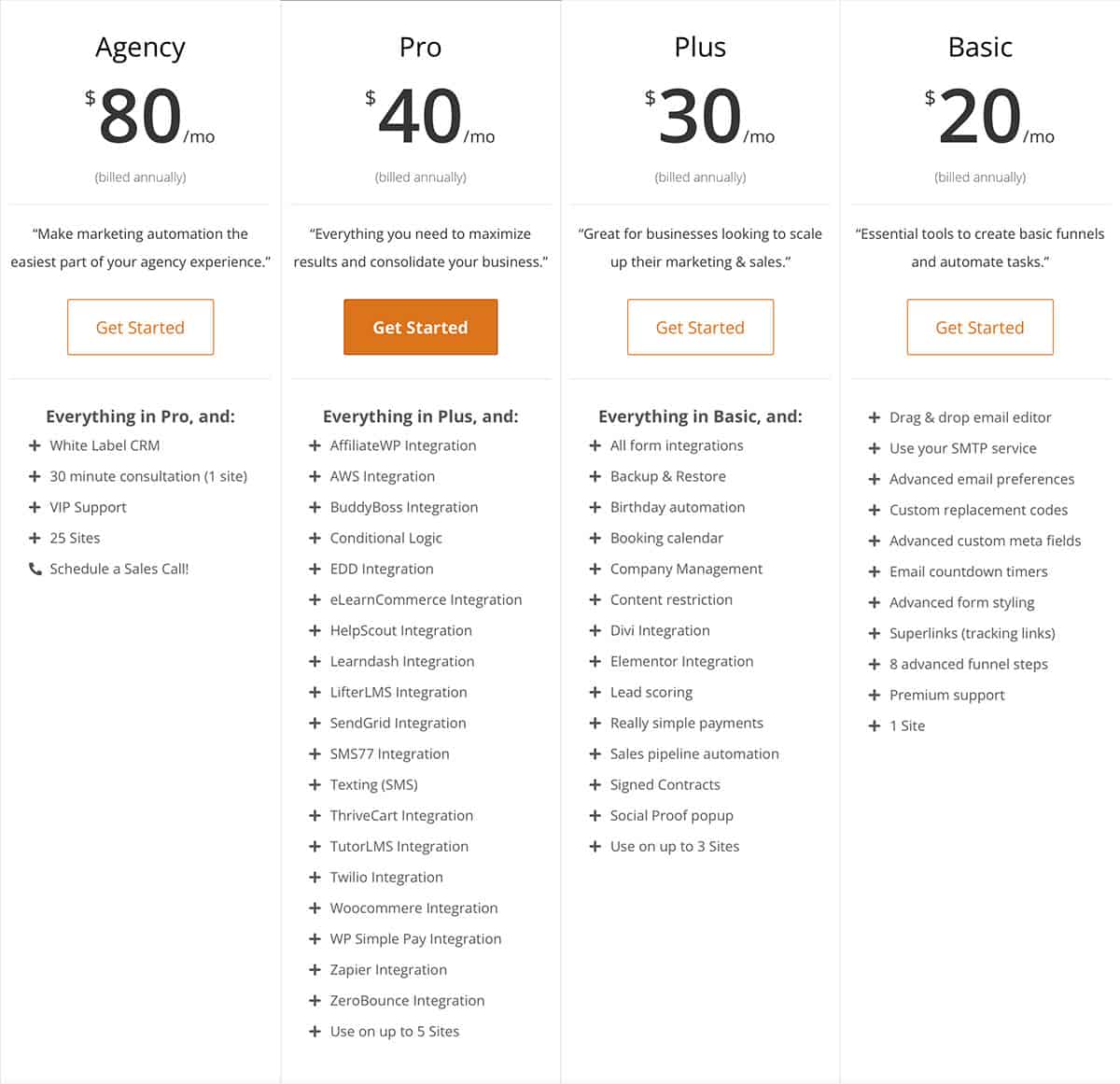 The first thing you notice is that there are different price plans depending upon which features you want for your business. Where FluentCRM offers everything in its pricing, Groundhogg works on a menu system.
I purchased the Pro plan and had access to everything. You can also buy some of the 40+ features ala carte if you wish, but it's a much more expensive way to get the features you need.
Next, notice that the pricing plans show as monthly, but the fine print states the plans are billed annually. This actually gets even more confusing.
The annual price of the Pro plan is $480 and works on up to 5 sites. Compare that to the 5 site license of FluentCRM at $249, nearly half the cost of Groundhogg.
Also, consider how many sites you need. If you only need to support one site, FluentCRM has a lower-cost option to fit your budget. Groundhogg does not unless you're willing to forego features.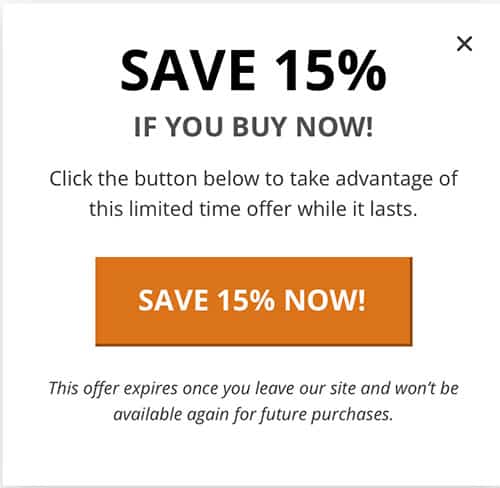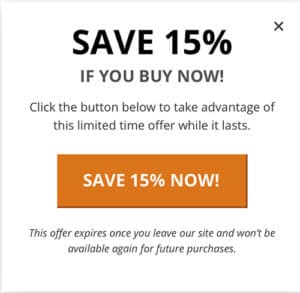 Groundhogg offers a 15% discount as an exit-intent offer. In other words, you only get the offer to save 14% if you're willing to leave the site, and they hope this compels you to reconsider the Groundhogg offer at a lower price.
The FluentCRM site has no such offer. Like many other products, there may be a sale from time to time, like a Black Friday promotion.
Even with the 15% discount from Groundhogg, the FluentCRM price is still a better deal when you consider what you get included and that the base price is nearly half of Groundhogg's regular price, making the total cost of ownership much less expensive with FluentCRM.
But I can help you do even better.
That's because I'm an affiliate for FluentCRM (and was formerly a Groundhogg affiliate), and I have a coupon code that allows you to save 20% off any of the FluentCRM licenses shown on their page.
Just use the coupon code BEEM when you check out to get your 20% discount off FluentCRM.
Save 20% When You Buy FluentCRM
Please know that some of the links below are affiliate links. These are items that I use and recommend. There's no extra cost to you, but I may receive a small commission if you buy something based upon my recommendation. Those commissions help us keep the blog running so we can keep sharing more info.
The Fluent SMTP plugin is free. You can even use a limited version of FluentCRM for free, but I strongly recommend getting the pro version. That allows you to take advantage of features like:
If you need more information about FluentCRM, please be sure to check out my FluentCRM Review and video.
I'm an affiliate for FluentCRM, which means I can offer you a 20% discount on whichever package you purchase if you use my coupon code when you check out.

If you decide to buy, be sure to use my discount code – BEEM.
Here's how it works.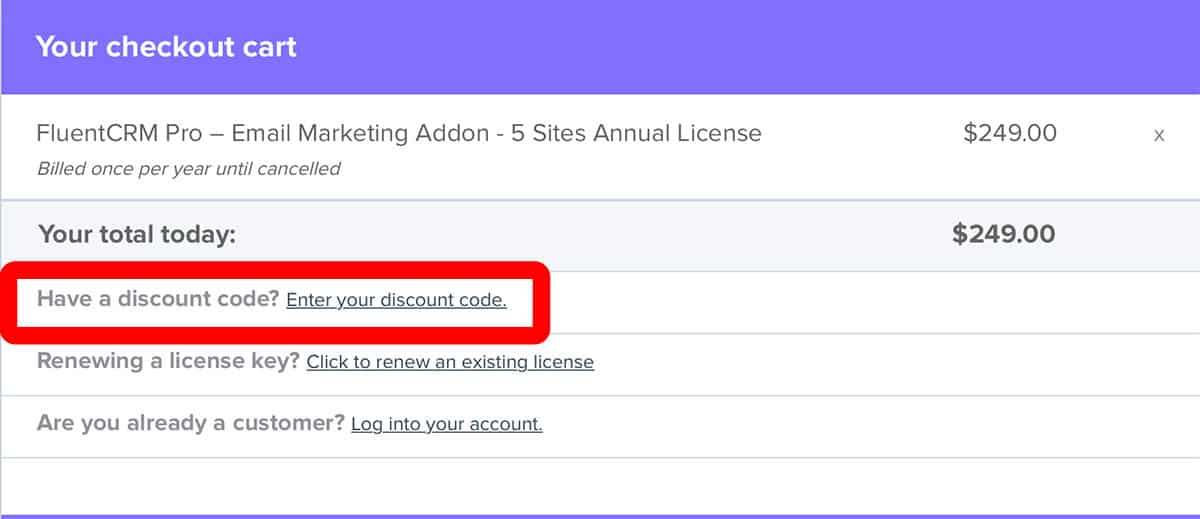 Find the place to enter the discount code, shown above in the Red rectangle.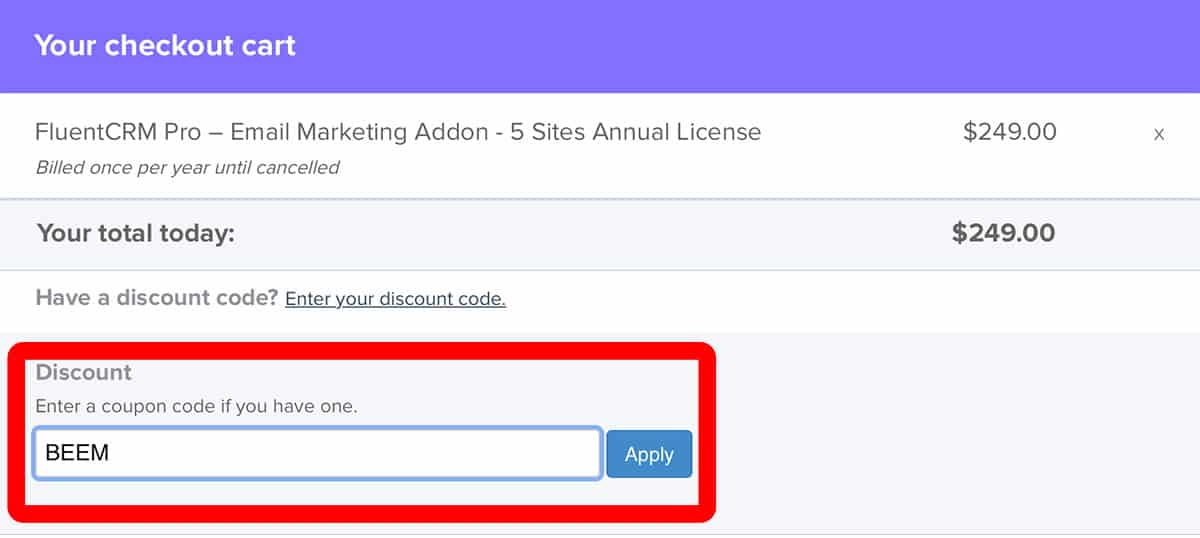 Enter the discount code – BEEM – and click the Apply button.

Now you can see the difference when using a 20% discount code.
3: Rate of Adoption Among Competitors
The adoption rate of a software product or business service is a key indicator of quality and reliability. If more of your peers use a CRM than its competitor, that's something to note. If
Why do businesses choose to adopt one CRM vs. another? What kind of results have users achieved after implementation? The most logical direction to find answers is from the people who actually use CRMs; customers.
Ask them why they chose FluentCRM or Groundhogg.
What did they like about it? Would they recommend their CRM to another business owner or marketer? What services does that provider offer that the user likes best (or least)?

Take a look at the current customer adoption rate. Over 10,000 customers are using FluentCRM compared to a fifth of that adoption rate for Groundhogg CRM.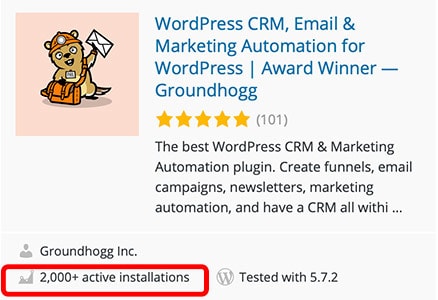 That's a huge difference!
These numbers come from the WordPress Plugin Repository as of August 3, 2021. To be fair to Groundhogg, they claim over 3,000 users on their plugin page. That's still a fraction of the FluentCRM adoption rate.
That alone is a clue that more businesses have found success using FluentCRM. In fact, when you take a deeper look at the reviews from actual users and what they had to say about their experience with the software… it makes complete sense.
Something else to consider is the velocity of adoption. As I write this, FluentCRM is approaching its first anniversary, where Groundhogg was established in 2018. That means FluentCRM has rapid adoption in a short amount of time.
4: Can you Integrate Your CRM with Other Services?
There's good news here. Both FluentCRM and Groundhogg have plenty of integrations with other WordPress plugins and some external services.
The depth of the integrations varies, so let me give you some examples.
Groundhogg offers integration with ThriveCart, but it's incomplete. There are signals from ThriveCart that a business needs, like cart abandonment. For some reason, Groundhogg's integration with ThriveCart does not communicate with the cart abandonment or other signals of activity.
On the other hand, FluentCRM does not currently have an integration with ThriveCart. One may appear, now that FluentCRM published a REST API to allow 3rd party vendors to integrate. I chatted with ThriveCart support and they confirmed that there is a lot of interest among their customers to integrate with FluentCRM. Of course, they could not make a commitment, but the acknowledgment is encouraging.
With Groundhogg, many internal and external integration services require another plugin. That's problematic from a WordPress performance perspective. Every plugin has scripts that load on every page, even if the service isn't used on that page.
In contrast, FluentCRM keeps everything within two plugins, the free version and the Pro plugin you get when you pay for the service. That helps WordPress performance as FluentCRM doesn't need to waste resources with unnecessary scripts on every page.
Both products offer incoming and outgoing webhooks to help integrate with services that do not yet have an API or other integration.
When using integration services like Integrately or Pabbly, you may notice that FluentCRM has more options than Groundhogg. That's because Groundhogg does not use Lists to manage its contacts, only Tags. FluentCRM uses both Lists and Tags and they show up within the integration options.
5: Capturing Leads with Web Forms
In order to capture new leads on your website, you probably need a web form to collect user data in exchange for something you give freely. The good news is that both programs offer a form builder in their product.
That's where the similarities end.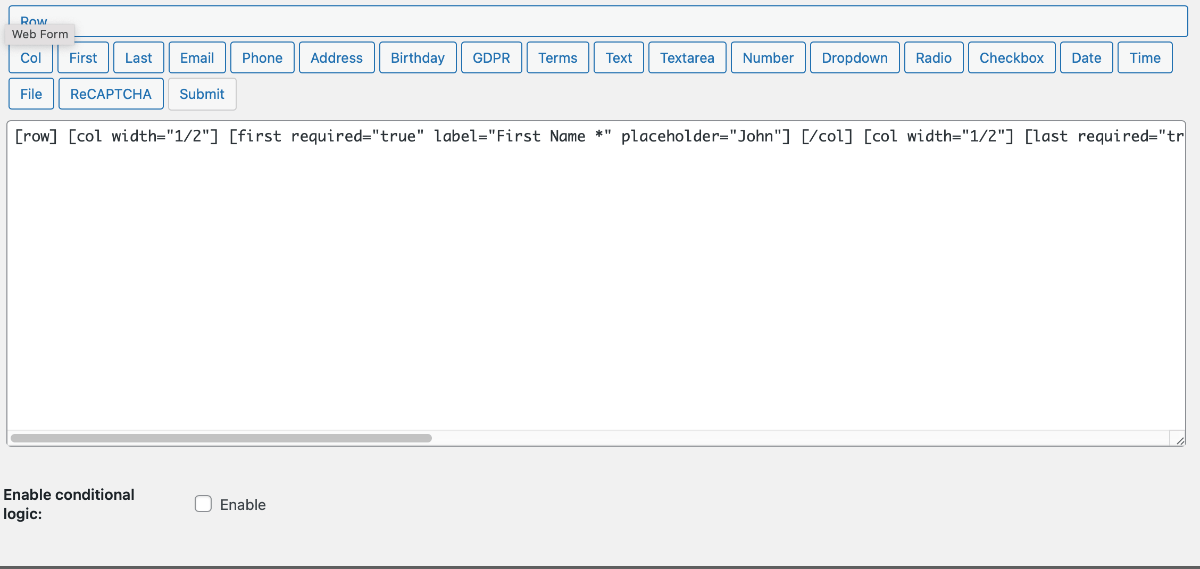 This screenshot above is the web form builder inside of Groundhogg. It's a text-based system without a graphical user interface to see what's happening as you build a form. That reminds me of the word processing tools I used in the early 1980s before a graphical user interface become the norm for WYSIWYG editors.
Here's the result of this web form builder.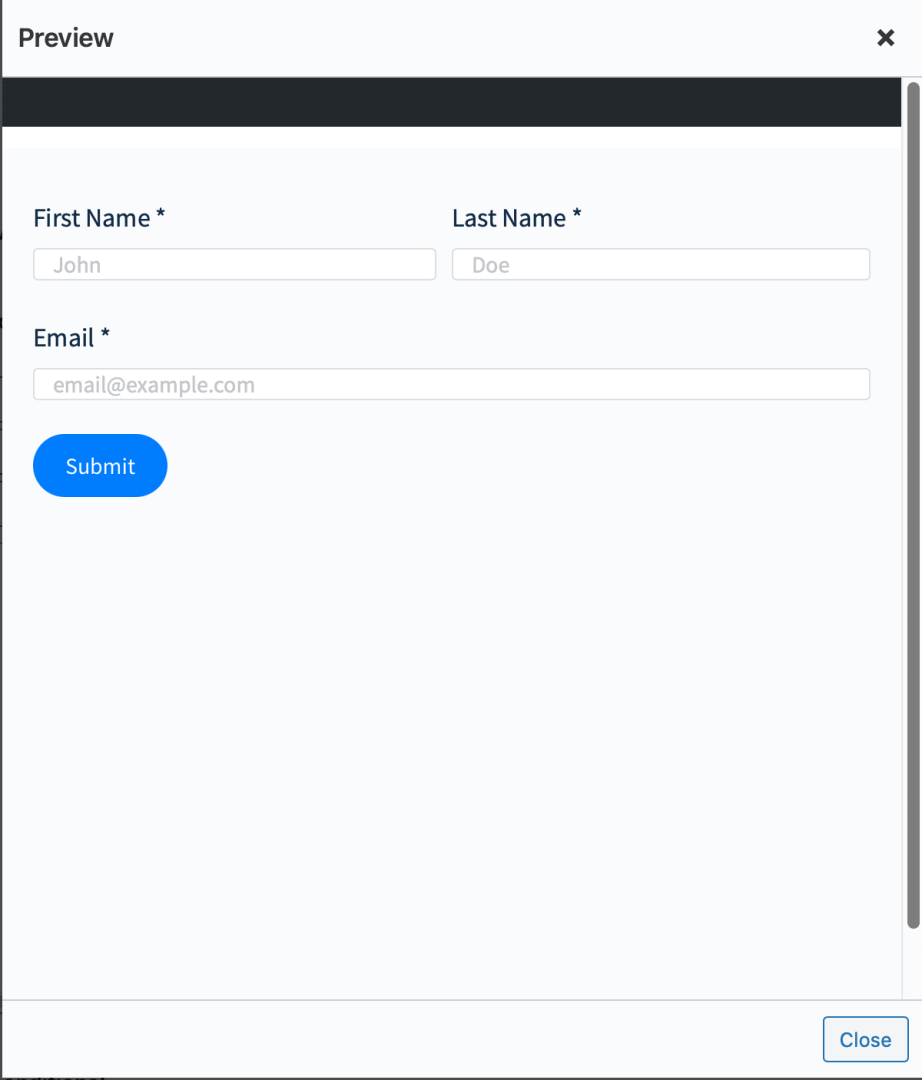 It's functional, if not modern or attractive.
FluentCRM includes a basic version of its sister product, Fluent Forms. It comes with some basic forms ready to collect data and has a modern, drag & drop graphical interface that lets you see your form as you create it.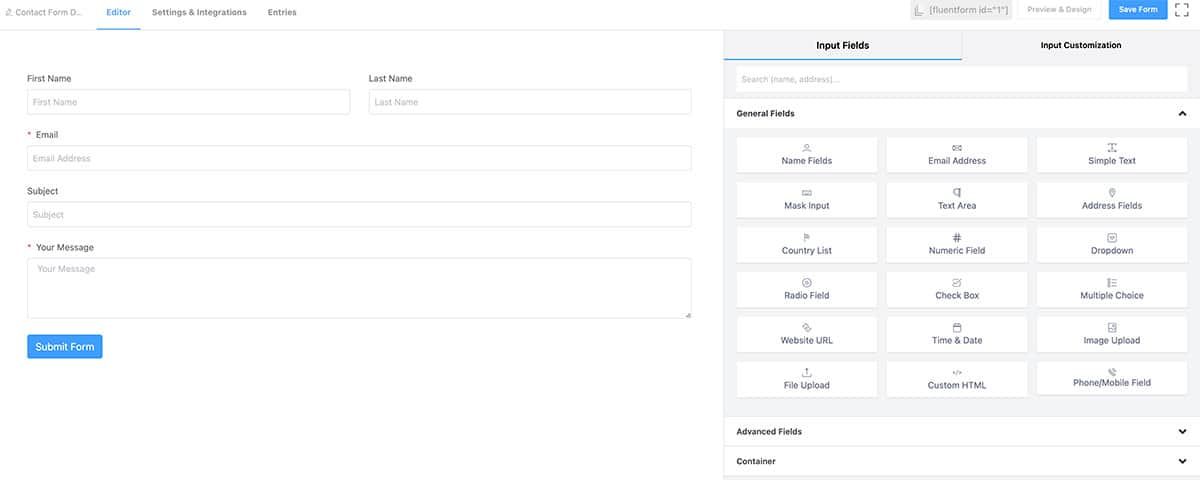 This is a screenshot of Fluent Forms Pro (I upgraded), but the concept is similar. You see the form you're building on the left side of the screen and the available blocks to use on the right side.
By the way, my same coupon code will save you 20% off the price of Fluent Forms. Just visit the link in this paragraph and use the code BEEM when you check out. At the time I'm writing this article, Fluent Forms has a LIFETIME DEAL. Check it out!
If a WordPress CRM isn't right for you, take a look at my recommendations for email marketing services.
The Conclusion is Pretty Obvious
We looked at five criteria in this article to evaluate FluentCRM vs Groundhogg. Both products will work, but one will do a better job for you.
Let's review where FluentCRM leads
Now let's see where FluentCRM and Groundhogg tie.
FluentCRM does better with the overall performance for its integrations, but Groundhogg has clearly built relationships with other vendors and worked to build integrations. FluentCRM has done the same, and both are still building new partnerships.
We haven't looked at factors like customer service or management, but there are other articles on this site that delve into those topics. This comparison of FluentCRM vs Groundhogg is about practical matters that most businesses need to consider.
FluentCRM is clearly the better product of the two CRMs.