Groundhogg Review: The BEST CRM for WordPress?
Most Unethical Award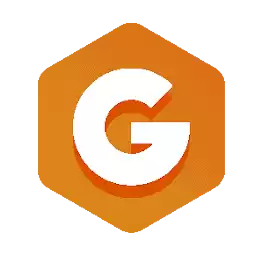 Groundhogg
Groundhogg is a marketing system for a WordPress site. It's an Open Source alternative to Software as a Service CRM and marketing automation providers, operating as a WordPress marketing automation plugin accessible in your dashboard. Unfortunately, poor customer support is a problem.

Pros:
Potential for great savings

Integrates with many tools
Cons:
Outdated user interface

Horrible customer support

Integrity issues & concerns
Check Current Price
We earn a commission if you make a purchase, at no additional cost to you.

Groundhogg Review: What is Groundhogg CRM?
Groundhogg is a marketing system for a WordPress site. It's an Open Source alternative to Software as a Service CRM and marketing automation providers, operating as a WordPress marketing automation plugin accessible in your dashboard.
I based my Groundhogg review on my experiences using the tool on this site and two others. WordPress users ought to seriously consider migrating from other SaaS vendors for CRM software but should do so with their eyes wide open.
If you don't want to use a WordPress-based CRM, check out my favorite email marketing services.
I started using Groundhogg as a marketing automation tool because it looked like a great solution to a problem many small businesses face. Email service providers get very expensive as the size of your list grows, so having a stable and low cost for an email service was something I really desired.
A key part of my small business revolves around building and nurturing my email list, and developing a relationship with my leads and customers. Without that customer relationship, I won't have a business.
Why Choose a Marketing Automation Plugin?
Like many other businesses, I need a CRM tool to:
Essentially, I need it to do all the things that SaaS platforms do and you expect from a CRM tool.
Email marketing automation drives more sales than creating ads or using social media. It's absolutely essential.
So you can imagine the choice of email service provider and content relationship manager (CRM) is terribly important. Not only does it need to fill your needs now and in the future, but you also need to have great support from your marketing automation provider.
Time is money.
If your WordPress site goes down, you're losing money. You're also losing money if your email marketing automation system goes down.
The unfortunate thing about many email marketing automation providers is that they become increasingly expensive as your email list grows in size. The nice thing about Groundhogg is that its cost doesn't go up just because your list gets bigger.
Some CRM software allows you to start for free with a list of up to 2,000 users. Unfortunately, the most advanced CRM features for marketing automation to send the right email to the right person at the right time get excluded from those free plans.
If you're in business, it's usually worth paying for a service to get the marketing automation features and benefits you need and also to get support when something goes wrong.
GDPR Considerations
GDPR requires businesses to protect user personal data. One advantage of using WordPress plugins for your CRM is that you aren't handing your data off to a SaaS email marketing organization and hoping that they'll protect your customer data.
In this case, you know where your data is and who has access to it.
Groundhogg: Email Marketing Inside of WordPress Plugins
Why would you want a WordPress CRM system like Groundhogg?
Small businesses need a customer relationship management tool and an email marketing tool. Groundhogg does both.
I was a ConvertKit customer for years and grew frustrated with the service. At the time, the Creator Pro plan with lead scoring didn't exist, and I was desperately trying to create marketing automation to allow me to implement subscriber scoring.
That's because ConvertKit didn't provide any metrics to let me easily identify disengaged subscribers. Why would they? It's in their own interest for customers to have as large of a list as possible so they keep paying a higher fee for their service.
When ConvertKit finally provided subscriber scoring, it was on such a higher cost plan that it likely mitigates any potential savings for discarding disengaged subscribers.
That's when I discovered the Groundhogg email marketing automation plugin for a WordPress site through a BuddyBoss webinar. In fact, BuddyBoss integration was a selling factor.
It's based inside of WordPress as a plugin. Actually, it consists of several other WordPress plugins  depending on which services you want.
You can get Groundhogg free, as it's an open-source tool. However, most of the power comes with additional WordPress plugins at a charge. The best value is to purchase a bundle.
Groundhogg doesn't actually send your emails. You need to integrate Groundhogg with a service like AWS Simple Email Service or one of several other providers dedicated to sending email campaigns in bulk.
Sending email through your web hosting provider will have a low-quality score and likely have your messages rejected as SPAM. Groundhogg works inside of WordPress to create the interface for your email services and customer relationship management platform.
Once you connect with an email service provider, you can send your email campaigns easily.
Groundhogg Pricing
Groundhogg's pricing offers a number of options, just like other SaaS CRM plans. You pay Groundhogg a flat rate when billed annually for the CRM software features that you want or buy purchasing specific extensions to add more Groundhogg features. As with competitors, the advanced CRM features come with higher-priced plans.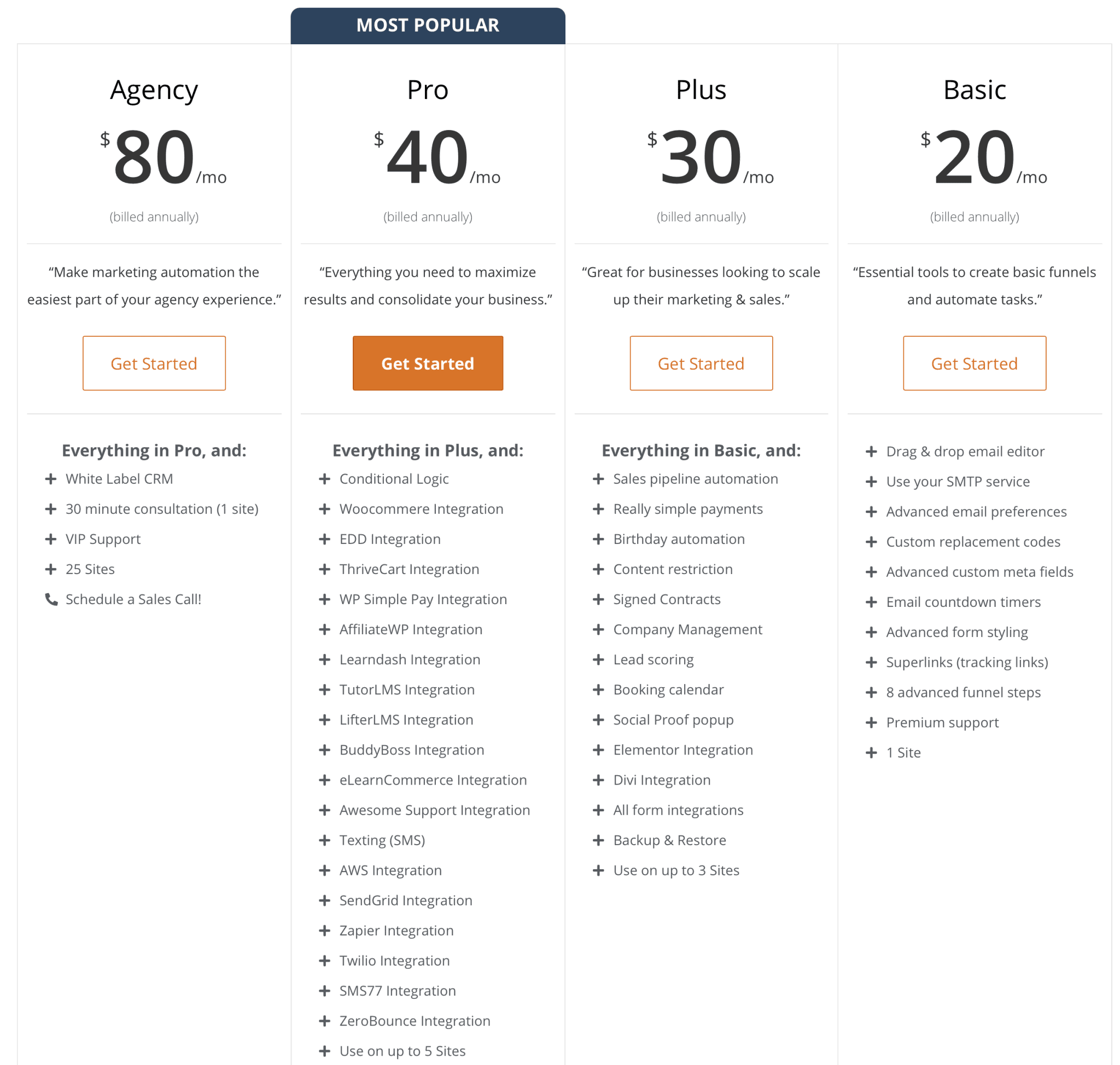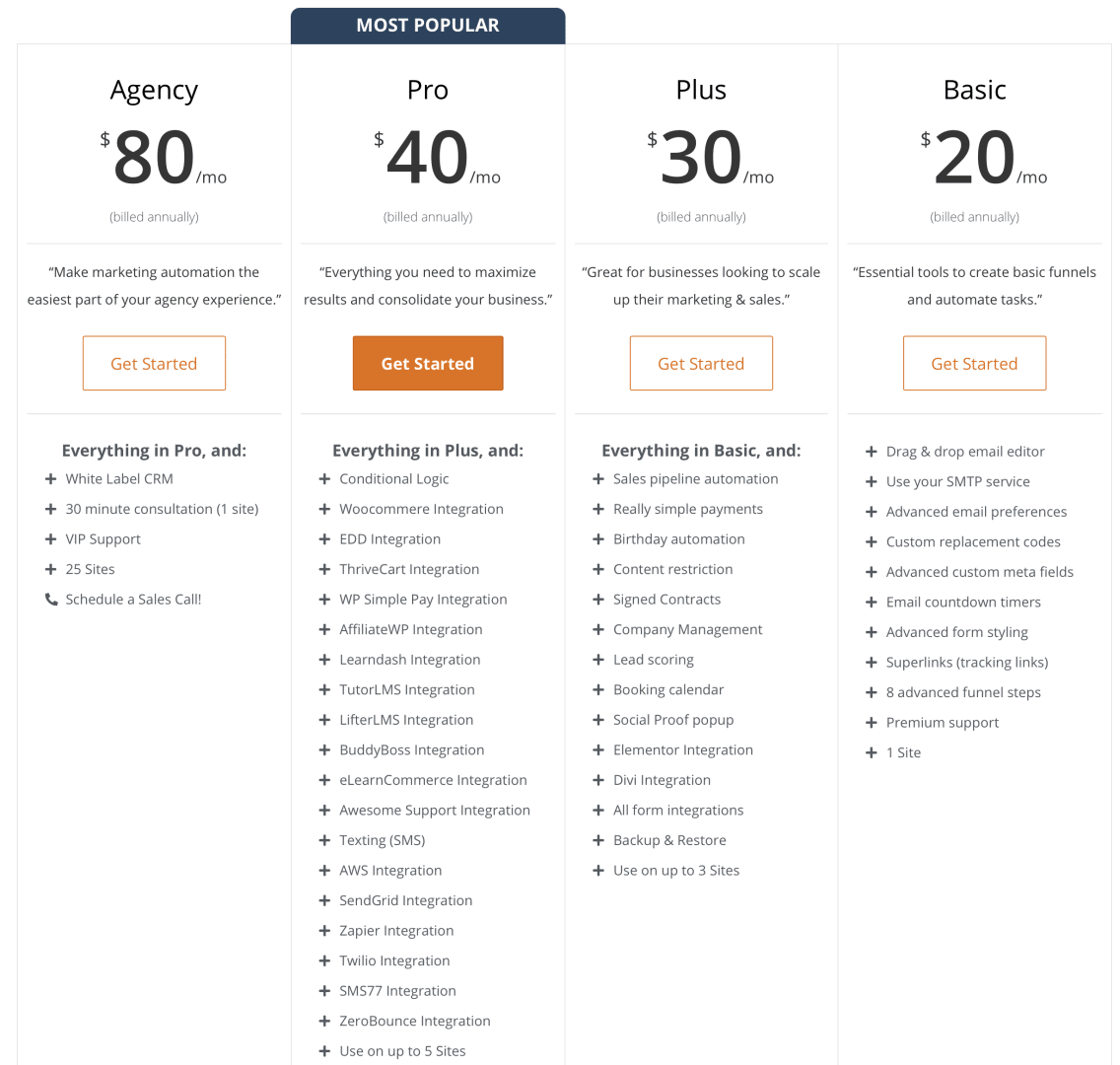 Groundhogg offers different plans that vary with the CRM tools you need. The Pro plan is the most popular, as you can see in the Groundhogg pricing chart, and includes important Groundhogg features, mostly integrations with ThriveCart, AWS Simple Email Service, Zapier, and other marketing features you expect from a CRM tool.
The Agency plan is the top level of the paid plans. The advantage here is to implement a White Label CRM software platform so your customers don't know what CRM they're using.
The Agency plan mentions VIP support, but the Basic plan mentions Premium support. There's a difference without a distinction. Are you paying an additional cost to get better service or not? I think there's a lot of marketing talk in the paid plans, but some of the features mentioned in the paid plans aren't clear as to what you're getting.
Each of these plans mentions in fine print that the cost is billed annually, which indicates there is no monthly plan for any paid version of this CRM software. You're committed to a large payment. As you'll see below, there is no recourse if you're later dissatisfied, even if the vendor is at fault.
Do you need all of the CRM features to get started? That depends upon your business. If you're a creator or influencer who just needs a basic email list and autoresponder, paying for those CRM features isn't a good value for you.
It's nice that Groundhogg pricing offers alternatives for different needs. You can always upgrade or buy extensions at an additional cost later as your business grows.
Can you get a full refund on Groundhogg?
Groundhogg offers a 14-day period to request a refund. There are no refunds after that 14-day period expires.
You may look at those prices and think they're similar to ConvertKit or other email service providers. They are, in the beginning.
However, you don't pay a higher cost as your list of subscribers grows. The plan you choose remains stable in price as your list grows. The only thing that costs more is your email service provider fee.
You can send 1,000 emails for 10 cents using AWS Simple Email Service. A business with a list of 5,000 subscribers that sends roughly 80,00 emails per month ends up with a bill of around $8/month. There's really no comparison in pricing between Groundhogg and an Email Service Provider once you get about 5,000 subscribers. The savings for Groundhogg only get more dramatic as your list grows.

From a value proposition, Groundhogg clearly has an edge on the competitors of Software as a Service (SaaS). It's fair to point out that Groundhogg is not the only WordPress CRM on the market.
Is Groundhogg any good as an Email Marketing Automation Tool?
Groundhogg CEO and creator stated that he developed it as a "minimum viable product" to get it to market, and would upgrade later. Recent upgrade efforts ran into unanticipated problems and there is no delivery date for the next version.
With that in mind, let's see how Groundhogg performs on some specific criteria.
The Groundhogg User Interface is Outdated
Working inside Groundhogg, I have to admit that it doesn't have the most modern design. They're working on an update, but it's been delayed a couple of times and I can't state with confidence that they'll meet their next deadline.
Much of their interface listing emails, contacts, and other elements look just like the WordPress interface. They did not construct anything new to display their information in a modern design.
It's functional, which is their priority over appearance and usability.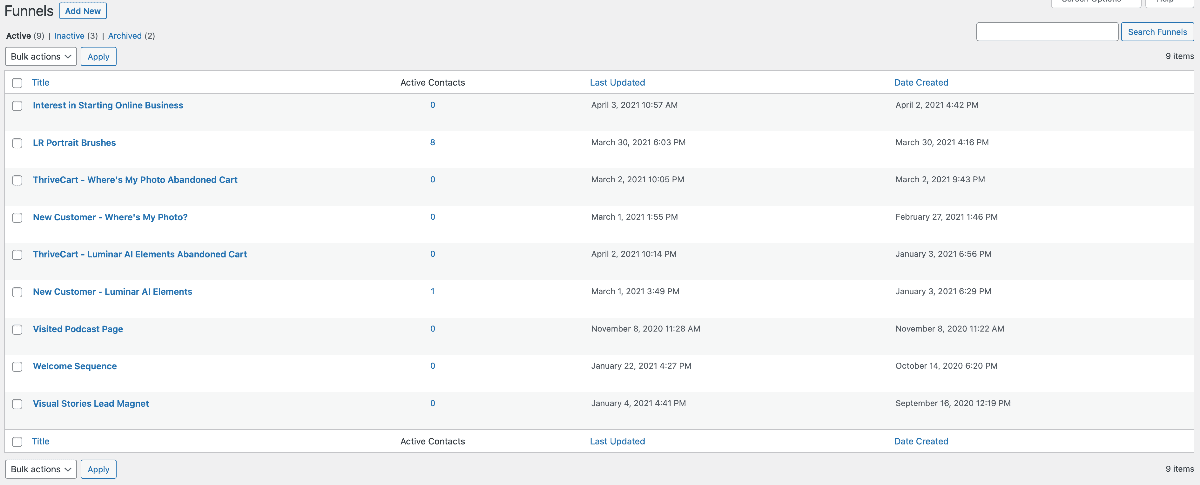 As you can see, it's just like a listing of WordPress posts, pages, or users. There's nothing custom for their application.
When Groundhogg does create something custom, such as their options for Funnel Templates, the interface is still rather stark.
Funnels are the engine of email marketing automation. You start with a Benchmark, which is essentially a trigger that leads to a series of actions once that benchmark occurs.
Email marketing is all about delivering the right offer to a subscriber when he or she is ready for it. Using funnels, you construct a series of events based upon an event.
It's critical that you understand the workflow of these funnels, or else you may send your subscriber the wrong message or worse, completely ignore the right moment to send the message they need.

As you can see, we get basic cards with a brief title, description, and a button to launch their funnel template.
Once inside the Funnel Builder, we see an interface like this one.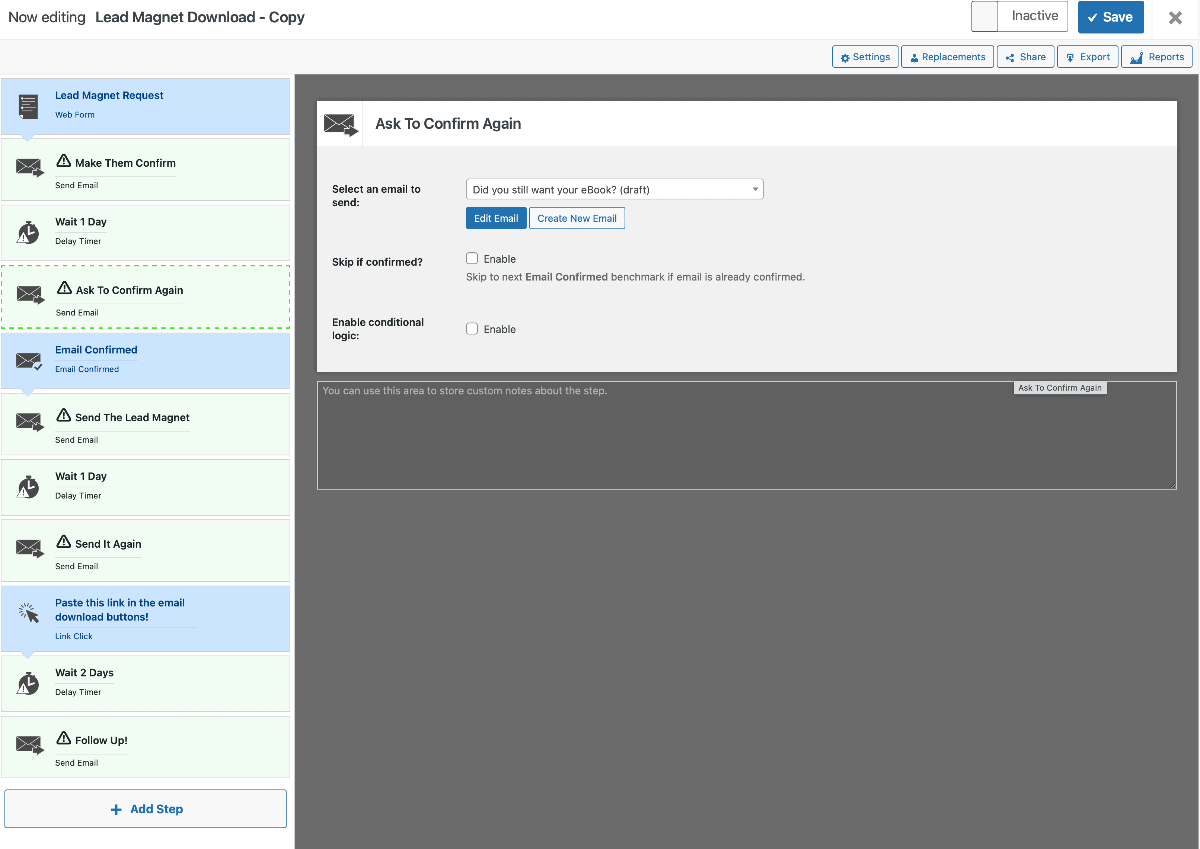 It's a linear progression of blocks. The Groundhogg CEO claims that the style of interface is what Agency clients prefer over a flowchart design because they can use it faster.
Time is money, he said.
They understand these linear blocks and can work with them faster than a flowchart design. Since the majority of Groundhogg clients are Agency users, it's considered the best interface by Groundhogg designers.
The Blue blocks are Benchmarks — essentially, these items listen for an input to trigger them or wait a specified amount of time. Once that happens, they allow the Green blocks to proceed. Those Green blocks are Actions.
How Groundhogg Implements Conditional Logic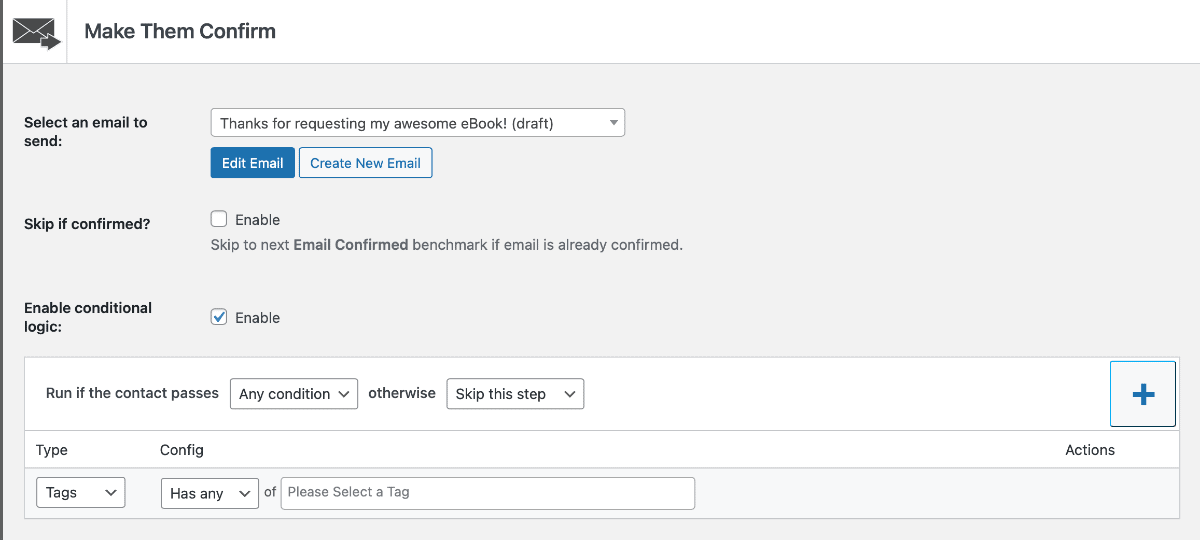 The screenshot above is one of the action blocks using conditional logic. You see that it sends a specific email to request a confirmation some someone who filled out a web form to opt in.
If the person is already on your email list, you can check the "Skip if confirmed" box to avoid processing until the next Benchmark.
Sometimes you need to make some decisions, and that's where the conditional logic comes into play. Some plans have this feature and some do not. You can get it as a paid extension if your plan does not include it.
The first option is to pass the criteria you specify below. This first field includes:
The next field after Otherwise includes:
The type of information you can use are:
If you want to add more Benchmarks or Actions, you have a few options.
Your list of Benchmarks may vary. For example, my site has Gravity Forms, LearnDash, and ThriveCart (lower right corner). Since Groundhogg has integrations with a number of other services, you may have different or additional Benchmarks.
I've learned that Groundhogg integration with 3rd party services isn't always complete. Let's take ThriveCart as an example.
ThriveCart is a SaaS shopping cart service that I use. They have several webhooks to connect to email service providers so you can message customers based on their activity on ThriveCart.
Groundhogg implements some, but not all, of these hooks. For example, it can send an email if someone purchases a product. However, it does not implement the ThriveCart hook for an Abandoned Cart. That's a critical time when you could follow up with a potential customer.
In this case, the lack of implementation of hooks offered by ThriveCart limits your marketing power to communicate with someone who may be on the fence about buying.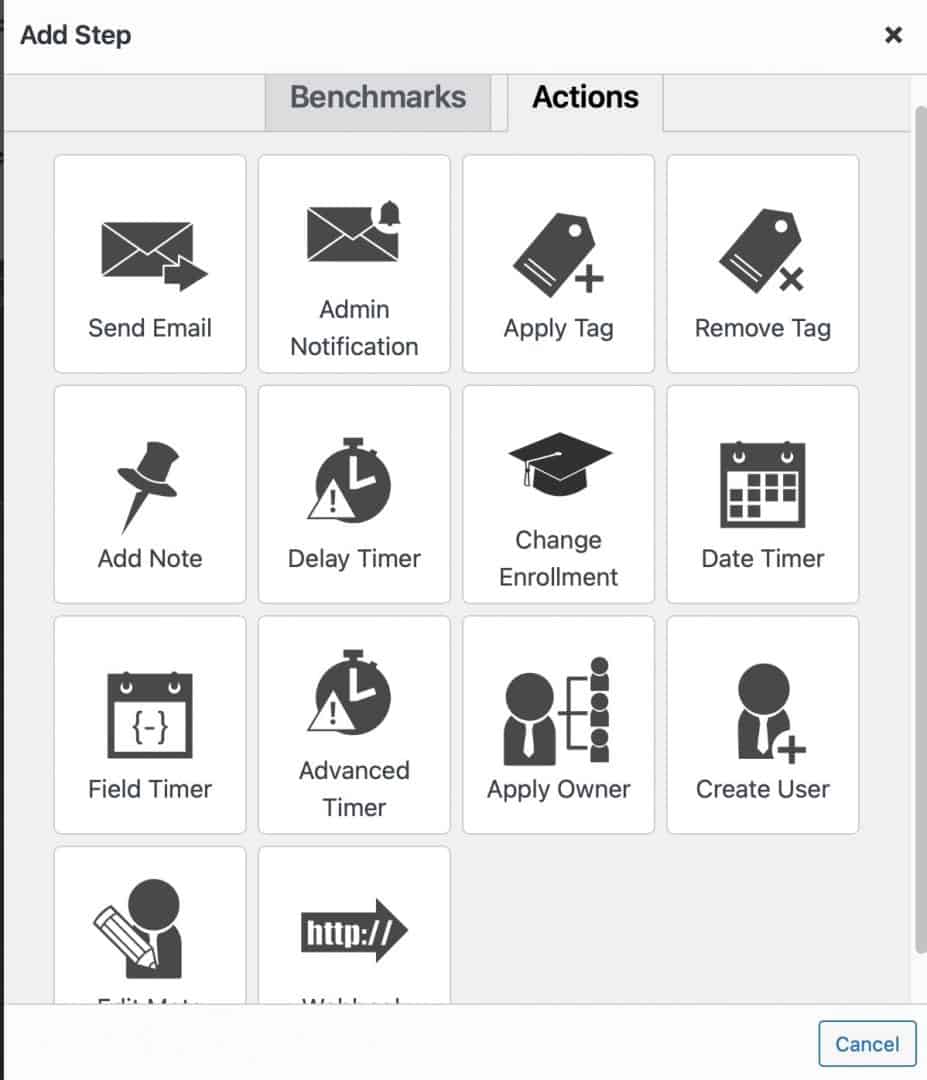 On the other side of a funnel are the Actions you can take based upon a trigger from a Benchmark.
The options on timers go a bit beyond some of the competition to allow you to delay or schedule actions.
Reports from Groundhogg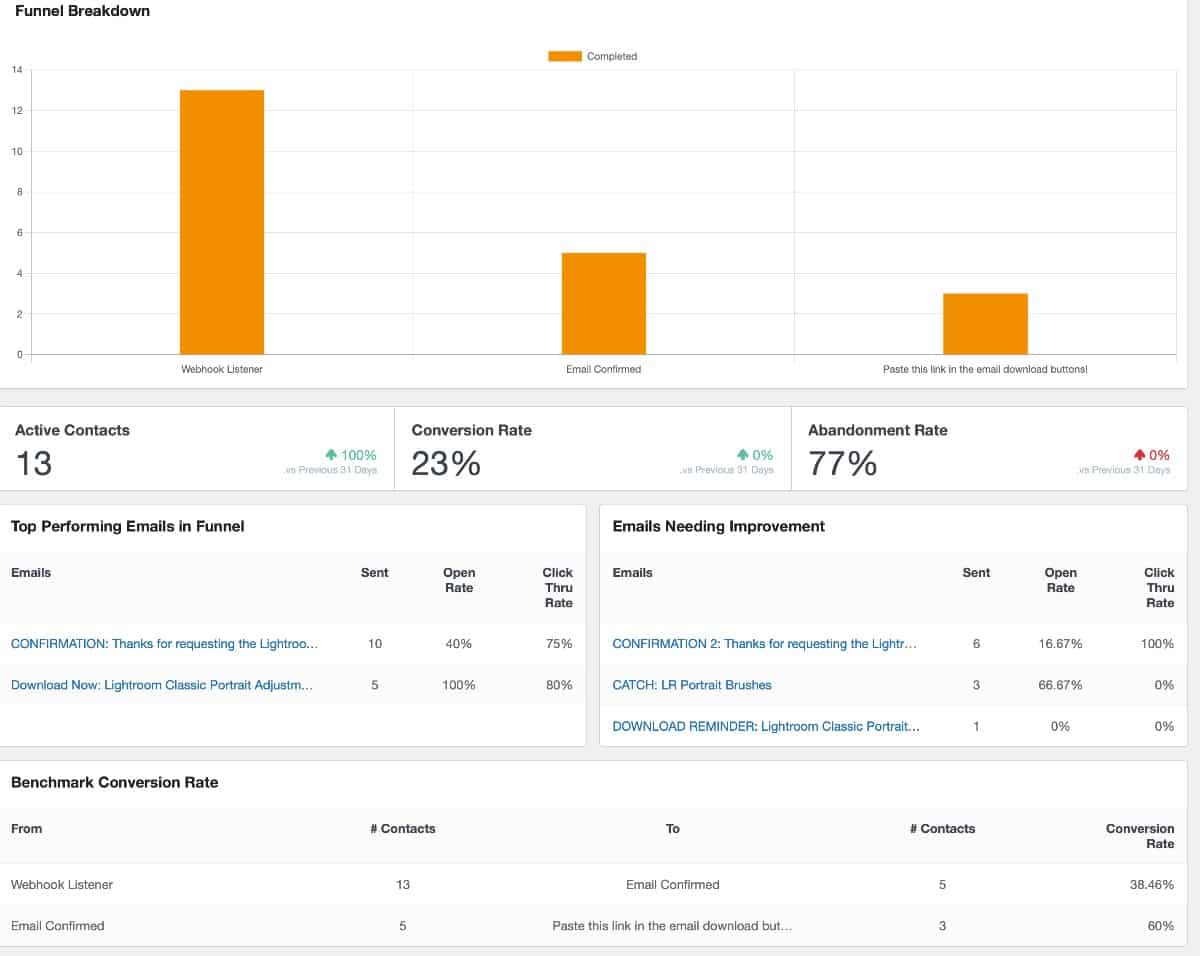 I think Groundhogg does a good job of ensuring you get detailed reports on most of the elements within the system. This is a report for one of my funnels.
You can see the conversion rate and the abandonment rate right under the graph. A bit lower, Groundhogg tells me which emails perform well and which need improvement.
Not every email will perform well. That's because some of them are "backup" emails that get sent if the first notice doesn't get an action.
It's a useful report and directs your attention to the areas where you are doing well and can improve, but you need to know the purpose of your funnel and emails to determine if the report metrics are actually meaningful.
How to Build Web Forms in Groundhogg
Building a web form for your leads to opt-in to your email list is a particularly dreadful experience.
Here's a view of the web form builder.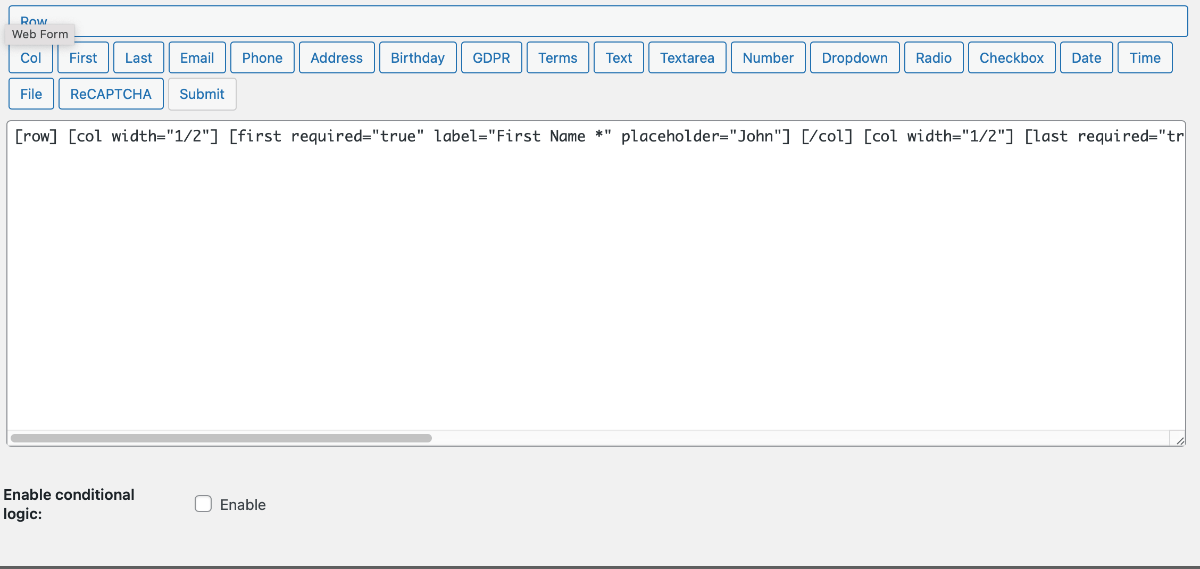 As you can see, this is not a "what you see is what you get" experience. In a modern world, several products implement a drag & drop interface that allows you to customize your form.
Other products provide templates and examples of enticing web forms. Here's an example of the form created by the web form builder above.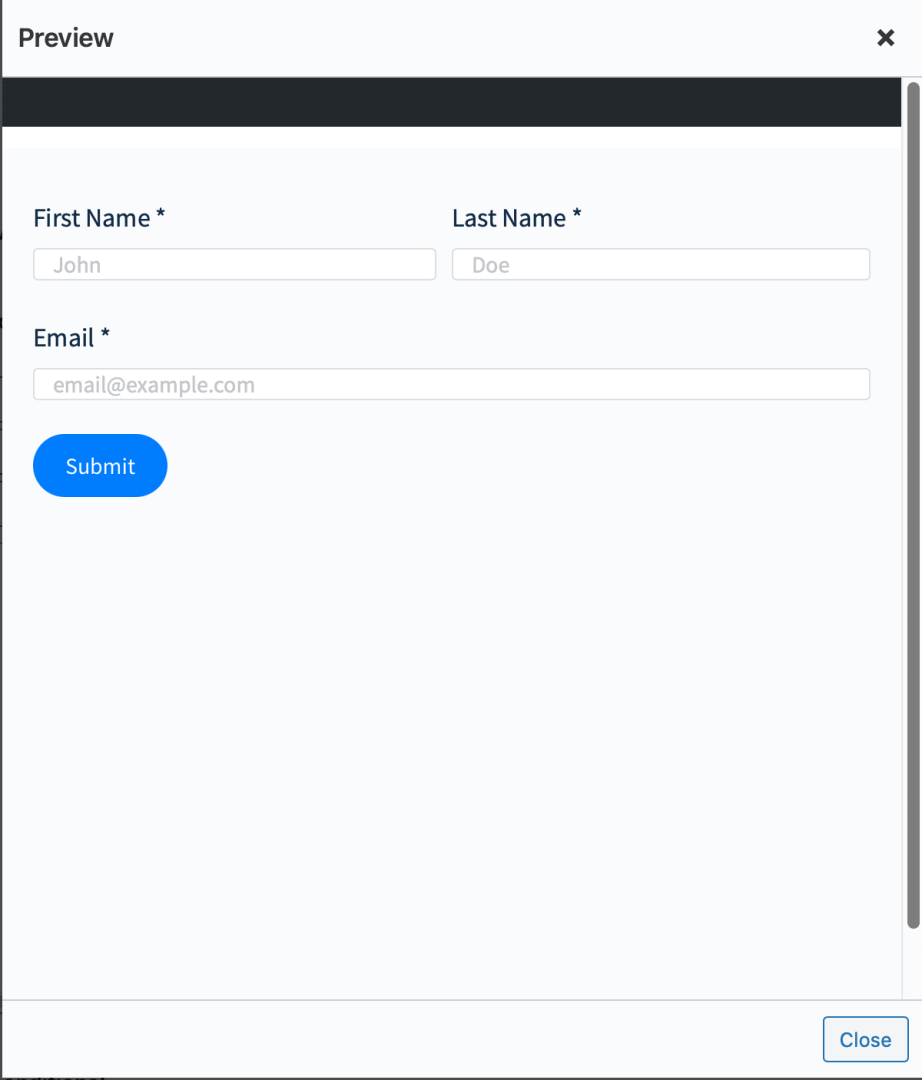 Isn't that great?
That will have folks flocking to join your email list. Clearly, Groundhogg does a rudimentary job that any developer from the 1980's would perform.
Groundhogg isn't popular enough to have native integration with popular web forms or opt-in vendors. So you need to use a webhook to ensure communication.
I know that OptinMonster can communicate with Groundhogg using a webhook. A product like Bloom from Elegant Themes does not integrate with either Groundhogg or implement webhooks. So check before you buy a 3rd party form product to ensure it has webhook support.
Groundhogg Documentation & Education is Poorly Organized
Learning how to use Groundhogg from their Help site is a bit of a mixed bag. I think that some of their topics have very good documentation. The problem is finding the help article that you need if it exists.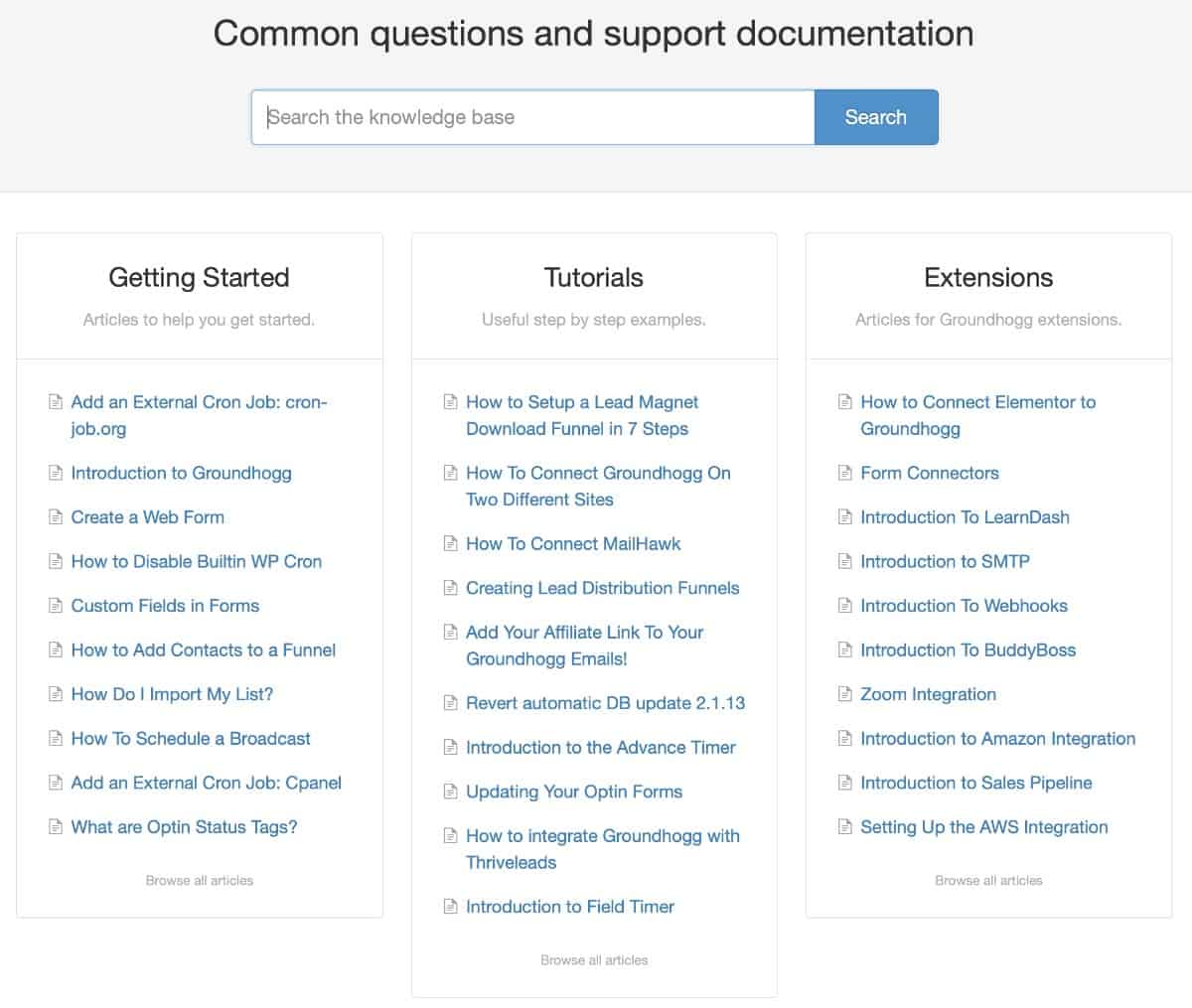 There are sections to help you get started, some tutorials, information on extensions, a FAQ, and articles for developers.
You cannot search within these groups. Often I tried to search for a specific problem and ended up with an article designed for Developers, not End Users trying to implement parts of the product.
A bigger problem is that there isn't any fundamental information to guide you by the hand and explain important concepts you need to know in order to get the best effectiveness from Groundhogg.
Key concepts aren't mentioned at all, likely because most of the customers are expected to already know how a system like this works. That's an enormous detriment to solo entrepreneurs but probably works well for agency customers — their bread and butter audience.
Groundhogg offers a disappointing educational and resource experience to use its WordPress CRM
Here's an example.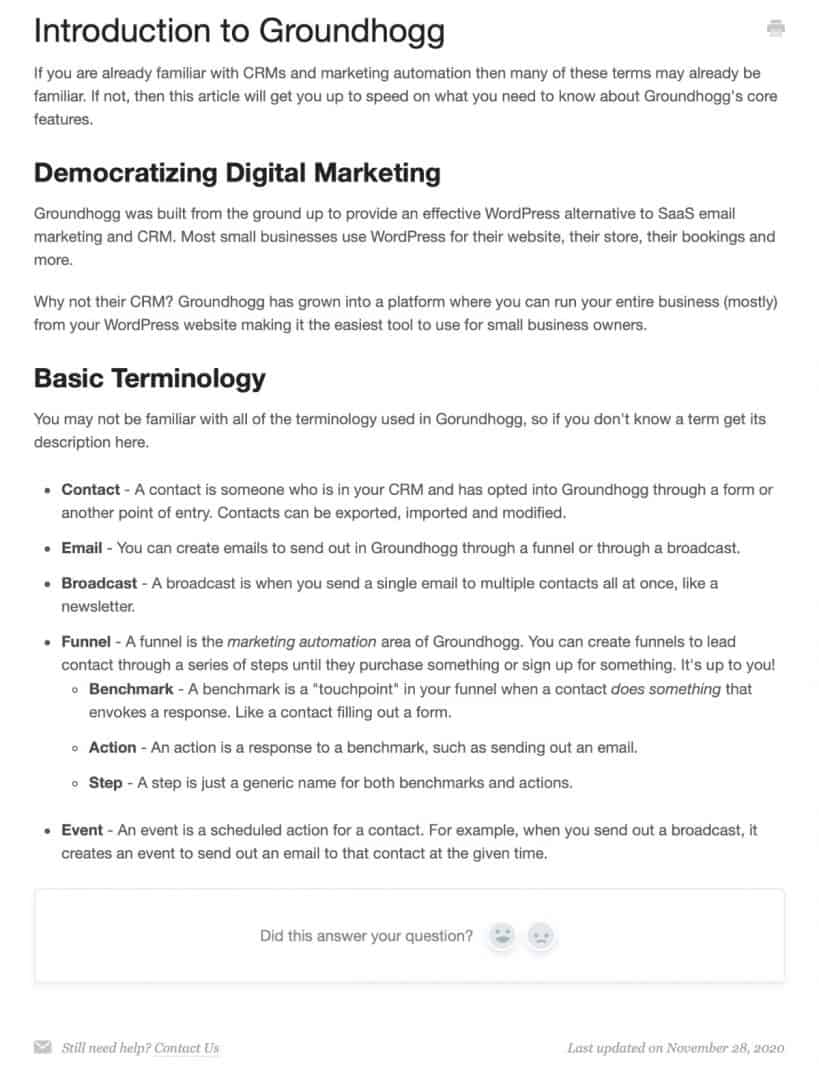 Does this help you understand how to use Groundhogg? This is the entirety of the Introduction to Groundhogg help article. In the very first sentence, there's an assumption that you are already familiar with CRMs.
If not, you get this one page to help you get familiar. That's it.
If you respond better to video training, Groundhogg offers some courses at Groundhogg Academy and also weekly live videos.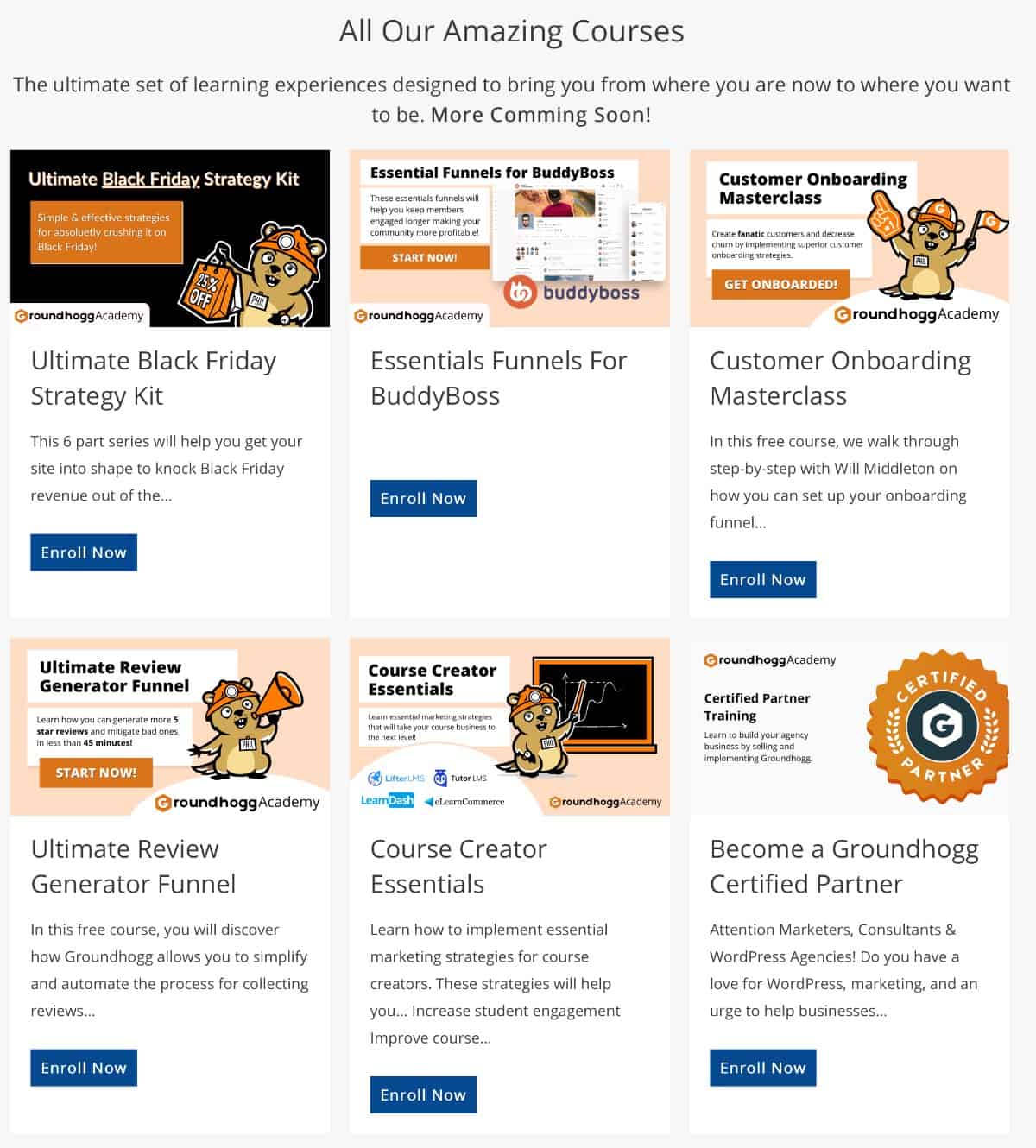 New courses on Groundhogg aren't added frequently. If you need some of these specific courses, it's great that they exist. Also, the weekly live calls typically offer some kind of instruction and a Q&A period in the end.
The problem is finding specific information you need when you need it. The articles don't cover some fundamental concepts very well, if at all. They're geared for specific issues, which you may or may not need.
Also, they assumed knowledge on the reader's part. If you're new and unfamiliar with the product or some CRM concepts, it's very frustrating to find answers, and that generally leads to one of two courses of action.
1: Ask in the Facebook group and hope another customer has the answer.
2: Submit a support ticket.
My Experience with Groundhogg Support

My experiences with the Groundhogg team are a mixed bag. Quite frequently, the CEO of Groundhogg answered my support tickets. His responses were brief and to the point, and generally resolved my issue.
I began to wonder if anyone else provided support. Eventually, I received help from about two other people on tickets.
One of my key concerns about Groundhogg Support is its operating hours. Monday — Friday, 8:00–5:00 PM.
There were occasions when I got a response or some help outside of those times, but this is what they share on the Groundhogg website for their support hours of operation.
Problems sometimes occur at odd hours, particularly for online businesses that work around the clock. Groundhogg exists to help businesses.
Even when I was working in corporate IT, problems did not exist only in ideal working hours. You often had to make changes or fix problems outside of those working hours.
So the idea that customers shouldn't expect any support at all outside of those hours is really troublesome. Web businesses, in particular, operate 24×7 for 365 days of the year.
Downtime means that you're not in a position to support your customers or convert leads to customers.
Time is money.
A recent failure with Groundhogg really put this to the test. Systems that operated reliably for close to a year suddenly stopped. I put a ticket in for one site on a Sunday.
I didn't receive any response on Monday. When Tuesday came, I created a ticket for another site that had the same problem. Still, no immediate response within working hours.
It wasn't until I raised this issue in the support group that someone checked to help me. We didn't get a resolution that night.
On Wednesday, there was no activity. It turned out the support rep thought I was going to do something and didn't want to take action until I reported back. I was tied up helping my daughter with car problems and expected that Groundhogg Support was working on the issue.
Miscommunication happens. It also wastes time.
Time is money.
We had some more work on Thursday and Friday.
Groundhogg Support Strategy is Blame. Deny. Defend.
Those three words pretty much define my customer support experience. There wasn't a problem with their product, so they assumed. Therefore, the problem was with my system.
One person from Groundhogg even said publicly on the Facebook group that there was something wrong with my installation.
What installation? WordPress or Groundhogg?
I didn't receive any reply from that person, nor have I received any further comment on that issue.
First, they blamed my CRON job. Take a look at the status below.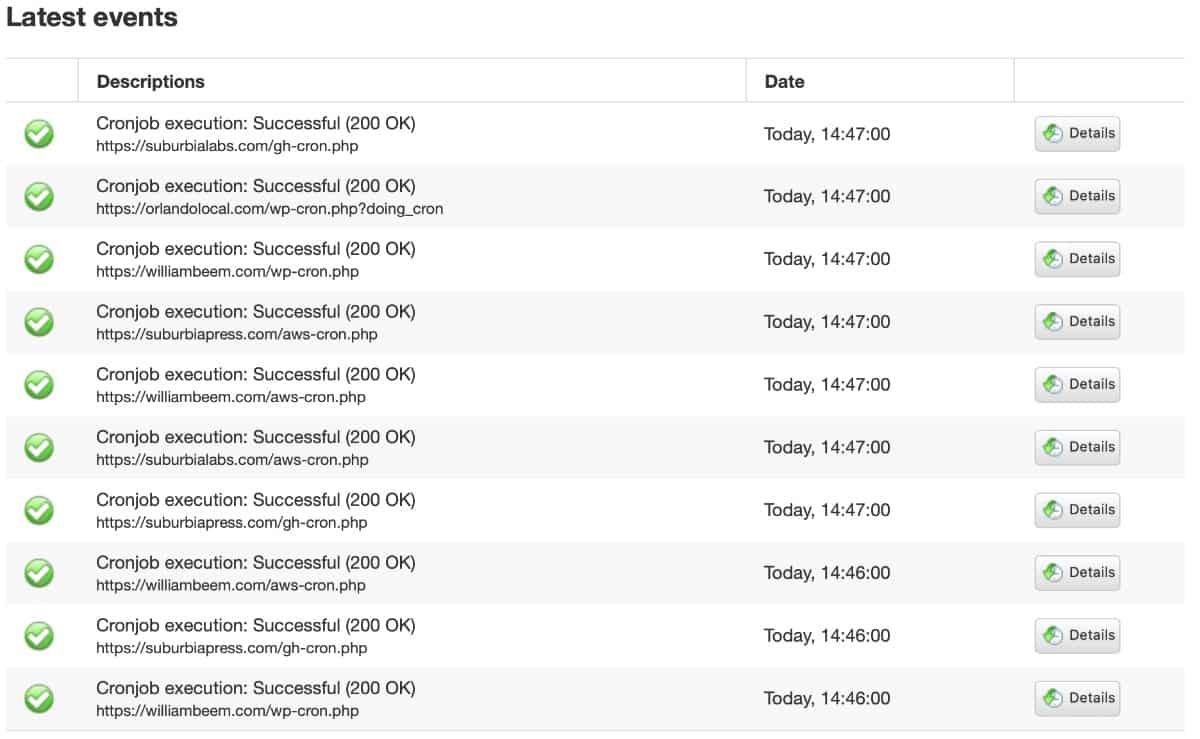 Groundhogg CRON Status
All but one of these cron jobs are for Groundhogg on different websites. They're all hosted with WPX Hosting.
The claim from Groundhogg support is that the cron jobs were being blocked by my host.
I asked how they determined that as the status here indicates success. That (200 OK) status means that the cron job attempted to communicate with the URL below and received a successful response from my website.
If my host blocked them, the response would not be (200 OK).
However, they told me that this report could be wrong. So I asked my web host to create a server-side cron job. No blockage there.
The problem still existed. Groundhogg intermittently failed on the cron jobs. Sometimes one worked, and then it didn't. Same with the next one.
After that, I was told my cache wasn't configured properly. This was apparently true. Of course, nothing about Groundhogg's onboarding process (which doesn't truly exist) made me aware that it doesn't work with a cache.
They provided a document showing how to configure my cache and I made sure each site had the correct updates.
Groundhogg still failed.
On Friday, support told me the problem was my CDN. I had to exclude some paths from the CDN. I even went so far as to completely disable my cache and CDN on a test site.
We had some momentary success on that site. When I enabled the CDN and cache with the exclusions that Groundhogg provided, the problem still existed.
Even when I disabled those performance assets on my largest site, it never resolved the problem.
Yet the Groundhogg CEO maintains that my host is blocking the cron jobs and the cache/CDN is the problem — despite turning off those services. Despite using a server-side cron job instead of the site they recommend, cron-job.org.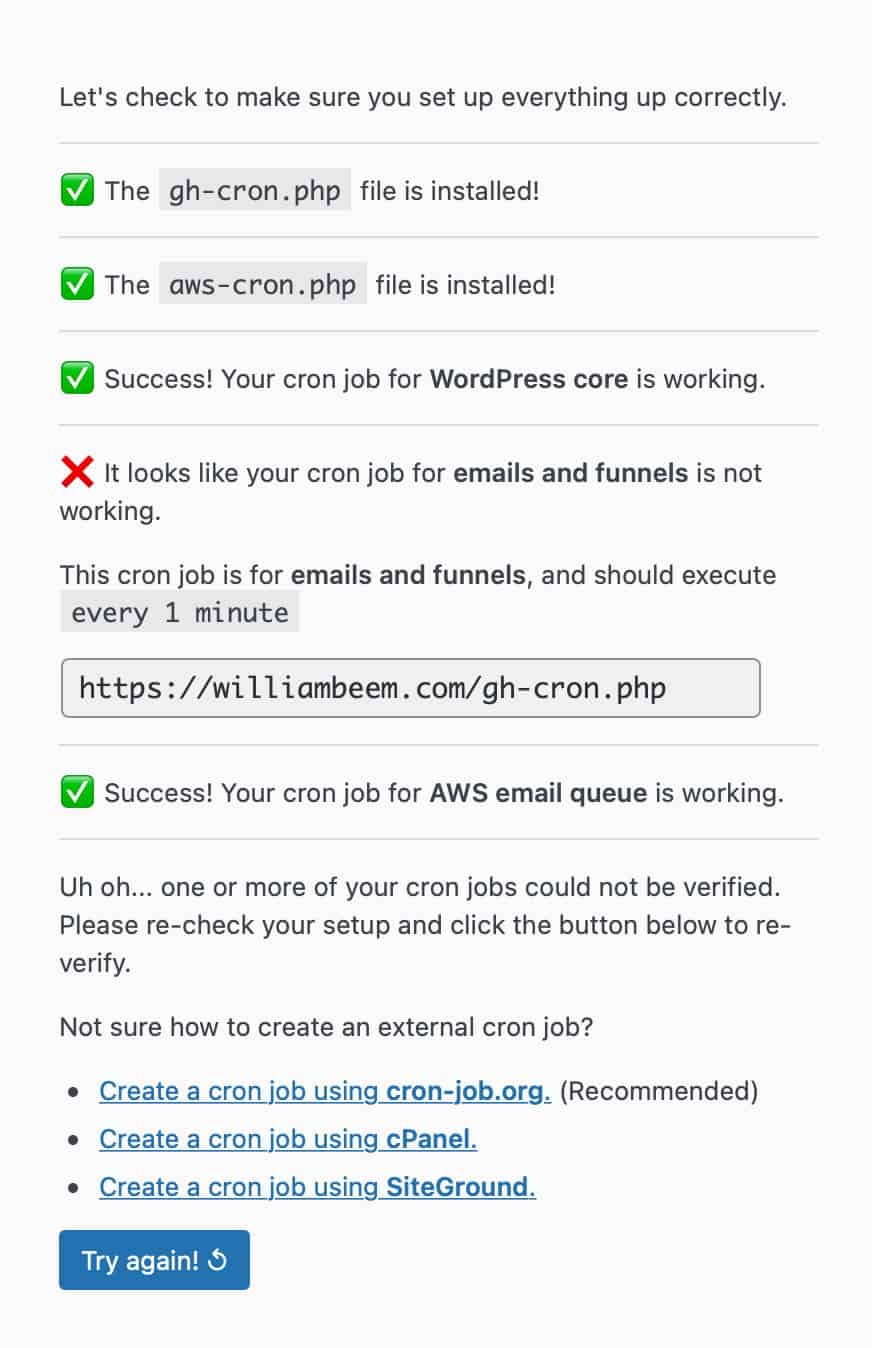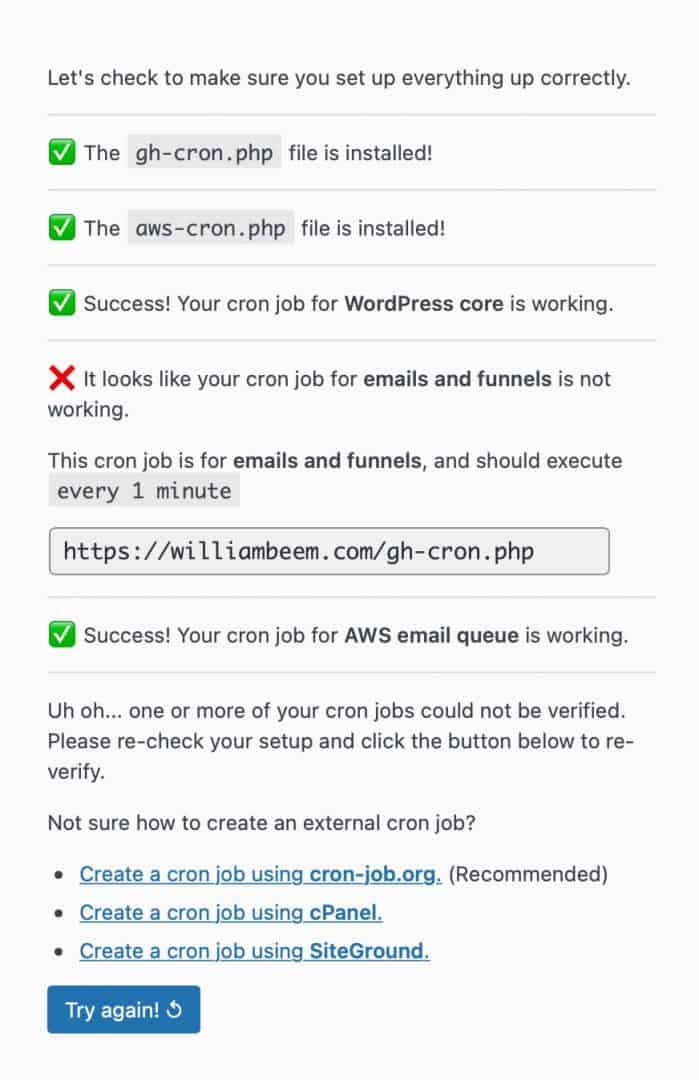 Sometimes the verification for emails and funnels fails. Other times the AWS email queue fails. Sometimes both.
The simple truth is that it took several days for Groundhogg Support to even respond to two tickets on this issue. Everything they said was to blame something else within my environment, despite evidence to the contrary.
I tried and tested changes to my environment to address the concerns, and the problem remains.
There were some updates to Groundhogg plugins prior to the failure. I hadn't added any new plugins or services to the system.
One offer they suggested, and I declined, was to move my site off my current host to one of their systems.
WPX is a good host. Not only that, but I integrate with different services. Moving my site would cause an even greater disruption to my business. Also, what does it prove? That I have to give up a host that I've already paid so I can create another expense for a different host just to run their software?
I asked specifically if they were indicating that Groundhogg does not run on WPX, and Support responded that was not what they were saying.
These systems ran well together for months. With the CDN, with caching and on the same host. The problems started after updates to Groundhogg and they never even considered that as a potential issue or point of conflict.
I'm sure Groundhogg continued to work well elsewhere. If they have a massive failure after that update, it would be all over the support group. Yet the result is that Groundhogg no longer works for me.
There's been no effort by Support to follow up as I write several days after our last contact.
Quite simply, my business does not appear to be significant to Groundhogg.
I Think Groundhogg Management Has an Integrity Crisis
Despite some design issues I mentioned above, I think Groundhogg is a good product. That's why I renewed for three years last fall. I expected to continue using Groundhogg for quite a while.
Part of that is because I expected some issues to improve. The CEO, Adrian Tobey, posted back in October 2020.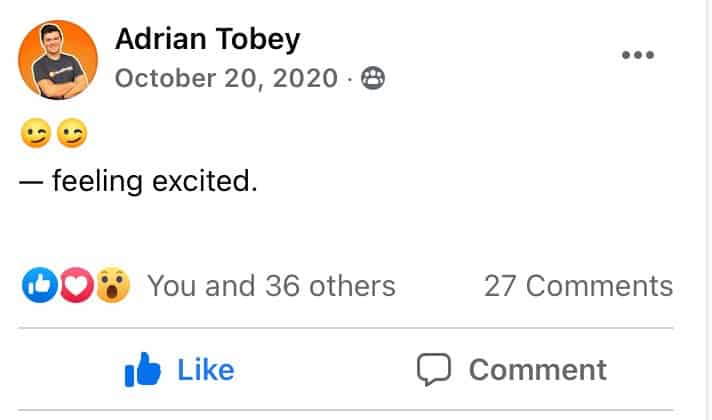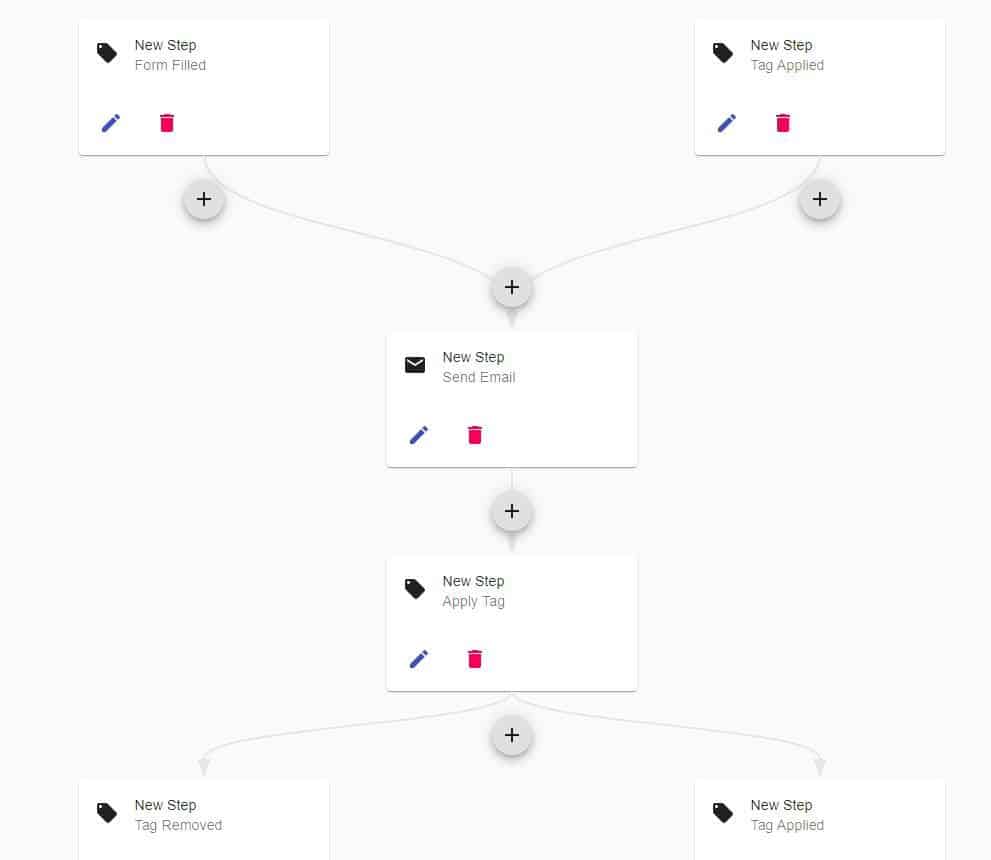 I really liked this update. It's part of what caused me to renew for three more years. In essence, I made business decisions and incurred expenses to continue with Groundhogg because this is what the CEO promised we'd get in Q1 2021.
Fast forward to March 30, 2021. This is the big announcement we all waited to hear. Q1 was almost over and customers were expecting big things.
Instead of delivering on schedule, the CEO explained why they missed their date and pushed the product upgrade back to the end of June 2021.
Furthermore, the promised design shared in the screenshot above was canceled in favor of the linear blocks I've previously shown.
Check timestamp 17:20 in this video to see that the blocks are the same, but now they have different colors!
Around the 18:20 mark, he explains why they opted to stick with this design rather than the flowchart design.
Specifically, he says that the Agencies they contacted said they could work faster with the linear blocks.
Time is money.
He goes on to state that the reason Groundhogg exists is so that Agencies can quickly produce results for their clients.
If you're not an Agency, take heed of that comment. You are not one of Groundhogg's preferred customers. They prefer agencies and this statement in the video is a clear indication of Groundhogg priorities.
Yes, they'll sell to you and never tell you that your business means less than an Agency, but here you have it right out of the CEO's mouth. Groundhogg exists so Agencies can quickly produce results for their clients.
This is just my theory, but I'm betting an Agency wouldn't have to wait days for support to answer their ticket.
Why?
Because time is money. Agencies spend more money and need to save time. That's the priority.
Should You Buy Groundhogg for Your WordPress Site?
On the surface, I'd say yes to that. We have clear communication that Groundhogg exists to serve the WordPress community.
This was the start of my fall-out with Groundhogg. The system failure and my experience also served to help me realize that I, a solo entrepreneur, was not a good fit for Groundhogg.
So I spent the weekend transitioning one of my sites from Groundhogg to another WordPress-based CRM.
I was an affiliate for Groundhogg and would have happily recommended the product to Agencies and Team businesses. The product simply is not a good fit for a solo entrepreneur like me. I'm spending more time fighting with Groundhogg when I should devote time to serving my audience and generating revenue.
So I migrated away on one site that was small and decided to share some feedback with Groundhogg on the support group page. There were other discussions about the direction of Groundhogg on that group, also.
In fact, Support asked me to delete one of those discussions after the announcement came out that Groundhogg 3.0 would miss its scheduled delivery date and not include the features many expected.
Based on what I'm about to share, I would advise every business to avoid purchasing or renewing Groundhogg. Not because of the product, but because of the business practices I witnessed.
Groundhogg CEO Manages Its Reputation by Misdirection and Censorship
Let's start with the obvious. Groundhogg committed to delivering version 3.0 within the first quarter of 2021. On March 30, 2021, Groundhogg announced that not only will it miss its schedule, but also changed the direction of the funnel builder to appease its Agency user base.
Why wait until the end of Q1 to announce this information? Surely, they knew in advance that they would not make their Q1 schedule. The new schedule changed to the end of Q2.
Customers, myself included, made business decisions based on their public proclamations. They were not transparent about the delay or the change in status.
That cost me time and money.
Time is money. Also, miscommunication is money.
When did Groundhogg commit to the decision that it would NOT provide a flowchart funnel builder? Why did they not communicate this important change that many customers wanted?
The lack of transparency is a critical concern. It erodes trust in the vendor you use for service.
Combined with the lack of transparency and the sudden failure of the service, delays in receiving support, and more, I had to find another product.
After migrating to one site, I shared some of my thoughts on the Groundhogg group page. It wasn't rude, angry, derogatory, or profane. I simply outlined that I didn't feel that Groundhogg was a good fit for me, and I shared some of the reasons why (which I just shared above).
Moments after I posted my message, I received this from Adrian.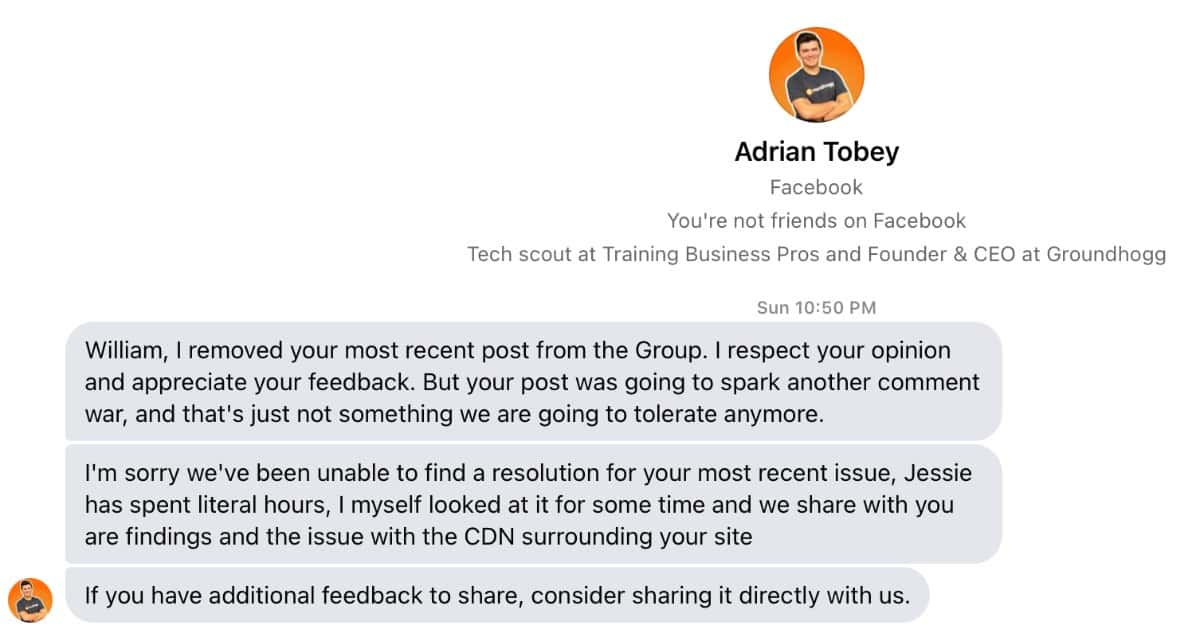 There's the censorship. It's actually going against the code of conduct posted on their website, which states the first step is to contact a person – not delete their post or block them from service.
He removed my post because he was sure it would spark a comment war and that's something they won't tolerate anymore.
To be fair, I wondered if I violated any of the group rules with my post. Here's how the rules appeared at the time of Adrian's message to me.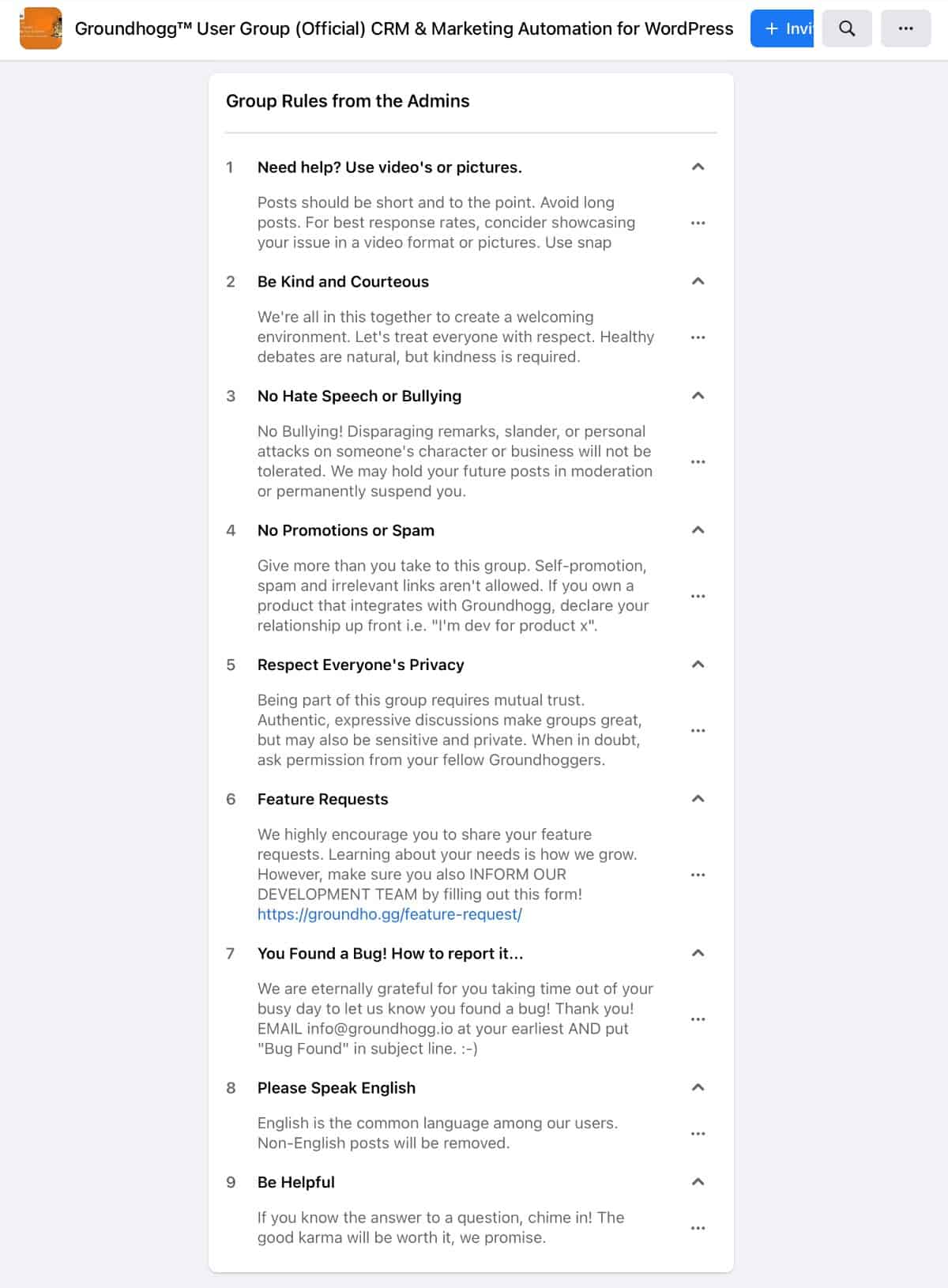 My post didn't come close to violating any group rules. In fact, I thought that my post supported rule #9 – Be Helpful.
I'm not one for comment wars. When Groundhogg Support asked me to delete my previous post, I agreed because some of the comments were not about the issues I shared.
My objective is to provide relevant, reasonable feedback to a vendor and also to the community. There are a lot of people who lurk in groups. They're waiting for someone else to make the first statement and then they join the discussion.
Sadly, there are some who cannot manage their emotions. Why doesn't Groundhogg delete those comments, rather than reasonable feedback and questioning?
The answer to that came in Adrian's second message series. I replied to describe why I posted publicly and said that there are businesses who think that comments — critical or not, are gold for their business. They give insight into how a business can better serve its customer base.
I asked Adrian to reconsider allowing me to re-post my comments again in the morning.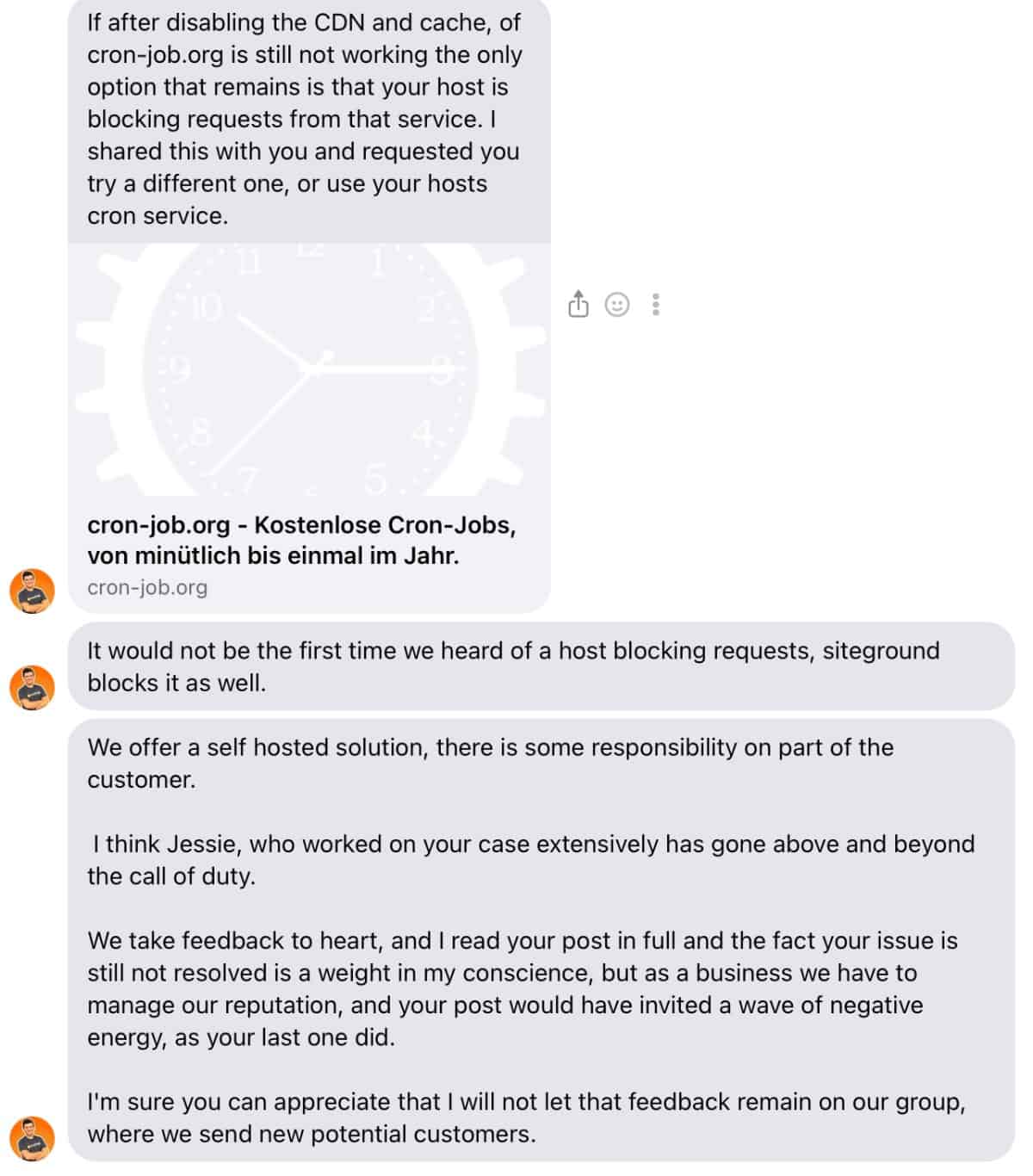 He's still convinced that my host was blocking the cron jobs. All evidence to the contrary, including the fact that I had the host create server-side cron jobs to test his theory and we still had the same problem.
The telling part is later when he talks about managing the Groundhogg reputation. They do not want potential new customers to see it.
Yet they also do not intend to serve existing customers who have legitimate concerns and issues with the way Groundhogg conducts business and how that conduct affects the customer's business.
So they censor discussion rather than deal with it.
That attitude of controlling reputation rather than earning it is why I cannot recommend Groundhogg to any business — agency or not. There seems to be a lack of integrity that does not match how I would conduct business.
I urge Groundhogg management to be open, honest, and transparent. I tried to communicate that with the CEO, and he shut me down and shut me up — despite the fact that I'm a paying customer.
Since I will not willfully ignore the desire of Adrian Tobey that I did not post these issues in the Groundhogg Facebook Group, I felt obligated to share them publicly for anyone else searching for a Groundhogg Review to consider.
I really want Groundhogg to succeed, but I don't think it will reach its potential with the current CEO. Groundhogg CRM Management needs to find a new CEO with more experience and maturity.
Are There Other WordPress Plugins for a CRM? I Recommend FluentCRM
I migrated my first site to FluentCRM, a newer competitor in the WordPress CRM market.
If you haven't yet heard of FluentCRM yet, you likely will very soon. It's a well-admired product. In fact, Torque Magazine has an annual contest among popular WordPress plugins and FluentCRM came in the first place — beating out other popular WordPress plugins like Yoast SEO.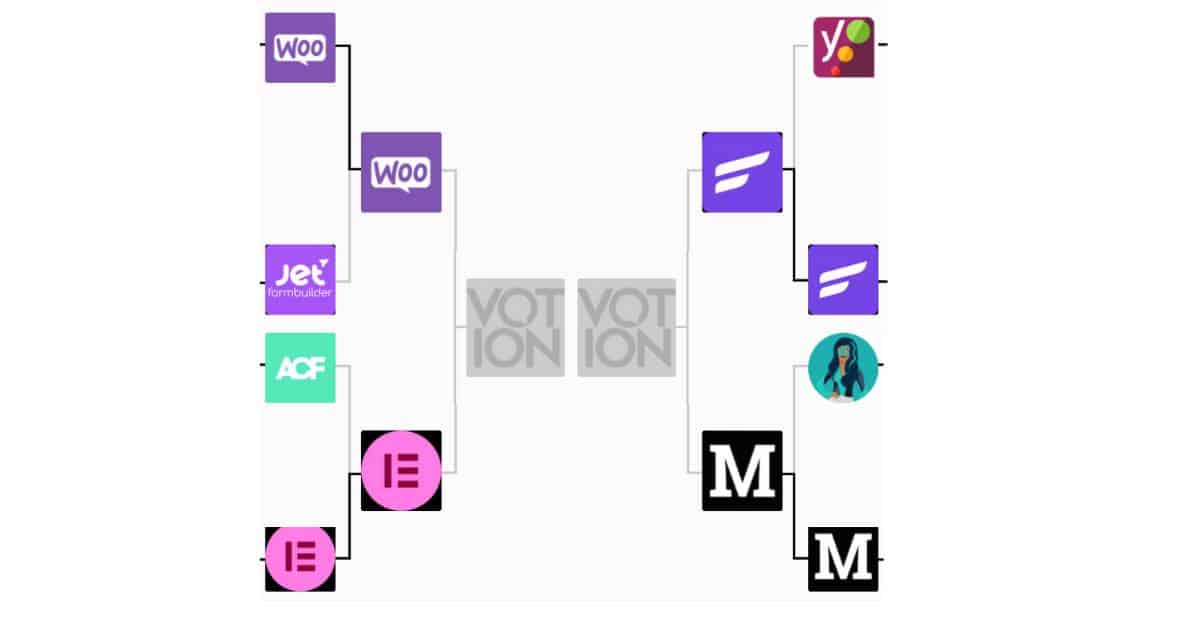 FluentCRM is the purple square with two stripes on the right side of the chart above. Torque Madness is like a March Madness bracket. The audience votes on their favorite WordPress plugin products.
Groundhogg didn't even make the list to be a competitor. FluentCRM actually won the 2021 Torque Magazine WordPress Plugin Madness competition – 1st Place!
During my migration from Groundhogg to FluentCRM, I had time to make comparisons. It's fair to say there are some aspects of Groundhogg that aren't present in FluentCRM yet. I'm going to miss those things and some of the integrations.
However, the user interface in FluentCRM is decades ahead of Groundhogg. It's modern, beautiful, and easy to navigate.
Something else that impressed me was the integration with AWS Simple Email Service. This was a hectic experience to integrate with Groundhogg. AWS doesn't communicate in plain English and several steps were, I thought, unnecessarily complicated.
Yet FluentCRM bypassed all of that by providing a plugin to handle the integration. I filled out my API credentials in the plugin and it did all of the work. I integrated FluentCRM with AWS Simple Email Service in seconds — a major improvement over the experience I had integrating it with Groundhogg.
I checked with FluentCRM to see if I needed any exclusions for my cache or CDN. They said I didn't. In fact, they run their operation with the same cache plugin I use.
My sites with FluentCRM also use the same cron service as Groundhogg uses, and they're on the same WPX hosting platform. There is no problem or rejection of the cron jobs when using FluentCRM.
Even better, my emails get delivered FASTER with FluentCRM. I receive them immediately after hitting the send button.
This Response from FluentCRM Leadership Really Tells the Story
At the same time I send feedback to Groundhogg, I also sent a list of pros and cons about FluentCRM to their CEO. He previously reached out to me and requested my feedback.
The difference in response was astounding in comparison to what Adrian Tobey shared with me.

Groundhogg makes me feel like I'm a problem. FluentCRM values me as a customer and contributor.
Bear in mind that my feedback to FluentCRM contained more topics that I'd like to see implemented or had room for improvement than the list of things I liked about the product.
I wasn't rude, degrading, or belligerent to either business. I am simply a customer of both who wants the best possible experience in exchange for my payment.
Now I know where I'll get it. To answer the question posed by the headline, it's simple. No, Groundhogg is not something I would recommend as the best CRM for WordPress. It's a good product with a few flaws, which every product has.
I won't recommend Groundhogg in this review because of the way the management conducted business with a lack of transparency, poor support, and censorship of customer feedback.
On the other side, FluentCRM actively encouraged my feedback, was happy to get it, and has a very active development schedule filled with regular improvement. I recommend FluentCRM as the preferred WordPress CRM solution for online entrepreneurs.
Groundhogg Review Summary
As you can tell if you read this far in my Groundhogg review, it's not a product that I can recommend. I used this software and was fairly happy while it worked.
When Groundhogg suddenly stopped working – right as I began a major affiliate marketing campaign – the cracks in this CRM software really showed. Support was slow and unresponsive at the time I desperately needed to send emails, but would Groundhogg work? Nope.
Here I was without sales funnels or other email marketing tools.
After requesting a refund for the unused time on my license, the CEO absolutely refused to accept any responsibility for the failure of his CRM software and kept my money – another 3 years of license that I bought on promotion.
When I checked the WordPress dashboard, I found that my license was disabled. The CEO disputed that claim. When I showed a screenshot of the message, the response was that they didn't know what caused that problem and offered no assistance to correct it.
My paid license was disabled by Groundhogg, as I saw in the WordPress dashboard, and the CEO booted me from the Facebook group after previously locking my user account so I couldn't post without approval.
Take my advice in this Groundhogg review and stay away. The software, when working, wasn't so bad. It's the people behind the software that you cannot trust.
SAVE 20% with Discount Code BEEM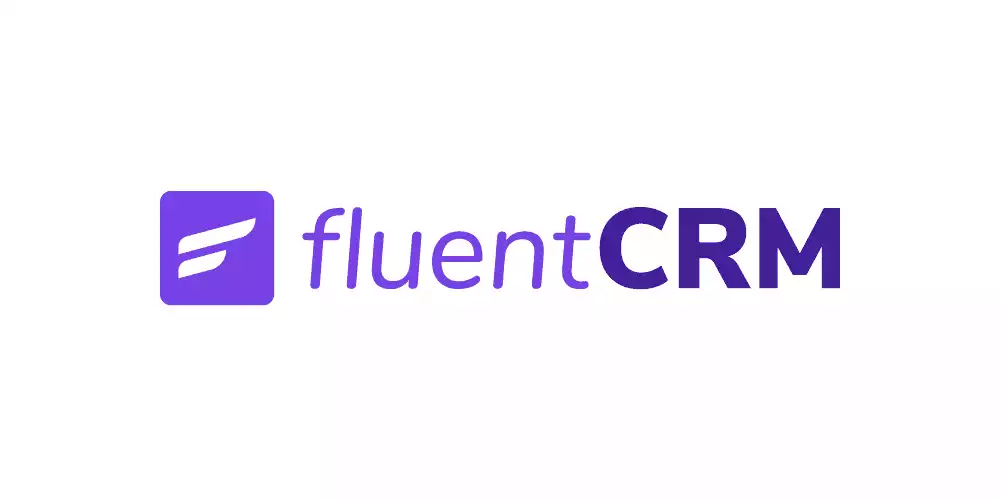 FluentCRM
FluentCRM is a powerful WordPress plugin that allows you to create a fully functional CRM. You can connect it with services like AWS Simple Email Service, MailGun, or others to send email campaigns.
With FluentCRM, you only pay for the email you send, making it a cost-effective email marketing solution. In addition, FluentCRM integrates with eCommerce solutions and other software to keep track of your subscriber's purchases and progress in learning systems like LearnDash.
It's the best WordPress-based CRM on the market.
SAVE 20% with Discount Code BEEM
Email deliverability: Depends upon choice of email service integration
Pros:
Low cost of operation

Many integrations with other tools and services

Continuous updates enhance the product

FREE version available (no Pro features)

Easy segmentation with Tags and Lists

Plenty of automation possibilities and easy to create

Inbound and Outbound webhooks for integration

FluentConnect plugin (free) to integrate with ThriveCart
Cons:
No mobile app to use FluentCRM

No templates for emails or landing pages

No automation templates
Buy Now
Read Our Review
We earn a commission if you make a purchase, at no additional cost to you.