Start a Great Customer Support Ticketing System
When new to supporting users, knowing what steps to take with an incident can be hard. You might not have the knowledge or experience of someone who has been doing this for years. It's time to learn! We'll review some tips you can use when handling incidents as a support agent.
Many entrepreneurs start handling support issues by email. While email may be the only tool you have to service your customers initially, you quickly realize that email wasn't meant to be a support ticketing tool.
You need a better system to log issues, work toward their resolution, and report on them later to improve your service. You need a customer support ticketing system as part of your business operations system.
Avoid the monthly cost of most helpdesk support software. Check out our review of Fluent Support
Fluent Support Review
How to Start a Customer Support Ticketing System
When you start a customer support ticketing system, it may seem that all you need is a way to capture issues and close them when they're resolved. At a fundamental level, that's true.
As you get deeper into working on customer tickets, you realize there's more to handling customer issues than just opening and closing tickets.
Depending on the size of your organization, your customer support team can grow into many roles. For this article, we'll assume a small business operation without large support teams.
Use Different Types of Support Tickets
Not all issues with users are the same. Some people need to be walked through a process, and others may just need their issues resolved without your help. A good knowledge base article that's easy to search can help a user resolve their issue quickly and reduce the burden on your support team.
Customer support falls under something called IT Service Management (ITSM). There are different types of issues you need to understand to serve your customers.
There are other ticket types in ITSM, but we'll concentrate on these issues.
The 5 Stages of Incident Management Workflow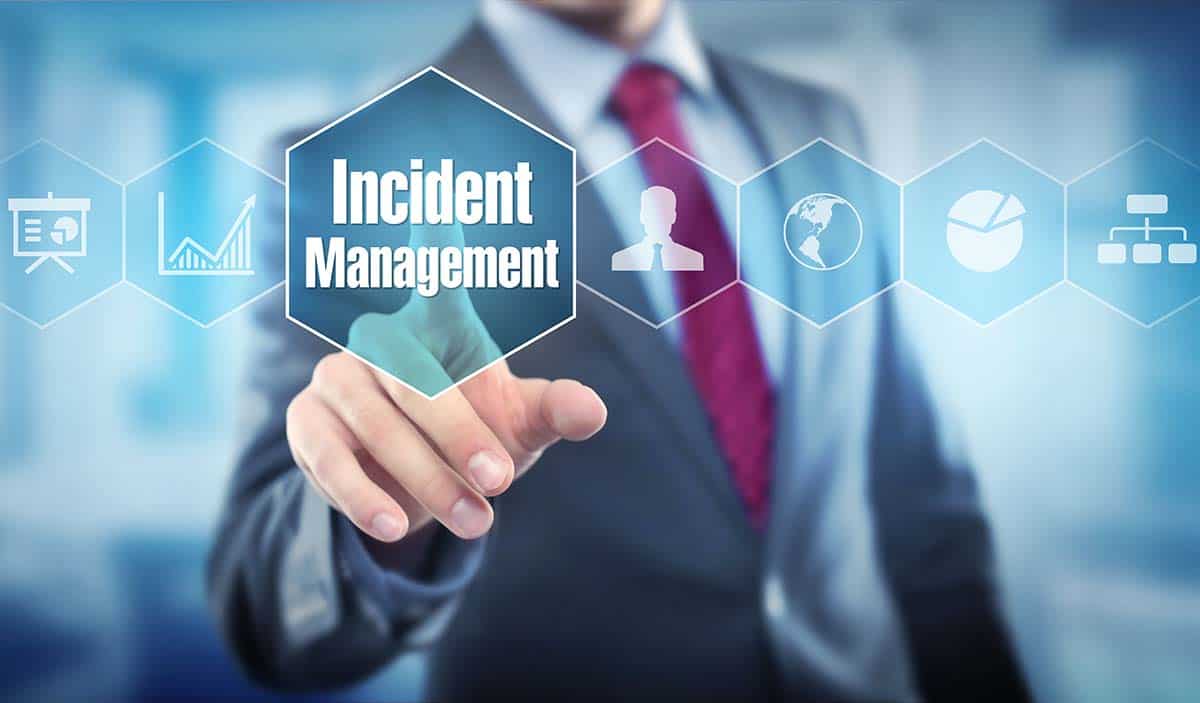 The incident management workflow is a step-by-step process you should follow when managing an incident. Doing this helps keep the incident organized and ensures nothing gets missed. 
There are five stages of the incident management workflow described below. No doubt you can modify this workflow to your taste after getting more experience, but this works as a template to get you started.
1: Identify, Log, and Categorize the Incident
When a customer reports an incident by phone, web portal, or email, the system logs the incident as a new ticket. To process the ticket correctly, we need to ensure that critical information goes along with the description of the incident.
Classifying a ticket ensures proper handling later in the incident management process. To do that, we need to understand the type of ticket. Is it an Incident, Problem, or Change ticket? This kind of classification comes in handy later for reports and investigations.
Is this a Major or Minor incident, based on the potential impact of the issue? Major impact generally impacts the entire business operation, where minor incidents affect a single user or a small group of users.
Categorization is identifying the product, system, or service at issue. If you're providing product support, it may be a bug report or a user who cannot access a course or membership area.
Prioritization allows the support agents to determine if the incident fits in one of these categories:
Some systems may have different labels. It's also possible to have a User prioritization and an Agent prioritization.
2: Incident Notification and Escalation
The next step is to assign the ticket to an agent with the experience to investigate and resolve the incident. If you're working alone, then you're the expert on everything. A customer support team often divides responsibilities to different support reps depending on business needs or the agent's experience.
If the incident impact or prioritization warrants it, then the process should allow for notification of management and impacted stakeholders. Escalation occurs when a support incident is not resolved within a set amount of time.
Escalation may result in the ticket reassigning to another agent or management involvement if required. Escalating an incident means working with urgency and ensuring that nothing gets overlooked during this process.
In some cases, escalation occurs because of multiple related incidents, or incident management may take too long. If the incident isn't resolved promptly, escalate to another support agent or manager until you find someone who can resolve the incident quickly and accurately.
3: Investigate and Diagnose the Incident
Once the incident gets logged and classified, the support agents begin the investigation of the incident and diagnose the cause.
The resolution may or may not require customer interactions. Sometimes you need customer data or information to help the investigation. In other circumstances, the investigation is entirely systematic and may restore service to the customer without additional input.
This investigation and diagnostic process are not the same as Problem Management. The objective is to restore service and the customer experience quickly. That may be either through a work-around process or, ideally, correcting the cause of the incident.
Problem management is a slower, detailed investigation that often stems from multiple related incidents.
4: Resolve and Recover
Once the support agents determine the issue that can correct the incident, they implement the steps necessary to resolve it and recover regular operations for the customer.
This step may require a workaround or an update to the system to ensure that it doesn't happen again.
In some cases, you can do nothing other than restore service and communication for customers if they have been affected by the incident. In those circumstances, communication is key so customers know when things are back to normal.
5: Incident Closure
Additional incident management processes may occur after the incident is resolved and service has been restored for customers, such as a postmortem if there's an issue with your systems or product. This can help you understand where things went wrong and improve incident management in future situations.
When closing the ticket, ensure that customer satisfaction is at the front of your mind. Customers do not like having tickets closed until they've confirmed the resolution resolved the incident.
Sometimes, customers do not respond to a request for confirmation. After a while, it's fine to close the ticket. Most ticketing software allows a customer or a support agent to reopen a ticket if the resolution wasn't successful.
Following the closure of the incident ticket, it's a good idea to use customer surveys to find out if the customer experience was satisfactory or if you have room to improve your support ticket operation.
Enhance the Customer Support Experience
There's an old saying:
The reason that you implement a customer support ticketing system is to take care of your customers. Unfortunately, installing ticketing software isn't sufficient to ensure a good customer experience.
You must ensure that the processes you implement with your ticketing system provide a good help desk experience.
Ticket management isn't just about customer tickets. It's part of your relationship with your customer base. Everything from self-service options like knowledge base articles to specifying a service level agreement is all about communicating with your customer to ensure that you keep a good relationship. Customer service software can help, but customer service agents truly make the difference.
How Do Customers Submit a Support Ticket?
Look for a customer service platform that allows multiple channels to submit tickets for an incident or a request. Most ticketing systems will permit multiple channels, such as:
You may find some ticketing systems that integrate with social media platforms or notification systems, like Slack, Discord, or Telegram.
To choose the right ticketing system, consider the size of your support staff and which channels work best for your typical customer.
One advantage of using a self-service portal is giving your customer a chance to review knowledge base articles before submitting a ticket. Not every online ticketing system will come with support for knowledge base articles, but they should integrate with other tools that provide knowledge base articles.
Keep Customers Informed About Ticket Status
Good communication is part of a good customer experience. Look for a ticketing system that allows customers to check on the status of their support tickets.
If a customer can review ticket status on a customer portal, that gives them a quick response and reduces the number of customer interactions with your support staff.
Customer communications and customer calls are time-consuming for both sides of the help desk experience. By providing them with some ticket management tools to submit updates or answer questions from the customer service teams helps improve the time to resolve customer requests.
Responding to support requests can and should use both the portal and email to ensure they have information about their issue as soon as possible.
Customer conversations can provide the information your service team needs to resolve the issue, and timely updates help to create loyal customers.
All the features in your ticketing software won't make a difference if the customer doesn't have a good experience with their support requests.
Follow Up with Surveys

Customer satisfaction surveys are an essential part of the customer experience. A good incident management workflow should include a post-resolution survey to provide feedback to support staff and customers about their ticketing system incident resolution process.
A survey provides feedback on how successful your incident management process is because it impacts how your customer perceives your service for their money.
Your service team members and your customers can benefit from how they resolve or manage incidents by providing better information, reducing calls, or resolving problems faster.
Your customers feel valued when they can provide feedback. Also, your help desk team can review the feedback to improve the customer experience, perhaps by creating new knowledge base articles that reduce the ticket volume, instantly answer customer queries, or provide useful information to create changes or updates to your product or service.
Creating a Help Desk your Support Team Will Love
Your service team values a smooth ticketing system and support operation as much as your customers do. Everything from your choice of ticketing software to the process to make the ticketing system work well is important to your staff.
Key features like ticket automation can help reduce their burden. Self-service options for customers also achieve the desired result while reducing overload on your team. A good help desk ticketing system makes things easier for everyone.
There may be times when you want automatic ticket creation based upon customer service integrations with other tools. If you can build rule-based automation to generate a ticket, that alerts you to potential problems before you get a slew of incident tickets about a system that's degraded or down.
Rules to automatically assign tickets can prevent your support team from constantly reviewing new tickets to see which ones they can handle.
Advanced features of your ticketing software support assigning tickets based on rules. Your online ticketing system should show relevant customer data, such as:
The best ticketing systems make it easy to reopen the same ticket for an issue, rather than start over with a new ticket. Creating and assigning tickets for an existing issue that was already closed may lose track of the notes and conversations that go with the history of an issue.
Essential Features of the Best Ticketing Systems
An online ticketing system is a platform for your customer service workflow. By itself, the ticketing system doesn't do anything. It's up to you to use your ticketing systems to enhance the help desk experience for your customers.
Ticketing systems offer different features, and you may not need all of them. For small entrepreneurs getting started, you may consider affordable pricing the most important feature. As your business grows, you can update your help desk software features later.
For a beginning system, consider some of the issues we've discussed.
Help desk software can seem overwhelming, but you can manage that with a good understanding of the process and good communication with your customers.
Summary
Incident management workflow can seem daunting when you're new to supporting customers. It's important to remember that the objective is to restore service quickly. Online ticketing systems provide a platform for managing the communication and relationship with your customers while your agents work to resolve issues.
You should categorize, classify and prioritize your tickets to ensure customer satisfaction and improve your service operations. Remember that your customer support team works best when you help them understand what's at stake with each incident.
Later on, you can conduct problem management investigations, and correctly classifying your tickets will help that investigation. You may be able to use your support ticket information to create self-service knowledge base articles that your users can check before submitting a ticket. That ultimately leads to greater customer satisfaction when you have the answers at their fingertips.
This isn't an exhaustive list of everything possible with a ticketing system, but the objective was to get you started with your help desk operation to serve your customers better.